Heads up! We're working hard to be accurate – but these are unusual times, so please always check before heading out.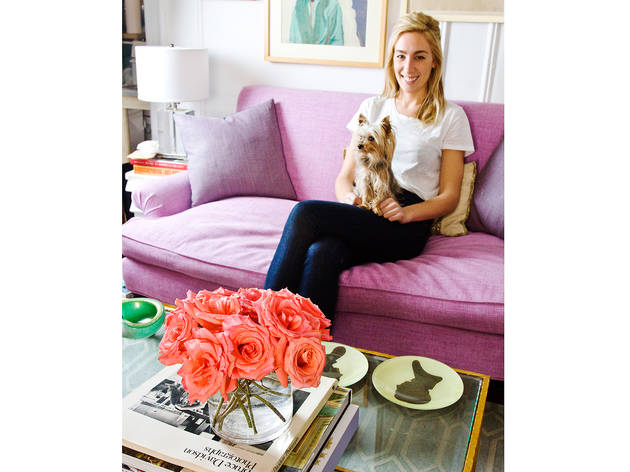 1/24
Photograph: Caroline Voagen Nelson
As the studio director for bespoke textile company Vanderhurd (vanderhurd.com), 28-year-old Mary Nelson Sinclair relies on her fine-arts training and eye for color in the professional realm. An appreciation for skilled craftsmanship, bold patterns and classic design also informs her home life. The Texas-born sophisticate has rented her 525-square-foot pad since May 2011, decking out the cozy space with items that reflect both her Southern heritage and her passion for foreign destinations. "I'm definitely eclectic, and I love to travel," says Sinclair, who shares the apartment with her teacup terrier, Coco. "My aesthetic is inspired by different parts of the world I've visited. I've also learned a lot from my mom, who dabbles in interior designer."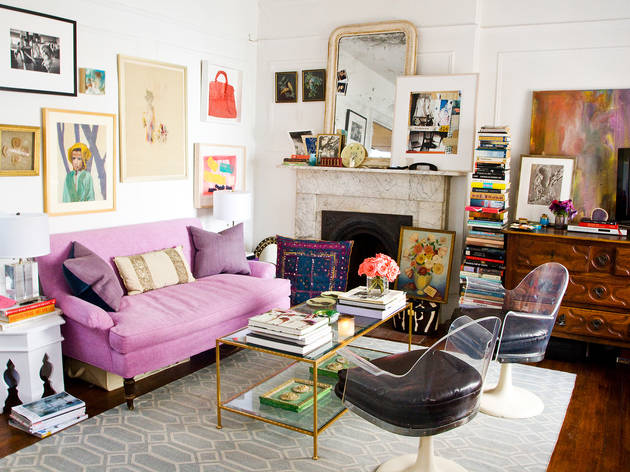 2/24
Photograph: Caroline Voagen Nelson
When Sinclair took over the apartment from a friend, she personalized the sun-drenched living room with a mix of antique and vintage furnishings, contemporary artwork and modern accents, including the blue geometric rug she custom-ordered from her employer. She also tweaked an eco-friendly sofa from Lee Industries (leeindustries.com), swapping out the original natural canvas covering for a lilac Manuel Canovas linen (manuelcanovas.com). A pair of custom cushions, made at a decorator's workroom from deep purple Donghia velvet, and a rectangular pillow from the annual Round Top Antiques Fair (roundtoptexasantiques.com) add contrasting accents.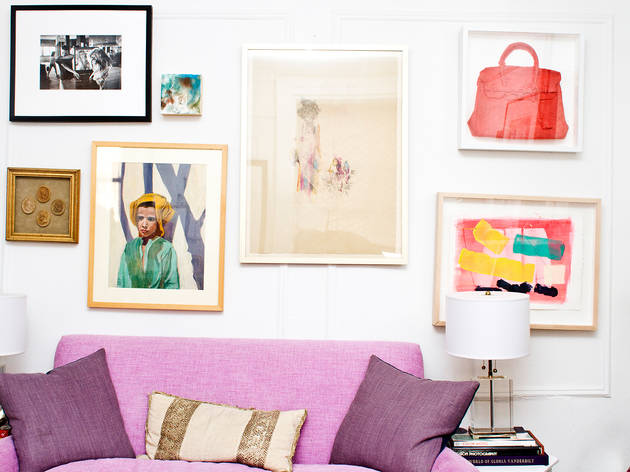 3/24
Photograph: Caroline Voagen Nelson
The Southerner covers her walls with a diverse assortment of artwork, all of which has personal significance. The black-and-white Bruce Davidson print came from her photography-collector father as a memento for her Pratt graduation. "Davidson was famous for New York scenes and people," she notes. "I was living in Brooklyn, and this image is called something like 'Brooklyn Gangster.' " The tiny oil-on-clay square is one of Sinclair's own projects, as is the abstract monoprint-etching hybrid to its right. Shelter Serra (shelterserra.com), sculptor Richard Serra's nephew, created the framed wax cast of an Hermès Birkin bag, which was the first piece Sinclair ever purchased for herself. A neon abstract work-on-paper by her best friend, South Carolina artist Sally Benedict Read (sallybenedict.com), hangs beneath it. Completing the wall are a painting of a small girl—found by Sinclair's mother at Round Top—and a foursome of cameo-like wood carvings she snatched from her parents' bedroom.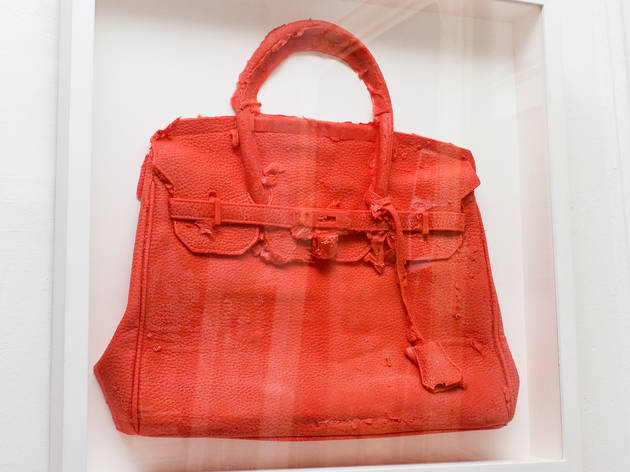 4/24
Photograph: Caroline Voagen Nelson
Serra crafted the molded faux Birkin. "He mostly works in wax, but he's also used silicone and resin," says Sinclair, who picked up the funky piece at a pop-up art show curated by a friend. Among the other objects Serra has replicated with offbeat materials are Rolexes, roses and Jeeps.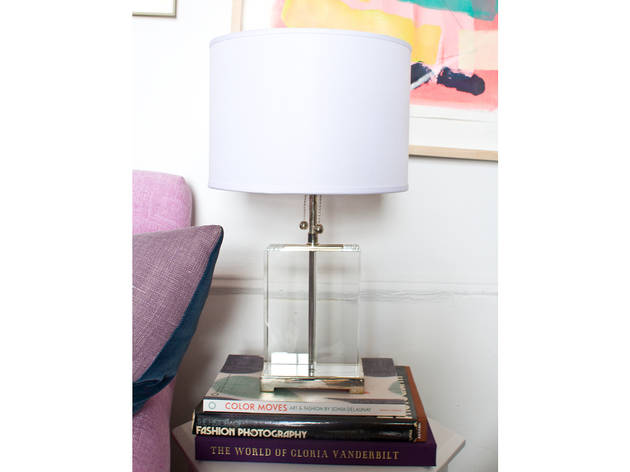 5/24
Photograph: Caroline Voagen Nelson
Two white Moroccan-esque tables from Wisteria (wisteria.com) flank either side of Sinclair's couch. They're topped with a pair of crystal Thomas O'Brien for Visual Comfort lamps purchased at Aero (419 Broome St between Crosby and Lafayette Sts; 212-966-1500, aerostudios.com), which rest on stacks of art and fashion tomes. "Most of the books in my apartment are from high school and college," says Sinclair. "I also just pick up coffee-table books on subjects that interest me—interior design, artists and art periods—and museum shows."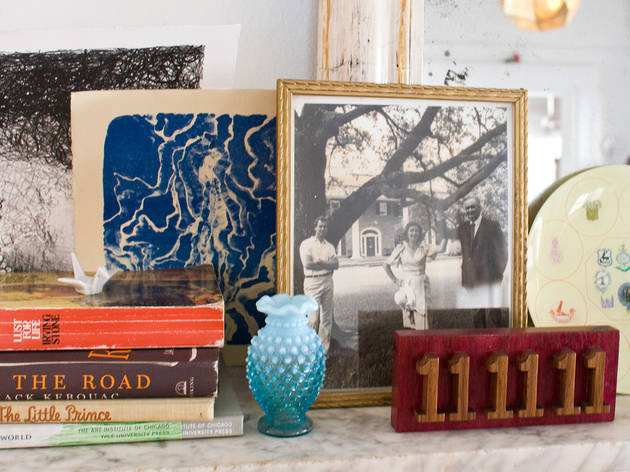 6/24
Photograph: Caroline Voagen Nelson
Sinclair's marble fireplace may not provide heat, but its mantle functions as a display area for meaningful objects, including her own black and blue prints from classes at Pratt—propped up by a stack of books from home—and a tiny ceramic paper crane that was a gift from her mother. "I collect opaline," says Sinclair of the blue ombrè bud vase from Round Top. Tucked behind the demure glasswork is an antique photo of Sinclair's grandparents and her uncle, taken in front of the Marks, Mississippi, house where the siblings were raised. "My family spent every summer and Christmas there until I was about 15 or 16," she reminisces. "It's in a circle of four houses, and they're all occupied by my family." The handcrafted numbered woodblock was a Valentine's gift made by her boyfriend—a nod to their first date—while the china plate came from her best friend. The antique mirror is another item lifted from her parents' home, while the reclaimed apothecary bottle and matches were a gift from a friend.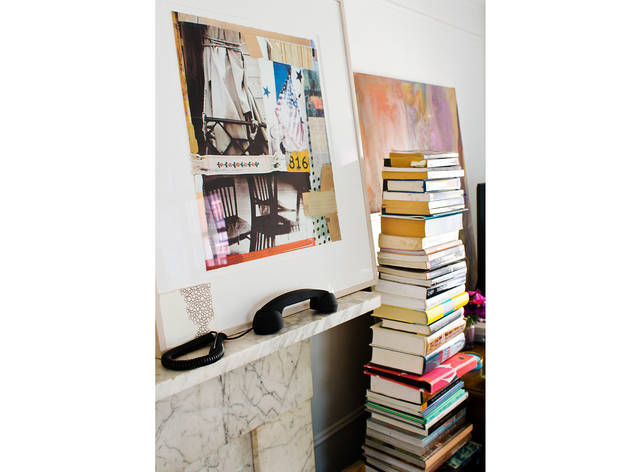 7/24
Photograph: Caroline Voagen Nelson
In addition to one of her own doodles and a Native Union Moshi-Moshi POP phone (nativeunion.com) given to her by a friend, the other side of Sinclair's mantle holds a prized Robert Rauschenberg lithograph she bought in a Phillips de Pury (phillipsdepury.com) auction. "Rauschenberg had just died, and the bidder behind me was pretty fierce," she recalls. "I snapped up [the piece] right at the very end!" Another stack of books towers next to the covetable artwork. "I've kept some of my favorite childhood books like The Giving Tree and The Little Prince, but I'm a huge fan of Dashwood Books (33 Bond St between Bowery and Lafayette St; 212-387-8520, dashwoodbooks.com)," says Sinclair. "It's run by David Strettell, [Glamour fashion director] Anne Christensen's husband, and it has a really eclectic selection."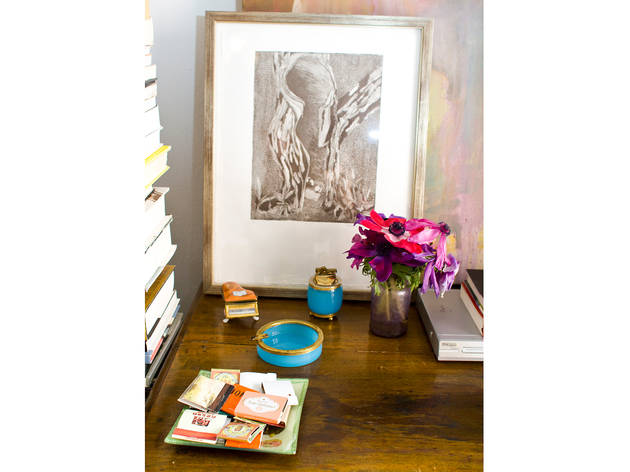 8/24
Photograph: Caroline Voagen Nelson
One of Sinclair's school projects—a black-and-white etching of a tree trunk—rests on an antique oak dresser from Sinclair's childhood home. Other accent pieces include a Murano glass dish, procured from a Dallas antiques dealer, that's filled with matchbooks from local stores and restaurants; two more pieces of opaline glassware from Round Top; and a delicate Limoges piano once owned by her great-great aunt Lois. "She was born premature back in 19-oh-something, and her nanny just sat by the fireplace, rocking her back and forth, and keeping her alive," says Sinclair with a smile. "She ended up with polio but became this big-time pianist—and a major ballbuster."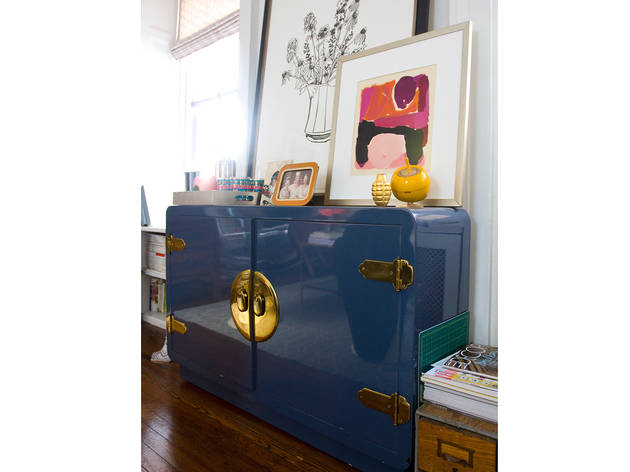 9/24
Photograph: Caroline Voagen Nelson
Sinclair saw this retro Mastercraft console on online marketplace 1stDibs (1stdibs.com), but ended up purchasing it from the Showplace Antique Center. "I was looking for a bar-slash-storage situation for that wall, and it ended up being the perfect size," she gushes. Benedict Read also created the abstract painting atop the royal-blue unit. The monochromatic flower print by Tom Wesselmann (tomwesselmannestate.org) is another hard-earned bidding win from the same Phillips de Pury auction where Sinclair picked up her prized Rauschenberg.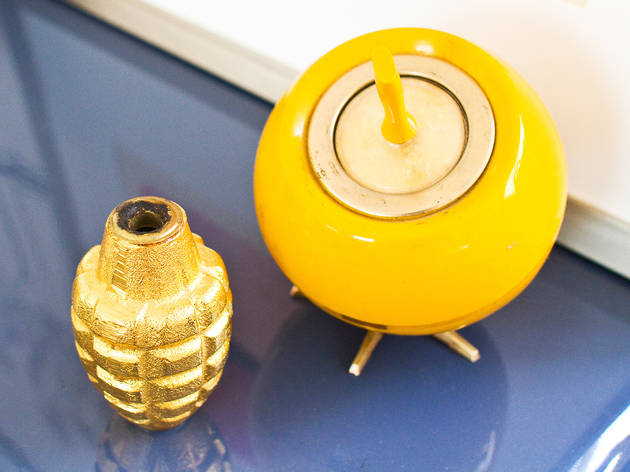 10/24
Photograph: Caroline Voagen Nelson
A 1950s Electro Match lighter procured from Portmanteau stands next to a gold-plated grenade-shaped oil lamp from the Future Perfect (115 North 6th St at Berry St, Williamsburg, Brooklyn; 718-599-6278 • 55 Great Jones St between Bowery and Lafayette St, 212-473-2500 • thefutureperfect.com).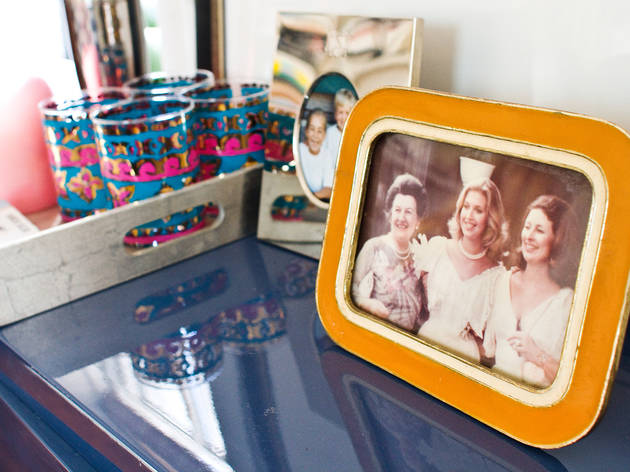 11/24
Photograph: Caroline Voagen Nelson
The design aficionado uses a West Elm tray (locations throughout the city, visit westelm.com) to hold a Cire Trudon candle (ciretrudon.com), a set of four vintage tumblers from Elizabeth Bauer (43 Greenwich Ave between Charles and Perry Sts; 212-255-8625, elizabethbauerdesign.com) and a silver Sur La Table cocktail shaker (locations throughout the city; visit surlatable.com). She also shows off a picture of herself and her younger brother ("it ended up being a Christmas card picture," she notes), and an old photo of three generations of Nelson women—her grandmother, great-grandmother and mom.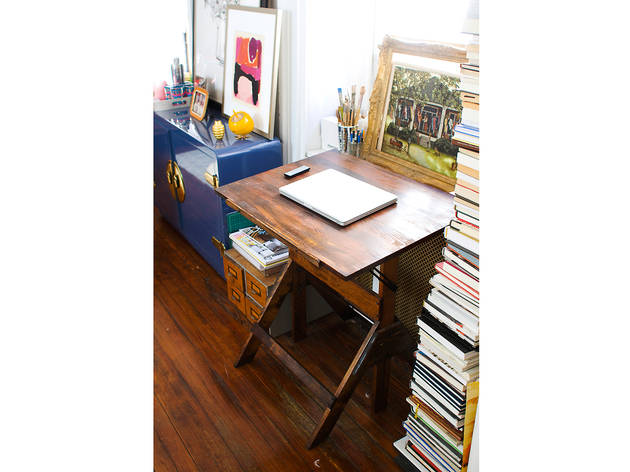 12/24
Photograph: Caroline Voagen Nelson
Though she used to keep a separate studio for her painting endeavors, Sinclair moved her creative space to this vintage drafting table—a Craigslist find. "I decided I'm going to work smaller than I used to, because I want to start designing my own textiles," she says. Her oil paints stay organized in small card files from Ugly Luggage (214 Bedford Ave between North 5th and 6th Sts, Williamsburg, Brooklyn; 718-384-0724). The little Southern scene resting against the window was painted by one of her grandmother's best friends. "I've had it since I was little, and even though the frame's broken now, I can't let it go."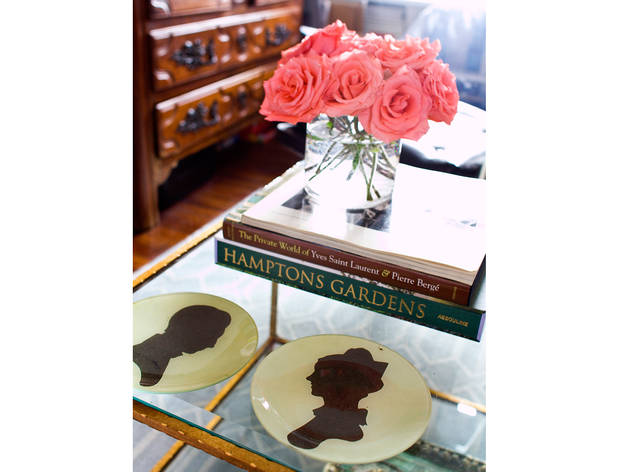 13/24
Photograph: Caroline Voagen Nelson
"I knew I wanted a glass coffee table," says Sinclair of the transparent piece, which her mother helped her acquire from interior-design showroom Worlds Away (worlds-away.com). "With these small spaces in New York, it's nice to have something you can see through, that doesn't block out any space." Two silhouette plates picked up at John Derian and a bouquet of fresh pink roses from the downstairs bodega decorate the top level.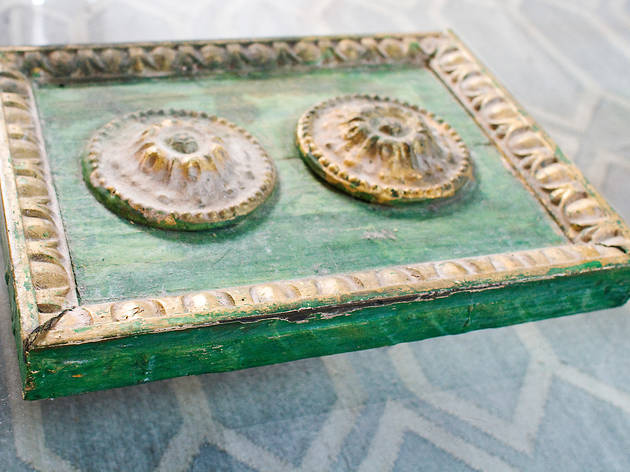 14/24
Photograph: Caroline Voagen Nelson
This painted wood wall accent from Italy claims space on the table's bottom tier. "My parents lived in Florence when I was a junior in high school and my mom found these little carvings in a market in Tuscany," recalls Sinclair.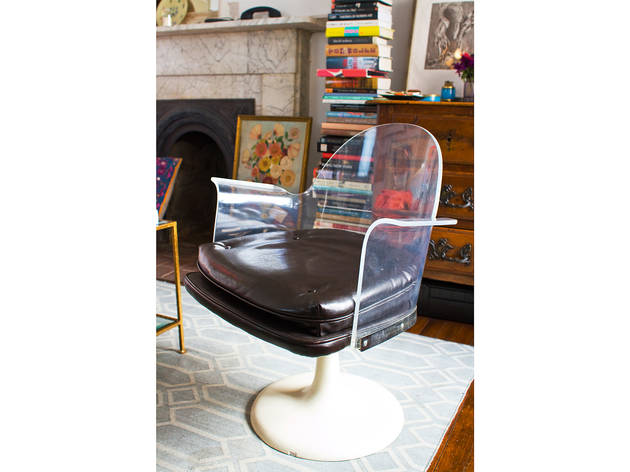 15/24
Photograph: Caroline Voagen Nelson
Inspired by Eero Saarinen's Knoll tulip chair, Sinclair scooped up a pair of replicas from 1stDibs. "I was going to re-cover them, but all of my friends objected," she says. "They convinced me that I needed the bit of leather because everything else in my apartment is so feminine."
16/24
Photograph: Caroline Voagen Nelson
Since the living room's original light was "Home Depot hideousness," Sinclair mounted this perforated-metal Tom Dickson fixture from ABC Carpet & Home (888 Broadway at 19th St; 212-473-3000, abchome.com) in its place.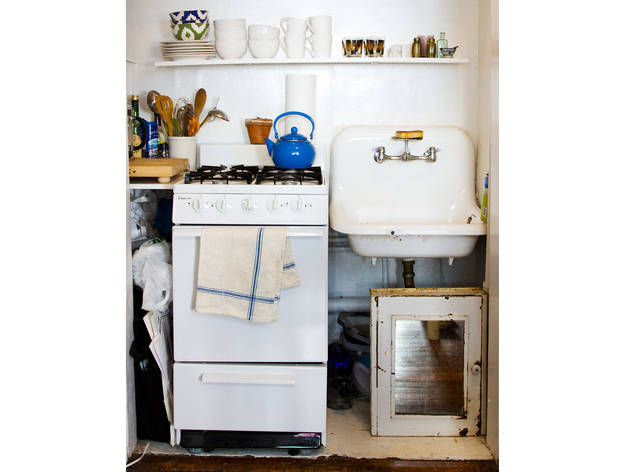 17/24
Sinclair admits she doesn't cook for herself much, but she does enjoy preparing meals for other people—despite the limited kitchen space. "I break things all the time when I'm hand-washing dishes," she says, referring to her petite sink. "It's super cute, but admittedly inefficient." She's not certain where she found the bright blue tea kettle but surmises it's likely from Broadway Panhandler (65 E 8th St between University Pl and Broadway; 212-966-3434, broadwaypanhandler.com).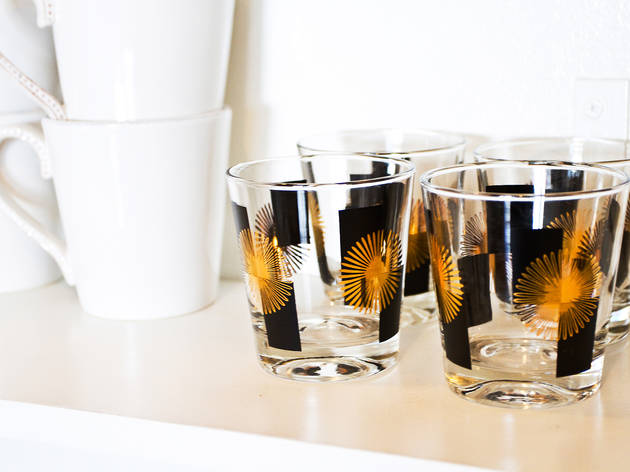 18/24
Photograph: Caroline Voagen Nelson
These four gold-accented glasses were a housewarming gift for a previous apartment. "My best friend, who has a similar aesthetic to mine, picked them up in Atlanta," she says of the retro vessels. "If I had to guess, I'd say they were from the 1950s or '60s."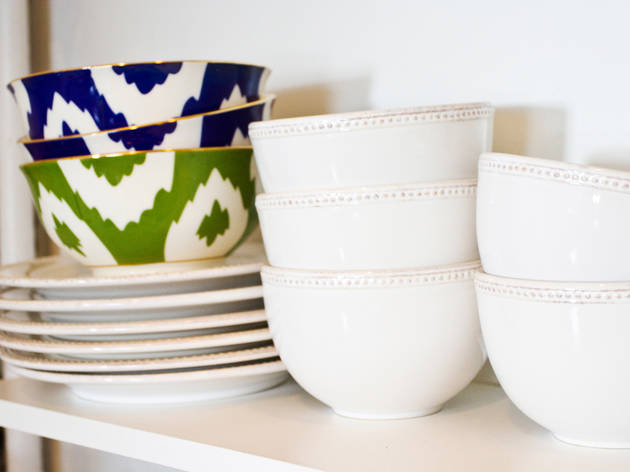 19/24
Photograph: Caroline Voagen Nelson
Although she's a huge fan of delicate ADV dishware, Sinclair opts for the "practical, real-life version"—white porcelain plates and bowls from Sur La Table that boast similar aesthetic touches. Three ikat-print bowls from Anthropologie (locations throughout the city; visit anthropologie.com) punch up the basic dinnerware.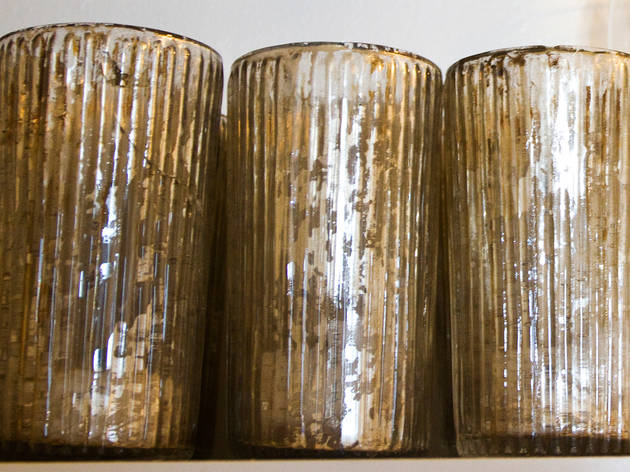 20/24
Sinclair's mother picked up these petite mercury glass vases in Manhattan's flower district a few years ago. "She used them as little bouquet vases at my college graduation party," explains Sinclair. "I've used them for the same purpose, and as votives."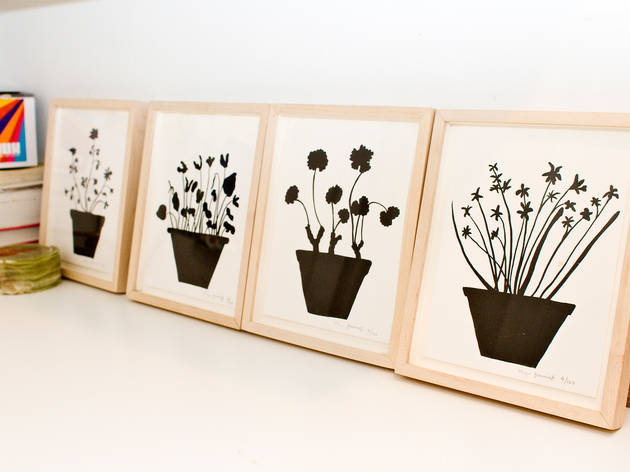 21/24
Photograph: Caroline Voagen Nelson
A quartet of black-and-white Hugo Guinness flower prints from John Derian adorn Sinclair's kitchen counter. "They're kind of naive and great," she says, explaining her love of the artist's minimalist works. "His wife, Elliott Puckette, is a great artist as well."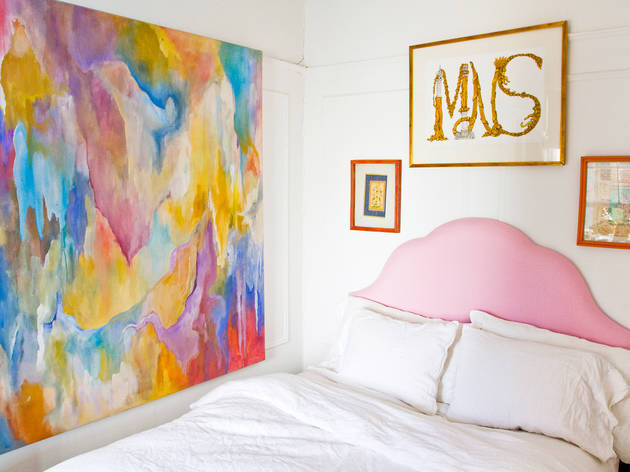 22/24
Photograph: Caroline Voagen Nelson
The pale pink headboard in Sinclair's bedroom emerged from a DIY project: Using her old daybed's frame as a starting point, she had the piece trimmed to fit the width of a full mattress, then covered it in Oxford cloth from Mood Fabrics (225 W 37th St between Seventh and Eighth Aves, third floor; 212-730-5003, moodfabrics.com). "It was a labor of love," she says with a laugh. "My mom and I sat there for two hours trying to stretch the material perfectly before stapling it on." To make sure the color popped against her bedding, Sinclair opted for crisp white Belgian linens from Restoration Hardware (935 Broadway at 22nd St; 212-260-9479, restorationhardware.com). On her wall, she hangs her own abstract oil painting and a trio of framed prints from her childhood bedroom, including an intricate display of her initials done by a book-illustrator friend of her parents.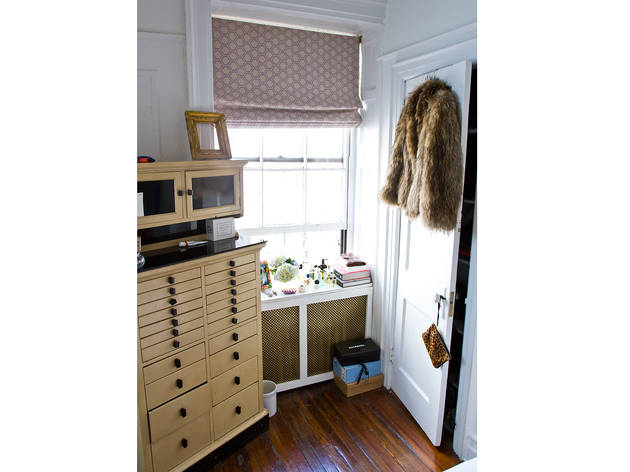 23/24
Photograph: Caroline Voagen Nelson
A vintage dentist's instrument tool cabinet stores Sinclair's jewelry, as well as a random assortment of knickkancks. "Friends of my parents live in an apartment that was a dentist's office from the 1930s through '70s," says Sinclair. "When they bought the place, they acquired all the old equipment and let me take this." Since the drawers are too compact to fit clothes, she keeps all of her apparel inside the spacious closet—with the exception of her new raccoon fur jacket, which was a holiday gift from her mother. The curtains in her room are custom-made from Amanda Nisbet (amandanisbetdesign.com) fabric.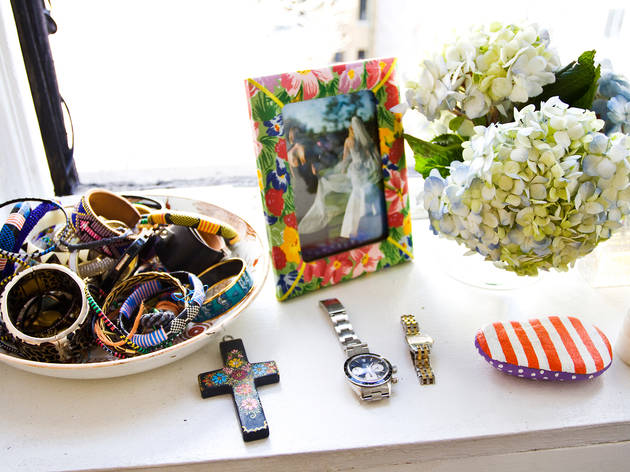 24/24
Photograph: Caroline Voagen Nelson
A collection of bangles and watches—which sit inside a bowl from John Derian—plus more fresh flowers and a hand-painted rock from a friend litter Sinclair's windowsill. A D. Portault frame from Bergdorf Goodman (754 Fifth Ave at 58th St; 212-753-7300, bergdorfgoodman.com) displays a snapshot from a friend's wedding.
Apartment tour: 1BR in the West Village
Textile expert Mary Nelson Sinclair adapts Southern charm to modern city life.
Mary Nelson Sinclair, studio director for bespoke textile company Vanderhurd, lets us peek inside her West Village apartment. She shops at home design stores such as John Derian and the Showplace Antique Center to find pieces that match her artistic, feminine aesthetic.

LOVE THE LOOK? GET IT HERE!
Estilo Upholstery 170 Rivington St between Attorney and Clinton Sts (212-473-1735)
"It's super cheap, super fast and really good," enthuses Sinclair. "I used them to re-cover my couch. They'd quoted me two weeks for the job, but it only took them a week and a half."
John Derian 6 2nd St between Bowery and Second Ave (212-677-3917, johnderian.com)
"I don't think you can go wrong there," says Sinclair of her go-to ephemera shop. Aside from dishes and candles, the eclectic offerings range from paper goods (postcards, decoupage templates, collage mats) to furniture, rugs, tote bags and Moroccan leather sitting poufs.
Portmanteau 81 Grand St at Wythe Ave, Williamsburg, Brooklyn (718-384-0777)
A favorite from Sinclair's days of living in the neighborhood, this shop stocks an eclectic mix of new tchotchkes—many of which are made by emerging local vendors—and antique wares. "I love the smaller accessories there," she says.
Showplace Antique Center 40 W 25th St between Fifth and Sixth Aves (212-633-6063, nyshowplace.com)
"The guy who has the whole top floor, Showplace on 3, is my go-to for light fixtures and furniture," notes Sinclair, who scored her lucite-and-leather living room chairs at the sprawling antiques emporium.
You might also like
Apartment tour: Studio in the East Village
Apartment tour: 1BR in Murray Hill
Apartment tour: 3BR in Brooklyn Heights
See more in Shopping & Style