Heads up! We're working hard to be accurate – but these are unusual times, so please always check before heading out.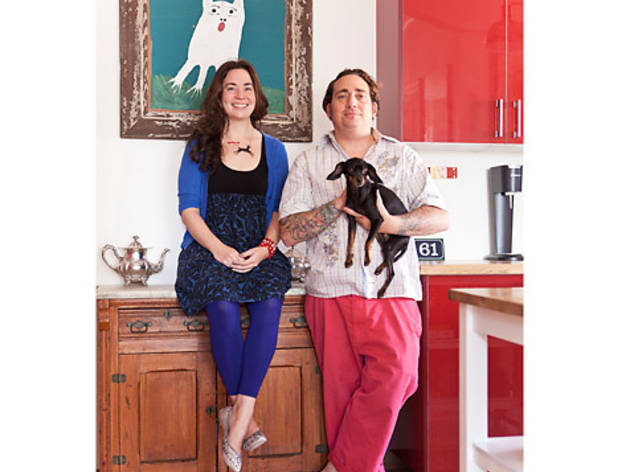 1/19
Photograph: Jani Zubkovs
Allegra LaViola, who owns the namesake Allegra LaViola Gallery (179 East Broadway between Jefferson and Rutgers Sts; 917-463-3901, allegralaviola.com), bought her one-bedroom in an Art Deco 1930s apartment complex last September. "I grew up in a house full of lots of antiques, so the whole ultra-sleek modern look has never appealed to me," she says. She lives there with her boyfriend, Forrest Cole, who owns Brooklyn restaurant Loading Dock (170 Tillary St at Gold St, Downtown Brooklyn; 646-355-7518, loadingdock.tumblr.com), and their Miniature Pinscher, Molly.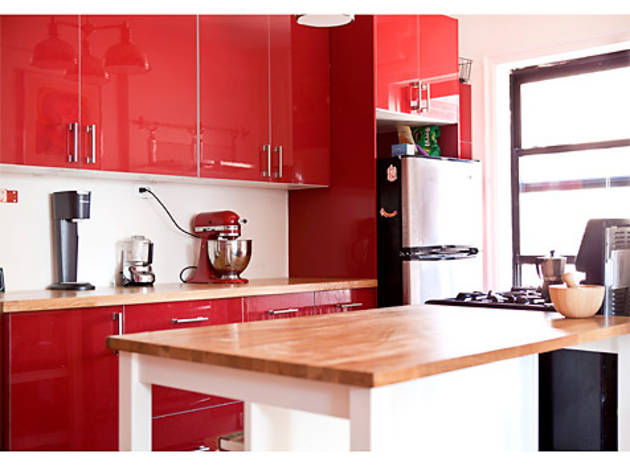 2/19
Photograph: Jani Zubkovs
"The kitchen had original cabinets that were really cool, but they had been painted over so many times that they looked disgusting," says LaViola. She replaced them with these sleek red Ikea cupboards, which her superintendant installed.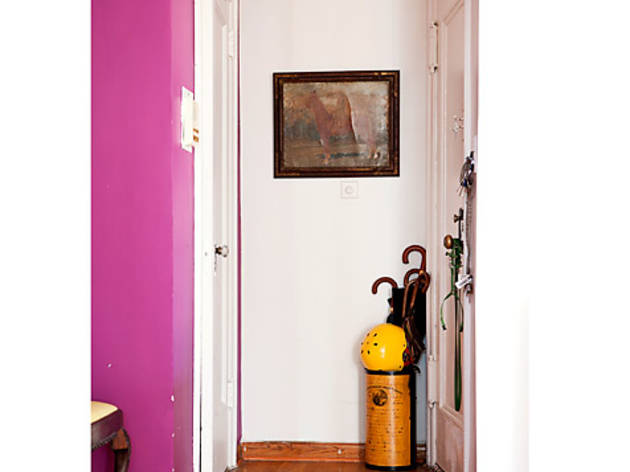 3/19
Photograph: Jani Zubkovs
"Almost half of everything that is in this apartment belonged either to my grandmother or my mother," admits LaViola. "I'm an only child, so you get everybody's stuff. When my grandmother died about eight years ago, I took a lot of her things; I was very close to her, so its nice to have that link." The umbrella stand and many of the umbrellas stored inside of it belonged to LaViola's grandmother, and the painting in the entryway is a portrait of her as a little girl on a horse. "It's not in great condition, but its fun."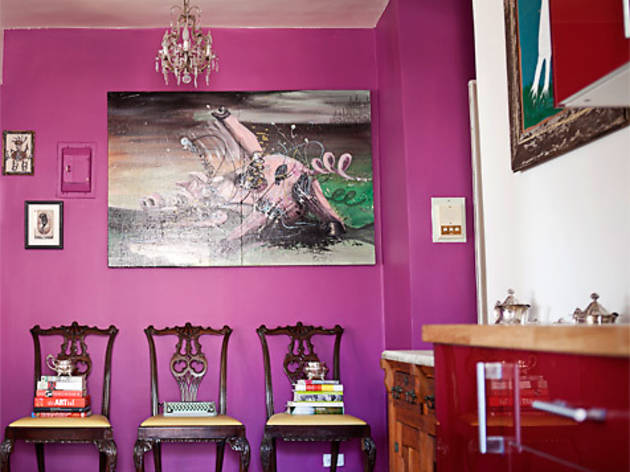 4/19
Photograph: Jani Zubkovs
Dining-room chairs that once belonged to LaViola's grandmother double as design objects, used to display art and poetry books and an Herms baby typewriter LaViola bought on eBay. "It's the same model that Jack Kerouac used," she notes. "It was considered the Apple of its time." The large painting of an exploding pig is by Brooklyn artist Brian Montuori. "He has a dark, macabre sense of humor, and I like that," she says.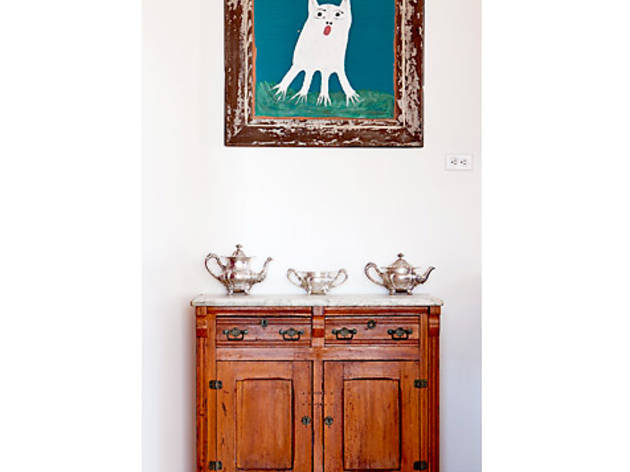 5/19
Photograph: Jani Zubkovs
LaViola bought this wood console from Housing Works (locations throughout the city, visit housingworks.org) a few years ago. "I like to bake and it's great for rolling out pie crusts, because the marble doesn't get hot," she says. The painting hanging above it came from the Outsider Art Fair and is by Southern artist Jimmy Lee Sudduth. "He had seven white dogs and he named them all Toto and he made all of these paintings of Toto," explains LaViola. "I originally thought it was of a chicken."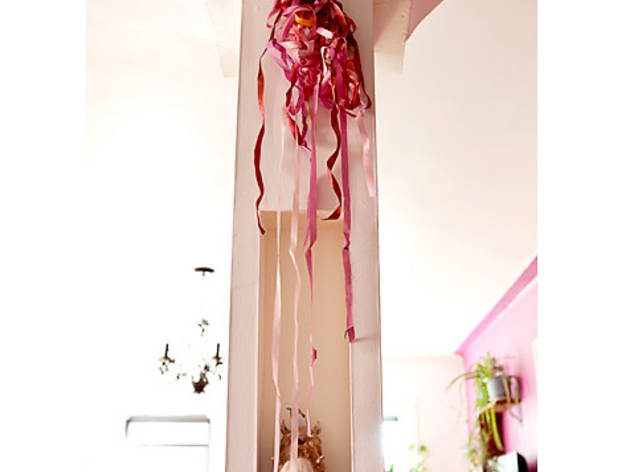 6/19
Photograph: Jani Zubkovs
"These are the ribbons from the balloons that my mom got in the hospital when I was born," explains LaViola of the pink streamers tacked to the wall. The furry object in the alcove was a gift from artist Holly Cho (hyunyoocho.com), who showed in an exhibit at LaViola's gallery last February. "Forrest fell in love with these weird little animals, so she made this specially for us," she says.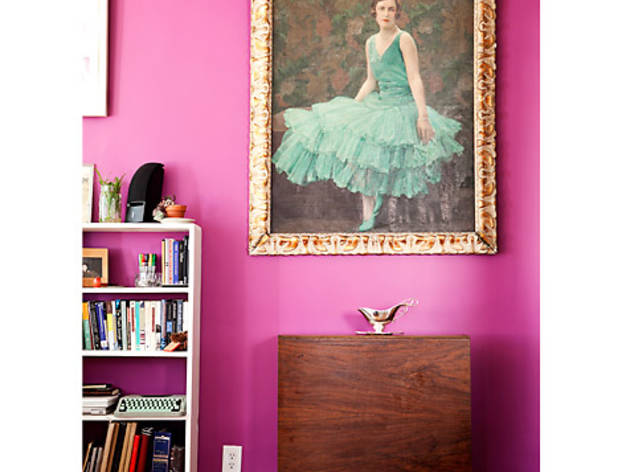 7/19
Photograph: Jani Zubkovs
This portrait of LaViola's grandmother was painted when she was a bridesmaid. "The legend goes that the painter couldn't get the lips right, so he used real lipstick on the painting," muses LaViola. "I kind of think that's probably not the case, but whatever." The Danish folding table below it was a Craigslist find. "I'm a big Craigslist freak," she admits.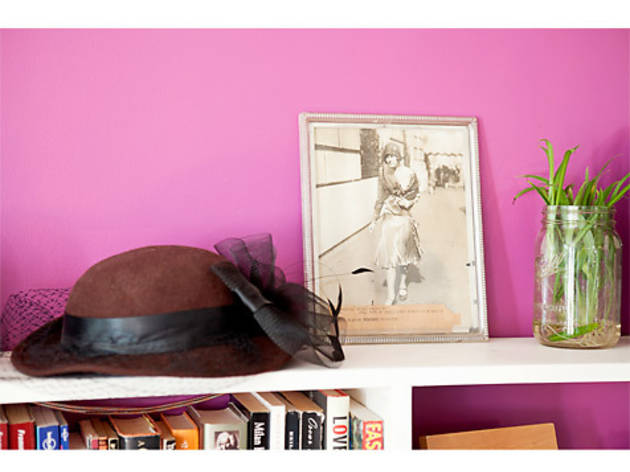 8/19
Photograph: Jani Zubkovs
This press photo was taken of LaViola's grandmother walking down Park Avenue. "She wasn't Paris Hilton or anything," jokes LaViola. "My grandma was very lively. She knew everyone, everybody loved her–she was just this girl about town."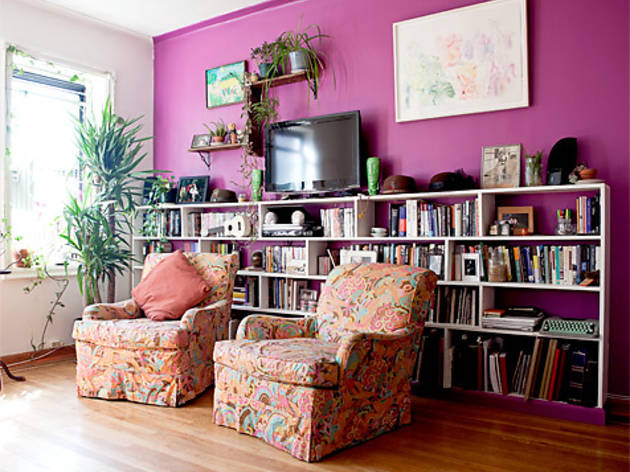 9/19
Photograph: Jani Zubkovs
Cole built the living-room bookshelf using wood recycled from past installations at LaViola's gallery and painted the trim to match the walls. The various plants are also Cole's doing: "A lot of them I got from other people's cuttings and grew them as babies," he says. The retro-looking chairs, meanwhile, originally sat in LaViola's home growing up and now bear slipcovers her mother made out of curtains from the '60s.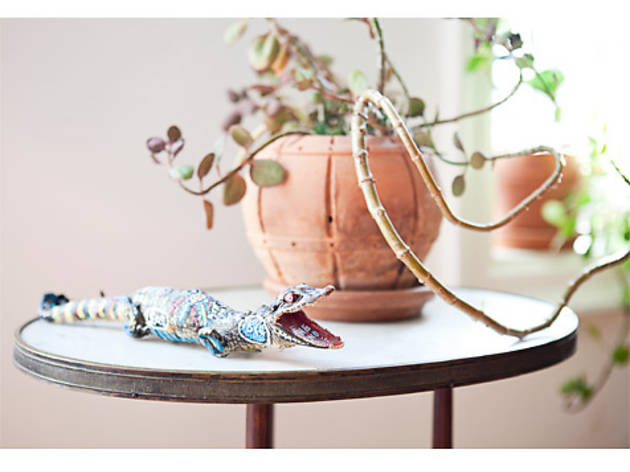 10/19
Photograph: Jani Zubkovs
Canadian artist Jason McLean (jasonmclean.ca) decorated this taxidermied baby alligator and painted THE END inside its mouth. It sits atop a side table that once belonged to LaViola's grandmother. "She had pretty great stuff, and I'll never need to register!" laughs LaViola.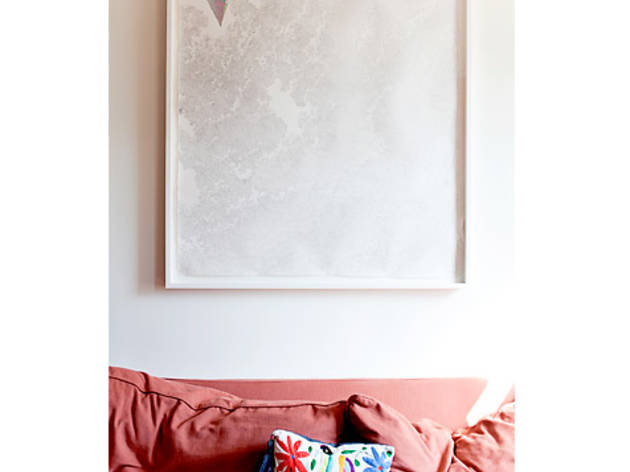 11/19
Photograph: Jani Zubkovs
A drawing by California artist Casey Jex Smith (caseyjexsmith.com) invites closer inspection: it's entirely created by ballpoint pen and colored pencil. "He's unbelievable," gushes LaViola. "I have drawings at the gallery that are bigger than this and he doesn't even start with a plan-he just goes."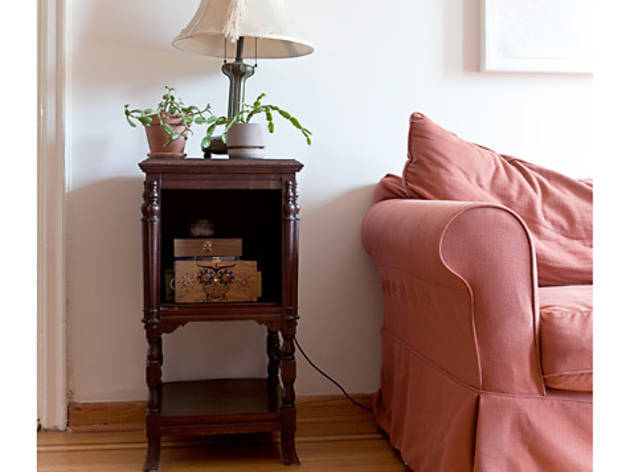 12/19
Photograph: Jani Zubkovs
The couple stores dominos in a side table from LaViola's grandmother. "We play a lot of dominos," says LaViola, motioning to a box of Civil War–era ones she scored on eBay. "There's one domino that you can sort of tell what it is [from the back], which is annoying."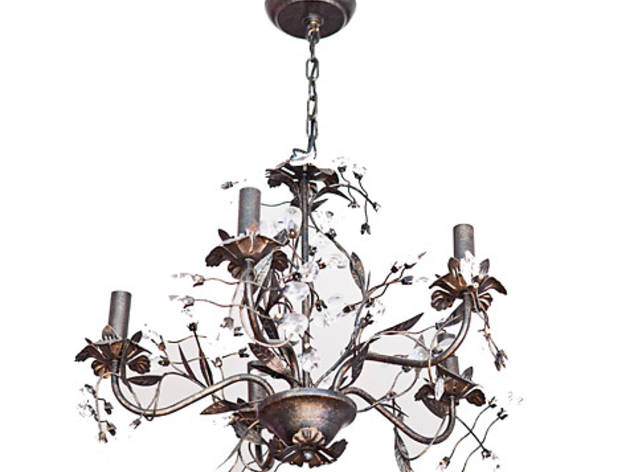 13/19
Photograph: Jani Zubkovs
LaViola found this ornate chandelier at the Light House (162 Bowery between Broome and Delancey Sts, 212-344-4980), where she purchased most of her light fixtures. "The Bowery is really a gem for any lighting stuff," she says. "I hope those places don't totally disappear."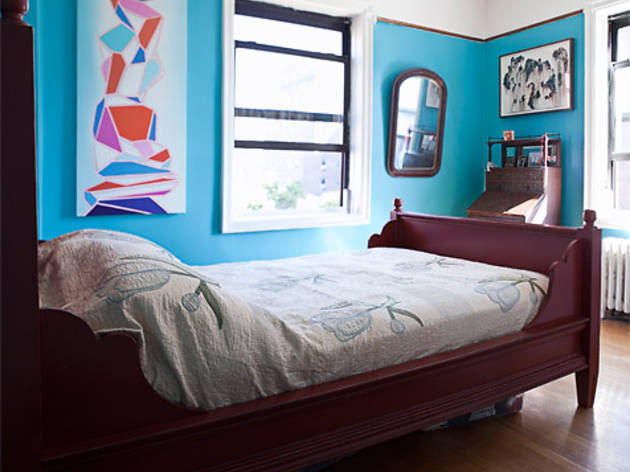 14/19
Photograph: Jani Zubkovs
Teal-blue paint brightens up LaViola's light-soaked bedroom. "The last apartment I was in I had lavender walls and it was nice, but then I started to kind of hate it," she admits. "It sort of felt like a baby's room." She discovered the quilt in her mother's closet and the bed on Craigslist. "It's originally from Pottery Barn, but it's kind of weirdly Swedish to me," she reflects.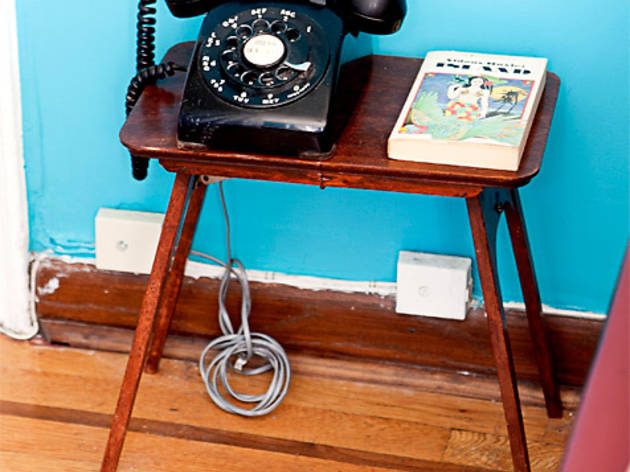 15/19
Photograph: Jani Zubkovs
"I don't have night tables yet, so I'm using these folding card tables," explains LaViola. The old-school rotary telephone is another hand-me-down from her grandmother and functions to this day.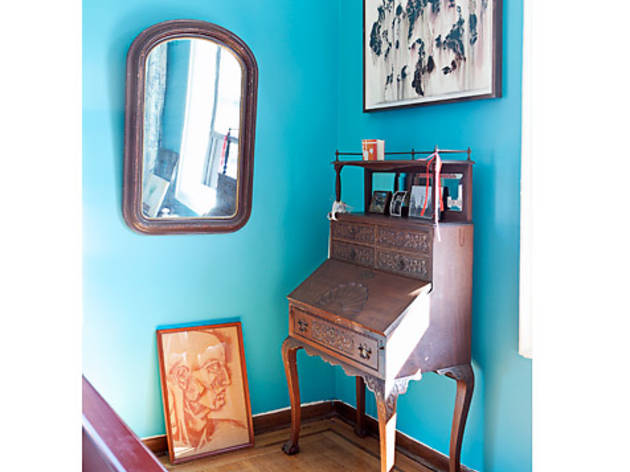 16/19
Photograph: Jani Zubkovs
A watercolor by Swedish painter Erik Jeor (erikjeor.com) hangs above LaViola's grandmother's old writing desk. The timeworn-looking mirror was scooped up at the Brooklyn Flea, where Cole sets up his Choncho's Tacos food stand on weekends.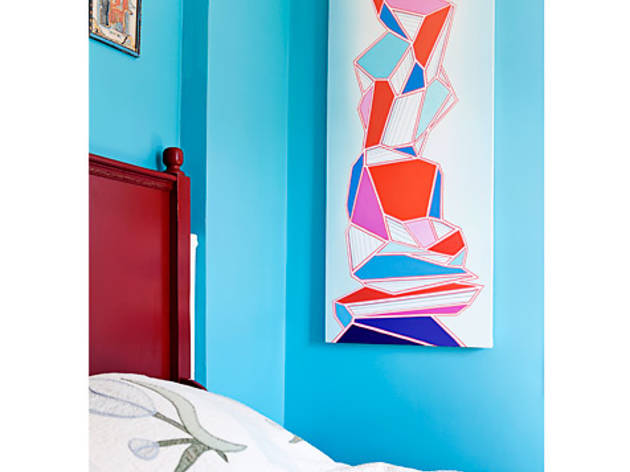 17/19
Photograph: Jani Zubkovs
"I love the kind of geometric explosion," says LaViola of this painting by Brooklyn artist Jennifer Riley (jenniferrileyart.com). "Plus, it's the same colors as my whole patriotic room."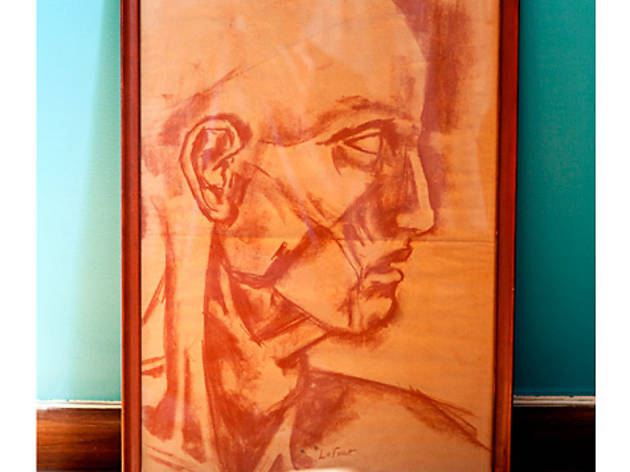 18/19
Photograph: Jani Zubkovs
LaViola's mother sketched this drawing while she was in high school. "She's a real-estate broker but she is really graphically talented," says LaViola.
19/19
Photograph: Jani Zubkovs
Sally Widdowson, a friend of LaViola's who worked with her at Spanierman Modern gallery, created this small painting for her. "I feel strongly about living with art and making it a part of your life," she enthuses.
Apartment tour: 1BR on the LES
Gallery owner Allegra LaViola uses contemporary art and family heirlooms to fill her cozy, vibrant pad.
Zarin Fabrics & Home Furnishings 314 Grand St between Allen and Orchard Sts (212-925-6112, zarinfabrics.com)
Since LaViola's bedroom lacks a closet, she had this fabric store design a curtain track that would allow her to create a makeshift one behind hanging drapes. "It's such a great resource," she enthuses. "If I can ever avoid going to Home Depot, I do."
Saifee Hardware 114 First Ave at 7th St (212-979-6396, saifeehardware.com)
"For all of the little household things, I buy my stuff here," says Cole of this hardware store that also stocks gardening tools and small home accessories.
You might also like
See more Apartment tours