Heads up! We're working hard to be accurate – but these are unusual times, so please always check before heading out.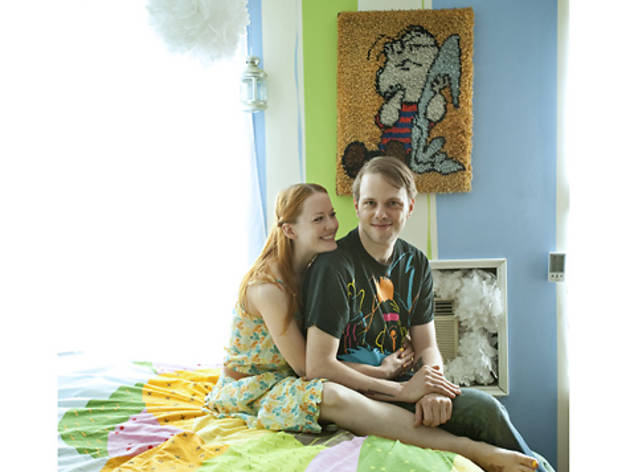 1/32
When 31-year-old graphic novelist and scenic painter Laura Lee Gulledge (whoislauralee.com) met New York Daily News photo editor and comic-book creator Kurt Christenson (powerplaycomic.com), 34, they clicked instantly and shacked up five months later, in February 2010. Not ones to waste any time, the couple painted and decorated after a mere five days. "When we started going out, we just felt like kids," gushes Gulledge, who, along with Christenson, nicknamed their Dr. Seuss–colored rental the tree house. "It's on the top floor, so it's like our own little hideaway."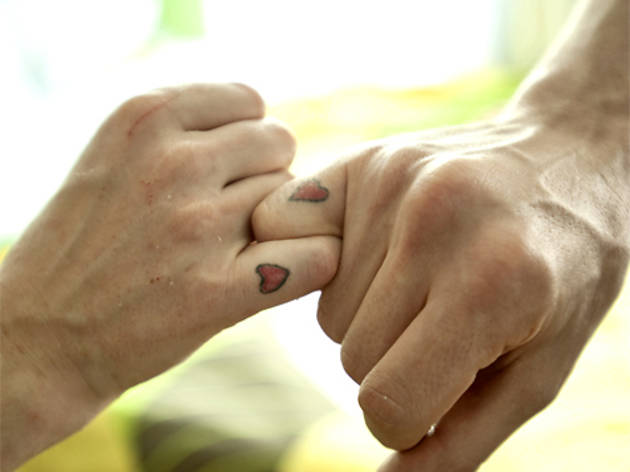 2/32
To save dough, the couple got identical $80 tattoos at New York Hardcore (127 Stanton St between Essex and Norfolk Sts; 212-979-0350, nyhctattoo.com) as Christmas presents. "We got matching hearts on our pinkies because we like to do pinky swears," explains Gulledge. When asked about how others react to such an outward, permanent statement of their devotion, Christenson swears they "don't get flack from our friends—mostly they're jealous. But I do get it from the single girls at the office," he admits. "I work for the gossip side of the Daily News, and they are all the single, reality-TV types who are like, 'love, whatever!'"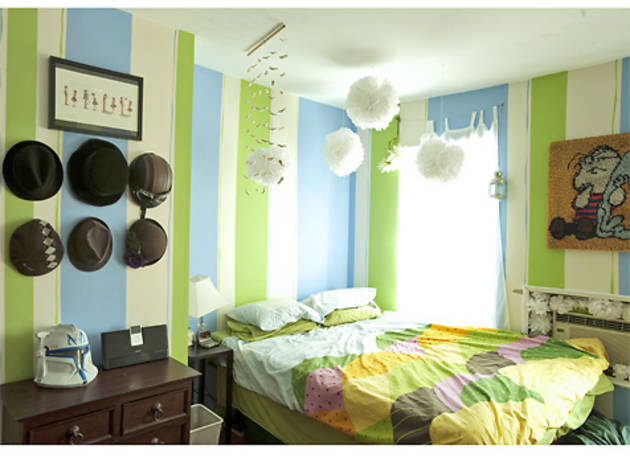 3/32
Though the whimsical bedding looks like it could be for a kid's room, it was purchased in the adult section of Ikea (1 Beard St at Otsego St, Red Hook, Brooklyn; 718-246-4532, ikea.com). "The bedroom [decor] is based around the duvet," notes Gulledge. "The walls are almost like a landscape with hills, a sky and abstract clouds. It's like a children's story." Gulledge painted stripes on the walls using Benjamin Moore's Stem Green and Summer Blue hues.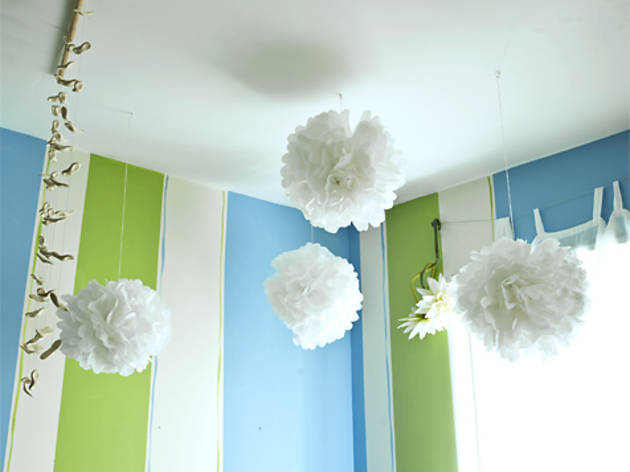 4/32
To construct these floating clouds, Gulledge folded pieces of tissue paper like an accordion and rounded the edges by cutting them in a scalloped shape. She then tied a piece of fishing line around the center of a bundle of five and fluffed them out. The hanging clay peanut shells, which were purchased from Ikea, are meant to divide the bed from the rest of the room.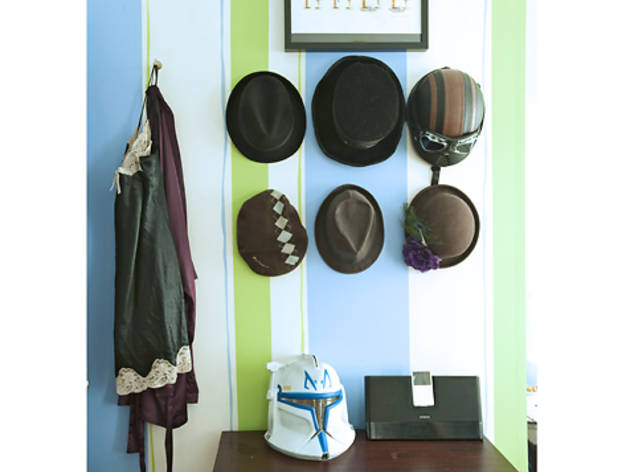 5/32
"We had a crazy-hat party last spring," says Gulledge, pointing to their shared cap collection. "I didn't know what to wear, so I just adorned this little derby one with silliness by adding peacock feathers and a flower, and wore a rainbow-colored outfit." Christenson sported a cowboy topper. "It was actually our housewarming party," he adds. Their headgear hangs on nails above a dresser that Gulledge purchased at the Artful Lodger, a furniture store in Charlottesville, Virginia, that she used to work at.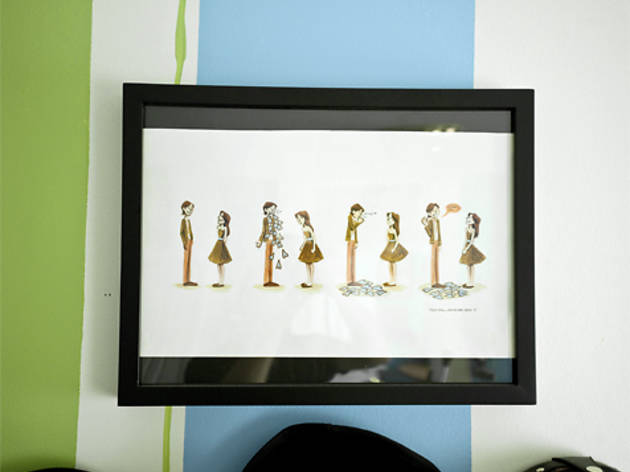 6/32
While Gullegde has created many drawings dedicated to her boyfriend, the piece hanging above their cap collection was the original. "This is the beginning of our relationship," she explains. "The first thing that struck me is how he wears his heart on his sleeve, which is hard to find in New York—a guy who actually has emotions and crap." But Christenson notes that Gulledge wasn't as easy to peg down, since she had been working on a seven-month illustration deal for a book called Paige by Paige. "I tried to get with this young lady for a month," he confides. "I met her through a friend, and she just had no time for me. But an hour into our first date, we were both putting it all out there."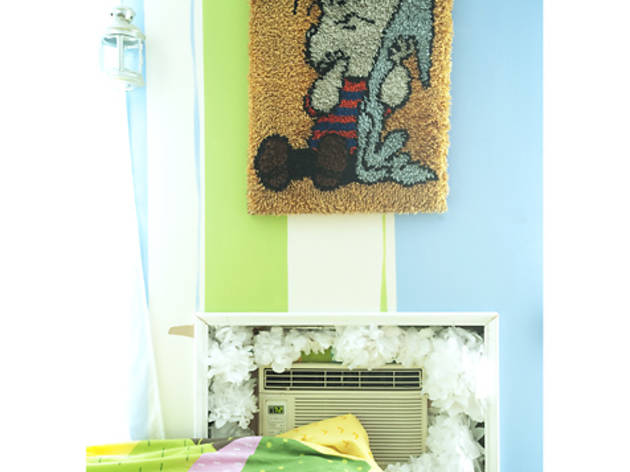 7/32
The couple chose this yarn art piece of Peanuts's Linus van Pelt at Junk (197 North 9th St between Bedford and Driggs Aves, Williamsburg, Brooklyn; 212-260-1851, motherofjunk2.blogspot.com) to symbolize their shared love for cartoons. "We both got into comic books by reading the early Peanuts and Garfield strips," explains Christenson. Gulledge created more fluffy, homemade clouds to spruce up the unattractive AC unit.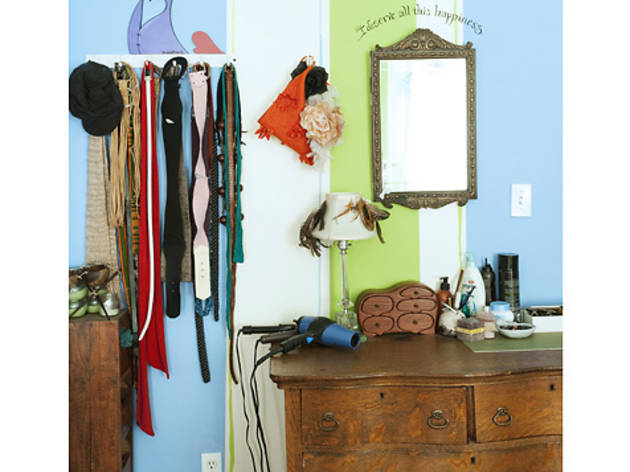 8/32
The bedroom is divided into his and hers areas, and this particular nook belongs to Gulledge. "Because of my background painting murals, designing sets and working at a furniture store, I knew I would be the control freak of the apartment," she admits. "It was like, now I finally get to design exactly what I want. So I was cautious to make sure it's equal parts 'us.' I didn't want Kurt to feel like he was moving into my place." Her parents gave her the bureau, a family hand-me-down, as well as the jewelry box, which was snagged at a crafts fair.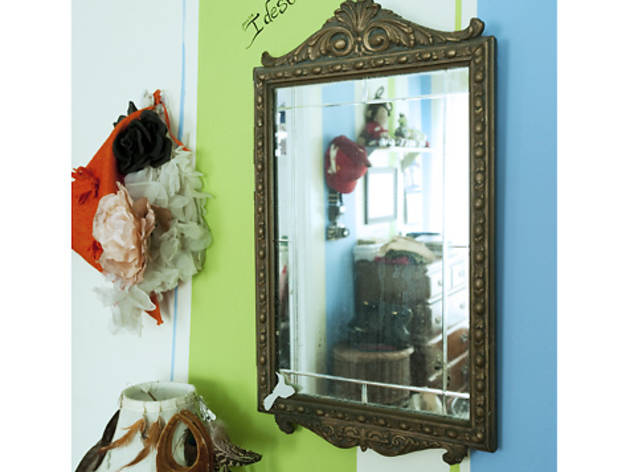 9/32
Above a mirror that originally belonged to her grandmother, Gulledge painted the phrase "I deserve all of this happiness" in India ink as an affirmation to stay positive. "My artwork is therapy-based," she says. "It's about helping me articulate my emotions and change unhealthy behaviors. This is what I tell myself when everything is going well, so that I don't start doubting it." She displays her earrings by hanging them on lamp shades she found on the streets of NYC.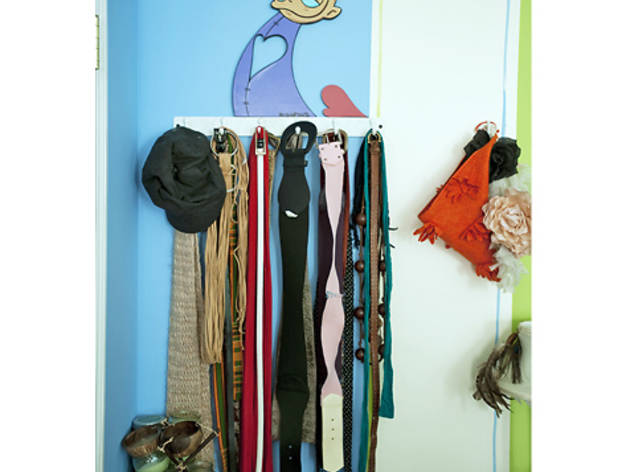 10/32
A wooden cartoon cutout by street artist Bishop203 (bishop203.com) peeks over Gulledge's belts. "He hangs up graffiti, stencils and wooden cutout pieces around the city," she says. "People keep stealing them, so I am very happy that I have one." Hers was a gift from the artist after she invited him to party at experimental event space HiChristina (hichristina.com).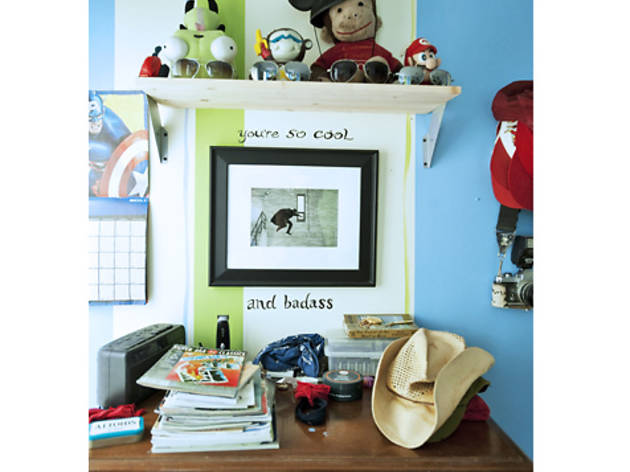 11/32
Following Gulledge's lead, Christenson inscribed his personal mantra, "You're so cool and badass," around a photo he took of his high school friend leaping off a staircase dressed like a superhero vigilante. The quote is inspired by the movie True Romance. "There's a line in it that's similar," he says. He has had the Curious George stuffed toy since the day he was born. It now sits alongside assorted toys he's accumulated throughout the years, including a Super Mario toy he purchased at 7-Eleven while he was drunk on his 21st birthday. "I haven't had a proper bedroom in a long time, so it's nice to finally have this stuff out," he reflects.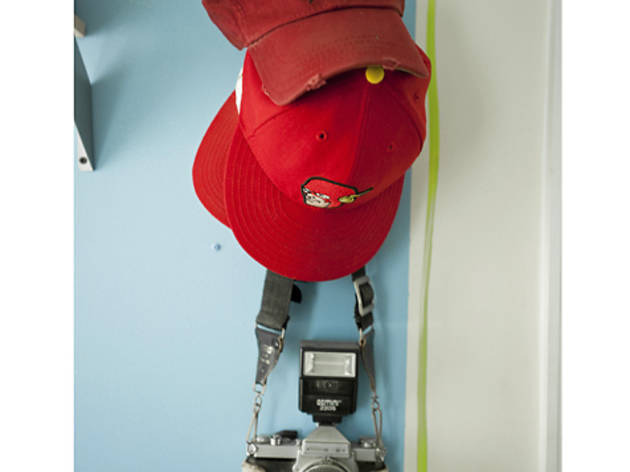 12/32
Christenson hangs his aunt's still functioning camera from the 1960s underneath a shrine of red hats dedicated to his favorite comic book series, The Flash (the main character always wears crimson).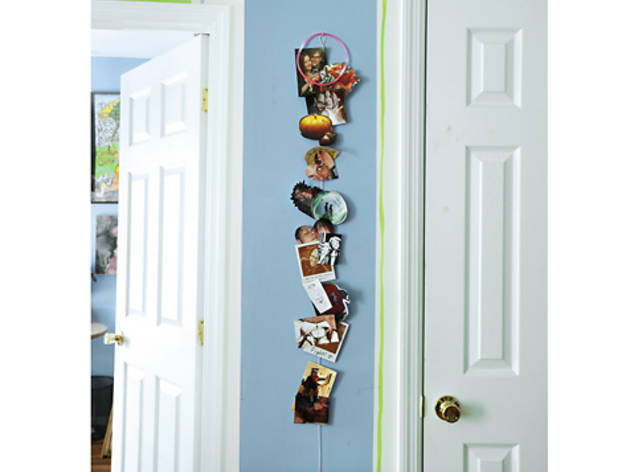 13/32
A collage of personal snapshots and drawings hang off a vertical magnetic photo holder from Dick Blick Art Materials. "When we first started going out, I gave [Kurt] one so we each had a little 'us' shrine," notes Gulledge. When they moved in together, they symbolically combined their shrines into one.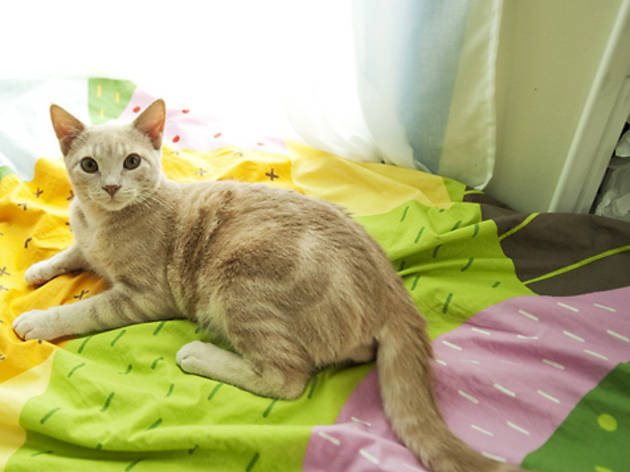 14/32
The couple shares their space with a cat, Rory, whom they inherited in June from a friend of a friend that lives three blocks away. They like to joke that Rory is "from the streets."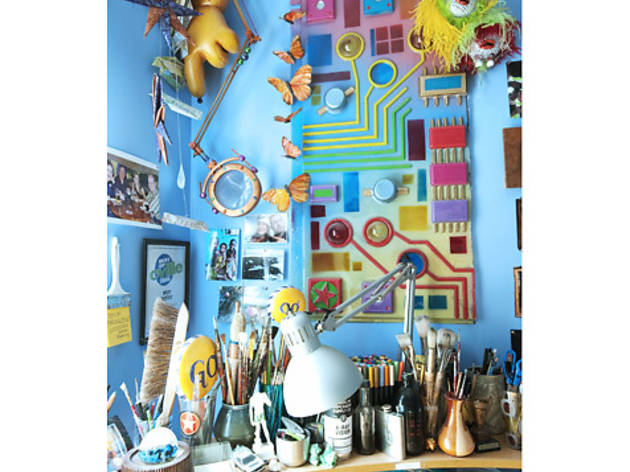 15/32
Although the couple thinks the second room is too small to be a bedroom, it's the perfect size for Gulledge's studio. Her desk is from Circle Under the Roof, a now-closed store in Virginia. The props above it—the rainbow circuit board, fluffy characters, magnifying glass, "Go, go faster" signs and giant glove—are former Macy's Christmas window props that Gulledge helped create as a scenic painter for the past five seasons. "I decided to keep some of the absurd, colorful stuff to decorate my desk," she says. "I like to have souvenirs from my different travels and props from projects that I have worked on. When you're an artist working by yourself, it's nice to have reminders to keep going."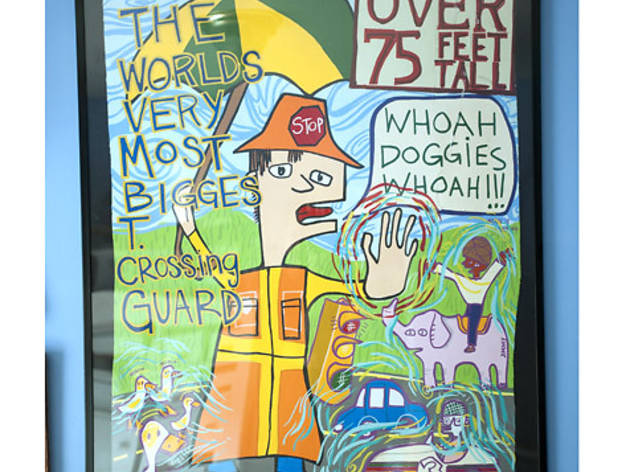 16/32
Gulledge purchased this painting from another art student who attended James Madison University with her. "It made me laugh when I saw it, because it's so absurd and colorful!" she enthuses. "I especially love how the T in biggest doesn't fit properly, so it's on the next line all alone."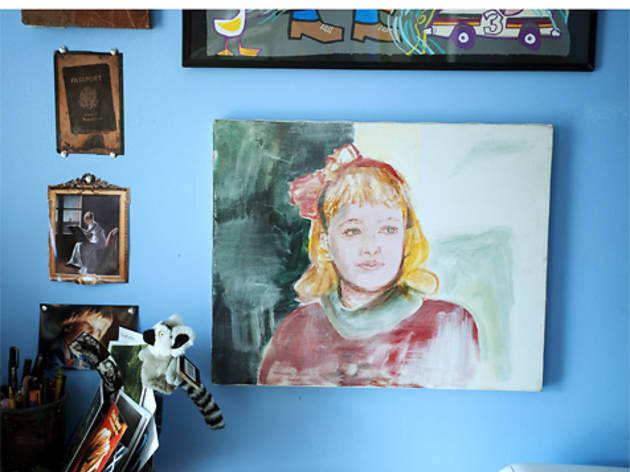 17/32
"I'm a natural blond," admits Gulledge, referring to this portrait her grandma painted of her as a child. "My grandmother became an artist after she retired," she notes. "She died during my sophomore year of high school, and I inherited all of her paintbrushes and art supplies. I like to keep something of hers around."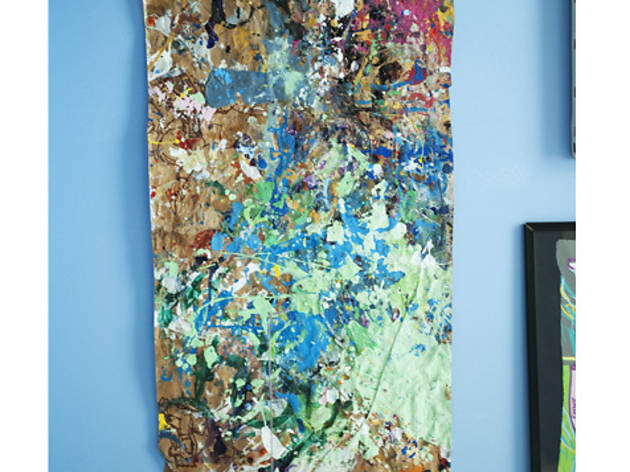 18/32
This Jackson Pollock–esque splatter piece was actually Gulledge's painting station while she worked on the Macy's Christmas windows. "We would cover the tables [with paper], and it would always look cool, so I decided to keep it," she says.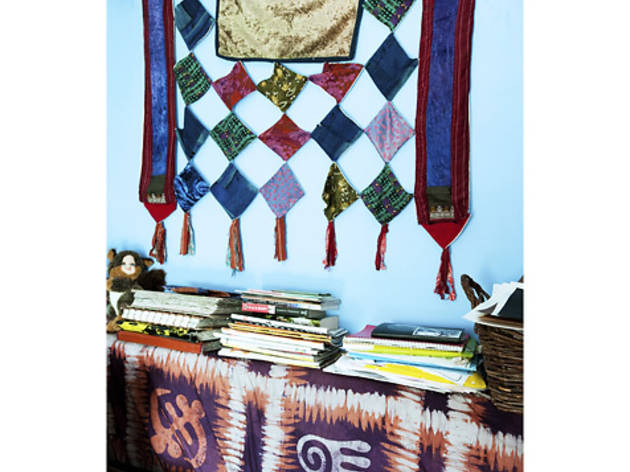 19/32
Gulledge picked up this tapestry from a trip to Turkey. "It's intended to hang on a window like a curtain," she notes. "But I hung it here because Kurt doesn't like it. I don't know why—I think it's super fun, and I like the color combinations."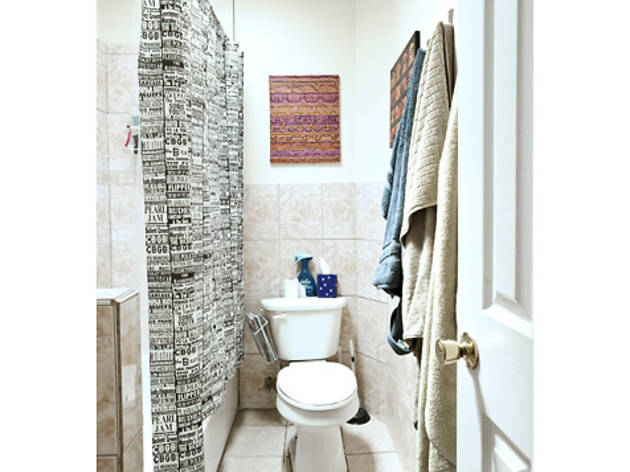 20/32
The only room Gulledge did not paint in the entire apartment is the bathroom. "When we first looked at the place, it was just bare bones—plain white," says Christenson. "But the bathroom was nice with its tiles, skylight and pedestal sink. We felt like we didn't have to do too much to it." A music-themed printed shower curtain from Urban Outfitters(locations throughout the city; visit urbanoutfitters.com) adds a graphic punch to the otherwise minimalist space.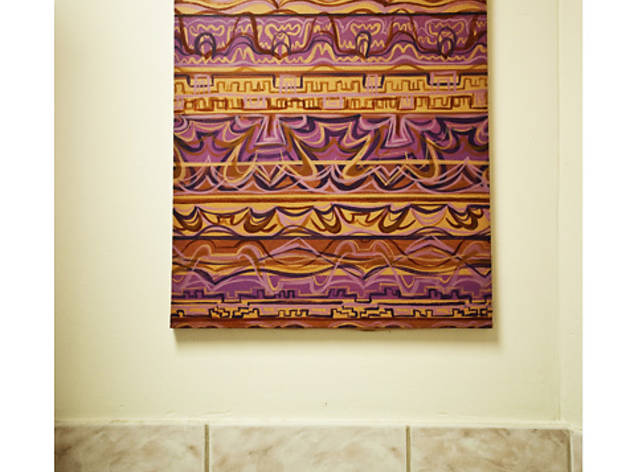 21/32
"I made this painting live at SummerStage in 2010," explains Gulledge. "It [represents] different instruments and is almost like an abstract music sheet. I would listen to one vocal and then paint a line." Her background as a violinist makes her no stranger to musical notations.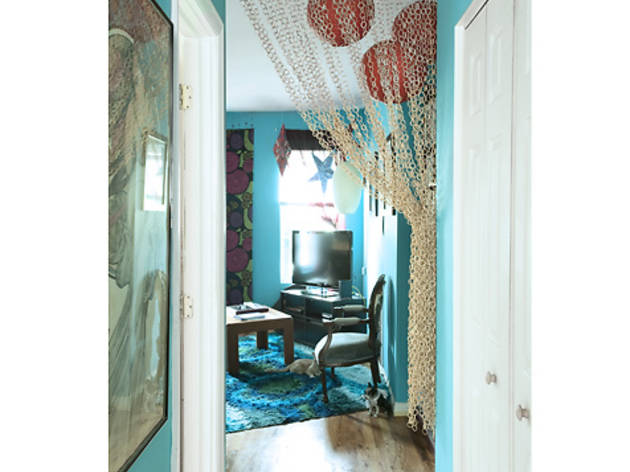 22/32
Since there's no door between the bedroom and the living room, Gulledge hung this Ikea curtain to help define the transition. Paper lanterns from Pearl River Mart lend a lively touch.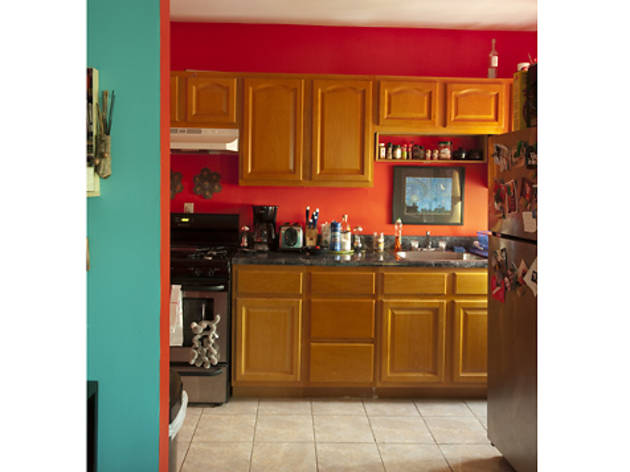 23/32
"I love when these two colors meet—they're really vibrant because they are so opposite," says Gulledge, who coated the living room in Benjamin Moore's Cool Aqua hue and contrasted it with the company's Redstone shade in the kitchen.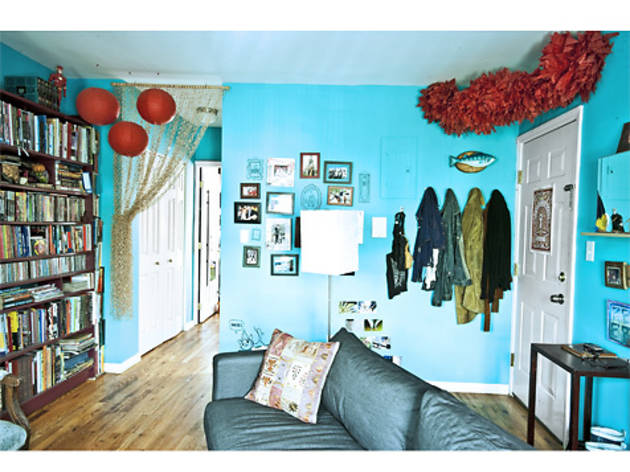 24/32
The red tissue-paper flowers were created the same way as the white ones in the bedroom. "When you have really bright colors next to each other that are not analogous, the best thing to do is put some of the opposing colors in each room," explains Gulledge. "So in the living, there are lots of red pieces, like the lanterns, the poster on the door, the stars and the burgundy curtains. In the kitchen, there is a blue dish rack and a painting. It ties everything together so that it's not like a circus."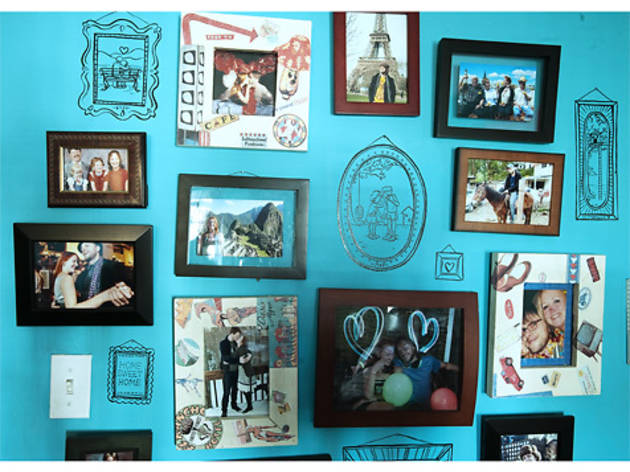 25/32
After the lovebirds put up this photomontage of themselves, they decided to fill in any empty spaces with imaginary pictures of themselves together at different ages. "This is 2000, when I had short hair and overalls, and he had long hair," says Gulledge, nodding to a drawing. "And this is us as old people when we will have the same hair cut once again."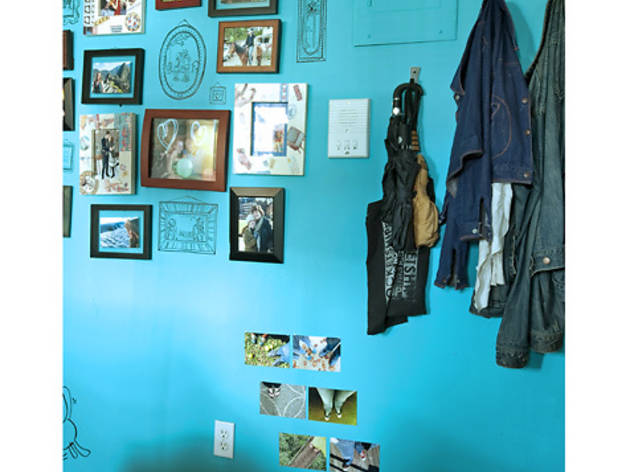 26/32
"We discovered that we both, separately, like to take pictures of our feet," remarks Gulledge. Most of her photos are of her "hippie" bare feet in Turkey, Ghana and Spain. Christenson's Converse kicks were photographed in places like Florida, Atlantic City and NYC subway stations. There are, of course, also shots of their tootsies together.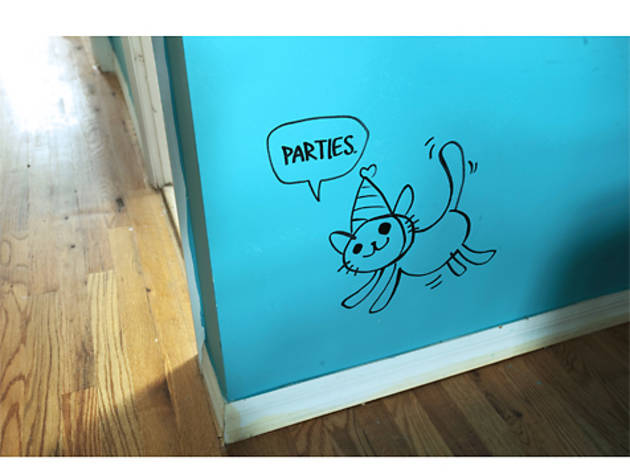 27/32
"We were drinking wine on one of our first real nights here, and I showed her Party Cat (nedroid.com), an online web comic about a cat who wants to throw parties," says Christenson. "We were laughing and laughing, and then I went out to pick up more drinks and ice cream. When I came back, she was on the floor panting this cat on the wall. And I was like, 'That's perfect! It's what I've always wanted.'"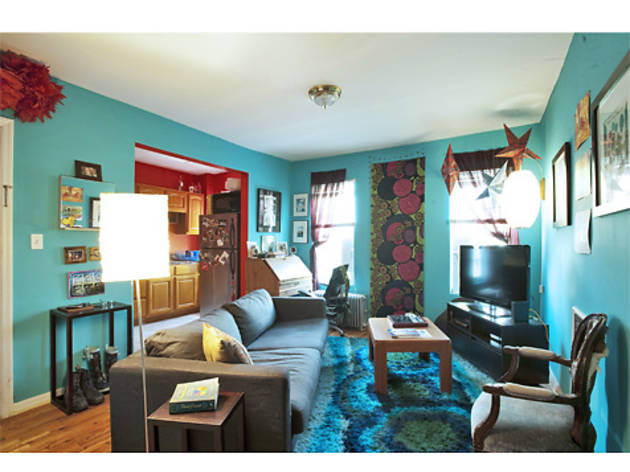 28/32
Gulledge outfitted the living room with her parents' coffee table and authentic shag rug from the '70s. The rest of the furniture was just as thriftily acquired: The couches and circle-print wall tapestry came from Ikea, and the TV unit was purchased at Target (locations throughout the city; visit target.com). "The stars [in the right corner] were like five bucks in Spain," marvels Gulledge. "My dad got the white lantern in the 1970s, and I've hung it in every place I've lived. I just keep cleaning and saving the lamp, because I love it."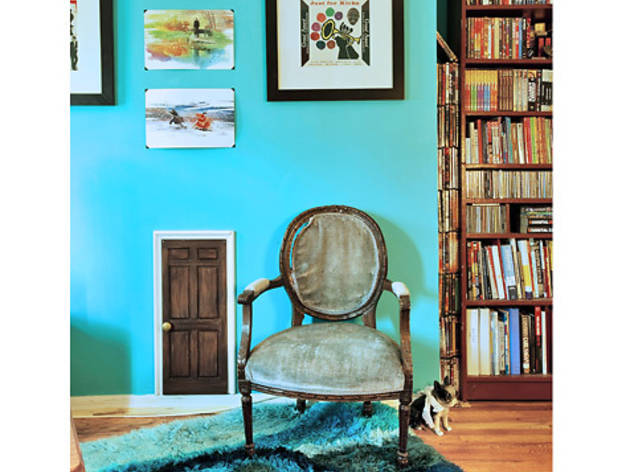 29/32
"The tiny [faux] door is where our house elf lives," jokes Gulledge. "I was working on the Lord & Taylor windows, and everything needed to be scaled down to a third of its real size. We didn't end up using this for the window, so I took it. I've always wanted a little door." Hanging above a suede armchair, which is the only item left over from the apartment's previous tenant, are three prints that belong to Christenson. "They were created by one of the most popular comic-book artists of all time, Ma Wing-shing," he explains. "I love his stuff. I bought them about ten years ago, and I've always wanted to hang them up, so that's one of the first things I did when we moved in." They're sandwiched between framed $1 vintage records from the Salvation Army (locations throughout the city; visit salvationarmyusa.org).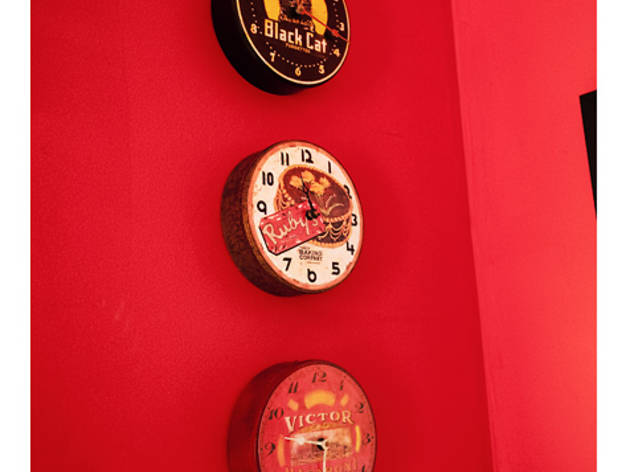 30/32
"I've always wanted a wall of clocks, like the ones [you see] in big, fancy offices that are labeled with different cities," says Gulledge, who discovered this trio of tickers in a clearance bin at the Artful Lodger. "In my old place, the clocks were labeled with [imaginary destinations]—Never Never Land, Hogwarts and Middle Earth—but Kurt didn't seem too into that idea, so I left them unlabeled here."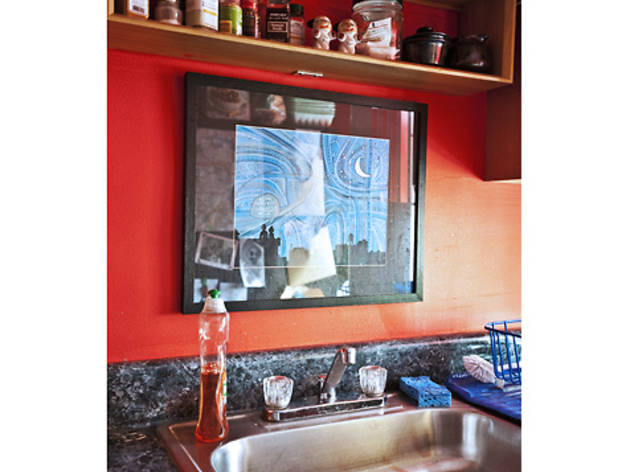 31/32
Gulledge is the artist behind the swirly blue painting above the sink. "We were at home and I was looking out at the moon and laughed, because it reminded me of the Cheshire Cat's grin from Alice in Wonderland," she says. "I made a drawing years ago about the moon, and it was very lonely because whenever I saw a beautiful night sky, I didn't have anyone to share it with; this drawing is about finally finding someone to share it with. Kurt loves the patterns and designs in the background, with all of the energetic blues."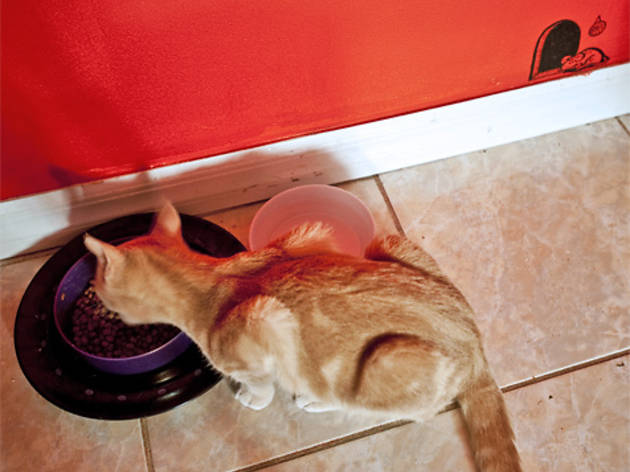 32/32
"The [previous] tenant left out mice traps, so we had a whole mouse massacre [when we moved in]," says Christenson. "Laura is a vegetarian, and I used to be one, so we are very intense animal people. It was heartbreaking for us to have to euthanize this mouse, so we drew him a tribute."
Apartment tour: 2BR in Bedford-Stuyvesant, Brooklyn
It always feels like Valentine's Day in this artsy couple's vibrant love nest, decked out with drawings, photos and sentimental souvenirs of their relationship.
Love the look? Get it here!
Desert Island (540 Metropolitan Ave between Union Ave and Lorimer St, Williamsburg, Brooklyn; 718-388-5087, desertislandbrooklyn.com)
"It's great for random artwork," enthuses Christenson. "It's a comic-book store, but they sell all sorts of prints from Adrian Tomine, Peter Bagge and Charles Burns."
Dick Blick Art Materials (1-5 Bond St between Broadway and Lafayette St; 212-533-2444, dickblick.com)
The artsy couple purchases the majority of their frames and art supplies from this bi-level resource. "Most art stores in this city let me down because I'm always looking for random supplies—from airbrush paint to cheap picture frames," says Gulledge. "But Dick Blick is always organized and always has what I'm looking for. Plus, the staff is lovely."
Junk (197 North 9th St between Bedford and Driggs Aves, Williamsburg, Brooklyn; 212-260-1851, motherofjunk2.blogspot.com)
"The title says it all," states Christenson. "A lot of places would overcharge for something like a typewriter, but at Junk you could probably get it for $50, and it would look nice."
Pearl River Mart (477 Broadway between Broome and Grand Sts; 212-431-4770, pearlriver.com)
"You can get things to help fill up space for not a lot of money," notes Gulledge of this Soho staple for festive, stylish Asian decor. "It's the best bang for your buck."
You might also like
See more Apartment tours
See more in Style & Design