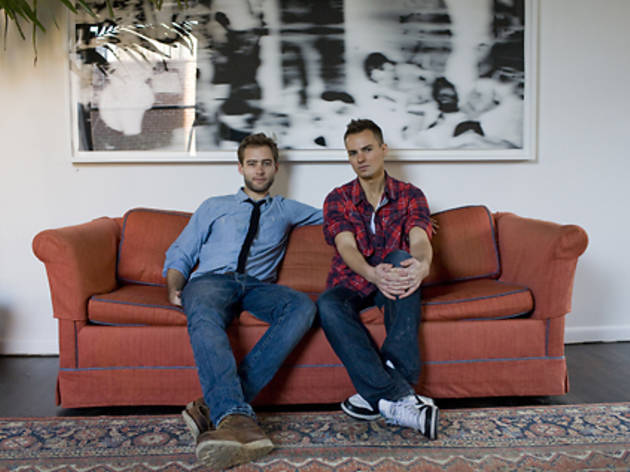 1/16
Photograph: Michael Kirby Smith
Merrell, a 27-year-old model and actor, and Saathoff, a 26-year-old model-turned-agent, have been renting their spacious digs for almost a year. The apartment is a serious upgrade from the first space the roommates shared, when signed with Next Model Management. "The agency gave us a 500-square-foot apartment, and we had a bunkbed," recalls Saathoff, who will be featured on Logo's forthcoming reality show Kept, about the privileged lives of gay New York socialites (which premieres in October). "It was exactly like Zoolander," jokes Merrell.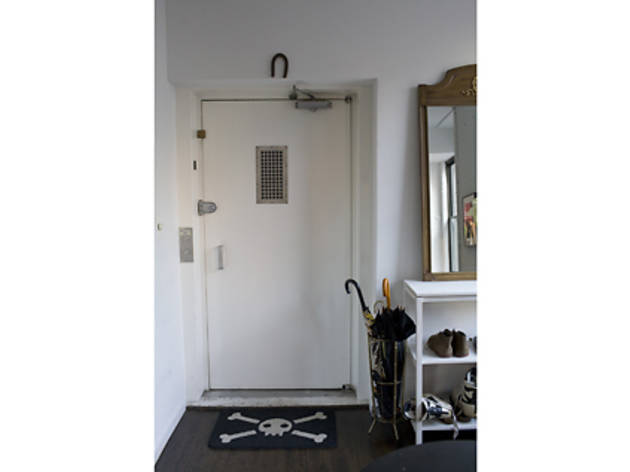 2/16
Photograph: Michael Kirby Smith
Hanging above the elevator door that opens onto their apartment is an upside-down horseshoe (yikes, bad luck!)—but there's a reason it's ass backwards. On a trip home to Louisville, Kentucky, Saathoff picked up the horseshoe for their apartment. But when airport security stopped him during a bag check, he was informed that his souvenir was designed for a mule. "We still think it protects us," shrugs Saathoff. The entry mat is from Bed Bath & Beyond, though "it's got that quirkiness of a Jonathan Adler design," says Merrell.
3/16
Photograph: Michael Kirby Smith
The mustard-colored armchairs were an eBay find that Merrell and Saathoff had reupholstered. They were delivered from Florida by TS and Company (tscmoving.com), a Christian moving crew. "They come up and try to convert you," laughs Saathoff. "It's only, like, $100, so preach all you want to me!" adds Merrell.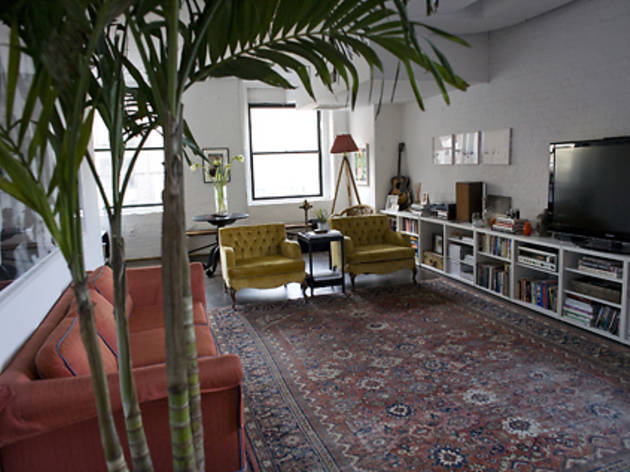 4/16
Photograph: Michael Kirby Smith
Merrell haggled for the rug at the Brimfield Antique Show (brimfieldshow.com) and scooped up the coffee table outside a hospital on Lexington Ave in NYC, which he sanded and then painted black. The shelving unit was purchased from Ikea. "I like the idea of Ikea being an accent, but not the design," explains Merrell.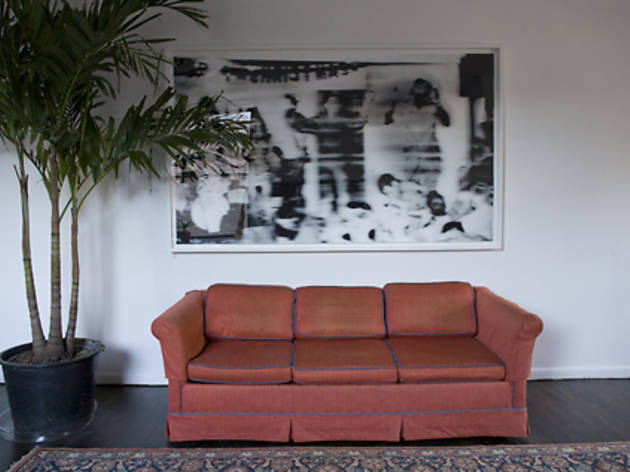 5/16
Photograph: Michael Kirby Smith
A lush palm tree gives the living room a laid-back vibe. "I'm from Southern California, so my influence is Malibu Beach take-your-shoes-off comfort," says Merrell. The couch was a gift from a friend and the photo negative is on loan from a friend. "I think it's some sort of Thai war veteran Christmas," speculates Merrell. "There's war guys in Thailand, and these Thai girls are singing for Christmas—at least that's what I see."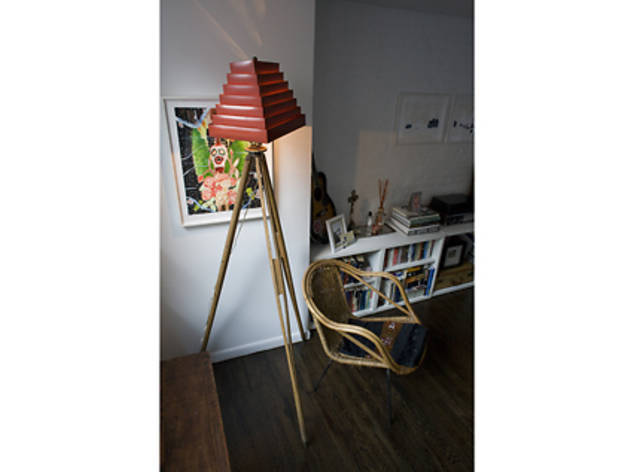 6/16
Photograph: Michael Kirby Smith
Merrell's boyfriend salvaged this Devo-esque lampshade from an old townhouse that was being gutted, and then placed it on a prewired tripod he picked up from the Brimfield Antique Show in Massachusetts. "We put it on when no one is home," says Saathoff. "It's our 'welcome home' light."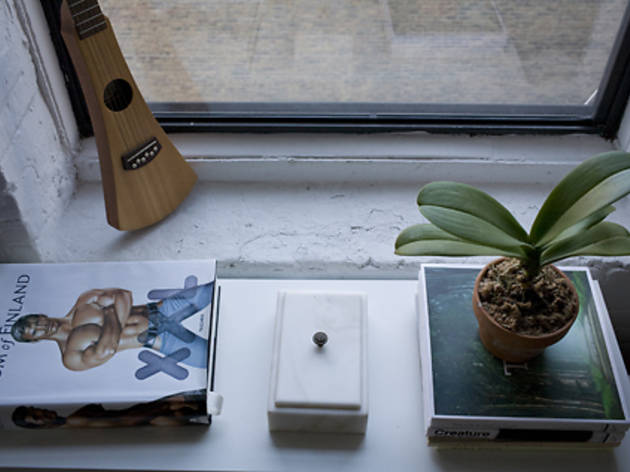 7/16
Photograph: Michael Kirby Smith
This traveling guitar was a birthday gift Merrell received from a friend because "I wanted to take lessons and, yet, there it sits," he laughs.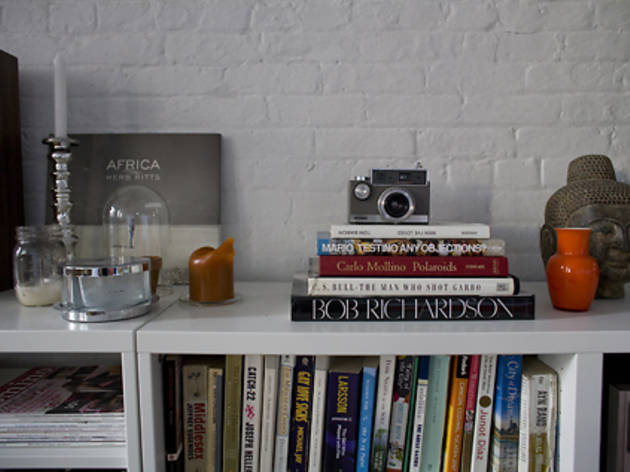 8/16
Photograph: Michael Kirby Smith
"I went through a phase when I wanted start an art collection by buying an art book a month," says Merrell. "People like to look at them. Plus, they give me a lot of ideas and inspiration."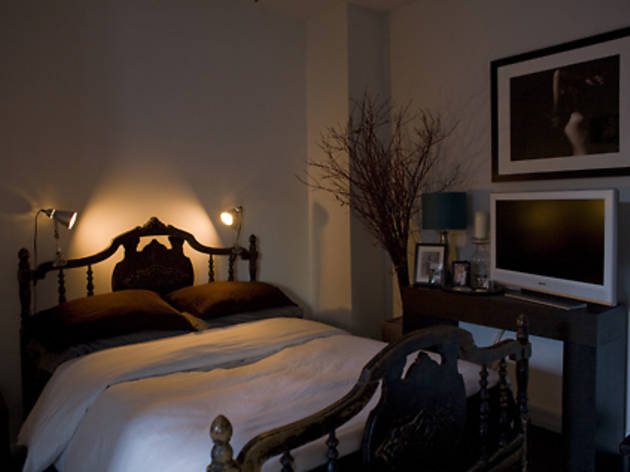 9/16
Photograph: Michael Kirby Smith
The rustic-looking bed in Saathoff's room is a hand-me-down from Merrell, who bought it for about $60 at an antique store in Bloomington, Indiana. The photograph on the wall is a Nicolas Moore piece Saathoff won at an auction during an Allure benefit for ovarian cancer. "I work in the modeling industry, so I like that you can't see her face because if I saw it, I'd probably be like, Ugh, I know her," says Saathoff. The bundle of twigs was kept from a recent holiday party the pair hosted. "I didn't want to get rid of them, so I just stuck them in the corner," says Saathoff. "It's really natural and brings the warmth of the room together."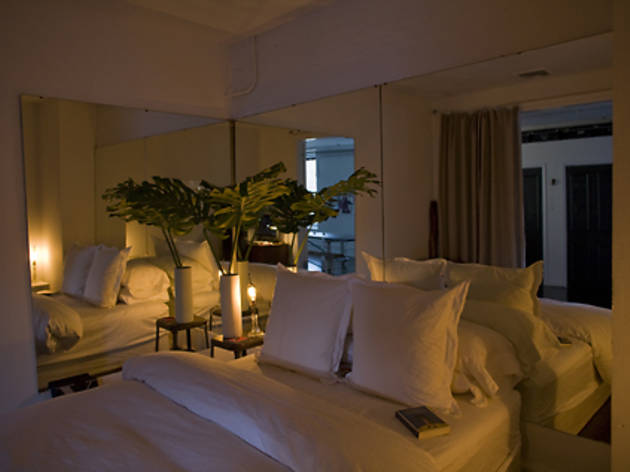 10/16
Photograph: Michael Kirby Smith
Large mirrors make Merrell's bedroom appear twice its size. "The mirrors came with the room when I moved in," says Merrell. "At first I thought it seemed like a dance studio, but now I'm totally excited—they're very functional."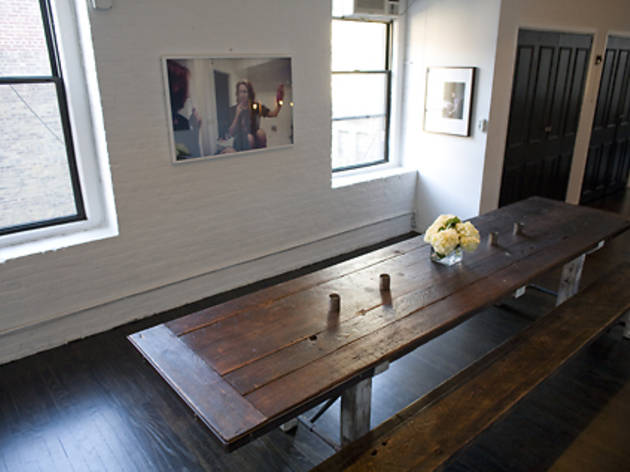 11/16
Photograph: Michael Kirby Smith
Thanks to their accommodating landlord, the guys were able to stain their once-yellow wood floors a rich chocolate brown. "White walls and dark floors are a good canvas," explains Merrell. "Light walls for the artwork and dark floors for the furniture." Merrell's father, a personal contractor (merrellwood.com), made this table out of reclaimed wood and other recycled materials. "People all over Southern California tell him about abandoned houses that are being destroyed," says Merrell. "He makes coffee tables, doors, barbecues—he's incredible."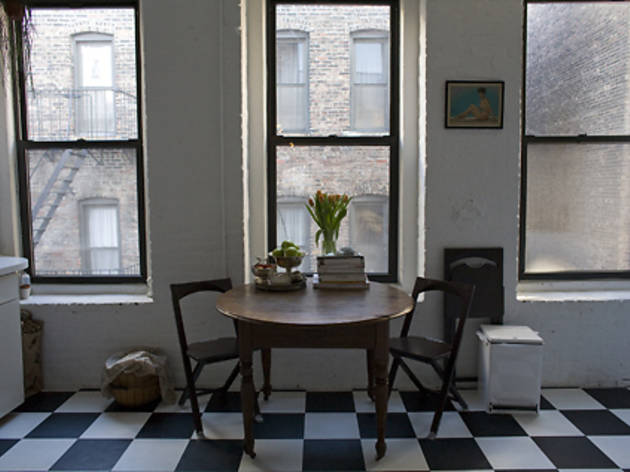 12/16
Photograph: Michael Kirby Smith
Merrell scored the kitchen table at a small vintage store in Bloomington, Indiana and purchased the folding chairs from Design Within Reach; the retro black-and-white tiling was inherited from a previous tenant. "My house in Kentucky has the same checkerboard floors, so it's a nice reminder of home," says Saathoff.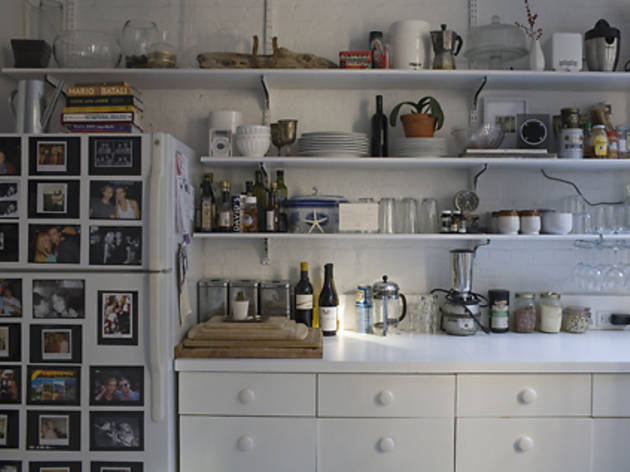 13/16
Photograph: Michael Kirby Smith
"We have a private chef [Georgia Melnyk of Two Peas in a Pod (917-757-3429, twopeasinapodchef.com)] that comes in on Mondays," says Merrell, "but she doesn't cook for us! She cooks for our neighbor upstairs, but since we have a larger kitchen and more counter space, she uses ours. She teaches me so much, and when we come home on Mondays, the apartment smells amazing. A lot of this stuff is a mixture of mine and hers, so we have pretty much anything you need to cook." Adds Saathoff, "Sometimes she leaves food in the refrigerator, like homemade hummus. She's such a nice person; I'll sit back here for hours and listen to her tell stories."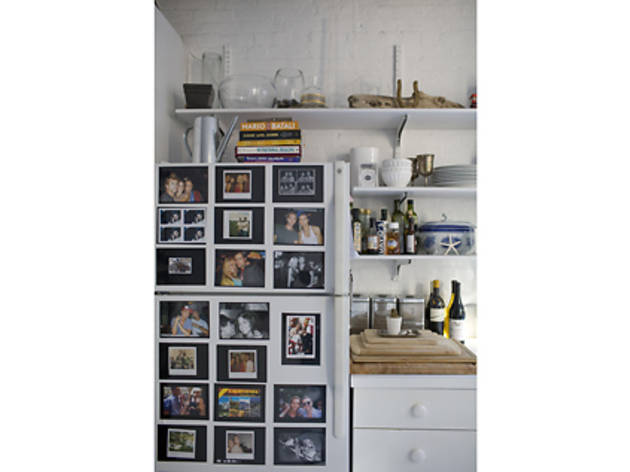 14/16
Photograph: Michael Kirby Smith
The duo keep their personal photos contained to a collage of snapshots hanging in magnetic frames on the refrigerator. "We really value our relationships and want everyone else to see that we take pride in our friends," says Merrell.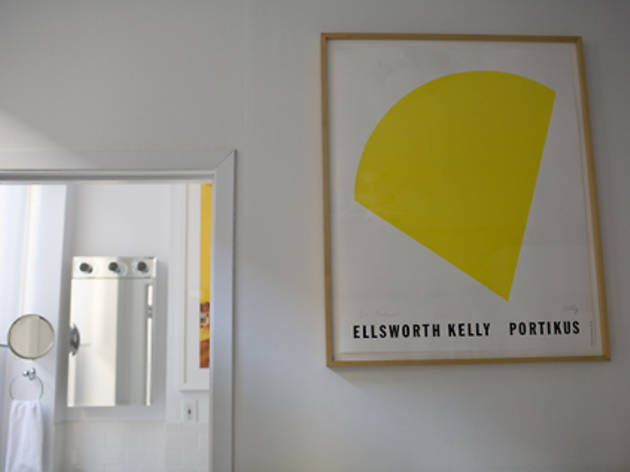 15/16
Photograph: Michael Kirby Smith
"A friend of mine, Andrew Leslie, closed his gallery [Cohan and Leslie] and loaned a lot of these pieces to us," explains Merrell of the apartment's art collection. "He saw that it would really bring life to our apartment. This is one of my favorites in the house; I like the natural wood frame. It's just simple."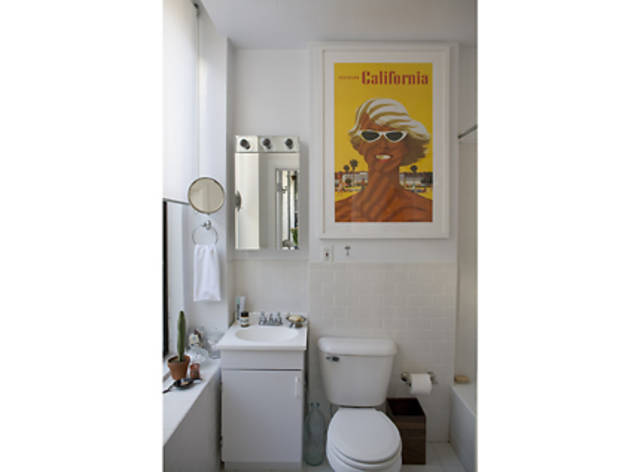 16/16
Photograph: Michael Kirby Smith
A vintage poster from Merrell's mother gives an otherwise all-white bathroom a splash of color while providing the California native with a hint of home.
Apartment tour: 2BR in Chelsea
Models Derek Lloyd Saathoff and Matthew Merrell have one California dreamin' rental.
Love the look? Get it here!
Angel Street Thrift Shop (118 W 17th St between Sixth and Seventh Aves; 212-229-0546, angelthriftshop.org) "It's like Housing Works, but even better," says Saathoff.
The Company Store (thecompanystore.com) Merrell is a big fan of this e-commerce site. "It's the best for bedding, pillows and towels," he says, "and they have sales all the time."
Hell's Kitchen Flea Market (39th St between Ninth and Tenth Aves; 212-243-5343, hellskitchenfleamarket.com) More than 50 vendors hawk vintage goodies at this year-round outdoor market. "I go there just to walk around all day long and pick up things," says Saathoff.
You might also like
See more in Style & Design