Apartment tour: 2BR in Harlem
Church organist Erik E. Carlson's clean-lined sanctum is a showcase for era-spanning art, design and pop culture.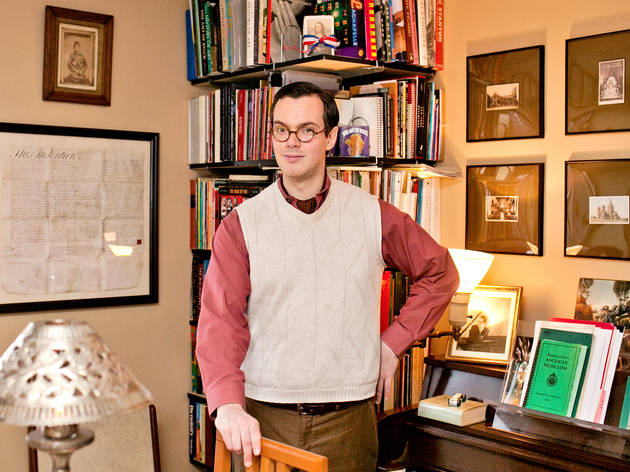 1/33
Photograph: Lizz Kuehl
When a two-bedroom apartment around the corner from Harlem's St. Philip's Episcopal Church (stphilipsharlem.org) came onto the market in 2009, Erik E. Carlson, an organist and choir director at the civil-rights landmark, jumped at the chance to buy the 1,114-square-foot unit. "It's really an old-world lifestyle," he says. "It's seven minutes from my bed to the organ bench, which is an extraordinary luxury." In addition to the unbeatable commute, Carlson was also attracted to the spacious living room. "I'm constantly entertaining, having choir parties and [hosting] visiting musicians," he says. Most of the decor has evolved organically, incorporating items Carlson has inherited or collected since childhood, and reflecting his broad cultural interests.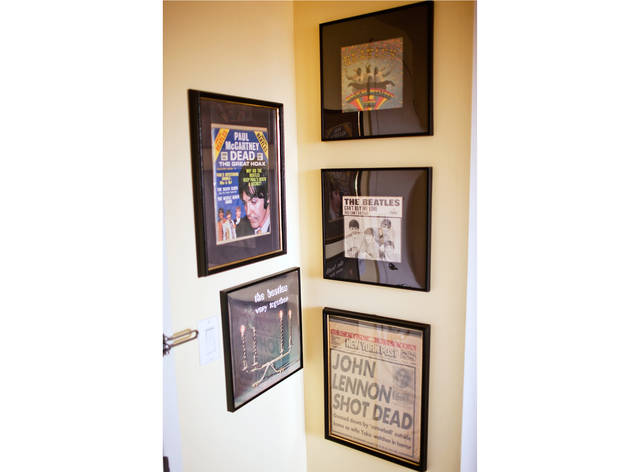 2/33
Photograph: Lizz Kuehl
Evidence of Carlson's teenage Beatlemania greets you in the entry hall, which he painted in Benjamin Moore's Haystack—a "welcoming colonial yellow." He bought at the 1991 Beatlefest (now called the Fest for Beatles Fans, thefest.com) the British mono copy of "Magical Mystery Tour" and the 1969 fanzine covering the rumor that a lookalike had replaced a deceased Paul McCartney. The snuffed-out candle on the cover of the eBay-scored LP beneath it—a 1968 Canadian reissue of 1962 recordings—capitalized on the stories. The original New York Post announcing the death of John Lennon in 1980 was a gift from a friend, while the rare single above it is from a now-closed New Jersey thrift store. Carlson had his memorabilia framed at Rose's Gallery in Chinatown.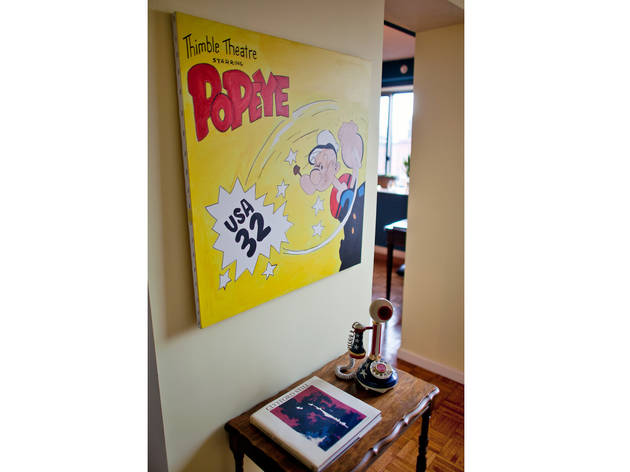 3/33
Photograph: Lizz Kuehl
To create the Popeye painting that hangs in the hall, Carlson copied a 1995 stamp, part of a series issued to commemorate the 100th anniversary of the American comic strip. "I thought it was an easy way to have some Pop Art," he explains.He found the bicentennial-themed candlestick phone (still functional, although he doesn't have a land line) while surfing eBay. The Clyfford Still book, signed by the artist, belonged to his late great-uncle.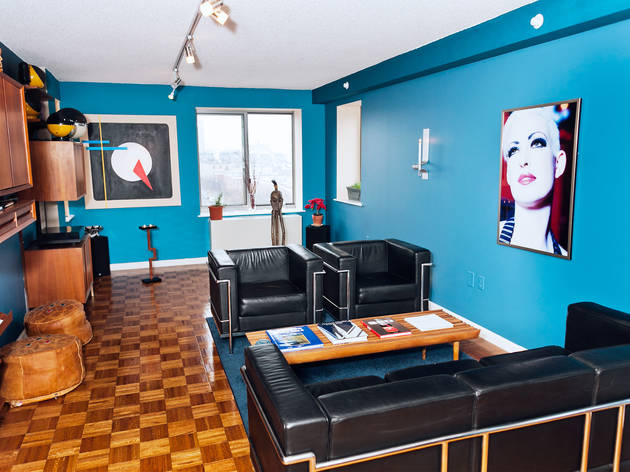 4/33
Photograph: Lizz Kuehl
"I've been told that I have an architect's apartment—and I was told that by an architect," says Carlson. "I like symmetry, but I have tall things that break up the horizontal plane. Otherwise, it looks like a college dorm where everything is at the same level." In keeping with the living room's streamlined, modern aesthetic, Carlson picked up the leather sofa and chairs (based on Le Corbusier's iconic 1928 design) at Braswell Gallery (braswellgalleries.com) in Norwalk, Connecticut. "The huge complex is full of treasures, ranging from delicate 19th-century English bone china and 25¢ LPs to dining-room tables that can accommodate 20," he enthuses. The room is painted with three different shades of blue, the result of Carlson's attempts to replicate the color of an apartment in the period film Mame. While the first two weren't the precise slate blue he had in mind, he was reluctant to repaint completed work. "It's very difficult to tell the difference, but I think it gives the room another dimension," he reasons.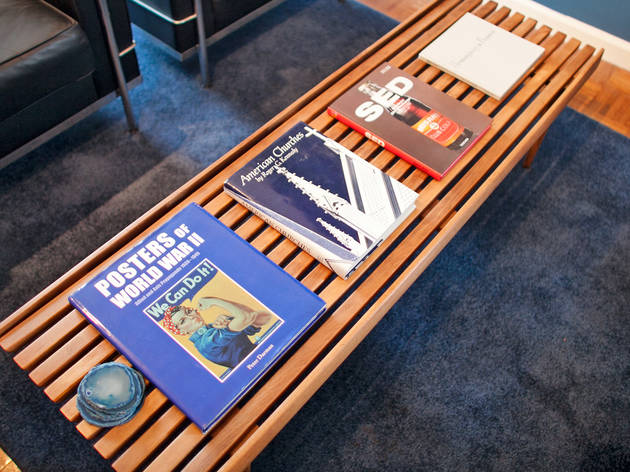 5/33
Photograph: Lizz Kuehl
It's hard to believe this midcentury slatted bench was once, according to Carlson, "ready to be euthanized." He spotted its potential at an Episcopal parish's church tag sale in Greenwich, Connecticut. "It was one of the last items," he recalls. "It had been left out in the rain, the finish had been destroyed and it was just about ready for the trash. They said just take it—so it was free. I took it apart and hand-sanded it, then tung-oiled it, and now it's a very classic bench that goes with the overall aesthetic of this apartment." The books on display reflect some of Carlson's current preoccupations, from Hemingway's Paris haunts to the functional design of postwar East Germany. The tomes rest next to agate coasters that were a gift from a friend.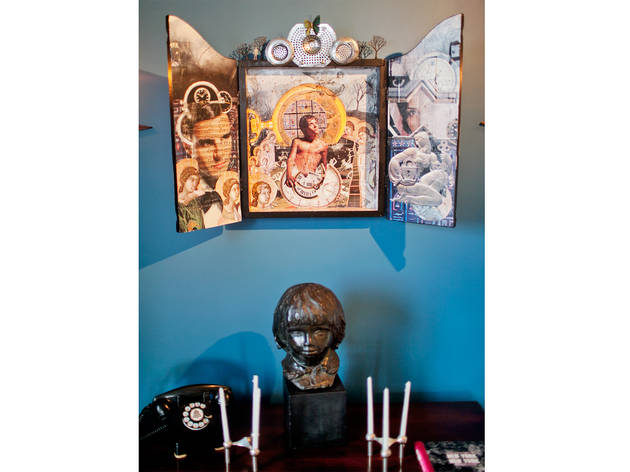 6/33
Photograph: Lizz Kuehl
"It's not meant to be a shrine, though I've been told it looks like one," says Carlson of this grouping of objects. The 1950s museum reproduction of a Renoir bronze of the sculptor's son, Claude, was a serendipitous find while rummaging at Braswell Gallery. "When I was a little boy, my piano teacher had this same bust in her studio," he says. Only very narrow tapers fit in the DDR-era German candleholders, which he picked up at a flea market in Berlin's Prenzlauer Berg neighborhood. "I snatch the leftover vigil candles every year because they're the right size," admits Carlson. The table, found on eBay, telescopes out to seat eight people and often serves as the bar for his gatherings. It currently supports an old rotary phone that belonged to his grandparents.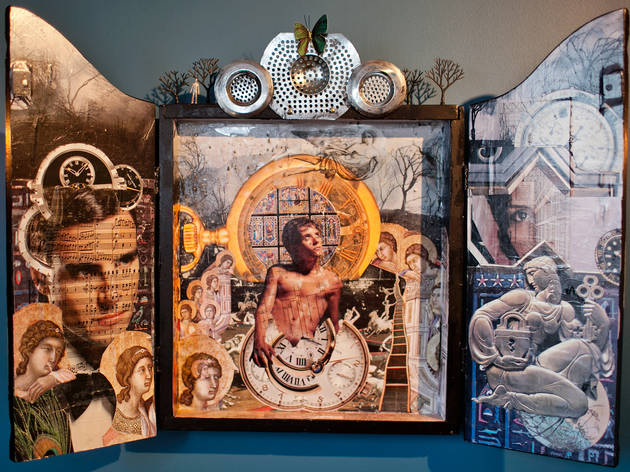 7/33
Photograph: Lizz Kuehl
When Carlson commissioned this mixed-media triptych from midtown artist Guy Veryzer (guyveryzer.com), his only specification was that his friend create his version of a sacred altarpiece. The work represents the calling of a saint, and among its many religious references are peacock feathers, which represent immortality, and a bishop's miter composed of watch faces, alluding to the fleeting nature of earthly life. "I think this is a stunning piece," he says. "Guy is a master craftsman of collage and decoupage, as well as ceramics. His creations are both mythical and mystical, saucy and suggestive, moral and spiritual."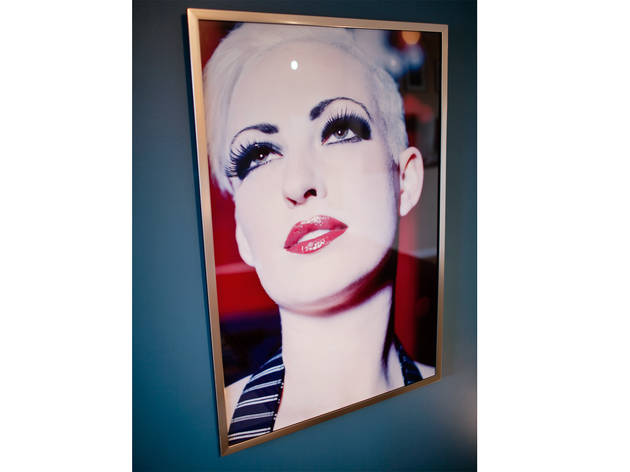 8/33
Photograph: Lizz Kuehl
Carlson's interest in contemporary Berlin photographers was sparked by his friendship with Mollie Black, an American dancer and model who moved to Berlin about ten years ago. Struck by her Facebook profile photo—and faced with a large expanse of bare wall—he contacted the photographer, who works under the pseudonym Jana Berlin (wildatheart-photo.de) because of her day job as a headhunter. After purchasing the image, he had it blown up to its current size of 27.5"-by-40.5".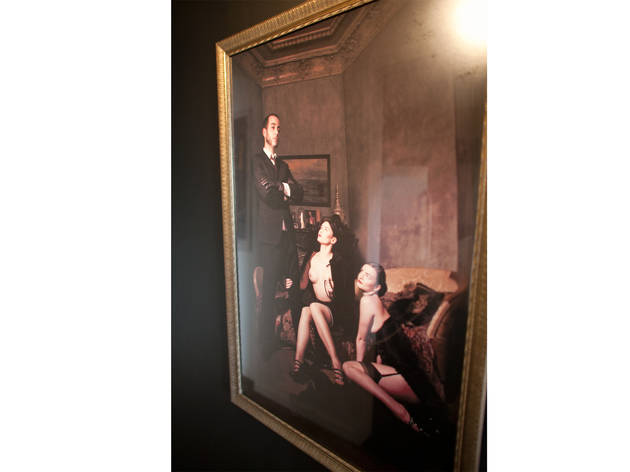 9/33
Photograph: Lizz Kuehl
This photo of Carlson's Berlin-based friend Ivan Aranega and a pair of models was taken by Martin Pelzer (modelmayhem.com/3967). "It's a very well-composed photo that follows the traditional guidelines of Renaissance art," observes Carlson. "You have this pyramid design—the women's gaze is on him, and he's looking at us—and the lighting is spectacular."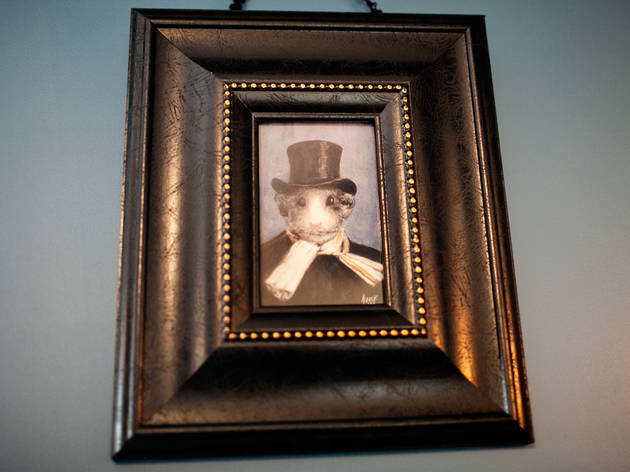 10/33
Photograph: Lizz Kuehl
Carlson spotted Alan F. Beck's (alanfbeck.com) reproductions of famous artworks, substituting mice for the subjects, at a Brooklyn Waterfront Artists Coalition show (bwac.org) in Red Hook, Brooklyn. This 4" x 6" watercolor, based on Giovanni Boldini's 1886 portrait of Giuseppe Verdi, is from a suite of three (the others depict rodent versions of Enrico Caruso and Giacomo Puccini). "The accuracy and detail are pretty remarkable," he says.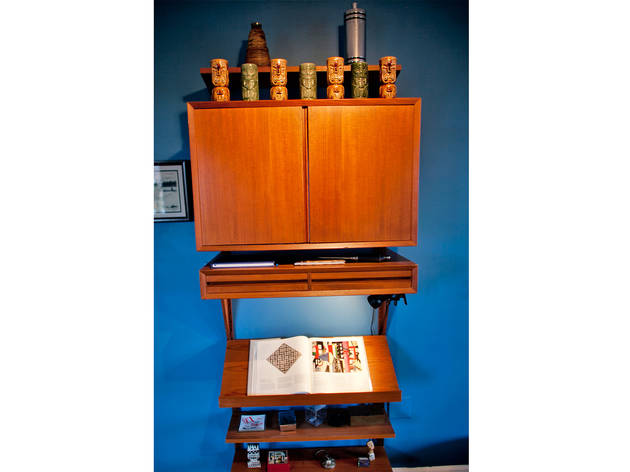 11/33
Photograph: Lizz Kuehl
A friend's family was going to throw out these Danish midcentury-modern teak shelving units by Poul Cadovius when Carlson offered to take them off their hands. "All of the wood is cut from the same plank, so you get this great mirror image in the grain, which you can see when the light hits it just so," he muses. Carlson bought the tiki glasses from Bowery Restaurant Supply Co. (183 Bowery at Delancey St, 212-254-9720). The book on display is of the Philadelphia Museum of Art's permanent collection, flipped open to Fernand Léger's 1919 The City, a painting to which he is particularly drawn because of its subject (Paris) and era.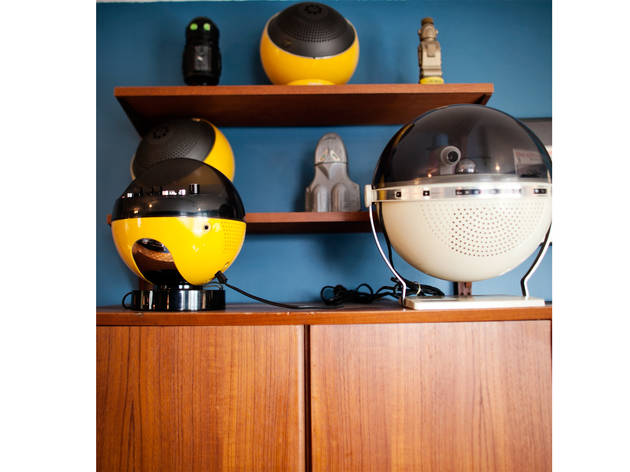 12/33
Photograph: Lizz Kuehl
Carlson snapped up the yellow '70s spherical Weltron Model 2002 radios for "next to nothing" at a church tag sale in New Jersey. However, he admits he spent a substantial sum on eBay for the large Sanyo Phonosphere radio–record player. "I was sorely disappointed when it arrived because it doesn't really work," he laments. "But it looks good." The other objects on the shelves are robot bubble-bath dispensers that he's saved since childhood.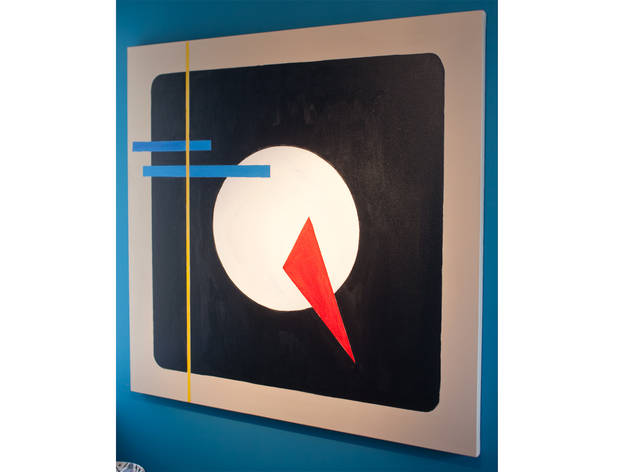 13/33
Photograph: Lizz Kuehl
Inspired by the work of Russian Suprematist artist Nina Kogan, Carlson created this painting when he needed to fill wall space in his previous apartment before a housewarming party. "I had people coming over and I thought the fastest way to get this accomplished was to use whatever paint I had around the house." By coincidence, the work's horizontal blue lines echo the color of the wall.


14/33
Photograph: Lizz Kuehl
This ceramic bowl is by Guy Veryzer and picks up the circular motif of Carlson's painting.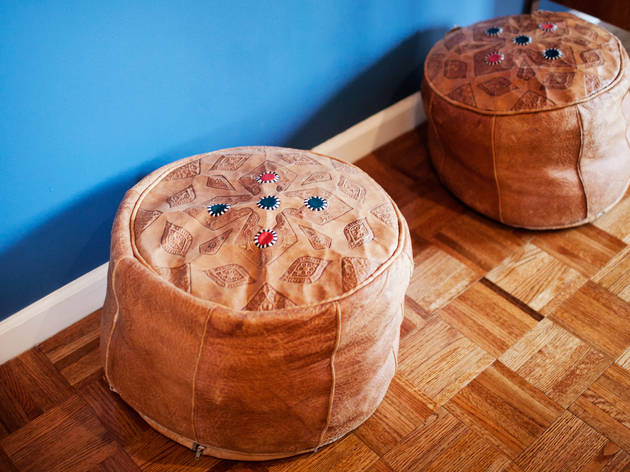 15/33
Photograph: Lizz Kuehl
Carlson bought these hand-tooled camel-hide hassocks in the Fez medina while traveling in Morocco with his aunt in 2000.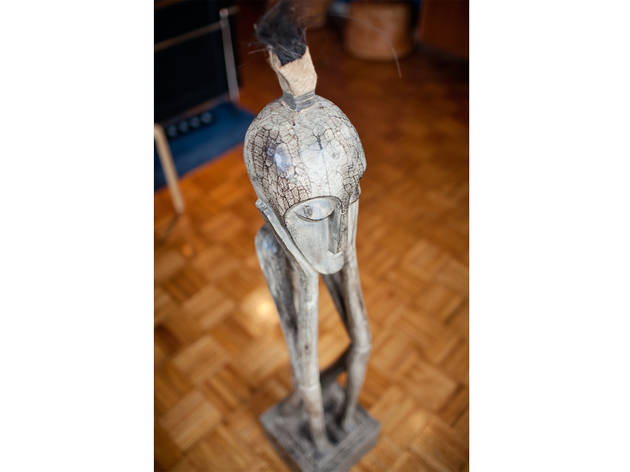 16/33
Photograph: Lizz Kuehl
Although it's not a genuine artifact, this sculpture "looks like the African artwork that would have inspired Picasso," notes Carlson, who bought it at a shop specializing in "faux tribal art" in Hartford.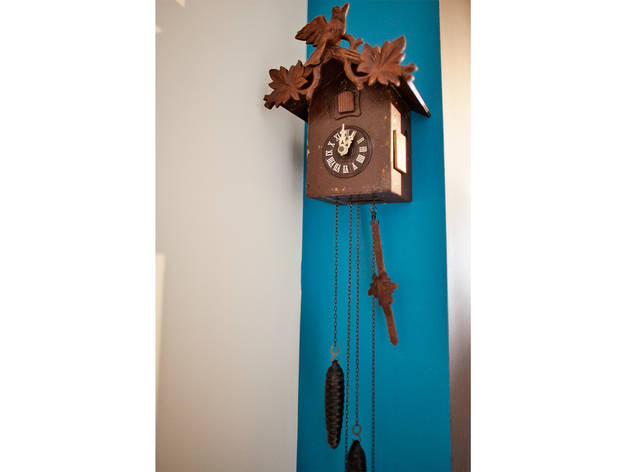 17/33
Photograph: Lizz Kuehl
Carlson claims he no longer hears the half-hourly chime of the Austrian-made hall cuckoo clock, a gift from his aunt when he was five. "The ticking is like the heartbeat of my apartment," he says.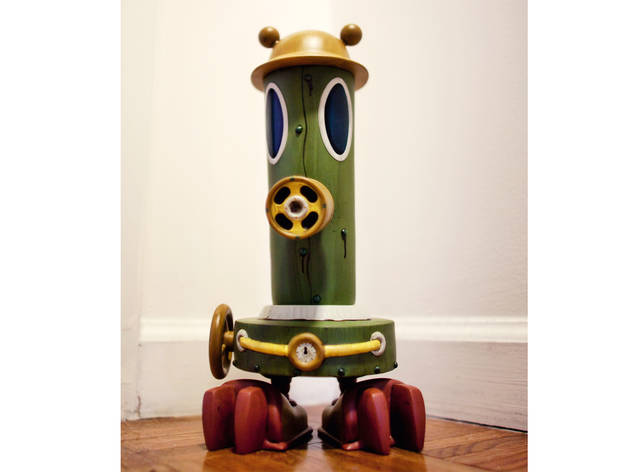 18/33
Photograph: Lizz Kuehl
Another resident of the internal hallway is Peacemaker No. 32.9 by Brandt Peters, which Carlson bought at Toy Tokyo. The World War I–inspired piece is one of a limited edition of 300.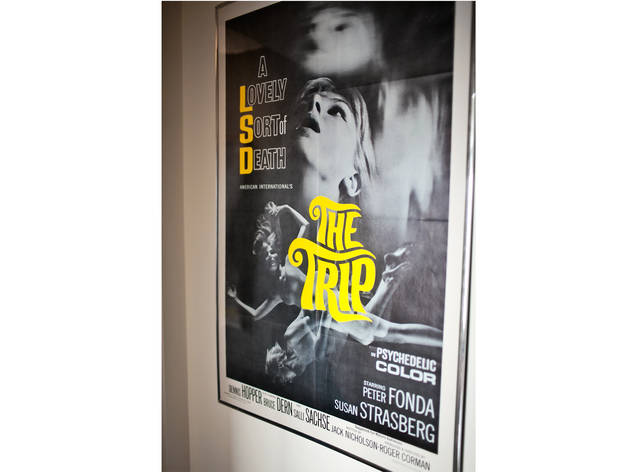 19/33
Photograph: Lizz Kuehl
One of three original movie posters Carlson sourced on eBay, this is a great party-conversation piece. "I've loved the '60s since I was a child," confides Carlson. "I like the whimsy, the colors and the provocative nature."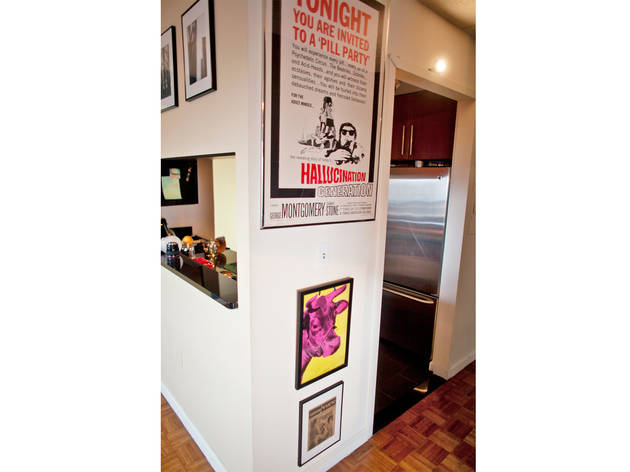 20/33
Photograph: Lizz Kuehl
The Warhol cow image is actually a shopping bag from the Pop artist's 1989 MoMA retrospective, which Carlson attended. "It was in my teenage bedroom, and I eventually had it framed," he says. Below it is the premiere copy of Warhol's Interview magazine, which he bought in the '90s from "a funny thrift shop in Kearny, New Jersey, that only sold psychedelic and new wave memorabilia," he recalls. "Its actual name was Flashback, but we always called it 'the Friday store' because it was only open on Fridays and Saturdays. It was run by these two old guys—one of them was an original hog farmer from the Woodstock years, and part of [the stock] was his collection."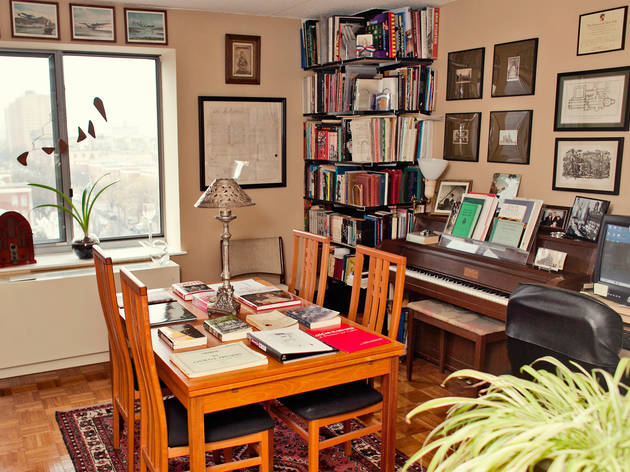 21/33
Photograph: Lizz Kuehl
Carlson uses the apartment's second bedroom as a dining-room-cum-study, which he describes as "a concentration of all my interests in one small spot." He selected the Gothic Cabinet Craft(locations throughout the city; visit gothiccabinetcraft.com) chairs for their "classic Arts and Crafts design," while the table was a castoff from downsizing friends. He purchased his circa 1965 Mason & Hamlin piano from a couple in Inwood through Craigslist (craigslist.org). The hand-knotted Shiraz Persian rug is from Rugman (rugman.com).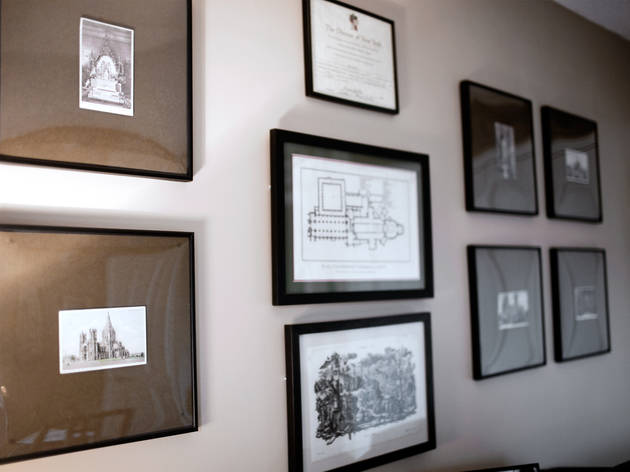 22/33
Photograph: Lizz Kuehl
The collection of period prints and postcards above the piano, acquired from eBay and various antique shops, depicts "churches around the world that are relevant to my life in one way or another," explains Carlson. These include St. Michael the Archangel in Chagford, England, which is the oldest church he has played in, and a rendering of the original design of Morningside Heights' Cathedral Church of St. John the Divine showing the never-built spire.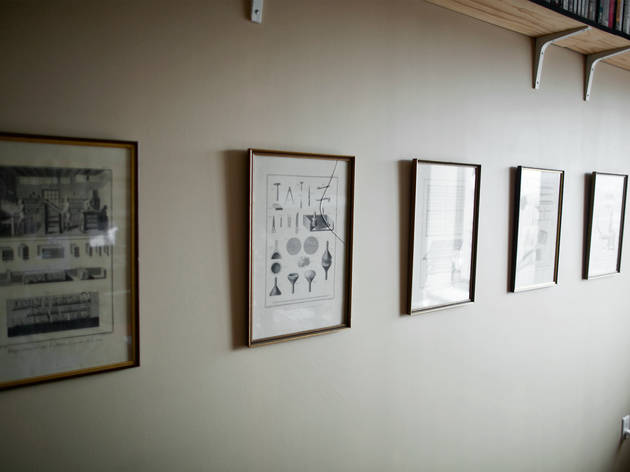 23/33
Photograph: Lizz Kuehl
Carlson found these framed 18th-century engravings while rummaging in an old bookshop in Paris. The images are from the section on printing in Denis Diderot and Jean d'Alembert's Encyclopédie. The massive work, which took 29 years to produce and eventually comprised 28 volumes, was denounced by the Pope. "Diderot remained on the list of banned authors until the 20th century because it explained how science worked," notes Carlson.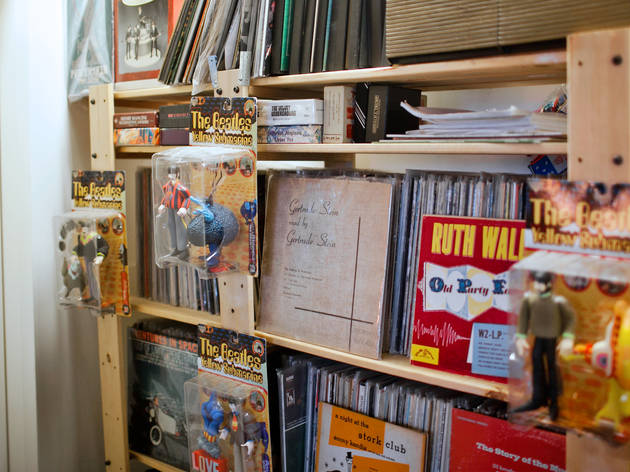 24/33
Photograph: Lizz Kuehl
"[Record hunting] was my adolescent hobby," says Carlson, who stores his impressive stash of vintage vinyl in the study closet. "I grew up 12 miles outside of Manhattan, in Nutley, New Jersey, so we would cut class and go record shopping on 8th Street in the Village," he confesses. "I had something like 150 or 200 Beatles records in my parents' house, and over the years, they were sold off one by one during poorer times when the rent was due. I think I only have 20 now." The Fab Four figurines were released by McFarlane Toys for the 30th anniversary of Yellow Submarine in 1999.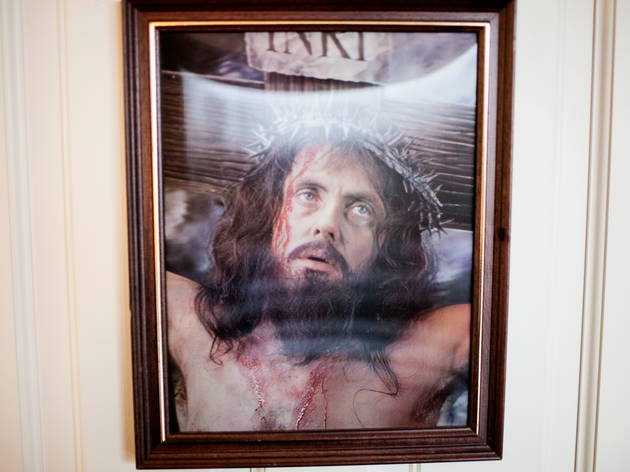 25/33
Photograph: Lizz Kuehl
Carlson bought the 3-D image of Christ that hangs on the inside of the closet door while visiting the Sanctuary of Our Lady of Fátima in Portugal, where the Virgin Mary appeared to a group of children. "It's like the Disneyland of Christianity," he says.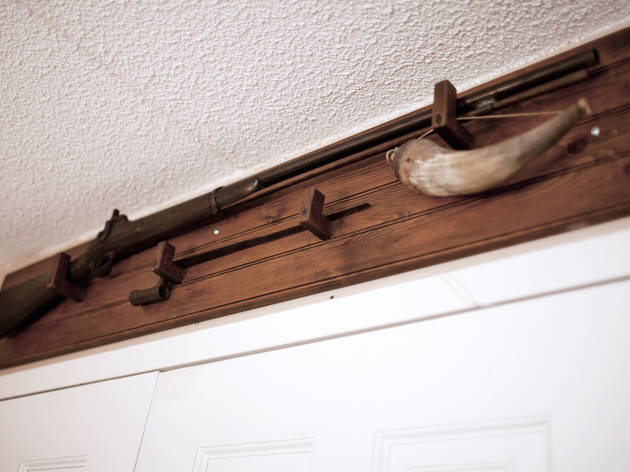 26/33
Photograph: Lizz Kuehl
Throughout Carlson's childhood, this Springfield rifle hung on a wall in his parents' attic. The family assumed it had belonged to ancestor Alexander Smith, a Civil War patriot, but when Carlson brought it to New York last summer, he noticed it was dated 1864. Since "Uncle" Alexander died in the Battle of Antietam in 1862, its provenance is now a mystery. He mounted it here to give the room the air of an English study.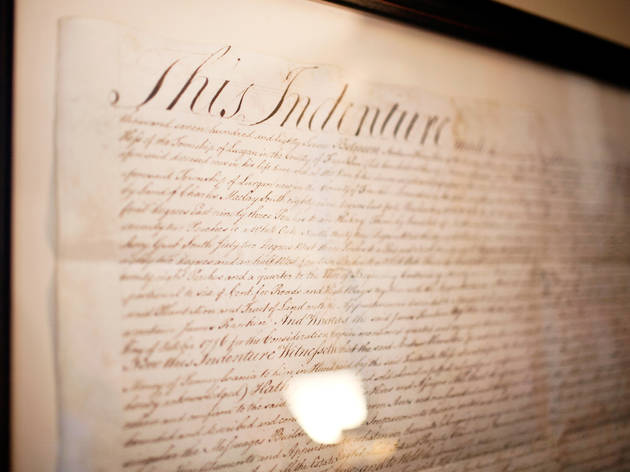 27/33
Photograph: Lizz Kuehl
"We're not sure if this is an indenture for a family property or not," says Carlson of this 1787 document, which was found in a drawer of his great uncle's apartment after his death, though the region of Pennsylvania it refers to suggests that it is. His parents had the handwritten piece of vellum framed and gave it to him a couple of Christmases ago.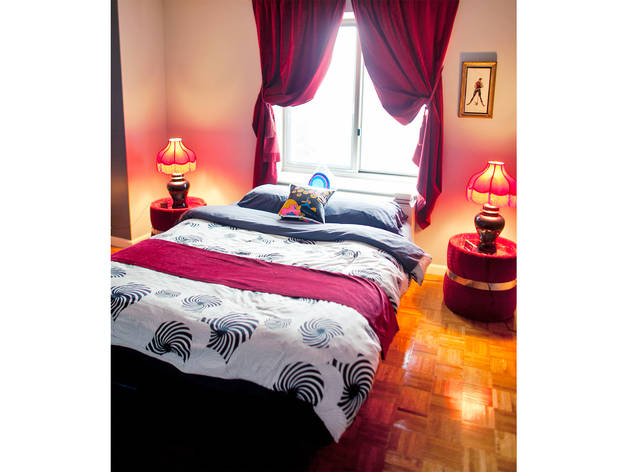 28/33
Photograph: Lizz Kuehl
Carlson had a bordello theme in mind when decorating the bedroom. He spiced up corduroy curtains taken from his old apartment with opulent tassels bought at Century 21 (locations throughout the city; visit c21stores.com). Gifted inflatable pillows, including an original '60s Peter Max design, complement a psychedelic-patterned duvet cover from Ikea (1 Beard St at Otsego St, Red Hook, Brooklyn; 718-246-4532, ikea.com). The watercolor next to the bed, which he'd admired in his great uncle's Upper East Side apartment as a child, is thought to be a theatrical-costume sketch.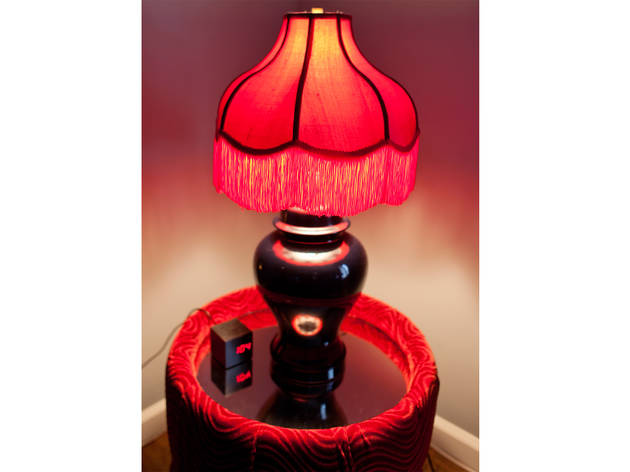 29/33
Photograph: Lizz Kuehl
Carlson had these "Southern Victorian brothel-style" shades custom made through e-tailer Blessinglight (blessinglight.com) for jelly-jar lamp bases he inherited from his great uncle. He scored the bedside tables from the same church sale where he acquired the living-room bench. "I'm not an expert, but I would date them from the '70s—there's a glass mirror for your cocaine," he jokes. "All the church leaders were saying, 'God, those are so ugly, I wish they'd get rid of them,' and I was saying, 'Wow, these are fantastic, I can't wait to own them!" The cube clock was a cheap drugstore buy.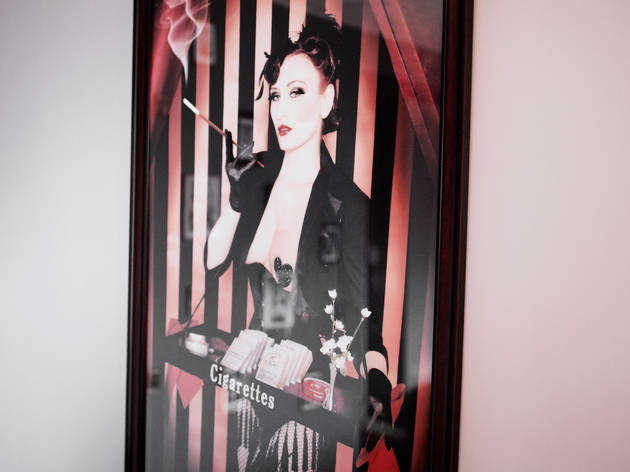 30/33
Photograph: Lizz Kuehl
This sexy cigarette girl is Jana Berlin, the headhunter-photographer who shot Carlson's friend Mollie Black. "She likes to wear corsets and just does this for fun when she's not reading books or doing whatever headhunters do," he says. The image is by another Berlin photographer who calls herself Spooky Sally (cherrymuffin-studios.com). "I think her work is extraordinary because she's mastered the American pinup," adds Carlson.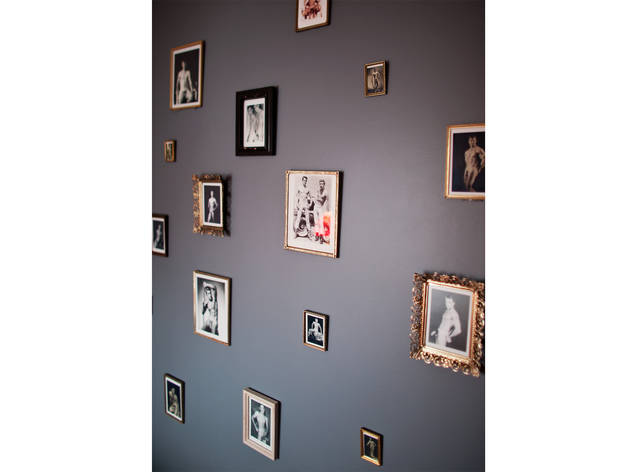 31/33
Photograph: Lizz Kuehl
The idea for this installation of postwar nudes occurred to Carlson when he was searching eBay for picture frames and came across a lot of 20 items "that look like what would be on top of your grandmother's piano," he describes. The images, amassed through online searches, are from the '40s and '50s. "It's sort of my inspiration to go to the gym," he jokes. "Putting the kitsch and sexiness aside, they're actually really good photos."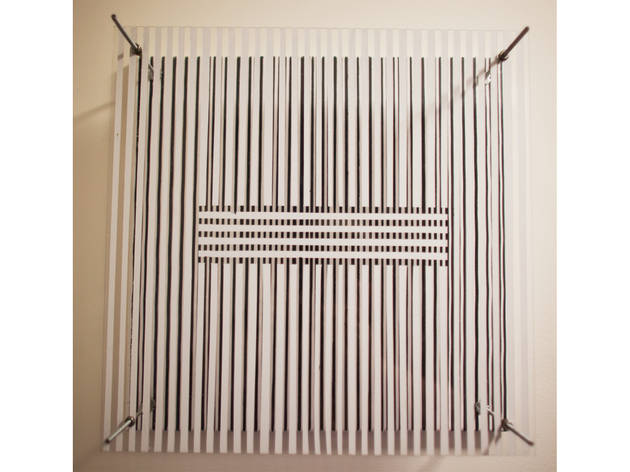 32/33
After seeing a piece by Venezuelan artist Jésus Rafael Soto in a show at the Los Angeles County Museum of Art in 2004, Carlson was inspired to create an Op Art piece. "I figured it out," he recounts. "I looked at it for a while and I thought, Yeah, I could probably do that." To produce the optical-illusion effect, he drafted lines on a prestretched canvas from Pearl Paint(308 Canal St between Broadway and Church; 212-431-7932, pearlpaint.com) with a Sharpie marker, then marked off lines with ¼-inch masking tape on a piece of Plexiglas from Canal Plastics (345 Canal St between Green and Wooster Sts; 212-925-1777, canalplastic.com) before spray-painting it and bolting the two together.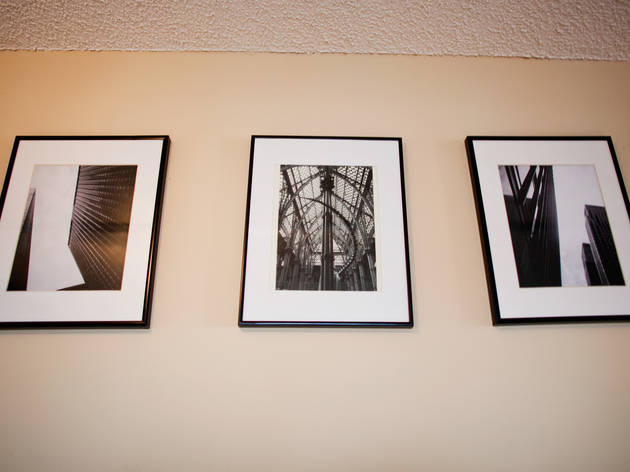 33/33
Photograph: Lizz Kuehl
These architectural black-and-white photographs hang above the window to the kitchen. The middle one, by Carlson's friend Alistair Reid (alistairreid.org), shows the interior of Oxford University's glass-ceilinged Museum of Natural History. Carlson snapped the other two in NYC with a disposable camera. He was thrilled when one of them was selected to advertise the National Arts Club members' online exhibit in 2006.
Love the look? Get it here!
Housing Works Thrift Shop202 E 77th St between Second and Third Aves (212-772-8461, housingworks.org) "The mission is noble, and I think the Upper East Side location has all the 'good stuff' for that neighborhood," says Carlson of the thrift-store chain that helps fund support services for people with HIV/AIDS.
Rose's Gallery119 Baxter St between Canal and Hester Sts (212-941-5972) Carlson has all his framing done at this Chinatown shop. "[Owner Rose Ding's] sunny demeanor is infectious, and she and her husband do quality work at an excellent value," he raves. "I have her on speed dial!"
Toy Tokyo91 Second Ave between 5th and 6th Sts (212-673-5424, toytokyo.com) "I'm particularly drawn to the limited-edition pieces by Brandt Peters and Ron English," says Carlson of this figurine and novelty mecca. "They are very imaginative, and chances are pretty good that your friends won't have one."
Related