Apartment tour: 3BR in the West Village
A geek-chic fashion designer details how she created her feminine, glamorous pad on a budget.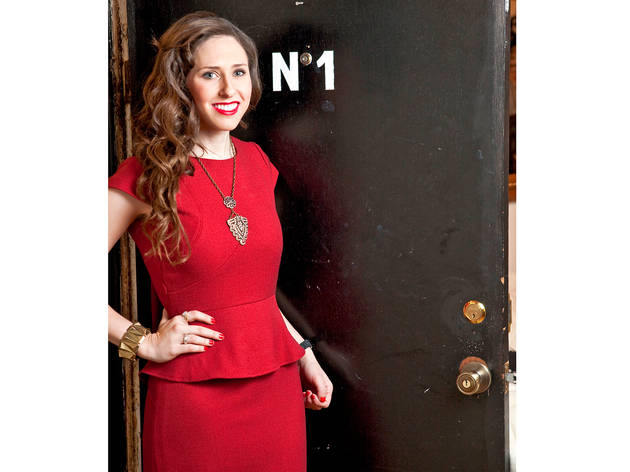 1/22
Photograph: Jakob N. Layman
Fashion designer Carrie Hammer (carriehammer.com) moved into her prewar rental in March 2009, but it wasn't until she took over the lease one year later that she had free rein to redecorate with her femme taste. At first glance, the polished pad she shares with two roommates looks ultra luxe—making the fact that everything was done on a $4,000 budget in just a month even more impressive. "It's glamorous, whimsical, fun and girly with a touch of nerdy humor," she says. "I love sparkly things." As a harbinger of what you'll find inside her girly lair, Hammer drilled a peephole into her front door and painted it to resemble the iconic Chanel No. 5 perfume bottle.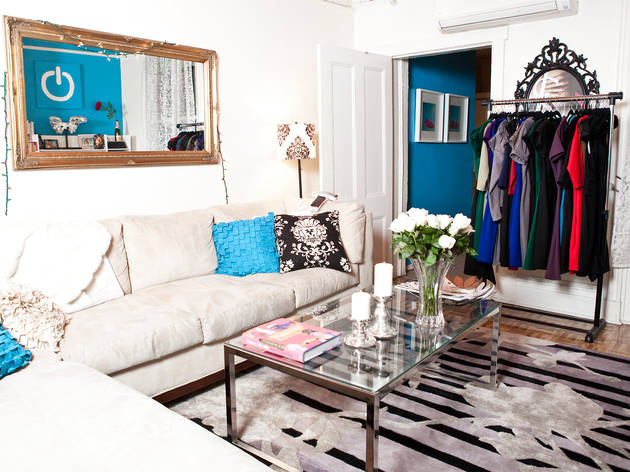 2/22
Photograph: Jakob N. Layman
Hammer launched her eponymous made-to-measure women's dress label in September 2011, and until her brand blossoms, she is using her home as a showroom. A rack displaying current-season frocks sits beside a glass coffee table from Ikea (1 Beard St at Otsego St, Red Hook, Brooklyn; 718-246-4532, ikea.com), where she also bought the decorative candlesticks and vase. After Hammer nabbed her dream couch from the now-closed Door Store, she was devastated when the movers couldn't fit it through the front entrance. Thankfully, the couple behind New York Couch Doctor (nycouchdoctor.com) was able to salvage the sectional. "All they do all day long is take apart couches in their warehouse, bring it in bundles to your apartment and put it back together," explains Hammer. The sofa is adorned with a chenille throw from Overstock.com (where she also purchased the floral rug), damask pillows from Target (locations throughout the city; visit target.com) and woven blue styles that were a gift from a friend. A gilded mirror from Empire Gallery & Framing (161 W 26th St between Sixth and Seventh Aves; 212-685-7211, empiregallery.com) is decorative enough to serve as wall art.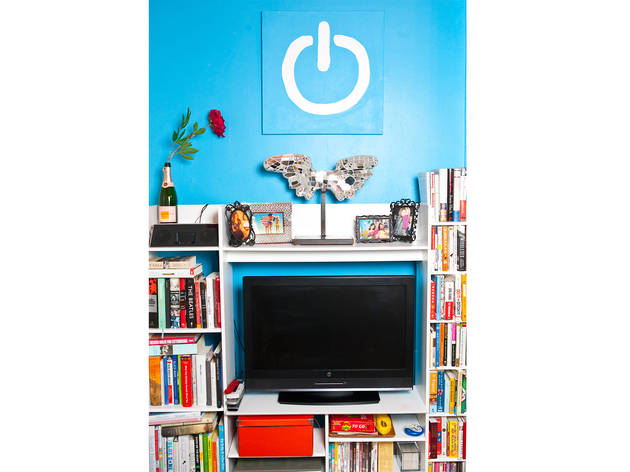 3/22
Photograph: Jakob N. Layman
Originally, Hammer painted this power symbol as a nod to her former career in digital advertising and love for Apple products. These days, she says it stands for inspirational messages such as "power up your life" and "empower yourself." The icon pops against bright blue Benjamin Moore 7407 wall paint. Hammer's mother, artist Jean Wells (wellsart.com), created the angel-wings piece, which rests on an Ikea TV unit that doubles as a bookshelf. "I come from a whole family of artists who inspire me," notes Hammer.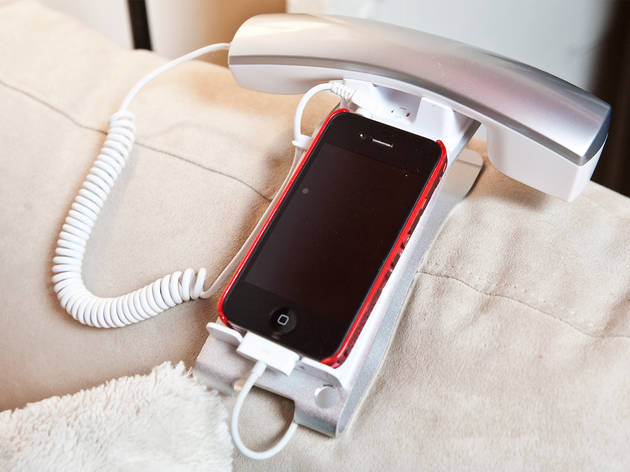 4/22
Photograph: Jakob N. Layman
"My cell charger is kind of nerdy," admits Hammer, referring to this retro device that functions like a land line but hooks up to an iPhone. "It's always more fun to have a long conversation with my mom or dad on an actual receiver," she adds. "My roommates crack up when they see me on the couch talking into it." It was purchased by her mother at an accessories boutique in San Diego.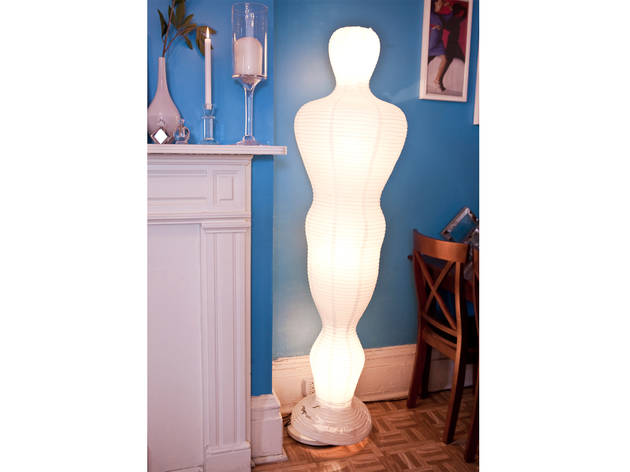 5/22
Photograph: Jakob N. Layman
"This Oscar lamp is my oldest roommate," jokes Hammer, who inherited the Craigslist-procured lighting from her former roommate. "When I first moved in, I thought, When I take over the apartment, that thing is gone. But it grew on me—it's been [here for] more than three years now!"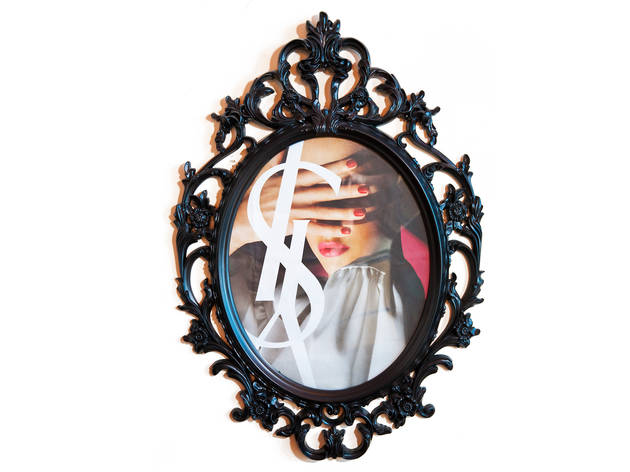 6/22
Photograph: Jakob N. Layman
When Hammer saw people giving away Yves Saint Laurent posters in the subways during Fashion Week two-and-a-half years ago, she grabbed them. "I thought they were gorgeous," she enthuses. "I loved the color palette." She hung them in her living room and above her dining room table in baroque frames from Ikea.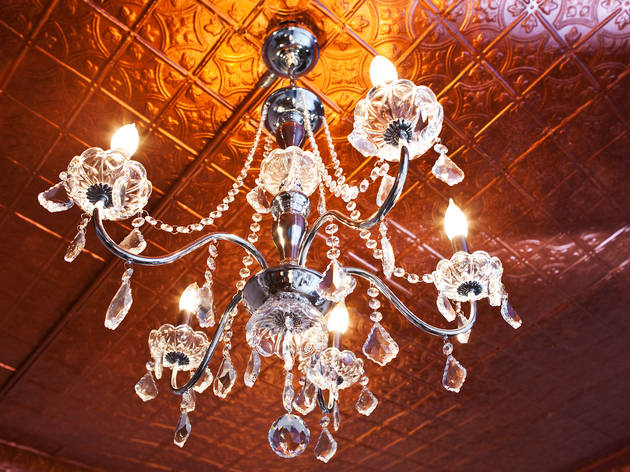 7/22
Photograph: Jakob N. Layman
A crystal chandelier, scored for $100 on Overstock.com, enhances the opulence of the stunning copper-painted, pressed-tin ceiling that's original to the apartment. "I will sing Overstock's praises until the day I die," says Hammer. "When I put up this chandelier, it blew out the electricity in the living room because this building is so old. It broke the chandelier, but when I told Overstock what happened, they replaced it for free."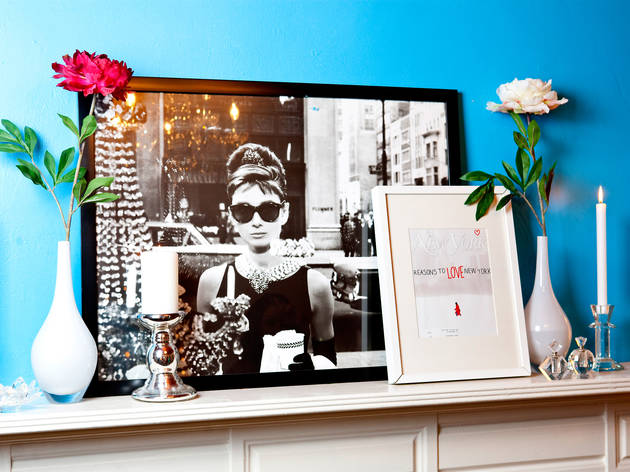 8/22
Photograph: Jakob N. Layman
As a San Diego native, Hammer was not used to NYC snowstorms when she first moved cross-country. This 2009 New York cover featured an image of the first blizzard she had ever experienced. "The magazine was made out to me at [this] address, which just felt so quintessential," she says. "It had to be framed." She scored a border at Ikea, where she also picked up the silver candlesticks and white vases. The clear candlesticks are from Bed Bath & Beyond (locations throughout the city; visit bedbathandbeyond.com), while the Audrey Hepburn preframed poster was snagged at Z Gallerie (zgallerie.com). "I love this picture because Holly Golightly represents so many women who come to New York to try and make a different life for themselves," she says.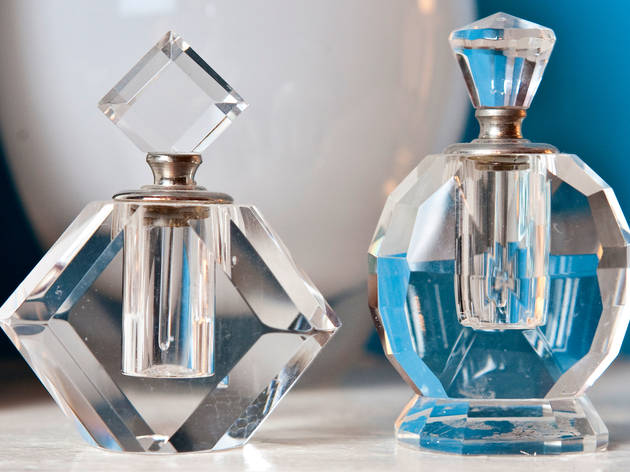 9/22
Photograph: Jakob N. Layman
These decadent crystal fragrance vases from Anthropologie (locations throughout the city; visit anthropologie.com) are some of the pricier pieces on the mantel, and were a birthday gift from a friend. "I love the old-school quality of a reusable perfume bottle," she notes.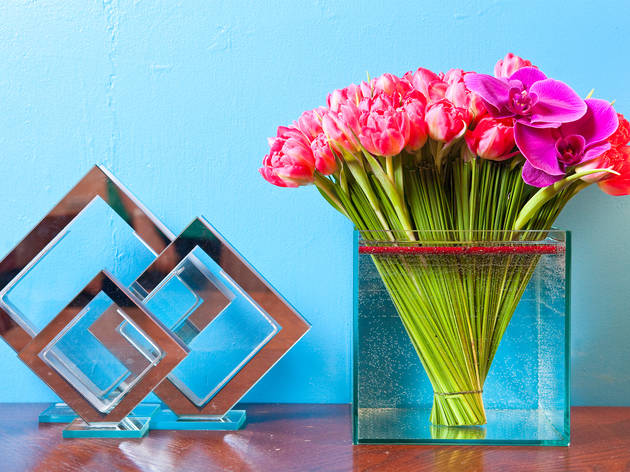 10/22
Photograph: Jakob N. Layman
Hammer shows off her ability to pair high- and low-end goods: The silver sculptural piece is actually a flower vase from Paris, while the simple cube style is an inexpensive score from Bed Bath & Beyond. Hammer filled the latter with pink tulips and purple orchids from her favorite high-end flower shop, Ovando (19 E 65th St between Fifth and Madison Aves; 212-988-2600 • 337 Bleecker St between Christopher and W 10th St, 212-924-7873 • ovandony.com). "My mom always said to mix fake flowers with real ones, so it looks like a big beautiful bouquet," she says, noting that she applies that same philosophy throughout her home. "You can't have a million really expensive pieces or a million chintzy, cheesy pieces—you have to mix and match."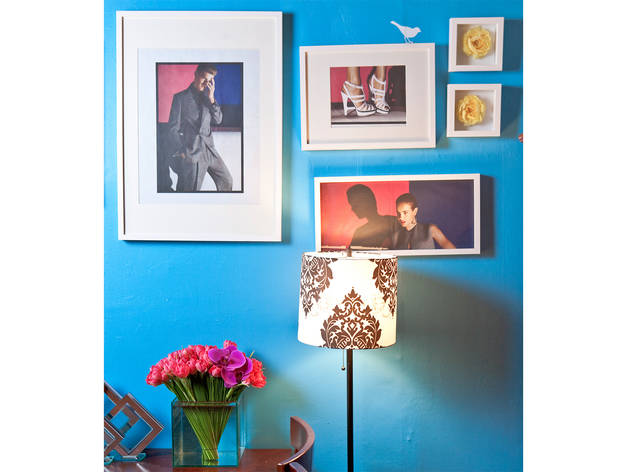 11/22
Photograph: Jakob N. Layman
This gallery above the dining room table and chairs—all inherited from her former roommate—pulls the apartment together. "I want each room to have its own personality, but [for the overall place] to feel like one unit," says Hammer. "But I don't like things to be too obviously matching." To achieve this, she pulls common threads from various areas to create this cohesive collage, including YSL photos and a damask lamp from Target that have mates in her living room, a bird decal from Etsy (etsy.com) that echoes one in her bedroom and Ikea framed flowers that are sprinkled throughout her abode.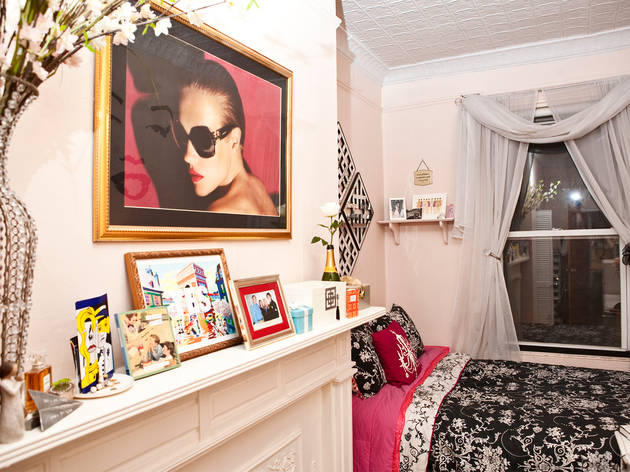 12/22
Photograph: Jakob N. Layman
"This is me to the core," sums up Hammer of her unapologetically girly bedroom. "If you cut me open, it's what I'd look like [inside]—the jewels, chandeliers, mirrors, feathers, hats, Parisian inspiration, my family and champagne." For consistency's sake, yet another YSL poster that was custom-framed at Empire Gallery & Framing hangs above a nonworking fireplace. The damask theme from her living room carries over to her boldly printed Target bedspread, and is contrasted by gossamer drapes from Kmart (locations throughout the city; visit kmart.com). "This is a great window, especially when it snows," she says of her view overlooking Bleecker Street. "I've heard so many crazy things at 4am, like people challenging each other to dance-offs."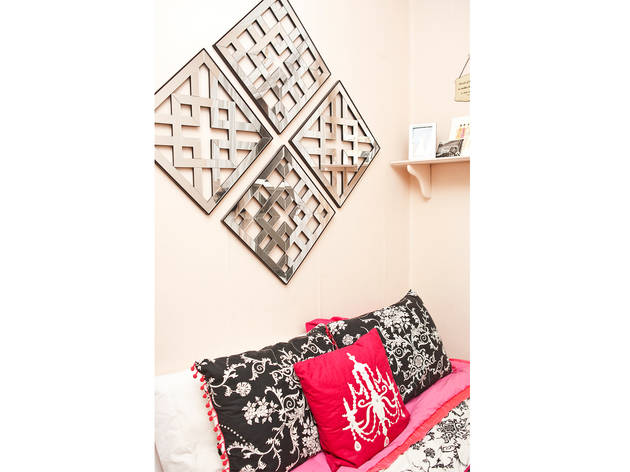 13/22
Photograph: Jakob N. Layman
Hammer discovered this mirrored wall art at HomeGoods in San Diego while visiting her parents. UPS informed her that the mirrors would likely break during shipping, so she begged her folks to carry them on the plane during their next visit. "I love mirrored glass and was taken by how graphic and structured these pieces are," says Hammer. "I was looking for a headboard at the time, and when I saw these, I immediately had a vision of one made out of diamonds."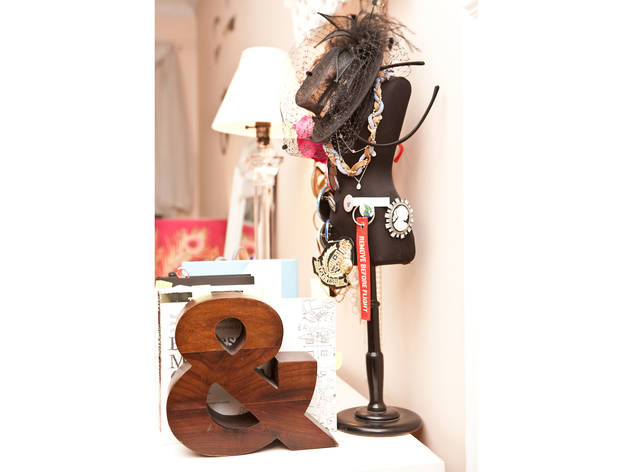 14/22
Photograph: Jakob N. Layman
Hammer uses a miniature dress form as a place to store pins, necklaces and headbands. "Sometimes I wear [pins] to networking events when I don't know anyone because they are good conversation starters," she says. The wooden ampersand bookend is from Crate & Barrel (611 Broadway between W Houston and Bleecker Sts, 212-780-0004 • 650 Madison Ave at 60th St, 212-308-0011 • crateandbarrel.com).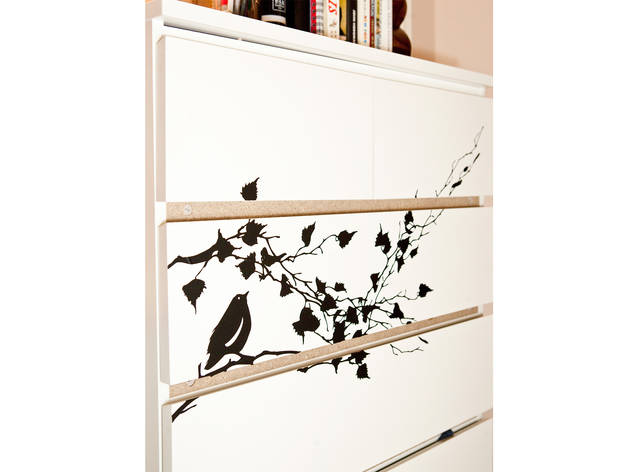 15/22
Photograph: Jakob N. Layman
To update a basic Ikea dresser, Hammer cut up a decal from Etsy vendor HouseHoldWords (householdwords.etsy.com) and stuck it over the facade. "The furniture piece was ugly alone, so I spiced it up," she says. "It's a good, cheap way to make it individual."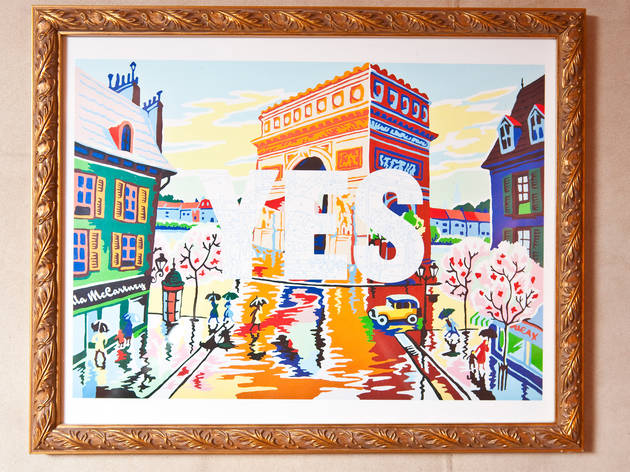 16/22
Photograph: Jakob N. Layman
This vibrant framed print of Paris's Arc de Triomphe is from 20x200 (20x200.com), an art website that sells just 200 prints of each edition for a mere $20. "I'm inspired by Paris," enthuses Hammer. "It's my favorite city in the world—it has such culture and soul. I was immediately taken with the beautiful colors and paint-by-numbers design of this piece."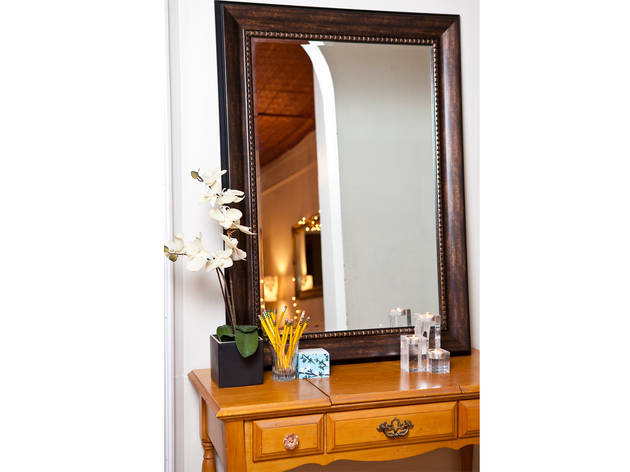 17/22
Photograph: Jakob N. Layman
Hammer fills a snug hallway between bedrooms with this dresser she inherited from her past roommates. She tops it with a mirror from Bed Bath & Beyond, candles from Z Gallerie and old-school No. 2 pencils. "There's something so beautiful about a yellow pencil," she says. "They will be dead soon."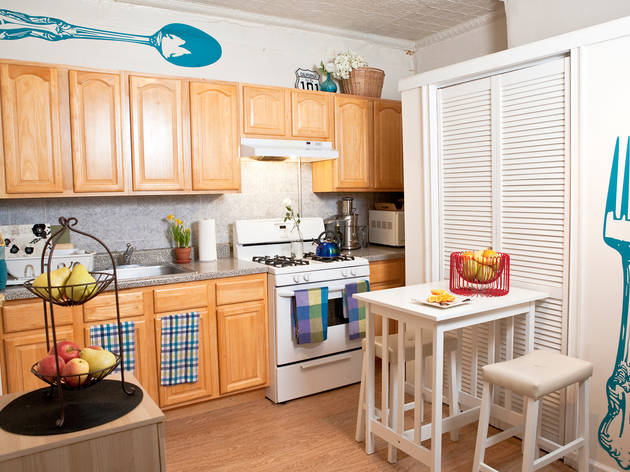 18/22
Photograph: Jakob N. Layman
"People tend to hover here during our annual holiday and Halloween parties," says Hammer of her bright, cheerful kitchen. Staying true to her frugal roots, she nabbed the petite side table and stools from Overstock.com and the red fruit bowl from Ikea. The giant spoon and fork decals were inspired by the decor of local eatery Good (89 Greenwich Ave between Bank and W 12th Sts; 212-691-8080, goodrestaurantnyc.com). "The restaurant has big framed spoons, forks and knives," she explains. "I saw it a couple of years ago and filed the idea away for a rainy day." When she saw that the kitchen "needed something," she contacted Etsy sticker seller HouseHoldWords to create custom-colored graphics for her.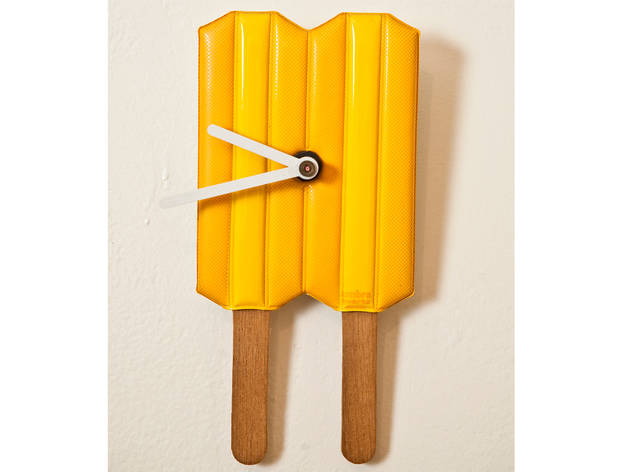 19/22
Photograph: Jakob N. Layman
This cheeky Popsicle clock is from Bonnie Slotnick Cookbooks (163 W 10th St between Seventh Ave South and Waverly Pl; 212-989-8962, bonnieslotnickcookbooks.com). "The owner provided most of the books for [the movie] Julie & Julia," notes Hammer. "If you go to the store and pull open the books, she made a j&j mark if it was in the movie."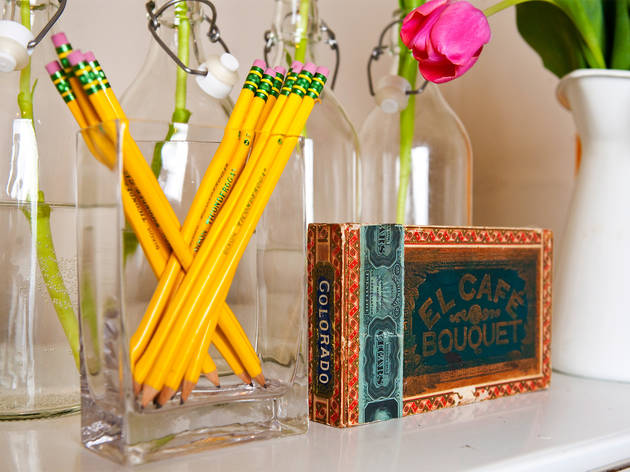 20/22
Photograph: Jakob N. Layman
Clustered No. 2 pencils brighten up the space above the fridge. They rest next to an antique cigar box, picked up at a local flea market and used to store matches. "The West Village has antique fairs during the summer, during which streets are completely shut down," notes Hammer. "I usually just stumble upon them, since I live here."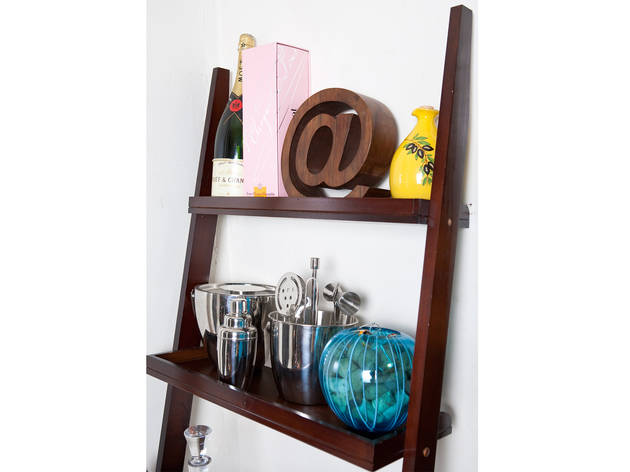 21/22
Photograph: Jakob N. Layman
Like everything else in the apartment, Hammer put this bookshelf together herself. "I wanted to shoot myself," she admits. It was ordered from Overstock.com and houses the matching bookend to the Crate & Barrel one in her bedroom. The wood symbol rests next to a country-chic olive-oil jug from Crete, Greece; a pink Veuve Clicquot bottle from Hammer's 25th birthday; and a sealed, empty vintage magnum Moët & Chandon display bottle that cost just $5 from a Soho street vendor. The second row is comprised entirely of Crate & Barrel goods, such as the sleek cocktail set and a blue vase stuffed with wine corks left over from Hammer's many soirees.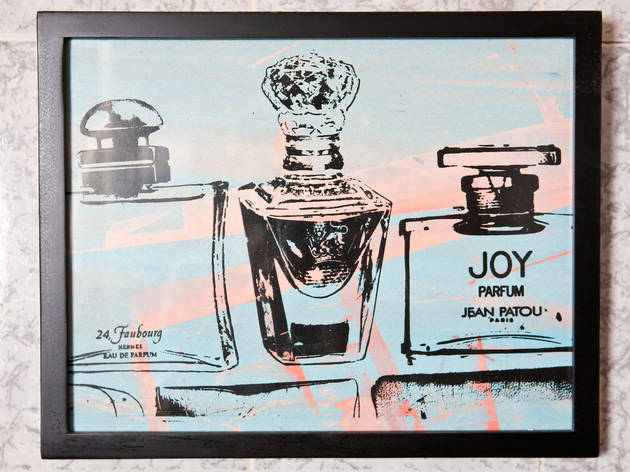 22/22
Photograph: Jakob N. Layman
To jazz up the walls in her bathroom, Hammer hung this print that she scored at the Brooklyn Flea (176 Lafayette Ave between Clermont and Vanderbilt Aves, Fort Greene, Brooklyn; Sat 10am–5pm • East River Waterfront between North 6th and 7th Sts, Williamsburg, Brooklyn; Sun 10am–5pm • brooklynflea.com). "I love the art of labels, brands and branding," she says, referring to the perfume bottles depicted in the painting.
Love the look? Get it here!
Brocade Home 47 W 20th St between Fifth and Sixth Aves (646-214-0668, brocadehome.com)
"You can find beautiful, modern pieces in black, white and silver," notes Hammer. "It also carries lovely metallic wallpapers."
Ingo Maurer, Making Light 89 Grand St at Greene St (212-965-8817, ingo-maurer.com)
"The lighting fixtures are extremely original and more like pieces of art than light," says Hammer of this shop that specializes in modern, out-of-the-box lighting. "It is completely out of my price range, but it's absolutely inspirational."
Modani 40 E 19th St between Broadway and Park Ave South (212-780-1800, modani.com)
"It's great for that investment statement piece to revolve the whole room around," enthuses Hammer of this contemporary furniture store. "They aren't afraid of having fun with color in their designs."
MoMA Design Store 81 Spring St at Crosby St (646-613-1367) • 44 W 53rd St between Fifth and Sixth Aves (212-767-1050) • momastore.org
"It has some fantastic and reasonably priced furniture and accessories," says Hammer. "Plus, the items make for excellent gifts."
You might also like
See more Apartment tours
Stylish home decor
See more in Shopping & Style