Apartment tour: Studio on the Upper East Side
Westchester couple Gabriela Miranda and Anthony Scovotti transformed their UES investment property into a mod, sophisticated party pad.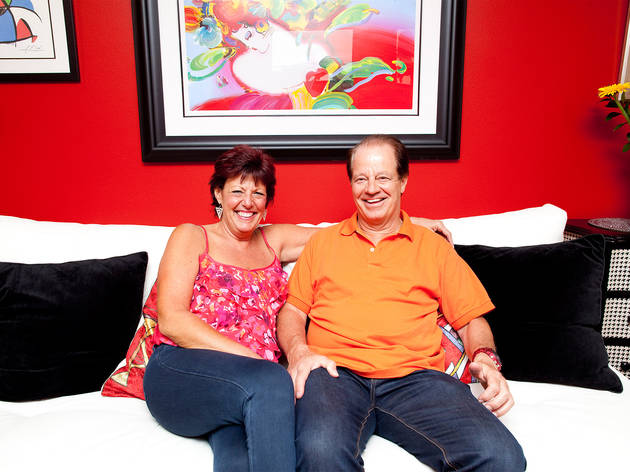 1/16
Photograph: Brian Harkin
Most New Yorkers with second homes flee the crowded city on weekends for beach bungalows or country cottages, but commercial underwriter Gabriela Miranda and Anthony Scovotti, vice president of Scovotti Insurance (scovotti.com), do just the opposite. The longtime couple, who work in the Bronx and live in Westchester, retreat to their 450-square-foot pad every Friday evening. After renting the apartment out to tenants for 20 years, Scovotti decided it was time to enjoy his investment. It took him and Miranda, who have been dating for the past 12 years, just four months to renovate the space into a cheerful pied-à-terre designed for entertaining. "It was a horror before," says Scovotti, who gutted the kitchen and bathroom one year ago.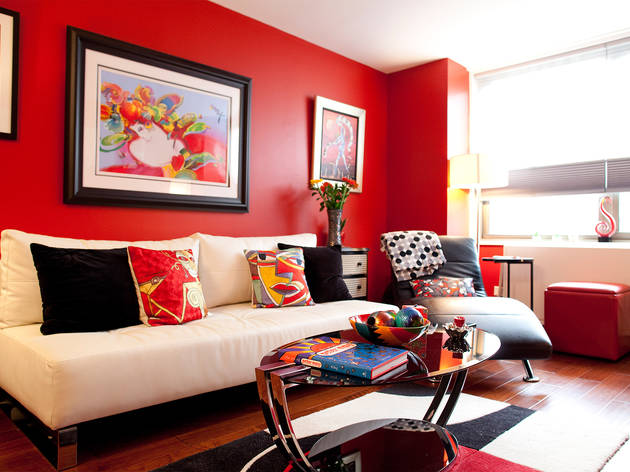 2/16
Photograph: Brian Harkin
Miranda and Scovotti, who live in separate homes in Westchester, agreed on a dramatic red shade as a starting point for the decor. They chose Behr Ultra paint in Edgy Red from Home Depot (locations throughout the city; visit homedepot.com) for the living-room walls. "It describes our personalities," explains Miranda. "Vibrant, passionate, bold. This apartment is about us and having fun." Both the coffee table and queen-size pullout couch are from Downtown Furniture (165 Grand St between Baxter and Centre Sts; 212-966-7201, downtownfurniturenyc.com). A vibrant Peter Max (petermax.com) painting purchased at Park West Gallery Auction (parkwestgallery.com) in Sarasota, Florida, takes center stage above the leather sofa, while a geometric rug from AllModern (allmodern.com) ties everything together.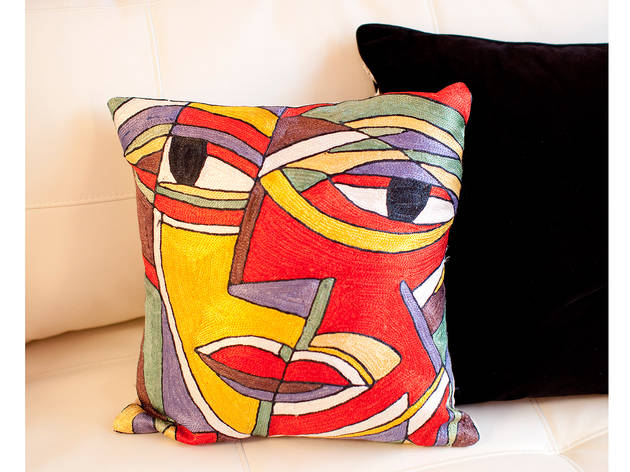 3/16
Photograph: Brian Harkin
When Miranda saw this Picasso-inspired pillow at a street fair on Second Avenue, she jumped off her bike to bring it home. It now takes the place of the couch's original red-and-black cushion. "Our doorman must think, Where do they keep all that stuff?, since we shop so much," jokes Miranda. "We bring a suitcase [of decorative items] every time we come." She notes that her own Westchester apartment, which is one block from Scovotti's home, has since adopted its own red, black and gray theme.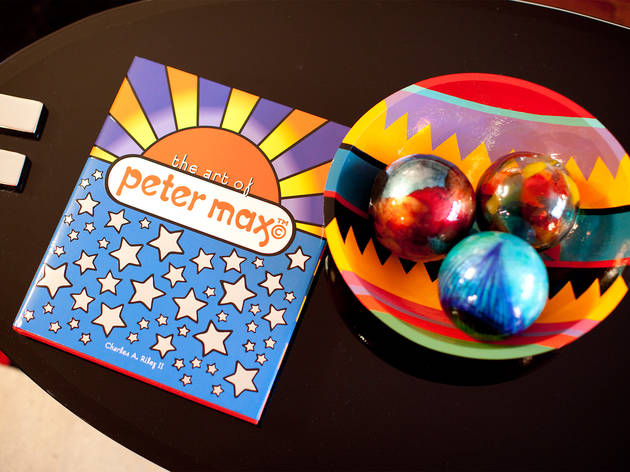 4/16
Photograph: Brian Harkin
Vibrant decorative objects, such as a book of Peter Max's iconic NYC paintings, help break up the studio's primary-color scheme. Miranda discovered the painted wooden bowl at Council Thrift Store (246 84th St between Second and Third Aves; 212-439-8373, ncjwny.org/thrift.htm) and filled it with glass balls from Pier 1 Imports (locations throughout the city; visit pier1.com). Even with three homes to decorate, she finds that cherished items always seem to end up in one spot. "If I buy something I really like, I keep it here," she admits.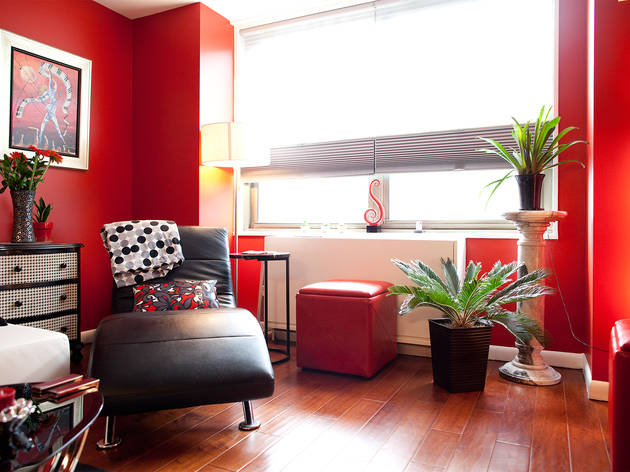 5/16
Photograph: Brian Harkin
"That is my favorite chair in the world," says Miranda of the black-leather chaise from Downtown Furniture. "I don't get to use it at all, though." After long bike rides, Scovotti usually naps in it, and when overnight guests stay—as many as seven have in one night—the recliner doubles as an extra bed. As such, a polka-dot throw and floral pillow from Overstock.com nod to the seat's sleeping capabilities. If any uninvited arrive, the pair jokes that they'll be protected by the spiky, impossible-to-kill plant that sits atop a marble pedestal from a San Francisco gallery that was liquidating. "It's our watchdog," declares Scovotti, noting that the greenery has been known to attack a wandering guest. A pair of red storage ottomans from Overstock.com conceal extra bedding, while the glass clef sculpture—also from the now-closed California gallery—on the window sill celebrates Scovotti's love of music (he plays the piano).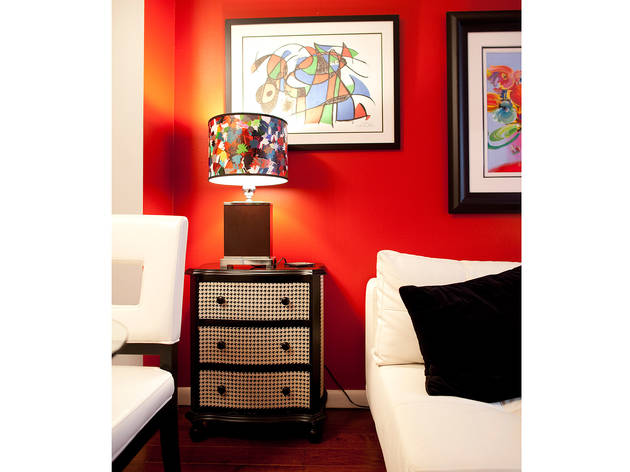 6/16
Photograph: Brian Harkin
One of the first things Miranda did in decorating the apartment was to put up paintings. "I feel that's what brings a space together," she explains. While Scovotti tends to display darker pieces from Salvador Dalí and Picasso in his Westchester home, he takes a different approach for his NYC pad. "Here, I buy for the color and the feel," he says. To wit, a cheerful Joan Miró lithograph purchased on eBay hangs above a lamp from Overstock.comthat Miranda customized with a colorful shade from Downtown Furniture. It rests on a houndstooth nightstand that also hails from Overstock.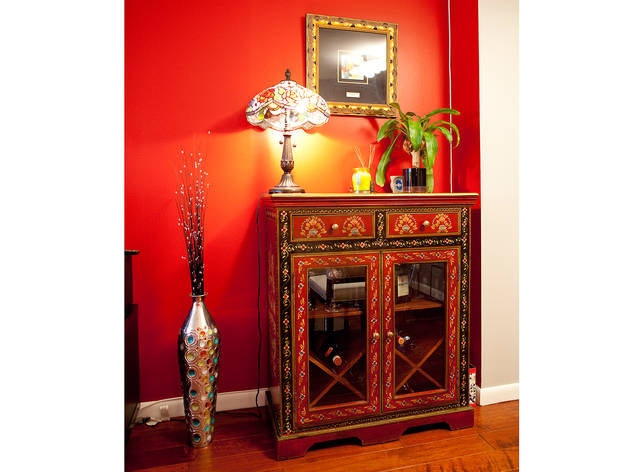 7/16
Photograph: Brian Harkin
Miranda sought out traditional-looking pieces for the bar area, such as this painted liquor cabinet from Pier 1 Imports, to help balance the studio's many slick surfaces and modern shapes. "It looks like it's very expensive, but it's not," boasts Scovotti of the ornate cupboard, which is topped with a Tiffany's-inspired lamp from e-tailer LightingUniverse (lightinguniverse.com). The couple met artist Itzchak Tarkay, whose original oil painting hangs above the cabinet, at an event hosted by Park West Gallery (parkwest-tarkay.com).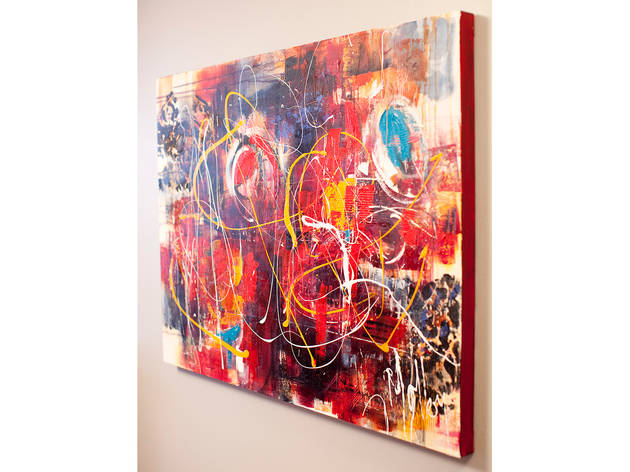 8/16
Photograph: Brian Harkin
The couple attends the Affordable Art Fair(affordableartfair.us) twice a year to search for new art. What drew Scovotti to this splatter-paint piece from an unnamed French artist were the colors. "Beauty is in the eye of the beholder," he says.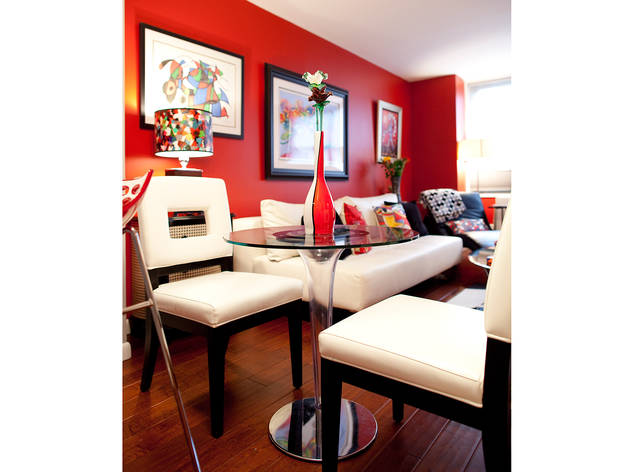 9/16
Photograph: Brian Harkin
A small kitchen that easily overheats provides the perfect excuse not to cook. "We eat out a lot," admits Scovotti. On the rare occasion when meals are prepared at home, this compact glass table and leather chairs from Overstock.com provide the ideal eating nook for two. Considering the couple is rarely at home, Miranda managed to find the perfect floral arrangement—a pair of glass roses in a color-blocked vase from HomeGoods(795 Columbus Ave at 100th St; 212-280-6303, homegoods.com)—that'll never need watering.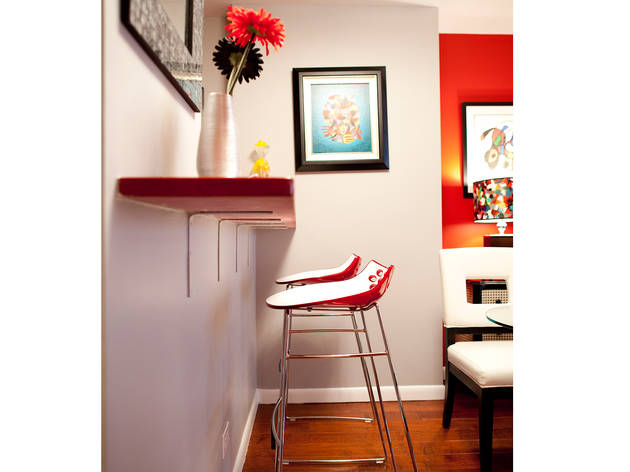 10/16
Photograph: Brian Harkin
Rather than let the studio's size limit their entertaining abilities, Miranda and Scovotti get creative. During the renovation, they installed a slab of red quartz from Westchester Tile & Marble (westchestertile.com) along the exterior of one of the kitchen walls. When guests come, which they do almost every weekend, the area can serve as a buffet space or offer extra seating, thanks to the barstools Miranda found on Overstock.com. A mosaic-frame mirror picked up at HomeGoods, a brushed-steel vase from now-defunct chain Daffy's and an Itzchak Tarkay oil painting, also procured from Miami's Park West Gallery, add personality without cluttering the space.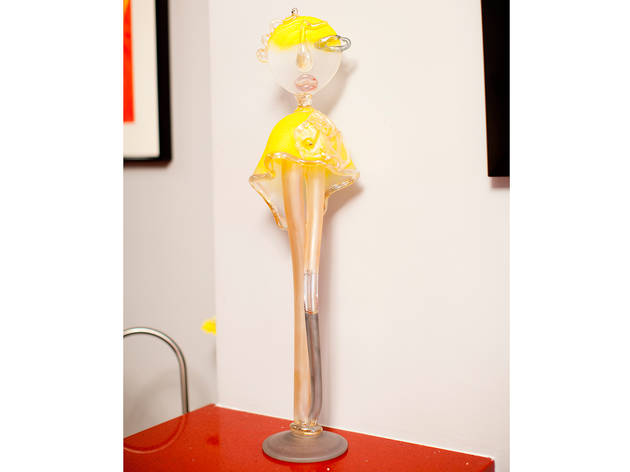 11/16
Photograph: Brian Harkin
This glass figurine, picked up in San Francisco's Union Square, goes by the name Gabby. "It reminded Anthony of me," explains Miranda. "Long legs and a short skirt."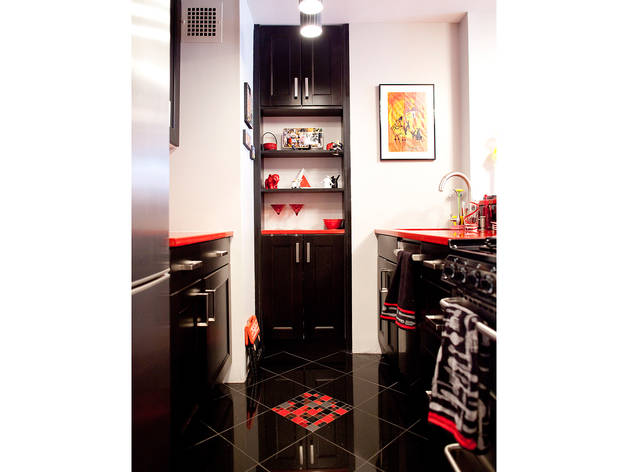 12/16
Photograph: Brian Harkin
Miranda extended the mod color scheme to the kitchen in order to create the illusion of a bigger space. The one exception is an orange-tinged painting of Don Quixote that Scovotti found in Madrid years ago.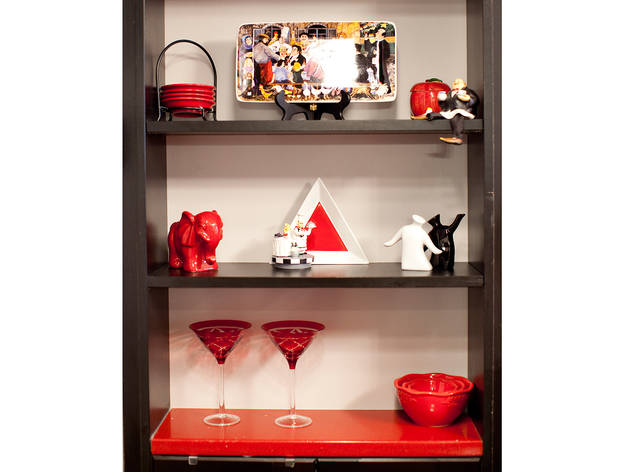 13/16
Photograph: Brian Harkin
In order to create additional storage, the couple had contractor Henry Gil (henrygil337@yahoo.com) customize Ikea cabinets (1 Beard St at Otsego St, Red Hook, Brooklyn; 718-246-4532, ikea.com) to fit the small space. An open shelving unit currently displays decorative yet useful knickknacks, including a pair of martini glasses that were a gift from Miranda's son, and figure-shaped salt and pepper shakers from Marshall's (locations throughout the city; visit marshallsonline.com).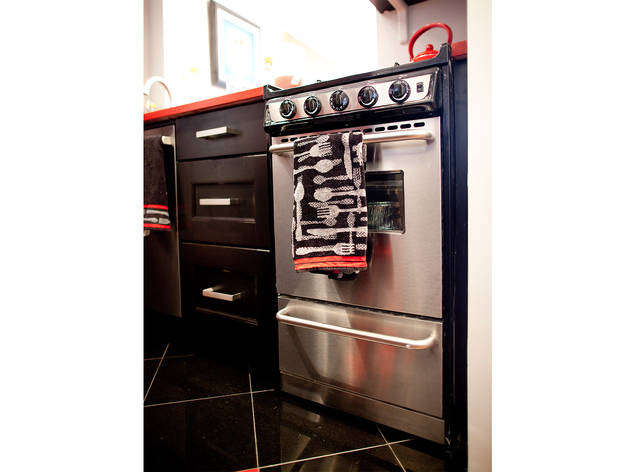 14/16
Photograph: Brian Harkin
The original kitchen had full-size appliances that jutted out into the small space. During the renovation, Miranda sought out smaller apparatuses, such as this oven from Appliance.com. "It's like an Easy-Bake oven," she jokes. A utensil-print dish towel from BJ's Wholesale Club (locations throughout the city; visit bjs.com) hangs from its door.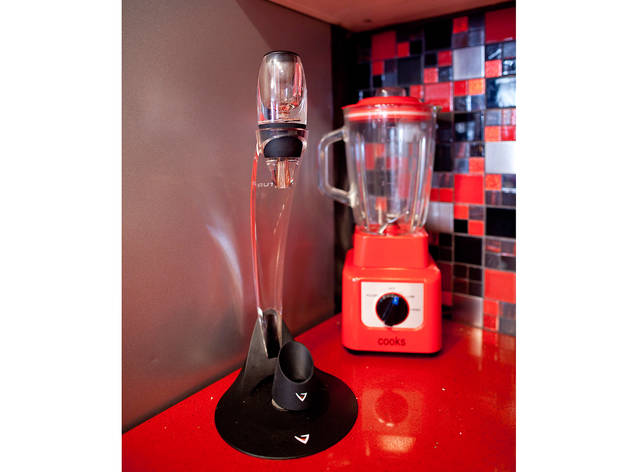 15/16
Photograph: Brian Harkin
No detail is too small to be left out of the apartment's cohesive color scheme—even the Cooks blender matches the decor. It sits beside a Vinturi Deluxe wine aerator, which Miranda swears adds to the flavor of the vino. Both tools, purchased on Overstock.com, come in handy when the couple serves guests cocktails on the building's expansive rooftop lounge.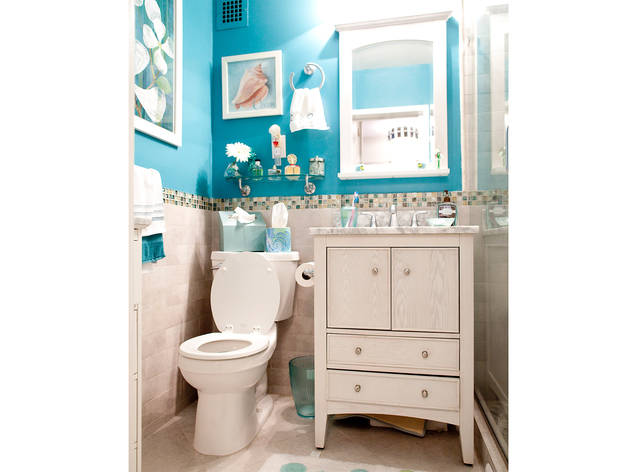 16/16
Photograph: Brian Harkin
"I really didn't think it was going to be this bright," says Miranda, who was going for a calming "spa or South Beach theme" when she painted her bathroom using Behr Ultra's Aquatic Green color. Flower and seashell prints from HomeGoods fortify the beach theme, while a polka-dot bath mat from Rainbow Ace Hardware (1449 First Ave between 75th and 76th Sts; 212-288-4868, rainbowacehardware.com) provides soft padding for tired feet.


home-design stores
such as
HomeGoods
and
Pier 1 Imports
to find pieces that match their black, red and white color scheme and modern aesthetic.
Love the look? Get it here!

Downtown Furniture 165 Grand St between Baxter and Centre Sts (212-966-7201, downtownfurniturenyc.com)
Miranda loves this affordable furnishings store because she can shop online before visiting the showroom. "I did everything by Internet and e-mail," she says. Just as conveniently, all of her furniture purchases were delivered fully assembled.

HomeGoods795 Columbus Ave at 100th St (212-280-6303, homegoods.com)
"It's like being a kid in a candy store," exclaims Miranda of shopping at the off-price chain. "There are so many unique things." She favors the selection of decorative accessories, such as vases and throws.

Pier 1 ImportsLocations throughout the city; visit pier1.com
Miranda and Scovotti find bright accessories for their studio at this chain. "Everything is so colorful when you walk in," says Miranda. The stock is replenished often enough to keep up with her decorating whims.

Vedovato Brothers Inc.245 E 115th St between Second and Third Aves (212-534-2854, westchestertile.com)
This Manhattan showroom is partners with Westchester Marble & Tile, where the couple sourced their red quartz kitchen and aqua-glass bathroom tiles. "There are so many beautiful options, it's hard to narrow it down," enthuses Miranda, who praises the company's helpful staff.