House call: Fit for a fitness king
The mastermind behind David Barton Gym makes sense of the wacky randomness in his Chelsea Hotel home.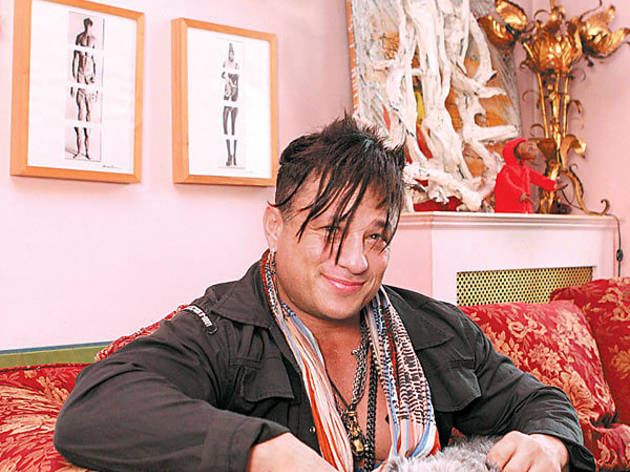 Peep inside a David Barton Gym and his taste for design is obvious: It's like Crate and Barrel fornicated with Hot Topic. Through what he describes as "dramatic elegance and laid-back comfort," the 42-year-old New York native has avoided the typical sterility of the average gym. His facilities are known for top-notch personal training and intense avant-garde decor, yet compared with his home—which is made up of three adjoining apartments—his gyms are tame.
RECOMMENDED: Fitness guide to NYC
The entranceway to his Chelsea Hotel rental is a bit cartoonlike: Bippy the dog and Dolce the cat are always by the door to welcome guests, and every surface (including the ceiling and floor) is covered with sexy anime-meets--Johnny Bravo characters done by artist and family friend, Martine. While they're all striking in their own way, the most prominent is a diesel blond chick with a gun, cocked and aimed. (Barton says it's a depiction of his wife, Suzanne Bartsch, a onetime fixture in the city's fashion and nightlife scene.) Second to that is the big black guy with the exposed penis (Barton maintains that it's not a portrait of himself). Moving on, a curvy hallway painted with a pink geometric design leads to a "psychedelic Victorian" living room.
"This place is a little of everything," says Barton, pointing out a plastic cuckoo clock from Urban Outfitters, wind chimes made out of silverware found at a Canadian flea market, throw pillows embroidered with faces of Communist dictators and abstract artwork made by his now-14-year-old son, Bailey. "It's not like the apartment's full of meaningful artifacts; we just throw up stuff wherever we see fit." Okay, but that doesn't explain the huge Chinese opium bed in the middle of the room. "They're so glamorous, we use this one as a second couch," he says, as though there's nothing odd about it.
Not surprisingly, there's another one in the all-red master bedroom (and another in his Chicago gym). "I'm not going to sleep in a canopy bed, so what option does that leave? Who wouldn't want to sleep in one of these?" Barton protests. "They're like sexy tree houses!" Also in the bedroom: tons of religious paraphernalia. And this is surprising because Barton and his wife admit they're not religious in any way. "We just think they're beautiful and we like to surround ourselves with beautiful things."
Other parts of the apartment are less decorated: There's what Barton refers to as the "world's worst kitchen," his son's room where Janis Joplin once lived, and his wife's office, which looks more like a storage closet. "I have so much stuff. Some of it goes into my home and some of it goes into the gym," Barton says, looking around. "But I'm really not one to hold on to material things."
Why Chelsea?
"We've talked about moving out and buying something, but we love Chelsea and we love this hotel—it's like a dorm for adults," he says. "We know everyone in the building." In the city, where new condos pop up every day, Barton likens the historical hotel to a lasting oasis of cool. "If you're gonna live in one of those big buildings, you may as well live in Seattle. No offense to Seattle, of course." He adds, "plus I live on this block, my gym is a few doors down and my mom is on the next block. Everything I need is right here."
Neighborhood haunts:
Pet Central
(247 W 23rd St between Seventh and Eighth Aves, 646-486-1662) "We go here to buy all our pet food. They have great canned stuff for Bippy like Granny Pot Pie and Cowboy Cookout."
Whole Foods
(250 Seventh Ave at 24th St; 212-924-5969, wholefoodsmarket.com) "Their produce is better than other places. We're pretty healthy but we're not health nuts. Make sure you note that."
Pizza 33
(268 W 23rd St between Seventh and Eighth Aves, 212-206-0999) "It's good once in a while."
her haunts:

(510 Hudson St between Christopher and W 10th Sts; 212-242-3021,employeesonlynyc.com) "They're open late, it's fun, and the owner is one of my best friends."
(268 Sixth Ave between Bleecker and Houston Sts, 212-982-3300) "We like to eat outside here because they're very accommodating of Bippi."
(192 E 2nd St between Aves A and B, 212-228-0977) "It's so good. We've been going here since Bailey was a year old."