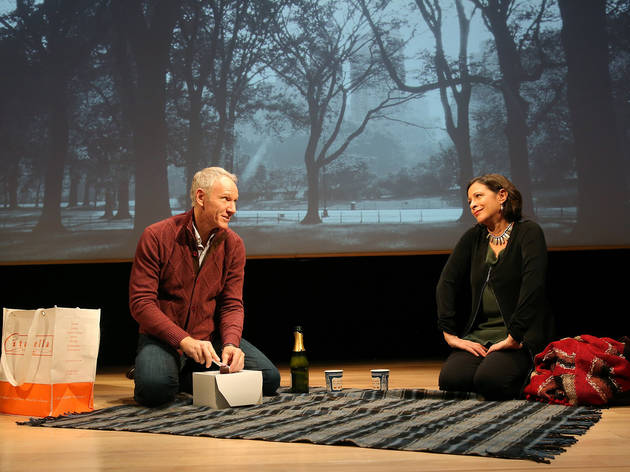 1/4
Photograph: Joan Marcus
A Second Chance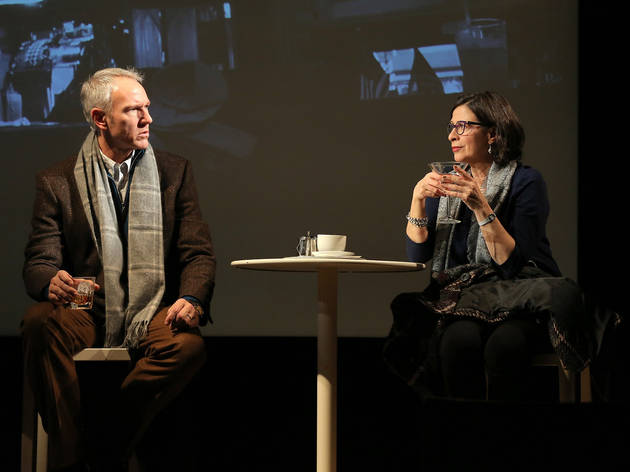 2/4
Photograph: Joan Marcus
A Second Chance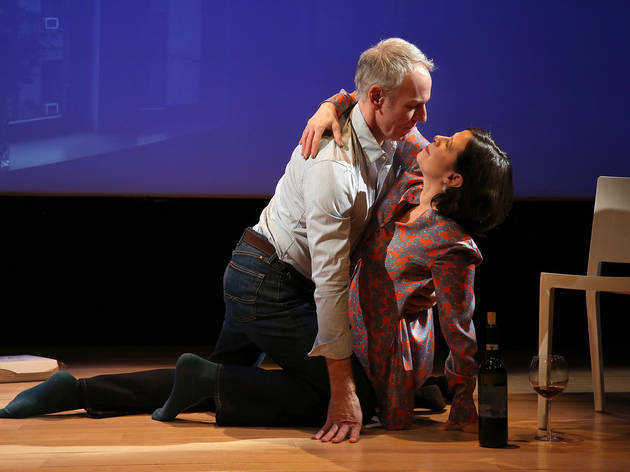 3/4
Photograph: Joan Marcus
A Second Chance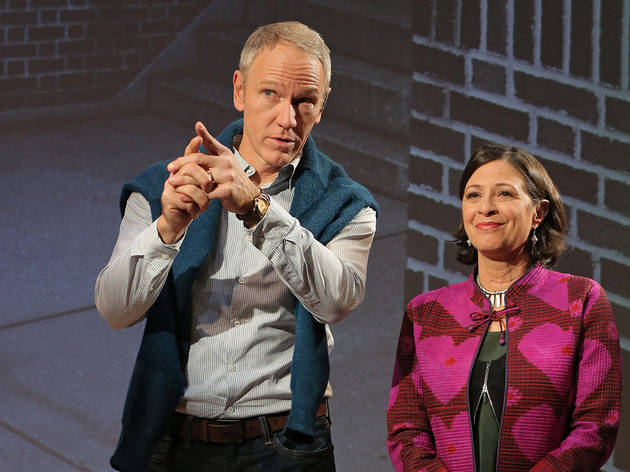 4/4
Photograph: Joan Marcus
A Second Chance
A Second Chance. Public Theater (see Off Broadway). Book, music and lyrics by Ted Shen. Directed by Jonathan Butterell. With Brian Sutherland, Diane Sutherland. Running time: 1hr 30mins. One intermission.
A Second Chance: In brief
Real-life married couple Diane and Bill Sutherland star in Ted Shen's chamber musical about a middle-age romance, directed by Jonathan Butterell.
A Second Chance: Theater review by Raven Snook
After hearing the opening strains of this sung-through two-hander about the romance between a pair of well-heeled middle-aged New Yorkers, you may wonder if Stephen Sondheim will demand royalties. By the time the couple namechecks Sunday in the Park with George on their first date at MoMA, you'll think he should file a restraining order. Turns out Sondheim himself is actually the one who initially suggested financier turned librettist-lyricist-composer Ted Shen write A Second Chance, his achingly sincere but tedious, autobiographically inspired debut musical.
Perhaps Sondheim was just trying to pay it forward in the encouragement department, much as Oscar Hammerstein II did for him when he was a boy. But Shen is no adolescent, and while he possesses a lot of pluck and excellent taste (apparently seeing Company profoundly changed his life, and he's thrown his considerable fortune behind many musical-theater talents, including Sondheim), his melodies are derivative of you-know-who, and his lyrics are generic at best—when they're not clunky and clichéd.
Widower Dan and divorcée Jenna (played by real-life husband and wife Brian and Diane Sutherland) meet quirky at a mutual friend's party and, one serendipitous subway run-in later, reluctantly begin to date. He's grieving and she's vibrant…and that's about the deepest you get. Whether they have kids, kinks, ambitions or any other details that might make them relatable and real are never revealed. They're completely bland, and their witless banter is peppered with references to Mad Men and digs at Brooklyn ("I've never actually been there.… It's always seemed so foreign").
The lovely black-and-white projected NYC backdrops (by Rocco DiSanti) that serve as sets have more personality than these two, despite the best efforts of the performers. It's too bad, because Shen clearly possesses some songwriting talent (perhaps he'd fare better with a collaborator instead of trying to do it all himself). The upside: He clearly has the dedication and, more importantly, the necessary funds and connections to give himself as many second chances as he needs.—Theater review by Raven Snook