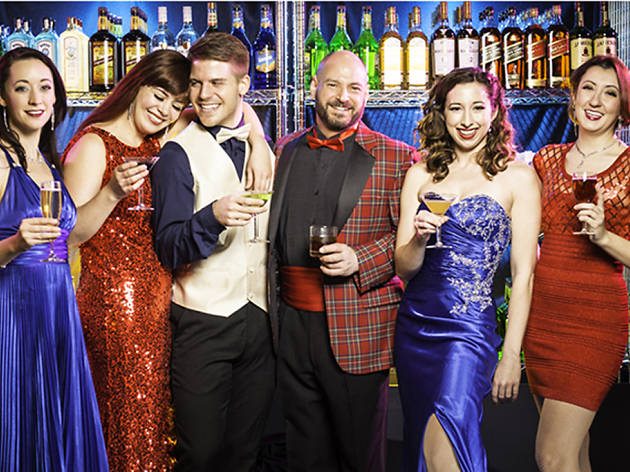 [Note: The review below is for a 2014 version of this show, which was then titled The Imbible. A revised version now plays at New World Stages. A different, brunch-theater edition, titled Day Drinking, plays on weekend matinees.]
Remember Bill Nye the Science Guy? Great! Now imagine him as a bartender who is deeply interested in the history of ethanol alcohol, really likes wigs and costumes, and just joined a coed barbershop quartet. That description of Anthony Caporale's The Imbible: A Spirited History of Drinking may sound far-out, but the show is both educational and entertaining. (It's also a fine showcase for a cappella classics arranged by Josh Ehrlich and performed by a gifted ensemble that includes the show's director, soprano Nicole DiMattei.) Mixing whimsy and information, Caporale makes the story of our relationship with alcohol remarkably compelling. And the show's lessons—on subjects like the drinks served at Prohibition-era speakeasies, the origin of the gin and tonic, and the difference between a cocktail and a mixed drink—can be washed down with complimentary, thematically appropriate beverages. As Caporale says, "Trust me, I get funnier with every sip." That makes the show a must-see for anyone who enjoys free booze, which is probably nearly everyone.—Amelia Bienstock
Venue name:
New World Stages
Contact:
Address:
340 W 50th St
New York


Cross street:
between Eighth and Ninth Aves
Transport:
Subway: C, E, 1 to 50th St
Price:
$79 (includes three cocktails)
Event phone:
800-447-7400
Event website:
http://imbible.org
Average User Rating
4.8 / 5
Rating Breakdown
5 star:

12

4 star:

4

3 star:

0

2 star:

0

1 star:

0
I had an amazing time seeing "The Imbible: A Spirited History of Drinking", last night. I learned a lot from the show, even as a a bartender and cocktail enthusiast. The show sets up a very nice timeline as it walks you through the evolution of humans through alcohol. The acapella is amazing, and the cast of the show is extremely talented and also very funny. The show is performed in a small basement bar in Soho. There is a lot of crowd interaction and this makes the show very personal and engaging. After the show, Anthony Caporale, the narrator and creator of the show made us drinks and answered questions behind the bar.

Overall, a fantastic experience. Would highly recommend to anyone, cocktail enthusiasts or newbies.

Funny, entertaining, engaging and SO informative! I went on a date and we had an awesome time!
We had a great time last night at The Imbible. This was true edutainment!! We laughed, we learned and we drank!! I can't wait to try the Old Fashioned recipe we drank. Thanks for creating a wonderful evening for me and my friends!!
Seen this show 5 times and can't get enough! Love the songs and the history. Also the 3 free drinks are very well made! The New World Stages venue is a huge improvement over the Soho playhouse where the show used to be.

65th Birthday outing with family. Great fun and a learning experience too! Very enjoyable! Highly recommended!
Lots of fun. Time Out picked a winner here. It's best not to know what to expect; we were pleasantly surprised at the whole evening!
Loved this show. Interactive, informative, entertaining. The venue was quaint and perfect for this show - a speakeasy. Very reasonably priced especially since you get 3 drinks for your ticket.
You should check out this show now playing at the SoHo Playhouse. It was the perfect cocktail of history, chemistry, music and humor. Oh and 3 drinks built into the price, very nice indeed.
It is the musical history of booze, held in a small authentic, intimate, speak easy atmospheres. The writer and star of the show (and yes, bartender) Anthony Caporale has created a very unique, one-of-a-kind experience and the cast of funny, talented actors \singers is SNL meets Barbershop Quartet meets Cheers.
You gotta go! Enjoy!!
This show is a history lesson set to fun and A capella! How much fun! A learning audience participation. Great cast and lovely voices.
If you're in NYC and you like to drink,
I'm not surprised.
Also, you should go see this show "The Imbible."
It's a show on the history of booze as told through storytelling, gags, a capella and science so thick that I even saw the CERN supercollider.
It's an incredible combination of the early evolution of booze (kills bacteria, cavemen live longer) and all the innovations by clever human monkeys looking to get twisted (those Arab alchemists who learned to distill the spir
it of beer into al-kohool) into the First War on Drugs (the Noble Experiment that created speakeasies like this one). Anthony Caporale is a singing researcher world class mixologist who transmorgified a two hour academic lecture on alcohol into an engaging show with lovable music theater nerds.
It's actually exactly what I'm trying to do with my cannabis book so it was encouraging to see the same methods employed on a engaging wonderful show where you get served excellent drinks by while learning from lovely hosts.
Highly recommended for any boozehounds or those who love them.
This has all the makings of being the next Sleep No More - that hot downtown show that you just can't get a ticket to!

For your ticket price you get a fun, enjoyable show, several great musical moments, and three incredibly well-made drinks. The story itself is a great narrative about the history of liquor's uses throughout the ages so you know you're going to like what they're talking about. The performers are upbeat, energetic, and make this performance a blast for groups, dates, or anyone looking for a very different Friday night experience.
HIGHLY RECOMMENDED.
I love this play! I'm a huge drunk, ahem, I meant lover of the spirits! So, it was to my delight that this hilarious play came with FREE DRINKS! The cast was great and full of energy. While the story, which was about the evolution of alcohol and spirits, was as refreshing as the drinks! KEEP 'EM COMING, I say!
As a bartender, history nerd, and lover of musicals, I found this show right up my alley. Excellent cast - amazing voices, funny, and knowledgeable. It's a really cool intimate atmosphere, almost feels like you're part of the show. Plus, you get 3 drinks included in your ticket price - can't go wrong!
A delightful surprise!
I didn't know what to expect going into it, I've never been to a fringe festival show before... Any show that hands me a drink as soon as I walk in, is a show for me!
The Imbible takes you from cavemen discovering beer, to distillation created by the egyptions, and wrapping it all up with prohibition.
To help further explain/entertain the audience, they use popular songs and standards with barber shop styled harmonies that coincide with each history lesson.
I would highly recommend the show to everyone, if even if theater is not their thing.
I absolutely loved the show! I found myself alternating between laughing, sipping a great cocktail, and telling myself, "I've never look at that event from that perspective." I appreciate, fast-paced, intellectual, thought-provoking content, and Anthony and team deliver exactly that.

The show might be the first ever "Docu-musical," and is a perfect combination of the two styles. It's is a fascinating, casual-toned, fast-paced and often hilarious lecture where Anthony's monologue is supplemented in the by three background actors helping tell the various stories and often break into song via barbershop quartet. I've never seen anything like it before and Anthony is the perfect host to guide you through the content. And the show includes three drinks! Can we please make this a new off-broadway standard???