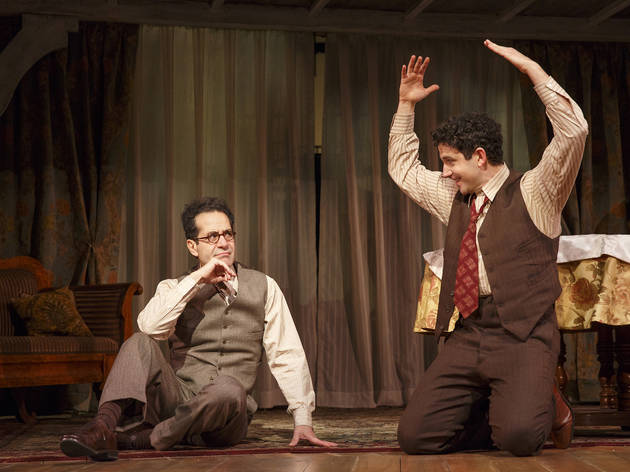 1/9
Photograph: Joan Marcus
Act One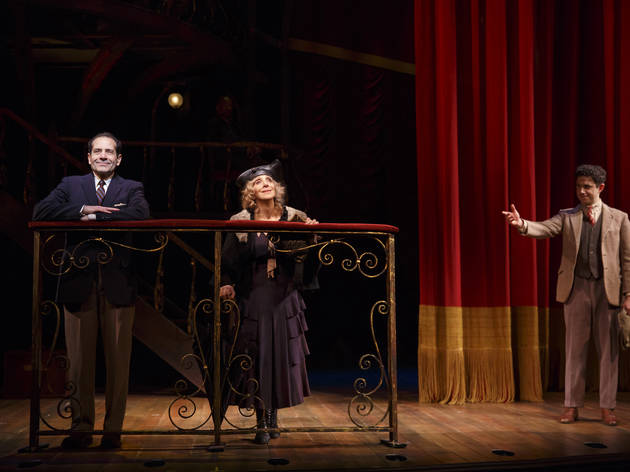 2/9
Photograph: Joan Marcus
Act One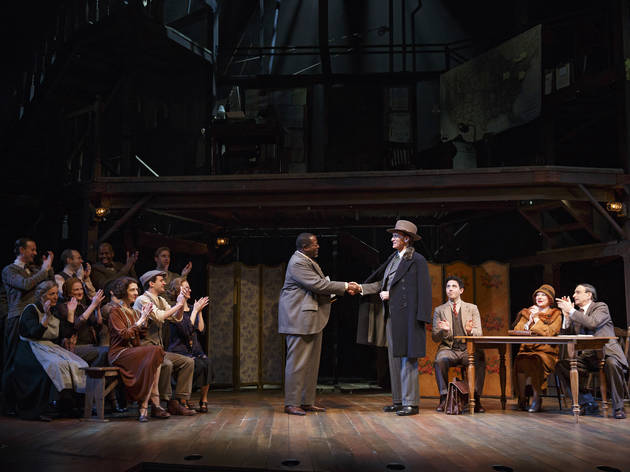 3/9
Photograph: Joan Marcus
Act One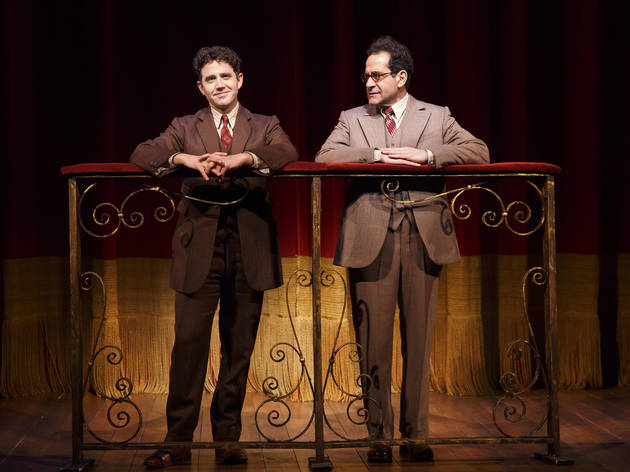 4/9
Photograph: Joan Marcus
Act One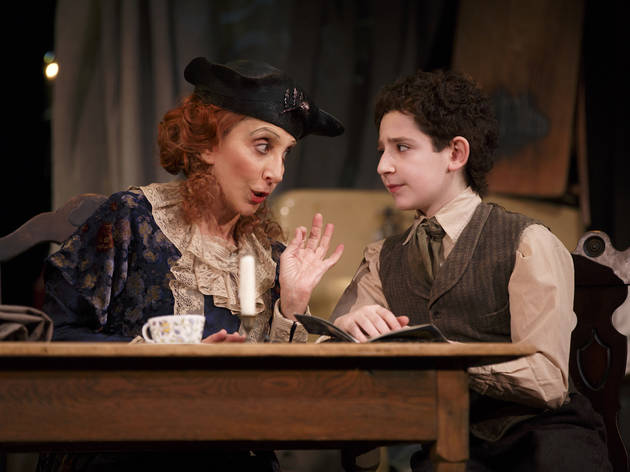 5/9
Photograph: Joan Marcus
Act One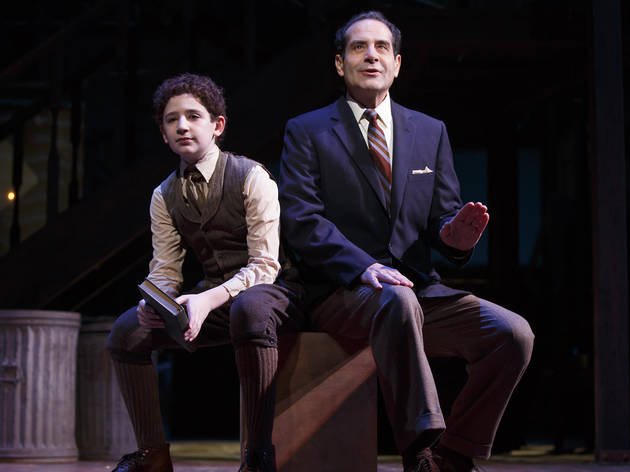 6/9
Photograph: Joan Marcus
Act One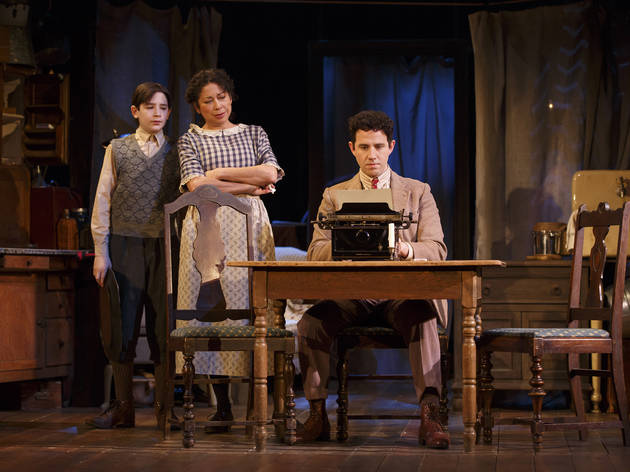 7/9
Photograph: Joan Marcus
Act One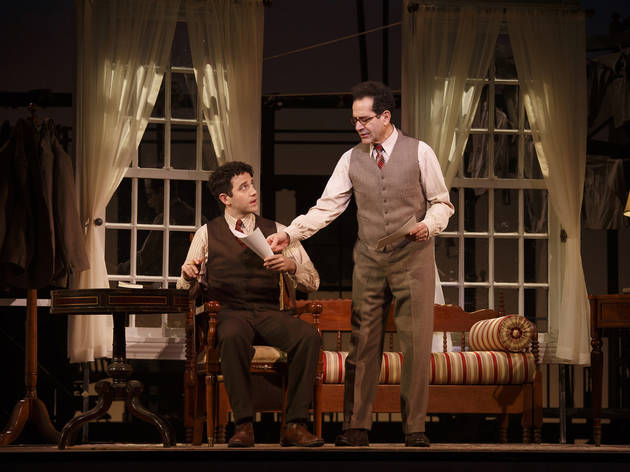 8/9
Photograph: Joan Marcus
Act One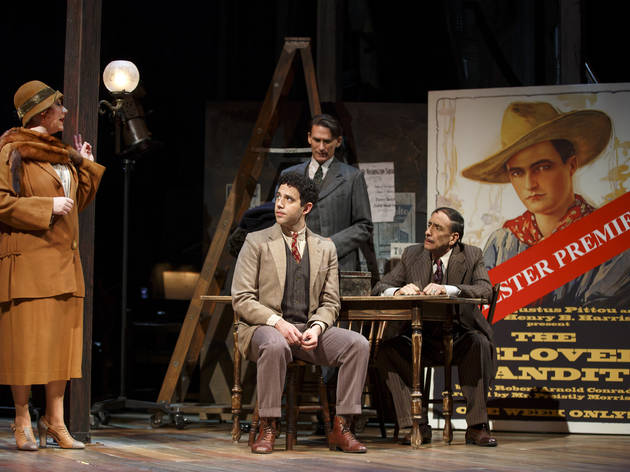 9/9
Photograph: Joan Marcus
Act One
Act One. Vivian Beaumont Theater (see Broadway). Written and directed by James Lapine. Based on the book by Moss Hart. With Tony Shalhoub, Santino Fontana, Andrea Martin. Running time: 2hrs 45mins. One intermission.
Act One: In brief
Moss Hart's 1959 showbiz memoir has inspired generations of theater geeks. Now it comes to the stage in a version written and directed by James Lapine. The knockout cast includes Santino Fontana and Tony Shalhoub as the younger and older Hart, respectively, dazzled by the lights of Broadway and finding a home there.
Act One: Theater review by David Cote
Near the end of his best-selling 1959 memoir, Act One, dramatist-director Moss Hart relates an opening-night speech made by George S. Kaufman, his (grand-speeches-hating) cowriter on the smash comedy Once in a Lifetime (1930). Signaling to the stagehand to keep the curtain up, Kaufman (who also played the part of Lawrence Vail) told the crowd, "I would like the audience to know that 80 percent of this play is Moss Hart." It was a show of uncommon respect and generosity from a seasoned man of the theater to one just starting out. And it raises a relevant question: What percentage of James Lapine's Act One is Moss Hart's Act One?
In its trajectory and most memorable scenes and players, Lapine's stage adaptation of Hart's sprawling tale—part rags-to-riches fable, part showbiz fantasy, part professional handbook—is quite faithful and wrought with abundant skill and empathy. Lapine, who partnered with Stephen Sondheim in the early '80s, revivifying the master's career while kick-starting his own, clearly relates to young Hart (Fontana), who balances reverence with impatience as he gets schooled in play-fixing by the chilly, obsessive Kaufman (Shalhoub). And although Lapine is evoking a Broadway scene nearly a century old, not so much has changed: Writers are still neurotic, actors are still vain, and producers are still snakes or saints—or both.
Less smoothly transferred from page to stage is Hart's narrative tone, a kind of wiseacre Dickensian swing, grandiloquent yet cockeyed, enamored of the theater, but unashamed of the author's bloody-minded determination to make loads of money and live in grand style. In Hart's honey-and-vinegar prose, eccentric artists and hangers-on swirl off the page with the vividness and panache of Al Hirschfeld drawings.
But Lapine's Act One is a play, not an audiobook or TV miniseries. If this adaptation included considerably more narration, it would invite complaints of too much telling, not enough showing. So credit is due to Lapine for efffectively distilling a fast-moving memory play that whisks us through Hart's impoverished childhood in the Bronx to his apprenticeship under a crabby road producer (acidic pro Will LeBow) and his eventual paring with hilariously standoffish Kaufman. Lapine has a superb cast at his disposal—the thoroughly charming Fontana, the drolly tetchy and bilious Shalhoub, and, in a few crucial, nurturing mother-figure roles, the grace-filled Andrea Martin.
Beowulf Boritt's massive, tri-level rotating set is a wonder to behold, twirling us from cold-water tenement to sumptuous hotel suite in a twinkling. Like the plays of Act One's time, the set covers every class level, from janitor to CEO. If only today's new dramas had such social flexibility.
While Lapine has succeeded in condensing a massive tome and fluidly orchestrating sequences involving his 22-member cast, the evening is not without flaws. The second act drags, Hart's relationship to his father (Shalhoub again) is too ill-defined for a last-minute (if brief) reconciliation, and the decision not to summarize the plot of Once in a Lifetime assumes too great an audience familiarity with the material (the classic hasn't been on Broadway in 36 years). Still, quibbles aside, Act One is tremendous fun, sweet and wise-wistful, brimful of sparkling performances and insight into the joys and terrors of show business. While every play is a collaboration, and authorship in the theater is a compromised, fragmentary thing, this one's all Hart.—Theater review by David Cote
THE BOTTOM LINE Lincoln Center Theater and James Lapine do right by a sacred Broadway text.
Follow David Cote on Twitter: @davidcote
Average User Rating
1.5 / 5
Rating Breakdown
5 star:

0

4 star:

0

3 star:

0

2 star:

1

1 star:

1
ACT ONE is a tedious slog. My 2:00 matinee got out at 5:25. The actors really try but James Lapine's script hobbles them at every turn with endless narration, jokes that fail, names that are dropped without context. I've read Moss Hart's bio, seen the play they are struggling to create, know about the famous characters but even so, the missed opportunities kept piling up. How can you have Dorothy Parker leaving a party sober and without a quip? Tony Shalhoub (great in LEND ME A TENOR) plays so many roles that they run together. Which one is he supposed to be now-Moss? His father? George Kauffmann?
It is surprising that a play about a witty playwright could be so morose. As an audience member, the irony of a failed play about a failed play only goes so far to amuse. There were only appreciative laughter from the audience for MONK impersonations. If you cut this play in half, it could be appropriate for high school drama classes. It is absolutely not ready to be in front of audiences. If we were in a restaurant, I would have sent this back to the kitchen.
Two Stars for the set and the young actors who work hard for nothing.

This was one of the worst plays I have ever seen. It's a navel-gazing narrative about... writing a screenplay. The actors did the best they could with a emotionally barren script. The stage design was really impressive, to the point where it might have gotten in the way of a play which offered something to get in the way of. I am amazed that such a self-conscious piece of work could be written about the process of creating a story, about questioning and refining a screenplay, without, apparently, its authors taking a step back and performing a similar analysis.