1/2
Photograph: Carol Rosegg
Arlington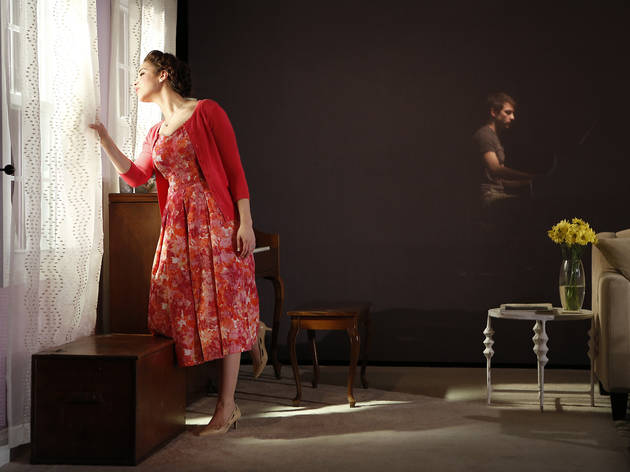 2/2
Photograph: Carol Rosegg
Arlington
Arlington. Vineyard Theatre (see Off Broadway). Book and lyrics by Victor Lodato. Music by Polly Pen. Directed by Carolyn Cantor. With Alexandra Silber, Ben Moss. Running time: 1hr 5mins. No intermission.
Arlington: In brief
The prodigiously gifted Alexandra Silber plays a soldier's wife with a dawning sense of her husband's darkness in Victor Lodato and Polly Pen's near-solo chamber piece, which was the highlight of the 2012 triptych Inner Voices. Carolyn Cantor directs an expanded version at the Vineyard.
Arlington: Theater review by Adam Feldman
Arlington­, a chamber opera about a military wife whose wool of denial is starting to unravel, was the centerpiece of a 2012 triptych of brief solo musicals presented under the title Inner Voices. Seeing it then, I was moved by Alexandra Silber's warm, layered and marvelously sung performance as the dithery Sara Jane; I was also impressed at the economy with which Victor Lodato's libretto, set to skittishly conversational music by Polly Pen, confronted our willful ignorance about the violence committed in our names. This solo piece, I mused, might be even stronger on its own. In keeping with its admirable commitment to developing new musicals, the Vineyard has brought it back as an expanded, stand-alone work—but the results are mixed.
Directed by Carolyn Cantor this time, and no longer a solo—Silber's accompanist, Ben Moss, has scattered lines in the voices of her husband and father—this Arlington is roughly twice as long as the previous version. Despite some effective stagecraft, the piece's new weight is mostly unflattering: The message seems heavier, and there are stretches of flabbiness in which Sara Jane's blatherskite act grows tiresome. Happily, however, Silber remains terrific. A joy to watch and hear, she rises above the show's fraying.—Theater review by Adam Feldman
THE BOTTOM LINE Silber shines in a sometimes gloomy showcase.
Follow Adam Feldman on Twitter: @FeldmanAdam