Broadway review by Adam Feldman
Musical theater loves a Cinderella story, and in 2023 that affection has been unusually literal. The archetypal rags-to-riches heroine figures prominently in two Broadway fairy-tale mashups, the recent Into the Woods and the upcoming Once Upon a One More Time; last month, Off Broadway's Hip Hop Cinderella sent her to outer space. And now there is Bad Cinderella, a 2021 Andrew Lloyd Webber bauble that ran for a year in the West End as Cinderella but has tacked the word Bad in front of its title to make its U.S. debut. That's a minor victory for truth in marketing, at least. As the old expression goes: If the shoe fits…
In fairness, this Cinderella is only half-bad, but its virtues are in all the wrong places. Ostensibly, the show presents itself as a critique of superficiality. The script by Emerald Fennell, retouched for Broadway by Alexis Scheer, is set in a monarchic French city-state called Belleville whose fit, brightly attired, Instagram-ready denizens cheerfully sing that "beauty is our duty"; the orphaned Cinderella (Linedy Genao), reduced to household chores by her mean stepfamily, defines herself against the prevailing aesthetic regime. (When we first meet her, she is set upon by a pitchfork-wielding mob for spray-painting BEAUTY SUCKS on a statue of the city's missing hero, Prince Charming.)
This promising conceit, though, turns out to be in vain. Bad Cinderella is a box of costume jewels: flashy but short on value. Gabriela Tylesova's glitzy outfits and pop-up-book sets are fun to look at, as are the attractive chorus members who flex and prance for our delectation. ("Thrust your sword with pride! Don't let it grow limp!" sings a muscular spread of male dancers, stripped to the waist in a gold gym.) The show is most successful when it hews to campiness, especially in the juicy vocals and hamming of the story's two smother mothers: Grace McLean as the extravagant Queen—who is bent on finding a bride for Charming's younger brother, the gangling Sebastian (Jordan Dobson), at a Bachelor-style ball—and Carolee Carmello as Cinderella's scheming stepmother, who wants to snag Sebastian for one of her heir-headed daughters (Sami Gayle and Morgan Higgins).
Bad Cinderella | Photograph: Courtesy Matthew Murphy and Evan Zimmerman
Unfortunately, this is not a Queen and Stepmother story. The musical collapses at the center, because Cinderella is an attitudinal bore. For one thing, she's never convincingly unconventional: She just seems to shop at a different store at the mall from the others, one that caters to a prefab "alternative" image. She wears pants instead of tulle, her lipstick is a darker shade and her hair is piled up in a studied mess, but she's obviously pretty, and her convictions are hollow: She talks a big game about being herself, then signs up for a (disappointingly rendered) makeover in the blink of an eye, courtesy of a sinister couturier Godmother (Christina Acosta Robinson) who is like The Little Mermaid's Ursula the Sea Witch without any danger or stakes: If our heroine stays at the ball past midnight, then…her new dress may stop fitting as well, or something. The writing fails Cinderella throughout; she has none of the outsider wit she is meant to display, and her big moments clunk. ("The only thing I ever learned from you, dear Stepmother, is how to be a completely heartless bitch.")
The score, by Lloyd Webber and lyricist David Zippel, goes in one ear and comes out the other without troubling anything in between. You are unlikely to remember much of it, except the oft-repeated title-song motif—which has an advantage coming in, since it shamelessly evokes "In My Own Little Corner," from Rodgers and Hammerstein's Cinderella—and perhaps "Only You, Lonely You," a ballad that Dobson delivers with suitable ardor. Directed sleekly by Lloyd Webber loyalist Laurence Connor, Bad Cinderella is the kind of show that seems destined to be left behind. It's a shiny glass slip-up.
Bad Cinderella. Imperial Theatre (Broadway). Music by Andrew Lloyd Webber. Lyrics by David Zippel. Book by Emerald Fennell and Alexis Scheer. Directed by Laurence Connor. With Linedy Genao, Jordan Dobson, Carolee Carmello, Grace McLean, Sami Gayle, Morgan Higgins, Cameron Loyal, Christina Acosta Robinson. Running time: 2hrs 30mins. One intermission.
Follow Adam Feldman on Twitter: @FeldmanAdam
Follow Time Out Theater on Twitter: @TimeOutTheater
Keep up with the latest news and reviews on our Time Out Theater Facebook page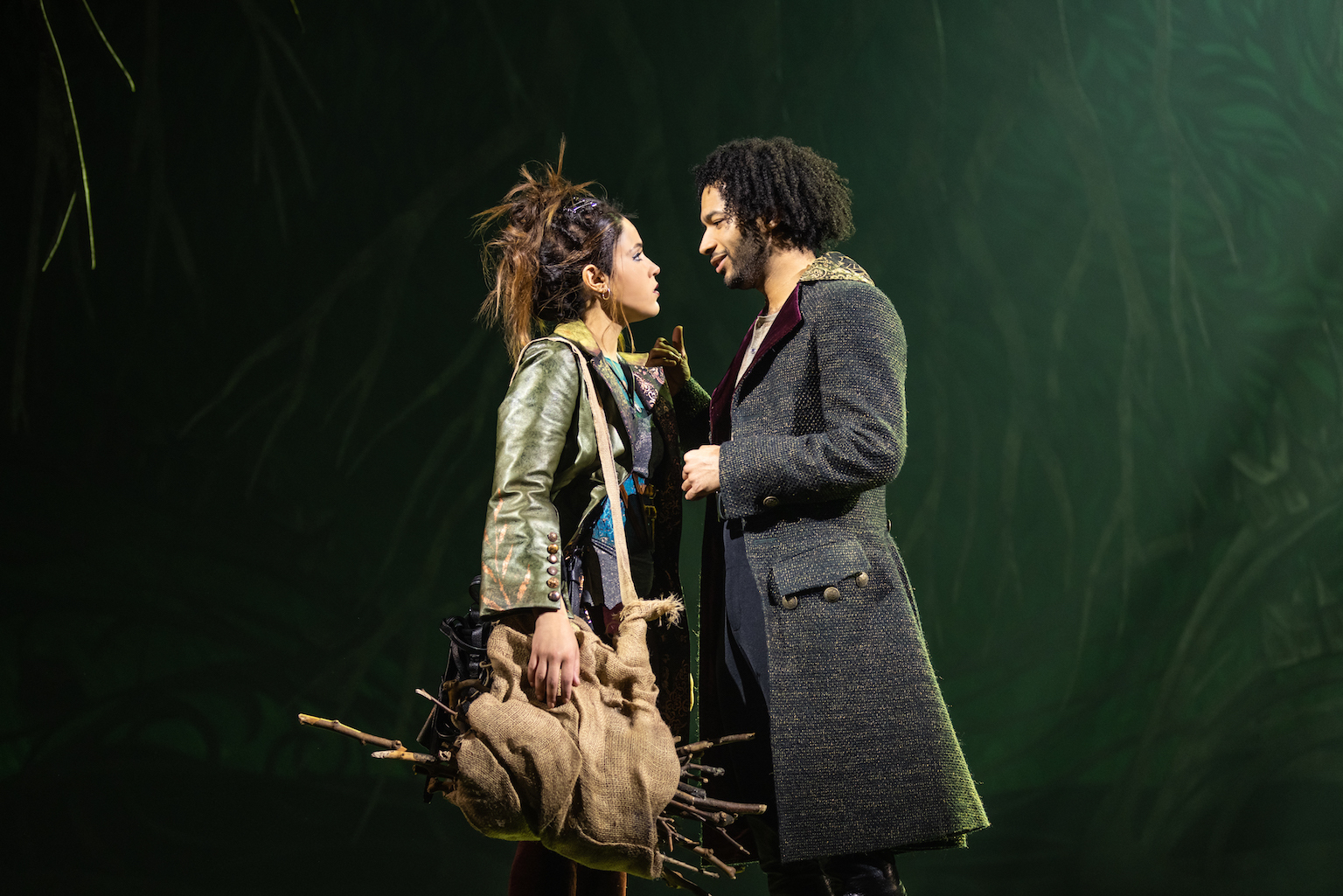 Bad Cinderella | Photograph: Courtesy Matthew Murphy and Evan Zimmerman