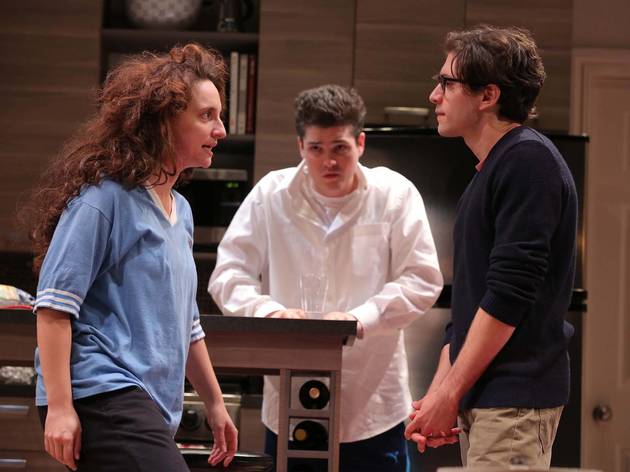 1/6
Photograph: Joan Marcus
Bad Jews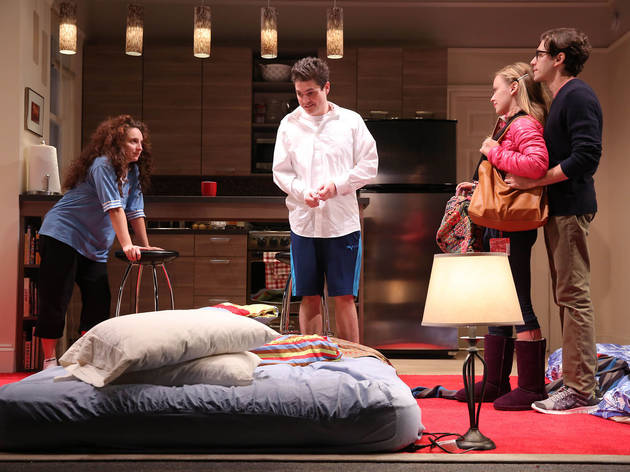 2/6
Photograph: Joan Marcus
Bad Jews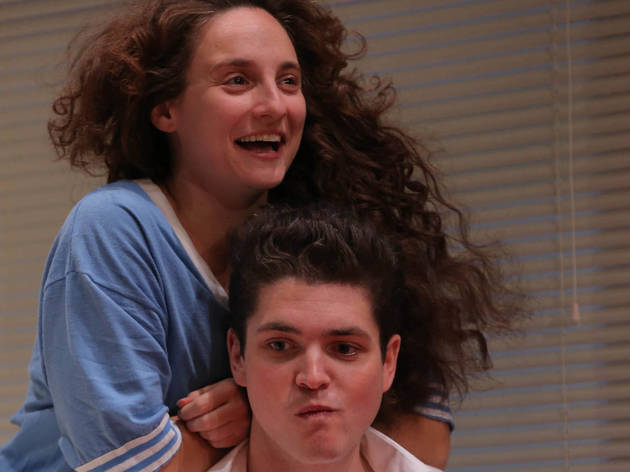 3/6
Photograph: Joan Marcus
Bad Jews
4/6
Photograph: Joan Marcus
Bad Jews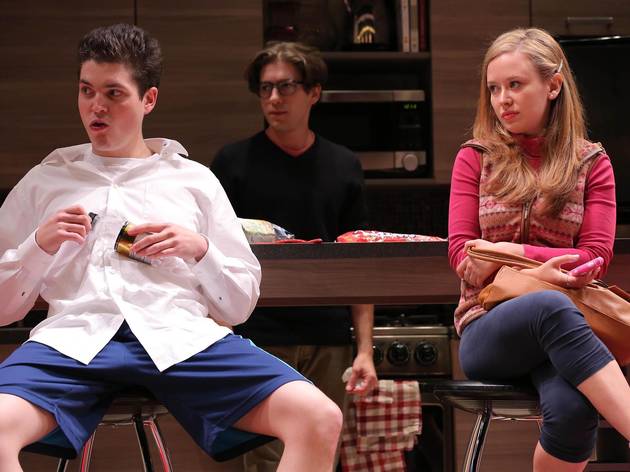 5/6
Photograph: Joan Marcus
Bad Jews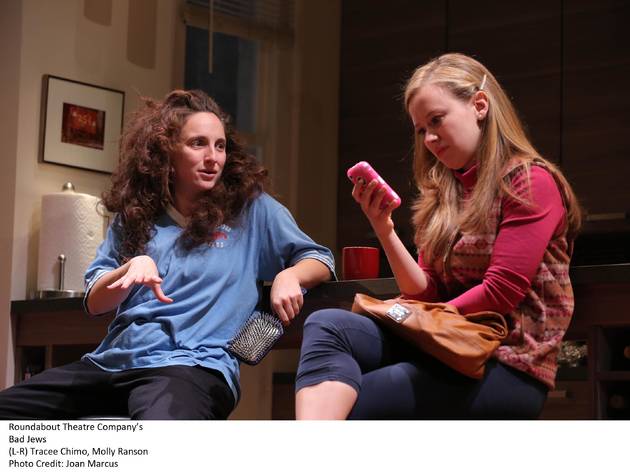 6/6
Photograph: Joan Marcus
Bad Jews
Bad Jews. Laura Pels Theatre (see Off Broadway). By Joshua Harmon. Directed by Daniel Aukin. With Tracee Chimo. Running time: 1hr 35mins. No intermission.
Discounted tickets are available through Time Out Offers until October 6, 2013.
Bad Jews: in brief
Joshua Harmon's intra-Jewish tzimmes, directed by Daniel Aukin, comes out swinging with sharp comedy and well-observed conflict, and the cast—notably Tracee Chimo as a Jewier-than-thou virago—is great fun to watch. After a hit run at Roundabout Underground last year, the play now moves to the larger Laura Pels.
Bad Jews: theater review by Adam Feldman
In Joshua Harmon's lingeringly acidic Bad Jews, the sensational Tracee Chimo gives the year's most hair-raising performance. I mean that, in part, literally. As Daphna Feygenbaum—a self-righteous termagant crashing at her cousins' apartment on the eve of their beloved grandfather's shivah—she chatters and jabs from under a glorious mound of dark brown locks, symbolic of the rough and tangled Jewish pride she brings to the mourning table. Directed with a gimlet eye by Daniel Aukin, Bad Jews has lost some of the claustrophobic intensity it had last year at the tiny Roundabout Underground, but I enjoyed it more on second pass; while the ending still strikes me as too long and too punitive, the journey there is full of barbed, funny insights into the politics of assimilation. Michael Zegen, Philip Ettinger and Molly Ranson provide worthy foils, but Bad Jews is Chimo's terrain, and she scorches it. Set against a background of decaying Jewish identity, her Daphna is scarily alive.—Theater review by Adam Feldman
THE BOTTOM LINE Tracee Chimo triumphs as a young Jewish gorgon.
[Note: The following is a review of the version of Bad Jews that played at the Roundabout Underground in fall 2012.]
Tracee Chimo whips up a mighty tzimmes in Joshua Harmon's Bad Jews. Playing the Jewier-than-thou Daphna (née Diana) Feygenbaum, Vassar senior and would-be immigrant to the Holy Land, she is fearsomely pushy and grabby; coils of brown hair hang from her head like the snakes of Medusa. Daphna is crashing at the Manhattan pad of her two rich cousins on the night of their grandfather's funeral, and she is set on securing the late Poppy's prized gold pendant of the Hebrew life symbol, chai. It is easy to walk all over the easygoing Jonah (Philip Ettinger), but his brother, Liam (Michael Zegen)—returning from a ski trip with his non-Jewish girlfriend, the benign and civil Melody (Molly Ranson)—has designs on the chai himself. A brutal battle ensues, because confrontation comes naturally to Daphna; she considers it part of her Jewishness. ("We're not arguing," she has to explain to Melody. "We're talking.")
Directed by Daniel Aukin with a fine sense of enclosure, Bad Jews comes out swinging with sharp comedy and well-observed intracultural conflict over the survival of Jewish culture and values. It is great fun to watch Chimo and Zegen dart and dodge around the stage, furiously staking out high ground. But it is also a little exhausting; Harmon's brouhaha collapses, in its final 15 minutes, into a data dump of unassimilated debate points (and punitive get-a-life shaming of the shrew). The young playwright has many valid things to say, but in Bad Jews he talks himself out.—Adam Feldman
Follow Adam Feldman on Twitter: @FeldmanAdam
Average User Rating
2.5 / 5
Rating Breakdown
5 star:

0

4 star:

1

3 star:

0

2 star:

0

1 star:

1
excellent play. The characters have their own perspective and they clash violently, but you see how they were all partially right. Well done.
this was awful. The actors were very good. But the play itself is one, long, tiresome, boring rant. Something interesting happens at the end, but it's still not enough to recommend this play. I can't understand what all the critics were watching.