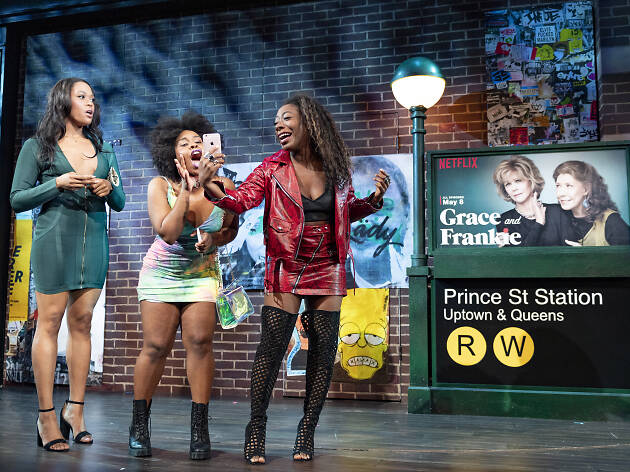 Time Out says
Theater review by Helen Shaw
In Aziza Barnes's poetry, the crunch of tire irons and the explosions of police shootings sometimes obliterate words. Violence crashes through the texts: There are gaps in the lines, as though bullets have torn through the pages. Even in the quieter pieces, white spaces might preface the word "white." In one poem, each exaggerated pause—sometimes a whole centimeter of empty page—is the sound of the queer black writer letting a white woman ask a stupid question and giving her silence for an answer.
There's a bit of that in Barnes's play BLKS. But after reading the poetry, the theatrical Barnes is a surprise: less formally radical, much more interested in convention and realism. BLKS operates like a sitcom, withSex and the City–style leaps of logic, sudden romances and the requisite piles of coincidence. The action takes place in a single long day and night, running all over New York from Bushwick to the Nuyorican Poets Café, trying to keep up with three twentysomething roommates who are partying to forget their troubles. Octavia (Paige Gilbert) wants to have one last orgasm before she gets surgery on her clitoris; Imani (Alfie Fuller) plans on performing a stand-up routine, but has to contend with a crying white lady (Marié Botha) who wants to make out with her; June (Antoinette Crowe-Legacy) has found her boyfriend cheating on her, and is about to make some weird decisions about a random guy, Justin (Chris Myers), she meets at the club. As in a sitcom, the women drink a ton and wear amazing clothes (Dede Ayite did the costumes) and talk a lot about being there for each other. But—cue laughter—we see that the three are ultimately on their own, chasing satisfaction in a city that doesn't care if these three black women get home safe.
Every now and then you sense the poet at work. There's a stand-up set that is just a series of pauses and hesitations, for instance, and an exhausted trialogue about the disposability of black bodies. But mostly Barnes wants this show to rollick along, and it doesn't. Crowe-Legacy's June is hilarious, particularly when she's yelling at her artist roommates for never knowing where she works, and Myers can truly do anything—even make sense of the tricky half-sweetie, half-creep character of Justin. But BLKS is farce, and the production moves too slowly to get into the appropriate gear. Director Robert O'Hara believes that exaggeration is the key; designer Clint Ramos believes a galumphing turntable will keep things swift. Neither of them is right. In a way, though, the creaking production is on message. The women crank up a scene into a frenzy; the set groans into rotation and undoes all their work. So they put on better shoes, and set their shoulders to the wheel again.
MCC Theater (Off Broadway). By Aziza Barnes. Directed by Robert O'Hara. With ensemble cast. Running time: 1hr 40mins. No intermission.
Follow Helen Shaw on Twitter: @Helen_E_Shaw
Follow Time Out Theater on Twitter: @TimeOutTheater
Keep up with the latest news and reviews on our Time Out Theater Facebook page
Details
Best selling Time Out Offers