Heads up! We're working hard to be accurate – but these are unusual times, so please always check before heading out.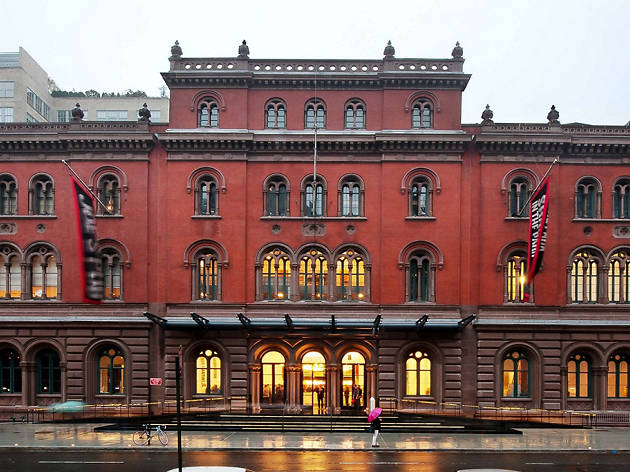 Off Broadway shows, reviews, tickets and listings
Here is where to find reviews, details, schedules, prices and ticket information about Off Broadway shows in New York
UPDATE: Due to efforts to contain the spread of the coronavirus, all Broadway productions are canceled through at least May 30, 2021, and all Off Broadway and Off-Off Broadway productions have been canceled indefinitely as well. If you purchased tickets through broadway.timeout.com, call 1-866-276-4886 for a refund.
New York theater ranges far beyond the 41 large midtown houses that we call Broadway. Many of the city's most innovative and engaging new plays and musicals can be found Off Broadway, in venues that seat between 100 and 499 people. (Those that seats fewer than 100 people fall into the Off-Off Broadway category.) These more intimate spaces present work in a wide range of styles, from new pieces by major artists at the legendary Public Theater to crowd-pleasing commercial fare at New World Stages. And even the best Off Broadway shows usually cost less than their cousins on the Great White Way—even if you score cheap Broadway tickets. Use our listings to find Off Broadway reviews, prices, curtain times and great deals on New York theater tickets.
Recommended: Critics' picks for theater and Broadway
All Off Broadway shows A–Z
Musical theater does right by the jukebox with this behind-the-music tale, presenting the Four Seasons' energetic 1960s tunes (including "Walk Like a Man" and "Big Girls Don't Cry") as they were meant to be performed. Ten months after concluding an 11-year run on Broadway, the show follows Avenue Q's example and returns for an open-ended run at Off Broadway's New World Stages. Under Des McAnuff's sleek direction, Marshall Brickman and Rick Elice's biography feels canny instead of canned.
Theater review by Adam Feldman [Note: This is a review of the 2017 Broadway production, which moves Off Broadway to New World Stages in 2019 with a new cast.] Ah, the joy of watching theater fail. The looming possibility of malfunction is part of what makes live performance exciting, and disasters remind us of that; the rite requires sacrifice. There is more than schadenfreude involved when we giggle at, say, a YouTube video of a high-school Peter Pan crashing haplessly into the scenery. There is also sympathy—there but for the grace of deus ex machina go we all—and, often, a respect for the efforts of the actors to somehow muddle through. Mischief Theatre's The Play That Goes Wrong takes this experience to farcical extremes, as six amateur British actors (and two crew members who get pressed into service onstage) try to perform a hackneyed whodunnit amid challenges that escalate from minor mishaps (stuck doors, missed cues) to bona fide medical emergencies and massive structural calamities. Depending on your tolerance for ceaseless slapstick, The Play That Goes Wrong will either have you rolling in the aisles or rolling your eyes. It is certainly a marvel of coordination: The imported British cast deftly navigates the pitfalls of Nigel Hook's ingeniously tumbledown set, and overacts with relish. (I especially enjoyed the muggings of Dave Hearn, Charlie Russell and coauthor Henry Lewis.) Directed by Mark Bell, the mayhem goes like cuckoo clockwork. If you want to have a goo