Off Broadway shows, reviews, tickets and listings
Adventurous theatergoers looking for great plays and musicals can get details, reviews and tickets for Off Broadway shows in New York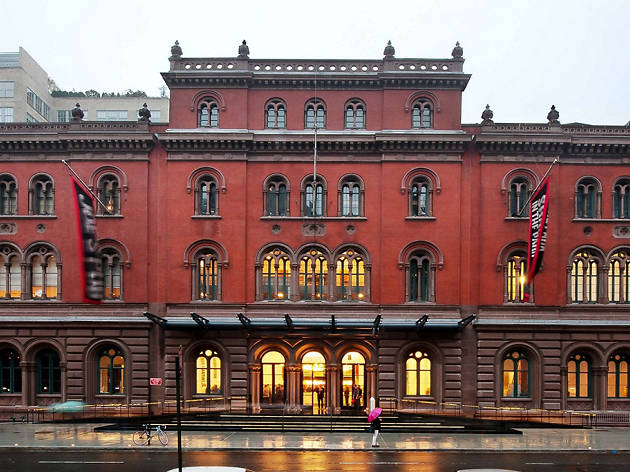 While some say we are currently in a golden age of Broadway, there's more to New York theater than the 40 houses that make up the Great White Way. Some of the most innovative new plays and musicals happen on intimate Off Broadway stages, technically defined as seating between 100 and 499. So when cheap Broadway tickets are out of reach and you've exhausted every option for last-minute Broadway tickets, you might want to look elsewhere for entertainment options. From downtown's legendary Public Theater to crowd-pleasing attractions at New World stages, Off Broadway shows offer something for everyone. Use our listings to find reviews, curtain times and great deals on New York theater tickets.
Best Off Broadway shows
England's Janie Dee, fondly remembered here for her exceptional performance as a robot in Alan Ayckbourn's Comic Potential, returns to MTC to star as a business exec trying to fight the invisibility of women over 50 in a dark comedy by Penelope Skinner (The Village Bike). Lynne Meadow directs the American premiere. Read the full review.
Book now
Read more
If you like a wee dram o' whiskey to go with your wintry chills, make a beeline for National Theatre of Scotland's immersive, satirical fairy tale about literary theorists caught up in supernatural mysteries. David Greig's script is in rhyming couplets and five versatile performer-musicians have been inventively staged by Wils Wilson throughout a cozy pub in the McKittrick Hotel. Read the full review.
Book now
Read more
The brilliant minds of the Debate Society—playwrights Hannah Bos and Paul Thureen and director Oliver Butler—have previously given us such treasures as Jacuzzi and Buddy Cop 2. Their latest group effort spans 40 years in the life of Steele MacKaye, a hugely ambitious and now-forgotten 19th-century theatrical impresario played by Rocco Sisto. Read the full review.
Read more
As Steven Levenson's Dear Evan Hansen burns up the box office on Broadway, Roundabout mounts his new nonmusical drama, in which a Jewish family argues about its history and its future at the turn of the 21st century. The expert Daniel Sullivan (Good People) directs a promising ensemble cast that comprises Larry Bryggman, Maria Dizzia, Tasha Lawrence, Jeremy Shamos, Seth Steinberg, Kate Walsh and Gary Wilmes. Read the full review.
Book now
Read more
Master parodist Gerard Alessandrini (Forbidden Broadway) lovingly skewers Broadway's greatest hit. His admiration for Lin-Manuel Miranda is obvious, but he can still poke fun at the Hamilton juggernaut, while taking shots at Cats and The Book of Mormon along the way. His cast is phenomenal; maybe we'll see them in Hamilton someday. Read the full review
Book now
Read more
Writer-director Leigh Fondakowski's ecological-minded new docudrama examines the catastrophic 2010 British Petroleum (BP) oil spill in the Gulf of Mexico. The text, developed from extensive interviews with those involved, is performed by an ensemble cast headed by gravel-voiced Michael Cullen.
Book now
Read more