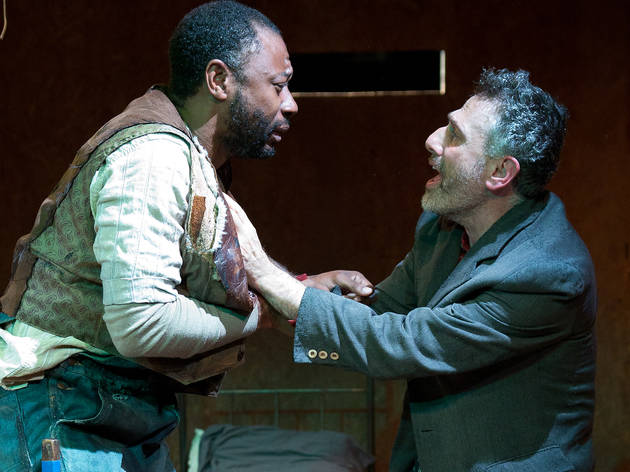 Carcass. HERE (see Off-Off Broadway). By Peretz Hirshbein. Dir. Paul Takacs. With ensemble cast. 1hr 10min. No intermission.
Carcass: In brief
The goldenly arch David Greenspan is among the players in the English-language premiere of Peretz Hirshbein's 1905 domestic drama, directed by Paul Takacs for the Yiddish-theater preservationists of New Worlds Theatre Project.
Carcass: Theater review by Raven Snook
Though Peretz Hirshbein's dispiriting 1905 family tragedy was reportedly a hit in its time, today it's hard to understand why. Originally written in Hebrew and then translated into Yiddish, Carcass now makes its English-language debut courtesy of the New Worlds Theatre Project, which is dedicated to mounting important Yiddish plays. But this relic isn't satisfying as art, entertainment or even an obscure-theater-history lesson.
Abusive, alcoholic patriarch Avrush (multiple Obie-winning actor-playwright David Greenspan) has brought disgrace to two families. His biological daughter (Robyn Kerr) and first wife (Kathryn Rossetter) refuse to see him, and his stepdaughter (Rebekah Levin), biological son Mend'l (Alvin Keith) and second wife (also Rossetter) are victims of his nonstop vitriol, though they often give as good as they get. The violent downward spiral of Mend'l—a malodorous and frustrated skinner of horses—is the heart of the piece. A mensch he's not.
Under Paul Takacs's unsteady direction, the cast delivers committed but wildly diverse performances. Greenspan seems to have stepped out of a Mel Brooks parody, while the others give various naturalistic takes that never coalesce. The ear-splitting sound design is the closest you get to drama.
All of this is a shonda, since New Worlds' mission is a worthy one, especially when other Yiddish theater companies like Folksbiene tend to focus on comedies and musicals. But as for this particular production, Carcass should be left to rot.
Ticket Offers from Time Out New York
Looking for tickets to a Broadway or Off Broadway show? Time Out Offers brings you terrific discounts on tickets to the latest New York theater. Want even more ideas? Check out Time Out New York's complete listings of Broadway, Off Broadway and Off-Off Broadway shows, and browse all available tickets.
Rating Breakdown
5 star:

1

4 star:

0

3 star:

0

2 star:

0

1 star:

0
I'm not sure what play this reviewer saw. The production of Carcass that i saw was riveting and profoundly moving. And the acting was superb! Alvin Keith's Mend'l is a performance not to be missed.