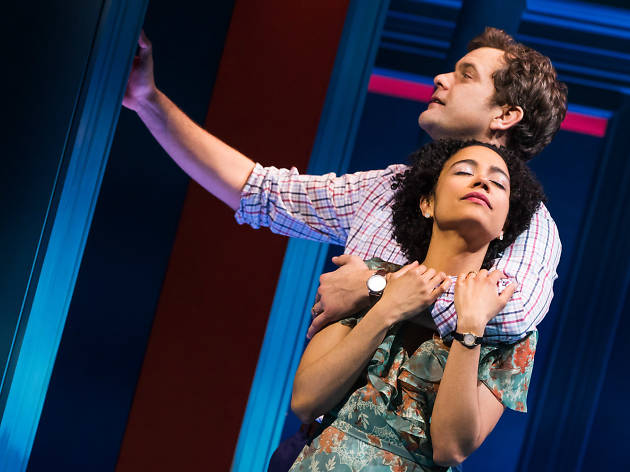 Time Out says
Mark Medoff's 1979 drama returns to Broadway in a tone-deaf revival.
Theater review by Adam Feldman 
For a play that includes a great deal of sign language, the Broadway revival of Mark Medoff's Children of a Lesser God is maddeningly heavy-handed. Time has been unkind to this 1979 drama about a confused and defiant deaf woman, Sarah (Lauren Ridloff), and the would-be-heroic speech therapist, James (Joshua Jackson), who romances her. Some of the problems are structural: In a device that is awkward from the start and grows increasingly tiresome, James and Sarah sign to each other when they're alone, but James repeats aloud everything she says for the benefit of the audience; the play is said to take place inside his mind, a conceit that functions as an excuse for choppy, half-developed scenes. But a larger problem is tonal. To today's audiences, James's relationship with Sarah—his student and a maid at his school—is manifestly jerkish from the get-go. After grabbing her and kissing her—an advance she rejects—he sneaks up to her bedroom window after curfew to try again. "Usually, I kiss the girl and make everything better," he explains. "You didn't like that one, so I climbed this tree." It's like a two-and-a-half-hour version of Lionel Richie's creepy video for "Hello."
A different production might have hidden these failings or even jujitsu-ed them into virtues. But Kenny Leon's revival, broad and ungainly, exacerbates them. Jackson's nice-guy predator is aggressively genial and callow and speaks like he is narrating a video for a high-school health class; the supporting actors—including Anthony Edwards as James's supercilious superior, John McGinty and Treshelle Edmond as his hearing-impaired students, and Kecia Lewis as Sarah's estranged mother—play single notes relentlessly. The only saving grace is the sparky, expressive and moving Ridloff, who, in her stage debut, does justice to James's patronizing description of her character as "the most mysterious, attractive, angry person I've ever met." Children of a Lesser God is ultimately about how hard it is to understand Sarah's inner life, but Ridloff is the only thing in the play that seems to have any inner life at all. She is a wonder; the rest is mostly unspeakable.
Studio 54 (Broadway). By Mark Medoff. Directed by Kenny Leon. With Joshua Jackson, Lauren Ridloff. Running time: 2hrs 20mins. One intermission.
Follow Adam Feldman on Twitter: @FeldmanAdam
Follow Time Out Theater on Twitter: @TimeOutTheater
Keep up with the latest news and reviews on our Time Out Theater Facebook page
Details
Best selling Time Out Offers