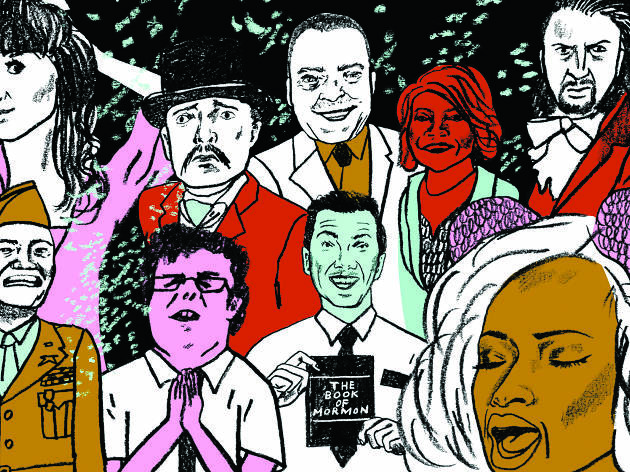 Could we be in the middle of a golden age on Broadway?
If you look at both the art and the commerce, everything's coming up roses on the Great White Way
When you think about the golden age of Broadway, you probably picture black-and-white snaps of spiffy theatergoers lining up to see the latest opuses by the Gershwins, Cole Porter, Rodgers, Hammerstein and the other giants who wrote last century's American songbook. But given the vitality and diversity currently on Broadway, we have to ask: Are we, right now, in the middle of a comparable epoch? Are these times as exciting on the Great White Way as were those from the '20s to the '50s? Considering attendance, profit and diversity, the answer might be a standing-ovation-worthy yes.
So how we'd get here? Well, a funny thing happened on Broadway since the turn of the millennium: It became a thriving market where musicals got culturally hot, posted higher profits and punched through to mainstream relevance. Creators of hits such as The Lion King, Wicked and The Book of Mormon made fortunes. But more important, those are also amazing shows. In fact, from The Producers in 2001 to Hamilton this August, we've witnessed an explosion of seminal American musicals, both serious and hugely fun. Who would have guessed that one of the hottest tickets in town would be a hip-hop homage to Alexander Hamilton, mashing up gangsta and colonial iconography with wit and razzle-dazzle? When a show that sounds atrocious on paper becomes the toast of the town, something serious has changed.
First, a crucial fact: Demand is huge. According to industry service organization the Broadway League, 2014 was the best attended and highest-grossing year in Broadway history, with box-office receipts at $1.3 billion and attendance at more than 13 million. "When I started to really notice the difference was the stock market crash of 2007," says Charlotte St. Martin, the president of the League. "The rest of the country was struggling, but Broadway was breaking records every year."
That old saying, "You can't make a living on Broadway, but you can make a killing," is only partly true: Success comes in various sizes. St. Martin says Broadway is getting as niche as cable TV or streaming. "There literally is a show for everybody," she says. "I give enormous credit to Disney for bringing in more young people but also to nonprofits for limited runs, a model that has been picked up by commercial producers." Disney helped breathe new, wholesome life into the area with shows like Beauty and the Beast, reversing the decades-long slide into sleaze and decay that had plagued Times Square. After the boom-bust '80s and the rudderless early '90s, Broadway was ready for a renaissance, thrillingly trumpeted by the openings of Rent and The Lion King near the decade's end. Flash-forward to today, when so many shows keep running that there's even a venue shortage. "Twenty years ago, everyone was knocking down theaters left and right," notes Jennifer Ashley Tepper, the director of programming at Feinstein's/54 Below. "Now it seems to be the opposite."
Okay. So business is booming, catering to a generation that grew up crazy about Wicked or Spring Awakening; the rest of the culture has taken notice. Broadway has enjoyed newfound mainstream visibility in shows like Glee and Smash or the new vogue of TV broadcast, such as The Wiz Live!, which airs this December on NBC. "All of these people from pop or mass media want to make a musical: Sting, Sara Bareilles—now Tina Fey is working on one," says Tepper. "Musicals have become part of your platform strategy: You do a movie, a TV show, an album and now a musical. YouTube and the Internet have done a lot to democratize how musical theater is distributed," she adds.
Despite the heavy cash flow, to call the present moment a golden age could court ridicule from nostalgia-mongers. So maybe a working artist would have a unique perspective. Composer Jeanine Tesori made history this year when she and Lisa Kron were the first female composer-lyricist team to win the Tony for best original score. Their show, Fun Home, won the gold for best musical. Tesori is widely seen as the most serious theater composer since Sondheim to push the form forward, and she and Hamilton's Lin-Manuel Miranda are arguably the most exciting artists creating musicals today.
So is it a golden age? "This may sound really pie-in-the-sky," Tesori answers after a pause, "but I never felt we weren't in one. When I first got started, I interned at Playwrights Horizons, specifically because Sunday in the Park with George was there. That felt golden to me, when Sondheim was creating that work." Tesori does allow that a generation is coming up inspired by their forebears, and maybe that's coming to a head now. "If you talk to Lin-Manuel, it was in response to Rent and Jonathan Larson's work," she says. "Definitely it was Sondheim for me. It feels golden, but it's a collective thing: wanting to write musicals in response to an inspiration."
More good news: Broadway is, at last, starting to sound like America, with rock, pop and hip-hop infusing new scores (Hamilton, School of Rock, Waitress). And this year, Broadway will also start to look like America: This fall kicks off one of the most diverse seasons in recent memory, with people of color taking center stage in Hamilton and the revival of The Color Purple; a musical about the Japanese immigrant experience called Allegiance; Gloria Estefan's Cuban-American success story in On Your Feet!; James Earl Jones and Cicely Tyson's nontraditional casting in The Gin Game; and a revival of Fiddler on the Roof, which once upon a time was a risky venture, with beleaguered but proud Russian Jews singing and dancing about "Tradition!"
The tradition of Broadway musicals is to always evolve. It's hard, then, to see beyond our own moment. Perhaps the only reliable guideline to golden-age spotting is: Time will tell. But right here, right now—and no matter how history remembers this epoch—we couldn't be happier.
See the best Broadway shows
So you want to catch a few Broadway shows? Time Out New York's theater critics offer the perfect short list of the most exciting productions on Broadway.
Best selling Time Out Offers