Heads up! We're working hard to be accurate – but these are unusual times, so please always check before heading out.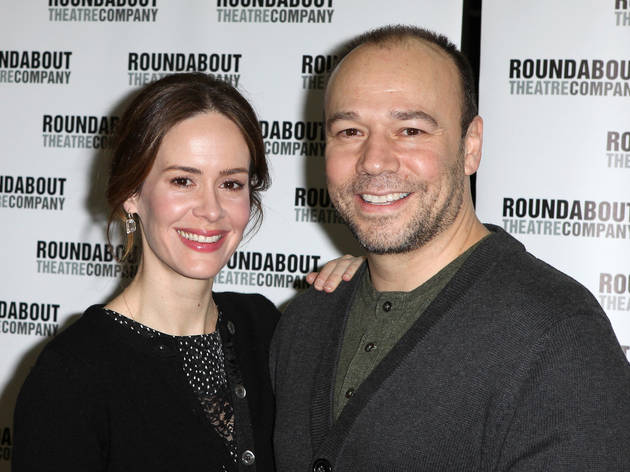 Danny Burstein and Sarah Paulson team up Off Broadway
The Tony nominee and the American Horror Story star talk about Lanford Wilson and Talley's Folly.
He's a 42-year-old Jewish immigrant from St. Louis; she's a 31-year-old nurse's aide from a prominent family in Lebanon, Missouri. And in Talley's Folly, Lanford Wilson's Pulitzer-winning play from 1979, Matt Friedman and Sally Talley spend the Fourth of July 1944 deciding if they have a future together. In the Roundabout Theatre Company's revival, they're played by three-time Tony nominee Danny Burstein, recently on Broadway in Golden Boy, and Sarah Paulson of American Horror Story fame, whose last play was the Broadway revival of Collected Stories in 2010. The two have no problem with chemistry, as they demonstrated over breakfast at a Murray Hill café before heading off to a six-hour rehearsal of the intimate, emotion-packed drama.

How challenging is a two-hander?
Danny Burstein: I haven't done one since graduate school. It's difficult now because we're discovering the arc of the characters, where the highs and lows are.
Sarah Paulson: It also takes focus. Sometimes in a play when you have a passage where you don't have to speak, you can get ready for what you have upcoming. We're having a hard time getting ourselves in front of any moment, and part of the job is to be in the moment and be a little ahead, so you're still driving the bus, as opposed to it driving you, and you're careening down a cliff.

Had you met before?
Sarah Paulson: No. We had many mutual friends. I'd heard copious delightful things about this one, so much so that I almost was certain he was going to be irritating. [Laughs]
Danny Burstein: I heard the exact same thing. [Imitating enthusiastic fan] Omigod, Sarah Paulson. Do you watch American Horror Story? She's incredible.
Sarah Paulson: Danny was cast first. I had been working on American Horror Story since July, and there were some harrowing things I had to do. I thought, Do I really want to go to New York in the dead of winter to do a play? I become a bit of a monk when I'm doing a play; my life gets really small. But I read it out loud in my best friend's bedroom and said yes—[Paulson spills tea on her dress; Burstein comes to her aid with napkins.] Wow! Scalding hot. I just burned my crotch.… Anyway, what were we saying?

I was going to ask what in the play you connected to.
Danny Burstein: I love that these two people, in one world, should never be together. Yet they're perfect for each other. They're intellectual soul mates and their hearts are in the exact right place.
Sarah Paulson: Don't you love how there's a Celine Dion song playing while you're talking about their hearts?
Danny Burstein: I believe their hearts will go on and on. [Both laugh.] Matt appeals to me because he's a survivor. He's had a harrowing life, yet continues to function and contribute and have important ideals, and I relate to that, having gone through a lot in my life. He's turned a lot of himself off but sees the potential to reawaken it 
again in her.
Sarah Paulson: I'm fascinated by Sally's belief that she's damaged goods, but instead of turning into a Laura Wingfield, who's paralyzed, she's out in the world, and engaging in the war effort and rather curious political arguments with her family. She hasn't retreated into herself completely, and I find that psychologically fascinating, shutting down one part of herself but another part comes into full bloom.

Have you ever done a Lanford Wilson play before?
Sarah Paulson: In high school I did The Hot l Baltimore. Which I'm sure was terrible. I went to Performing Arts high school [in Manhattan]. Danny and I went to the same school.
Danny Burstein: Actually, in high school I did The Gingham Dog, a Wilson play from the '60s. It's about a white husband and a black wife and the troubles society causes them, and the things they've been covering up about not letting it bother them. It's very disturbing, really.
Sarah Paulson: His plays are deceptive that way, aren't they?
Danny Burstein: There's much more than meets the eye. Talley's Folly is charm and humor in the beginning, but it's in avoidance of dealing with important things. Discovering those deep layers underneath makes everything else more resonant.

Danny, we're accustomed to seeing you in musicals such as Follies. How did you end up doing back-to-back plays?
Danny Burstein: I just go where the good projects are. More than anything else I look for something that's gonna blow my skirt up.
Sarah Paulson: Do you wear skirts often?
Danny Burstein: I do. But you know what the problem is? When I wear them, I tend to knock things over into them. [Both laugh.]
Talley's Folly is at the Laura Pels Theatre through May 5.