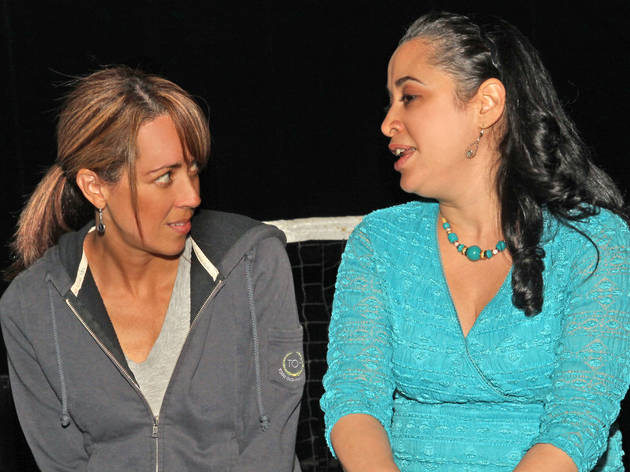 Youngest-ever Wimbledon champ Adriana Zarro (Heidi Azaro) is trying to engineer a comeback after struggling with drug addiction. Playwright Troy Diana adds to her woes an overbearing tennis-coach mother, a distant father, a new love interest and the media dragging every skeleton out of her closet. Azaro, eyes bugging, head hung low, plays sad and defeated most of the time. But tennis requires mental toughness; it's hard to believe Adriana made it to the US Open final. When you're not listening to expository material, you witness awkward interactions, especially in the romantic subplot. You may chuckle, but not at wittiness in the script. Diana's takeaway is nothing new: Double Fault is about having the courage to be true to yourself and choosing your own path, even if it means disappointing those closest to you. And boy, does it play up the struggle! But there's more emphasis on our hero's insecurity, lack of motivation and failure than on her courage; she makes choices from fear as opposed to inner strength.If you skip this one, it serves them right.—Inge Crafford-Lazarus
Click here for full TONY coverage of the 2013 New York International Fringe Festival.
Rating Breakdown
5 star:

3

4 star:

0

3 star:

0

2 star:

0

1 star:

0
I found Azaro's performance to be very naturalistic, while the play did a surprising job of leavening the heavy overall drama with authentic moments of levity provided by a strong and charismatic supporting cast (including Isabel Richardson, who serves us a pretty villain with a comic spin - a young Mariel Hemingway channeling "Mean Girls").
I totally disagree with this review. I found the show to be moving and thought provoking. The performances by Heidi Azaro and Susanna Guzman are definitely something worth seeing! The only thing that should be skipped is reading the above review by Inge Crawford-Lazarus!
Great show! I saw it on opening and it was really moving. I am a big tennis fan and I think this playwright has told a wonderful story - and the actors in it, especially the mother and Heidi Azaro are standouts! Brava!