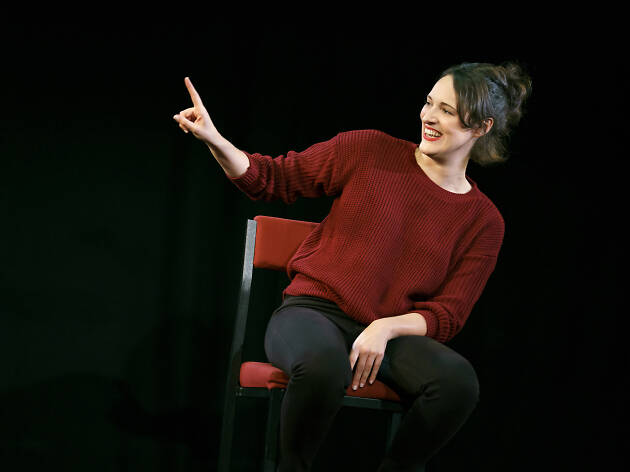 Time Out says
Friendly warning! We're working hard to be accurate. But these are unusual times, so please check that events are still happening.
Theater review by Helen Shaw
It's an odd move for someone with Phoebe Waller-Bridge's star power to show up in a teensy theater downtown, and odder still that she's not doing it as some under-the-radar operation to try out new material. The solo play Fleabag is Waller-Bridge's signature work: a much-loved piece that lit the fuse for an explosive career. Yet there it is in a 178-seat, super Fringe-y playhouse on Vandam Street.
Then again, Fleabag was born at a Fringe festival: It was a 2013 hit in Edinburgh before Waller-Bridge turned it into a BBC television show. Since then, she has written Killing Eve and played a droid in Star Wars; she got a new HBO series greenlighted while I was writing this review.Watching her in Fleabag makes you realize why the whole world has rolled over in front of her like a dog that wants its belly scratched. Waller-Bridge is a brilliant comic in total technical control, and she shapes her monologue perfectly around her own skills. She subverts and then re-subverts expectations at whiplash speed, detonating small bombs of emotion just when we expect a joke. As an expression of craft, it's dazzling.
Fleabag's eponymous central character is sex-obsessed, heartbroken and preoccupied with "bad feminism." When we meet her, she's sitting on a stool, interviewing for a job—and making a desperate hash of it. Hot from a run from the elevator, she starts to pull off her top, accidentally flashing the interviewer. Before she even tries to explain, Waller-Bridge makes an astonishing series of faces as she realizes what she's done: chagrin, gentle disclaimer, rueful understanding of how things must look, hasty correction, horror, apology and irritation. The rest of the show is Fleabag's swift recounting of her hellish weeks leading up to the interview—a hell, we eventually learn, of her own devising. How much sex can one angry Londoner have? How many self-destructive things can she do?
The answer is 55 minutes of hilarity and 10 minutes of sorrow, delivered with such panache that even Fleabag's most harmful choices seem, for a worrying instant, rather jolly. What a lot of fun falling apart seems to be! Hurray for showing up on your father's doorstep, plastered and needy! Three cheers for betraying your sister! If you somehow manage to see Fleabag, which has been sold out since just after the run was announced, you'll come away from it patting yourself on the back for your adult levelheadedness. This works even if you're usually a mess—and I, for one, recommend it with all my slovenly heart.
SoHo Playhouse (Off Broadway). Written and performed by Phoebe Waller-Bridge. Directed by Vicky Jones. Running time: 1hr 5mins. No intermission.
Follow Helen Shaw on Twitter: @Helen_E_Shaw
Follow Time Out Theater on Twitter: @TimeOutTheater
Keep up with the latest news and reviews on our Time Out Theater Facebook page
Details