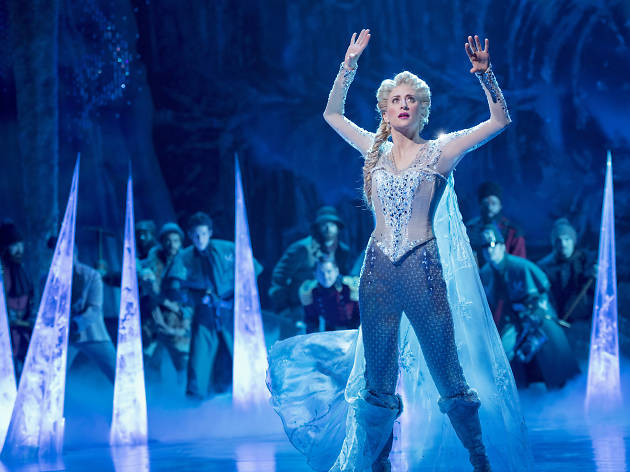 Time Out says
Theater review by Adam Feldman
At the end of the first act of Frozen, there is a moment that zaps the audience to life like a blast of cold air. Elsa (Caissie Levy), the young queen of a Nordic realm, has witchy ice-creation powers that she has been forced to keep hidden; now, self-exiled to a Fortress of Solitude–like castle, she exults in reckless freedom and power. As she belts the show's takeaway number, "Let It Go," her heavy royal garments transform, in one thrilling instant, into a shimmery frost-blue party dress. It's "Defying Gravity" on the rocks, and for the duration of this Wicked-cool number, Frozen breaks free from the forces that keep most of Disney's latest musical earthbound.
Otherwise, there is altogether too little magic in the kingdom of Arendelle, which Elsa's impulsive younger sister, Anna (Patti Murin), must save from the eternal winter to which Elsa has unwittingly condemned it. In adapting their smash 2013 movie to the stage, Frozen's creators—including screenwriter Jennifer Lee and songwriters Kristen Anderson-Lopez and Robert Lopez—faced a challenge: Many of the film's key sequences are adventure scenes (a wolf attack, a giant snow monster, a climactic blizzard) that are hard to re-create onstage. Julie Taymor solved this problem in The Lion King by coming up with a comprehensive aesthetic vocabulary of her own, but Frozen director Michael Grandage's reach is less ambitious. In lieu of the great outdoors, he moves much of the show to lofty and stuffy interiors, jettisoning a lot of the action and yielding a show whose energy feels substantially less animated all around.
It would be one thing if Frozen's stiffness were in the service of a deeper take on the material, but its already shaky plot seems even less secure, too thin a rope to support the musical's dutiful climb up the narrative mountain. While the best songs from the movie—including "Love Is an Open Door," an ebullient duet for Anna and her dashing suitor, Hans (John Riddle)—still pop, the new ones are less strong; aside from an incongruous but zippy comic number at a sauna, they feel like heavy filler, especially in the busy and slushy finale.
There are multiple glimmers of light on the hoary cliffs, figuratively and literally. Levy has a killer voice, and Murin is marvelous as the messy, randy, good-hearted Anna (as is Mattea Conforti, who plays her as a child); Michael Curry's clever puppetry brings life to segmented snowman Olaf (a winsome Greg Hildreth) and full-body reindeer Sven (Andrew Pirozzi), the sidekick of Anna's traveling companion Kristoff (Jelani Alladin). Natasha Katz's lighting design sometimes inspires shivers of delight. But for every nifty stage effect in Christopher Oram's set, such as ice jags that pierce up like switchblades, there are others that disappoint, like the Vegas-y curtains of crystal in Elsa's palace. The band of trolls that had literally been rolling stones in the film are mossy here: wild folk with hairy tails, dressed in rags and washed in green light. (They're less of a piece with the landscape now; Elsa and Anna's parents can summon them through a window.)
This Frozen is like Elsa in protective gloves; it plays things safe, and perhaps that will be enough for fans of the movie who want to see some version of it on Broadway. But in its reluctance to embrace its own potential enchantments, the show will likely leave many people lukewarm.
St. James Theatre (Broadway). Music and lyrics by Kristen Anderson-Lopez and Robert Lopez. Book by Jennifer Lee. Directed by Michael Grandage. With Caissie Levy, Patti Murin. Running time: 2hrs 10mins. One intermission.
Follow Adam Feldman on Twitter: @FeldmanAdam
Follow Time Out Theater on Twitter: @TimeOutTheater
Keep up with the latest news and reviews on our Time Out Theater Facebook page
Details
Venue name:
St. James Theatre
Address:
246 W 44th St
New York


Cross street:
between Broadway and Eighth Ave
Transport:
Subway: A, C, E to 42nd St–Port Authority; N, Q, R, 42nd St S, 1, 2, 3, 7 to 42nd St–Times Sq
Price:
$99.50–$277.50
Dates And Times
Rating Breakdown
5 star:

0

4 star:

0

3 star:

0

2 star:

1

1 star:

0
I had not seen the film Frozen (I'm a 30-something male...), so I watched the stage version entirely on its own merits. I was disappointed. Besides some nice lighting effects, it doesn't offer anything Disney hasn't already done before, better. And in terms of other musicals generally, it's not all that compelling.
Performances were great, however it seemed to me that this show was something pulled together quickly to capitalize on the film's success.