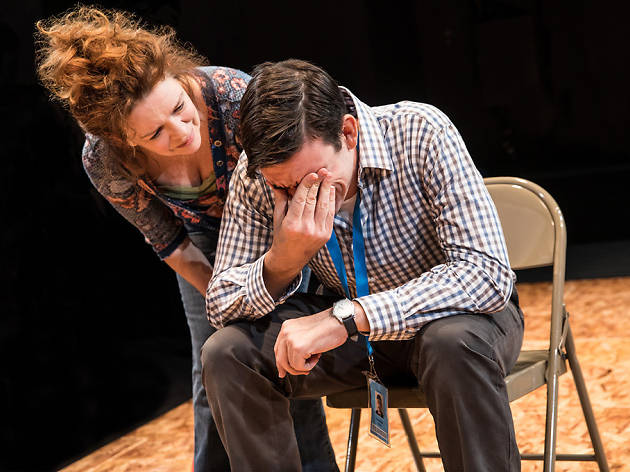 Time Out says
Theater review by Helen Shaw
No matter what the news and Amazon try to tell you, everything isn't automated quite yet. Those cardboard boxes that appear on our doorsteps have been touched and folded and carried by somebody; there's always human care somewhere along the line. Abe Koogler's wry drama Fulfillment Center trains a humanist's eye on such moments of real physical contact, even while submerging his characters in the click-and-get economy. Interactions are bittersweet, sometimes even frightening, but we watch hungrily. These are the little fumbles and touches the robots won't be able to replace.
Koogler's play is set in and around a New Mexico package megadistributor, the kind of vast warehouse that ships 10,000 units a day, more around the holidays. Down-on-her-luck sixtysomething Suzan (Deirdre O'Connell) talks her way into a taxing job there despite her bad back, daffy affect and busted knee. We see her overstretched manager Alex (Bobby Moreno) enduring Suzan's sweet insistence that he's going to be a "good" boss, though we know his superiors would never allow such a thing. "I'm doing my best…that's all you can ask for, right?" she asks. The audience laughs as he winces. Alex, though, has his own troubles, such as his girlfriend, Madeleine (the superb Eboni Booth), who has started looking for other men online, including the lonely, laconic John (Frederick Weller). New Mexico stretches like a dry nightmare around all four of them. Suzan, living out of her broken car, dreams of Maine; the couple longs for Seattle. Instead there is just emptiness and heat and the temptation to handle each other roughly. Some of them succumb.
One of the work's keen pleasures is the way it feels like a carefully wrapped package: everything precisely contained, each of its two-person scenes assembled with the least padding possible. There's a strictness about the staging, too. The play unfolds on designer Andrew Lieberman's plain plywood catwalk, and when the actors are done with their scenes, they sit and watch from the sidelines; this simplicity accentuates the way director Daniel Aukin and his cast melt into naturalism simply by using a wealth of beautifully realized behavior. Weller is better here than I've ever seen him, finally in a role that exploits his odd, reared-back posture and Michelangelo face; Booth and Moreno weave us an illusion of overheard reality, their awkwardness and shyness and frustration as familiar as our own. But the reason to drop your weekend plans and head for City Center is the chance to see O'Connell, who is playing a part that could have been written for her. She is one of our theatrical nonpareils, both living fairy tale—her cloud of red hair floating above her in an invisible current—and salt of the earth. "Hard to believe," she says to John at one point, "but I used to be pretty." He ignores her; he's checking his phone. "Hard to believe," she says again. "I used to be pretty." It's one of Koogler's delicately structured comic moments, but it's also the only unbelievable thing in the show. She's radiant, goddamn it. No one could miss her.
Manhattan Theatre Club (Off Broadway). By Abe Koogler. Directed by Daniel Aukin. With Deirdre O'Connell, Bobby Moreno, Eboni Booth, Frederick Weller. Running time: 1hr 25mins. No intermission. Through July 9.
Follow Helen Shaw on Twitter: @Helen_E_Shaw
Follow Time Out Theater on Twitter: @TimeOutTheater

Keep up with the latest news and reviews on our Time Out Theater Facebook page
Details