Heads up! We're working hard to be accurate – but these are unusual times, so please always check before heading out.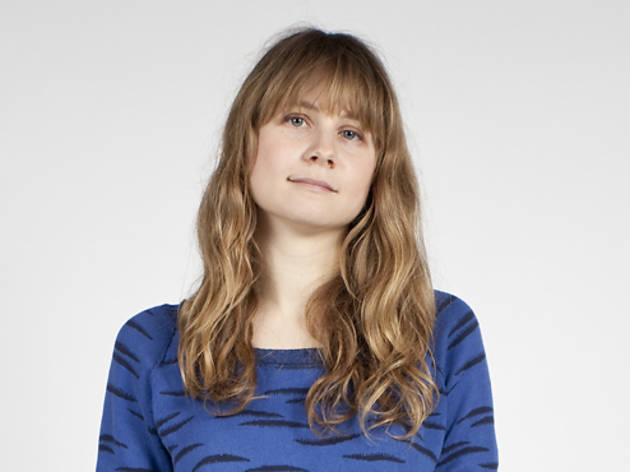 1/19
Photograph: Noffar Gat
Annie Baker Annie Baker has pulled off a very neat conjuring trick: She's rescued realism from the trash heap of the uncool. In seemingly naturalistic works like Circle Mirror Transformation and The Aliens, Baker has grafted her staggering talent for dialogue onto lovely classical bones. Her plays are humanistic and slightly optimistic, making her the perfect person to adapt Uncle Vanya, a major hit at Soho Rep last year. (If Chekhov has a kindred spirit, she is it.) Baker's works seem not so much written as overheard—perhaps her current piece, Playwrights Horizons' three-hour The Flick, wasn't actually a massive effort, but just another case of inspiration gliding frictionlessly onto the page. It certainly seems unlikely, but Baker would want us to hope.—Helen Shaw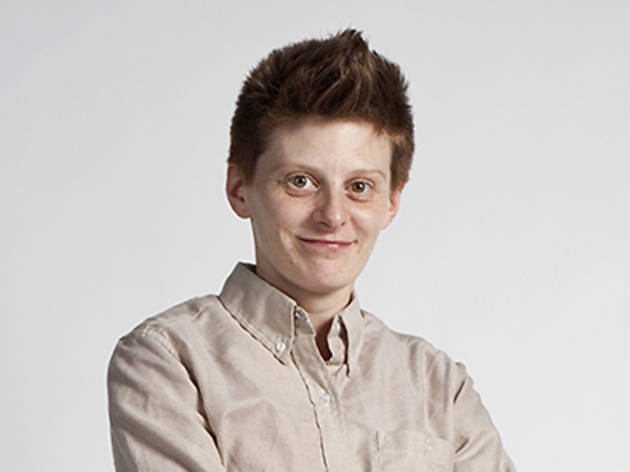 2/19
Photograph: Noffar Gat
Jess Barbagallo Actor-playwright Jess Barbagallo's wry gravitas and cockatoo hair tend to pop up in all the best places. Possessed of cool Brechtian gifts, the performer has figured in most of writer-director Tina Satter's feminist-camp hits, and played Tom Joad in the Builders Association's House/Divided. This fall brings a tap piece with Satter called Mona's House of Dance, produced by the New York City Players. Barbagallo swaggers like a bantam David Bowie…then turns and abruptly seems like a lost little kid. It's a range only one person in New York can play, and it has become something downtown cannot do without.—Helen Shaw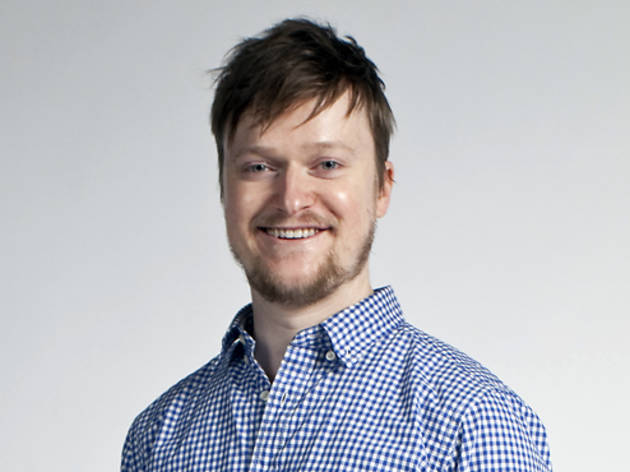 3/19
Photograph: Noffar Gat
Steven Boyer Sometimes the ones who seem the most harmless are the ones you've got to watch out for. Steven Boyer is that kind of actor. There's a dark streak beneath his boyish exterior, and he's paired it with sublimely natural physical comedy in several startling recent turns: as a Christian teen tormented by his own devilish hand puppet in Hand to God, as a weedy slacker drawn to violence in Modern Terrorism, as a washed-up showbiz chimpanzee in Trevor. His talent is sneakily blistering, and his effortlessness is bliss.—Adam Feldman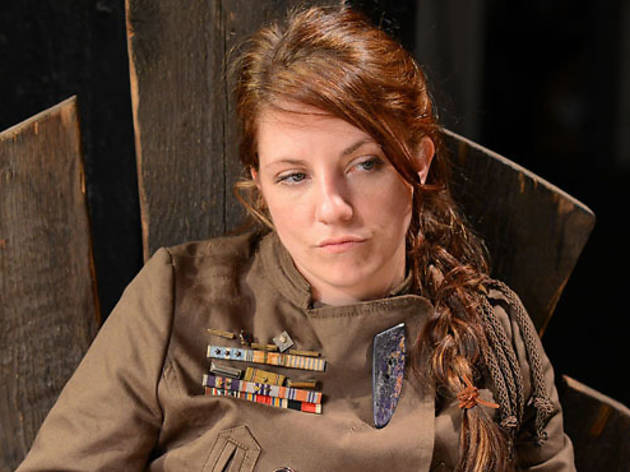 4/19
Hanna Cheek After years of glittering in the Waterwell ensemble and the Pumpkin Pie Show, the steely diva Hanna Cheek has finally come to the city's full attention. Wildly acclaimed for her star turn last year in Mac Rogers's postapocalyptic Sovereign, Cheek appears now at Theater Row in a revival of Anita Loos's 1946 Happy Birthday, playing—as she often does—a dame from another age. Her online project, Agatha Christie's The Secret Adversary, sees her in a pencil skirt again; perhaps we keep turning to the cat-eyed Cheek because she reminds us of another New York, back when all the buildings looked like the Empire State and ladies were iron-jawed dolls, quick with a song and a punch from the shoulder.—Helen Shaw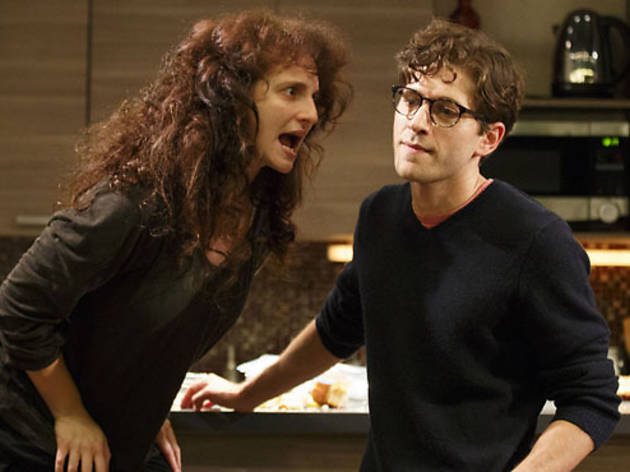 5/19
Photograph: Joan Marcus
Tracee Chimo It is tempting to describe Tracee Chimo as unbelievably versatile, but the most amazing thing about her is precisely how believable she's been in wildly different roles. How could the same young woman who played the shy seamstress of Irena's Vow and the wallflower of Circle Mirror Transformation have also somehow been the savage queen bitch of Bachelorette and the Jewier-than-thou termagant of Bad Jews? Her brand of talent is sometimes called chameleonic, but Chimo (who won the Clarence Derwent Award in 2011) never just fades into a background. What she brings of herself to her characters, consistently, is a sense that they're capable of anything.—Adam Feldman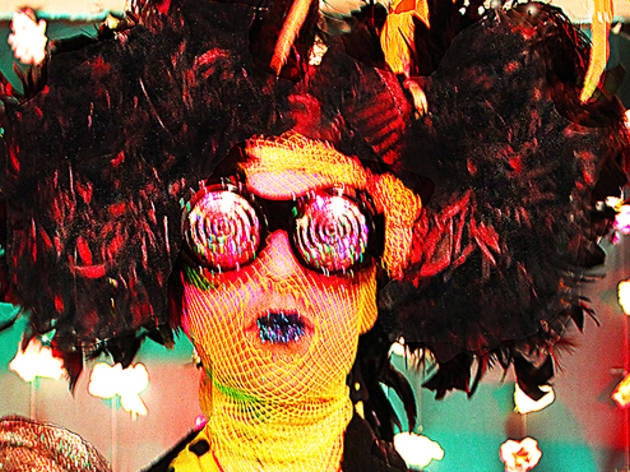 6/19
Photograph: Ves Pitts
Machine Dazzle A fabulous spirit of dress-up pervades the eye-stealing costumes that designer Machine Dazzle stitches for downtown stars including Taylor Mac, Justin Vivian Bond and Julie Atlas Muz. His seamy-glam creations are outrageous hybrids of riches and rags: explosions of fabric, eruptions of color, mad-scientist combos of sequins, fishnet, safety pins, feathers, paper and anything else that can be drafted to serve his imagination. Laboriously handmade, these outfits give you the sense of watching something being born (a feeling, an idea), and often of something on the verge of falling apart. "My costumes are not about longevity," he says. "I make things that are appropriate for a specific moment, knowing that it and everyone involved will come and go." His work celebrates the ephemeral; it lives in the extravagant instant.—Adam Feldman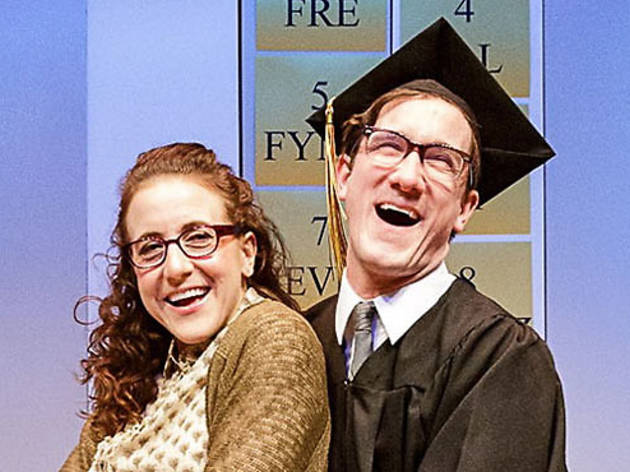 7/19
Photograph: James Leynse
Jenn Harris Now appearing as Dawn, a mousy, stuttering student in an Esperanto-type class in David Ives's All in the Timing, Jenn Harris surprised us. We knew she could do broad sketch mugging—drawling and overacting as a Jodie Foster caricature in Silence! The Musical. But playing Dawn, Harris dialed it back, winning our hearts while still earning laughs. She comes from the long line of fearless funny ladies that includes Fanny Brice, Phyllis Diller and Julia Louis-Dreyfus: women who put themselves on the line with extreme choices, sometimes making themselves the butt of the joke. But even if Harris doesn't go for glamour, she always gets the last laugh.—David Cote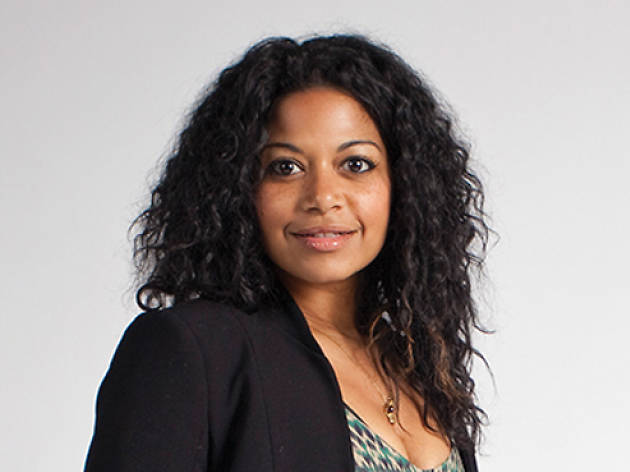 8/19
Photograph: Noffar Gat
Rebecca Naomi Jones It's not right to objectify actors. Yes, the theater is a visual arena where beauty and seduction are center stage, but praising a performer's looks can get creepy. And yet, Rebecca Naomi Jones…is hot. Sorry! Whether playing a sexually liberated Dutch painter in Passing Strange or self-destructive muse Whatsername in American Idiot, Jones fearlessly flaunts her erotic side (not to mention her killer rock voice). She can also do pouty and girlish. This combo of Kewpie and dominatrix was on display in her latest role: the saucy, ironic narrator of Murder Ballad. We hear the pulpy musical might return downtown this summer. The staging is environmental: actors jumping on top of tables or making out inches from the audience. Just remember: You can look, but you better not touch.­­—David Cote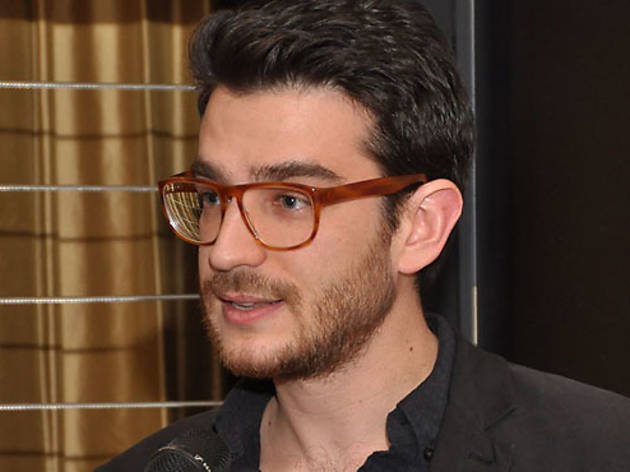 9/19
Photograph: Shevett Studios
Daniel Kluger Sound is one of the most easily overlooked design elements. It's always invisible, usually serving as background texture—except when the director wants you to notice the traffic outside, arguing in the next room, or how echo-filled a space is. Daniel Kluger is one of the most beguiling sound designers around. One of his specialties is localized, isolated noises, such as the drone of a radio on a kitchen counter in Tribes, or the surround-sound house beats in the college shocker Really Really that turn set changes into mini raves. His sound cues you into the dramaturgy of the material, such as the themes of silence and exclusion that pervade Tribes, about a deaf son's family troubles. Kluger knows that aural information is inherently psychological; his soundscapes and music get under your skin and into your head.—David Cote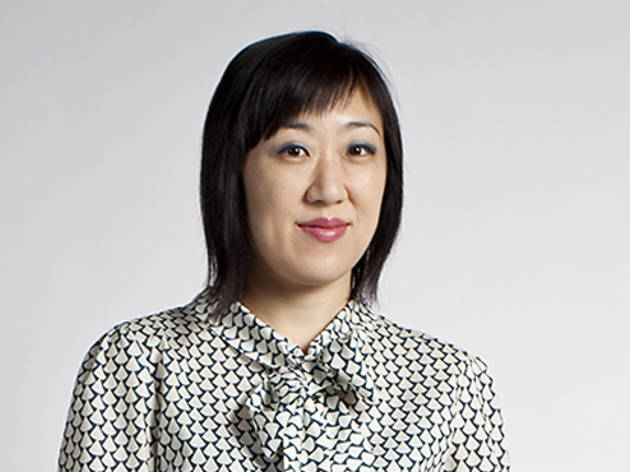 10/19
Photograph: Noffar Gat
Young Jean Lee This provocateur chooses projects by thinking of the play she least wants to write. We hope she never reaches the end of her anti–bucket list. The strategy has given us masterpieces like Lear, her devastating portrait of a fatherless world, and We're Gonna Die, for which she overrode her shyness to remake herself into a rock-band frontwoman. Lee now trains her laser gaze on the tentatively titled Straight White Men, a work-in-development with Wooster Group member Scott Shepherd and director Austin Pendleton (coming this fall).—Helen Shaw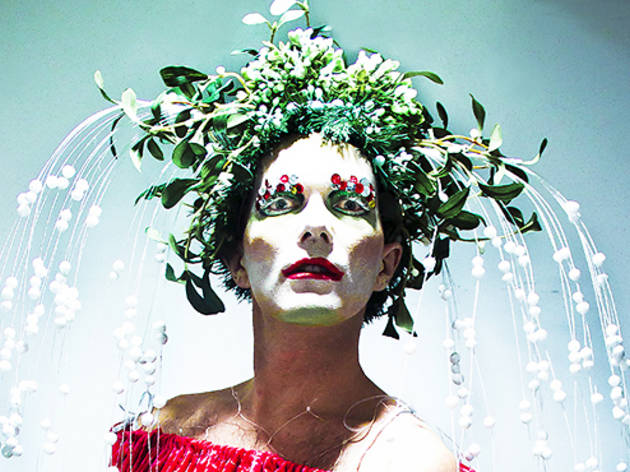 11/19
Photograph: Ves Pitts
Taylor Mac Woe to anyone who tries to slap a label on Taylor Mac. Playwright, actor, singer, composer, performance artist and pot stirrer extraordinaire, Mac doesn't just defy categorization; he makes the categories themselves seem irrelevant. Male and female, truth and fiction, past and future, intimate and epic, gentle and brash—these are just a few of the binaries he dissolves with rigorous applications of playfulness. Inclined to massive projects, like his five-hour saga, The Lily's Revenge, or his current plan to perform a 24-hour concert (spanning 24 decades of popular music), Mac continually jabs at our notions of what is possible onstage. He makes radicalism seem like common sense, and vice versa.—Adam Feldman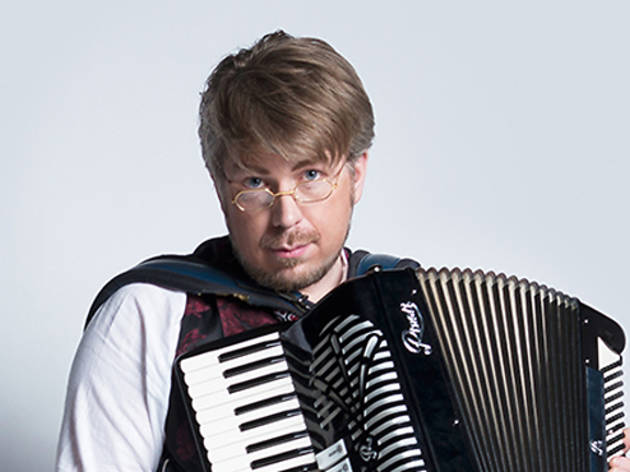 12/19
Photograph: Loren Wohl
Dave Malloy The prodigiously talented composer-lyricist made a splash this past fall with Natasha, Pierre & The Great Comet of 1812. Adapting a section of Leo Tolstoy's doorstop classic War and Peace, Malloy created a rowdy, sung-through operetta-musical hybrid, set in Moscow on the eve of Napoleon's invasion of Russia. Combining an eclectic style—ranging from mock-Russian folk to electronica—with an immersive, vodka-soaked staging, the piece explored love, loyalty and heartbreak, with war looming in the wings. Romantic and sensual, Natasha, Pierre made a bid for best musical of the season. It returns for an extended May-through-September run at Kazino, a new venue in the Meatpacking District. Click here to read our interview with Malloy about the project.—David Cote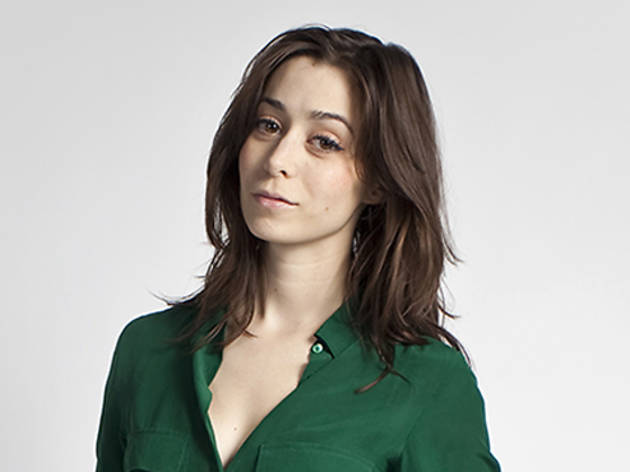 13/19
Photograph: Noffar Gat
Cristin Milioti Once was enough for many people to fall in love with Cristin Milioti, who brought enchanting commitment to a quirky yet wise character who might otherwise have seemed insufferable. Others may have caught her guest shot on 30 Rock as the squeaky-dirty comedian Abby Flynn ("I'm a very sexy baby!"). But some of us have been mooning over her for years. Since early in her career—playing teenagers who were vicious (2006's The Lieutenant of Inishmore), vulnerable (2009's Stunning) or both (2008's Crooked)—Milioti has cut to the heart with raw nerves and fierce nerve. When can we see her again?—Adam Feldman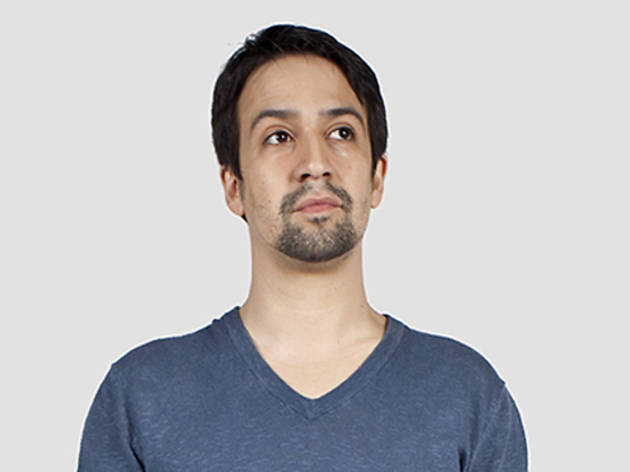 14/19
Photograph: Noffar Gat
Lin-Manuel Miranda Songwriter-performer and Twitterico presidente-for-life Lin-Manuel Miranda has helped bring the sound of Broadway up to date in his scores for In the Heights and Bring It On. He is now at work on The Hamilton Mixtape, which sets the story of founding father Alexander Hamilton to hip-hop and R&B grooves. Click here to read our interview with Miranda.—Adam Feldman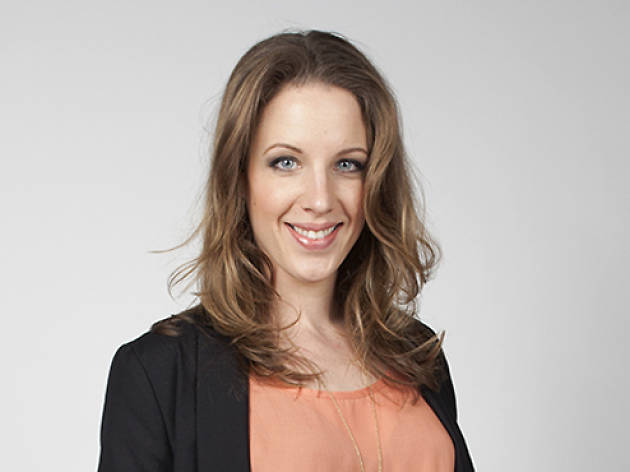 15/19
Photograph: Krista Schlueter
Jessie Mueller "Mine is a total Cinderella story of coming to New York," said Jessie Mueller in 2011, when the Chicago native (with no prior Broadway record) was tapped to play a 1940s jazz singer in On a Clear Day You Can See Forever. Her exuberant, swinging version of "Ev'ry Night at Seven" tore down the house, and her rich, supple voice and comedic flair have kept her onstage ever since: She vamped up a monsoon in The Mystery of Edwin Drood, and this week she steps into the female lead in Nice Work If You Can Get It. (She gets it!) Last summer, between Broadway shows, she won new fans in the Central Park revival of Sondheim's Into the Woods. Her role? Cinderella, of course.—Adam Feldman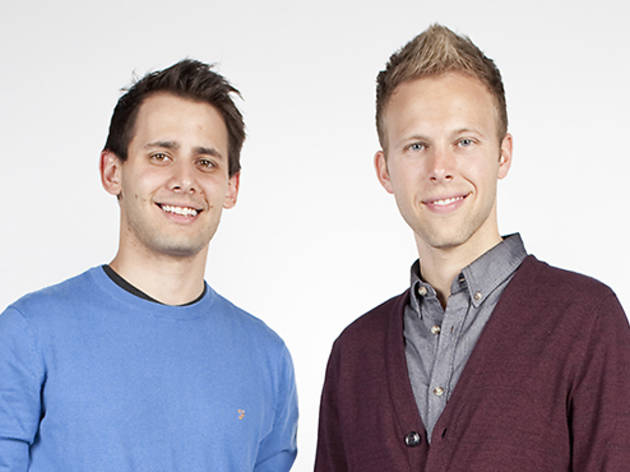 16/19
Photograph: Noffar Gat
Pasek & Paul These days in musical theater, you're more apt to hear about one-off collaborations than honest-to-God songwriting teams, but Benj Pasek and Justin Paul are a notable exception. They penned the music and lyrics for two high-profile shows that hit the boards last year, Off Broadway's Dogfight and Broadway's A Christmas Story, The Musical. And perhaps most ubiquitously, they're behind a few of the songs in season two of NBC's backstage drama Smash. The college buddies started off with a bang; in 2007, Pasek and Paul became the youngest-ever team to win the Jonathan Larson Grant. Their clear, ringing style carries the musical-theater torch on behalf of Broadway's next generation of composers.—Jenna Scherer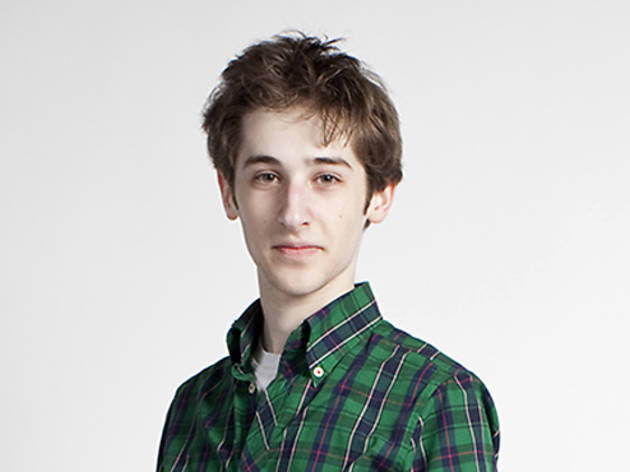 17/19
Photograph: Noffar Gat
Noah Robbins Noah Robbins was fresh out of high school when he starred as Eugene Jerome in 2009's short-lived Broadway revival of Neil Simon's Brighton Beach Memoirs. He seemed so perfectly cast as Simon's wisecracking teenage surrogate that you had to wonder: Could he play anything else? The answer, he's proved, is yes—and how. Small, slender and gifted at gab, Robbins still portrays garrulous teenagers, including a stage-struck student in Secrets of the Trade, an obsessive bibliophile in The Twenty-Seventh Man and an enigmatic chatterbox in The Vandal. But his astounding range expands his type into striking new dimensions.—Adam Feldman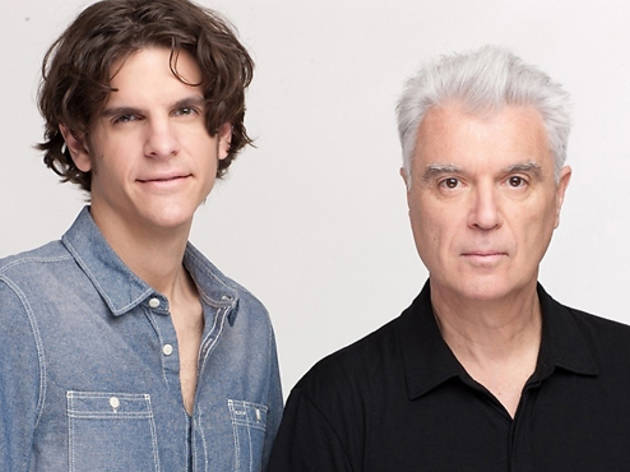 18/19
Photograph: Joseph Moran
Alex Timbers How does director-writer Alex Timbers not get cultural whiplash shifting from project to project? In December his out-of-town tryouts for Rocky the Musical wowed Germany. This summer he will helm a fresh musical adaptation of Love's Labour's Lost for Shakespeare in the Park. Starting this week, you can catch his discotastic production of the David Byrne–scored Imelda Marcos tuner, Here Lies Love, at the Public, or the Off Broadway return of the whimsical Peter and the Starcatcher at New World Stages. Oh, and there's a little side project: another Shakespeare-based musical, this one in the form of a film for Disney. If you've seen any of the clever director's work, you know about his giddy tendency to smash together high and low sources. There was Heddatron, the robot-augmented version of Hedda Gabler; a stage version of the video game Dance Dance Revolution; and most thrillingly, his emo-rock take on presidential history, Bloody Bloody Andrew Jackson. No matter the show, Timbers brings intelligence and irreverence to the table. He's high, he's low, but never in the middle.—David Cote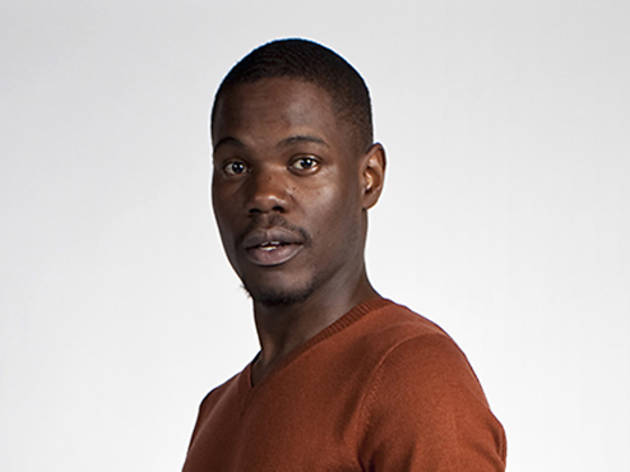 19/19
Photograph: Noffar Gat
Stephen Tyrone Williams Some actors have such crazy charisma, they make small roles into leads. I'd never seen Stephen Tyrone Williams before I caught him playing a couple of bit parts (a gay street hustler and a security guard) in Adam Rapp's Hallway Trilogy. "Who is this guy?" I scribbled into my notepad. Others were also noticing. Soon, Williams was showing his range in Thomas Bradshaw's taboo-filled Burning and Athol Fugard's My Children! My Africa! Now the intense performer is enjoying his Broadway debut, as Abner Louima in Nora Ephron's Lucky Guy. Tom Hanks better watch his back, or his scenes might get stolen.—David Cote
Future legends of New York theater (slide show)
Who makes up New York theater's next generation of superstars? You heard it here first.
Prognostication is a mug's game. No New York theater critic or pundit knows which obscure play (like Young Jean Lee's Lear) will be remembered a century from now, or which box-office hit of today will be forgotten by the next generation (we're looking at you, Spider-Man: Turn Off the Dark). And when it comes to people, predicting long-term success is no more of a science. Still, we can say with confidence that these 19 actors, writers, directors and designers have made enough of a cultural impact that they're bound to be the ones we'll be talking about in 2043 and beyond. This is more than your typical assortment of fresh talent or promising up-and-comers. We know that New York has already been altered by their work; we're saying that these are some of the people who will shape the theater of the future.
RECOMMENDED: 50 reasons to love theater in New York
Annie Baker
Annie Baker has pulled off a very neat conjuring trick: She's rescued realism from the trash heap of the uncool. In seemingly naturalistic works like Circle Mirror Transformation and The Aliens, Baker has grafted her staggering talent for dialogue onto lovely classical bones. Her plays are humanistic and slightly optimistic, making her the perfect person to adapt Uncle Vanya, a major hit at Soho Rep last year. (If Chekhov has a kindred spirit, she is it.) Baker's works seem not so much written as overheard—perhaps her current piece, Playwrights Horizons' three-hour The Flick, wasn't actually a massive effort, but just another case of inspiration gliding frictionlessly onto the page. It certainly seems unlikely, but Baker would want us to hope.—Helen Shaw
Jess Barbagallo
Actor-playwright Jess Barbagallo's wry gravitas and cockatoo hair tend to pop up in all the best places. Possessed of cool Brechtian gifts, the performer has figured in most of writer-director Tina Satter's feminist-camp hits, and played Tom Joad in the Builders Association's House/Divided. This fall brings a tap piece with Satter called Mona's House of Dance, produced by the New York City Players. Barbagallo swaggers like a bantam David Bowie…then turns and abruptly seems like a lost little kid. It's a range only one person in New York can play, and it has become something downtown cannot do without.—Helen Shaw
Steven Boyer
Sometimes the ones who seem the most harmless are the ones you've got to watch out for. Steven Boyer is that kind of actor. There's a dark streak beneath his boyish exterior, and he's paired it with sublimely natural physical comedy in several startling recent turns: as a Christian teen tormented by his own devilish hand puppet in Hand to God, as a weedy slacker drawn to violence in Modern Terrorism, as a washed-up showbiz chimpanzee in Trevor. His talent is sneakily blistering, and his effortlessness is bliss.—Adam Feldman
Hanna Cheek
After years of glittering in the Waterwell ensemble and the Pumpkin Pie Show, the steely diva Hanna Cheek has finally come to the city's full attention. Wildly acclaimed for her star turn last year in Mac Rogers's postapocalyptic Sovereign, Cheek appears now at Theater Row in a revival of Anita Loos's 1946 Happy Birthday, playing—as she often does—a dame from another age. Her online project, Agatha Christie's The Secret Adversary, sees her in a pencil skirt again; perhaps we keep turning to the cat-eyed Cheek because she reminds us of another New York, back when all the buildings looked like the Empire State and ladies were iron-jawed dolls, quick with a song and a punch from the shoulder.—Helen Shaw
Tracee Chimo
It is tempting to describe Tracee Chimo as unbelievably versatile, but the most amazing thing about her is precisely how believable she's been in wildly different roles. How could the same young woman who played the shy seamstress of Irena's Vow and the wallflower of Circle Mirror Transformation have also somehow been the savage queen bitch of Bachelorette and the Jewier-than-thou termagant of Bad Jews? Her brand of talent is sometimes called chameleonic, but Chimo (who won the Clarence Derwent Award in 2011) never just fades into a background. What she brings of herself to her characters, consistently, is a sense that they're capable of anything.—Adam Feldman
Machine Dazzle
A fabulous spirit of dress-up pervades the eye-stealing costumes that designer Machine Dazzle stitches for downtown stars including Taylor Mac, Justin Vivian Bond and Julie Atlas Muz. His seamy-glam creations are outrageous hybrids of riches and rags: explosions of fabric, eruptions of color, mad-scientist combos of sequins, fishnet, safety pins, feathers, paper and anything else that can be drafted to serve his imagination. Laboriously handmade, these outfits give you the sense of watching something being born (a feeling, an idea), and often of something on the verge of falling apart. "My costumes are not about longevity," he says. "I make things that are appropriate for a specific moment, knowing that it and everyone involved will come and go." His work celebrates the ephemeral; it lives in the extravagant instant.—Adam Feldman
Jenn Harris
Now appearing as Dawn, a mousy, stuttering student in an Esperanto-type class in David Ives's All in the Timing, Jenn Harris surprised us. We knew she could do broad sketch mugging—drawling and overacting as a Jodie Foster caricature in Silence! The Musical. But playing Dawn, Harris dialed it back, winning our hearts while still earning laughs. She comes from the long line of fearless funny ladies that includes Fanny Brice, Phyllis Diller and Julia Louis-Dreyfus: women who put themselves on the line with extreme choices, sometimes making themselves the butt of the joke. But even if Harris doesn't go for glamour, she always gets the last laugh.—David Cote
Rebecca Naomi Jones
It's not right to objectify actors. Yes, the theater is a visual arena where beauty and seduction are center stage, but praising a performer's looks can get creepy. And yet, Rebecca Naomi Jones…is hot. Sorry! Whether playing a sexually liberated Dutch painter in Passing Strange or self-destructive muse Whatsername in American Idiot, Jones fearlessly flaunts her erotic side (not to mention her killer rock voice). She can also do pouty and girlish. This combo of Kewpie and dominatrix was on display in her latest role: the saucy, ironic narrator of Murder Ballad. We hear the pulpy musical might return downtown this summer. The staging is environmental: actors jumping on top of tables or making out inches from the audience. Just remember: You can look, but you better not touch.­­—David Cote
Daniel Kluger
Sound is one of the most easily overlooked design elements. It's always invisible, usually serving as background texture—except when the director wants you to notice the traffic outside, arguing in the next room, or how echo-filled a space is. Daniel Kluger is one of the most beguiling sound designers around. One of his specialties is localized, isolated noises, such as the drone of a radio on a kitchen counter in Tribes, or the surround-sound house beats in the college shocker Really Really that turn set changes into mini raves. His sound cues you into the dramaturgy of the material, such as the themes of silence and exclusion that pervade Tribes, about a deaf son's family troubles. Kluger knows that aural information is inherently psychological; his soundscapes and music get under your skin and into your head.—David Cote
Young Jean Lee
This provocateur chooses projects by thinking of the play she least wants to write. We hope she never reaches the end of her anti–bucket list. The strategy has given us masterpieces like Lear, her devastating portrait of a fatherless world, and We're Gonna Die, for which she overrode her shyness to remake herself into a rock-band frontwoman. Lee now trains her laser gaze on the tentatively titled Straight White Men, a work-in-development with Wooster Group member Scott Shepherd and director Austin Pendleton (coming this fall).—Helen Shaw
Taylor Mac
Woe to anyone who tries to slap a label on Taylor Mac. Playwright, actor, singer, composer, performance artist and pot stirrer extraordinaire, Mac doesn't just defy categorization; he makes the categories themselves seem irrelevant. Male and female, truth and fiction, past and future, intimate and epic, gentle and brash—these are just a few of the binaries he dissolves with rigorous applications of playfulness. Inclined to massive projects, like his five-hour saga, The Lily's Revenge, or his current plan to perform a 24-hour concert (spanning 24 decades of popular music), Mac continually jabs at our notions of what is possible onstage. He makes radicalism seem like common sense, and vice versa.—Adam Feldman
Dave Malloy
The prodigiously talented composer-lyricist made a splash this past fall with Natasha, Pierre & The Great Comet of 1812. Adapting a section of Leo Tolstoy's doorstop classic War and Peace, Malloy created a rowdy, sung-through operetta-musical hybrid, set in Moscow on the eve of Napoleon's invasion of Russia. Combining an eclectic style—ranging from mock-Russian folk to electronica—with an immersive, vodka-soaked staging, the piece explored love, loyalty and heartbreak, with war looming in the wings. Romantic and sensual, Natasha, Pierre made a bid for best musical of the season. It returns for an extended May-through-September run at Kazino, a new venue in the Meatpacking District. Click here to read our interview with Malloy about the project.—David Cote
Cristin Milioti
Once was enough for many people to fall in love with Cristin Milioti, who brought enchanting commitment to a quirky yet wise character who might otherwise have seemed insufferable. Others may have caught her guest shot on 30 Rock as the squeaky-dirty comedian Abby Flynn ("I'm a very sexy baby!"). But some of us have been mooning over her for years. Since early in her career—playing teenagers who were vicious (2006's The Lieutenant of Inishmore), vulnerable (2009's Stunning) or both (2008's Crooked)—Milioti has cut to the heart with raw nerves and fierce nerve. When can we see her again?—Adam Feldman
Lin-Manuel Miranda
Songwriter-performer and Twitterico presidente-for-life Lin-Manuel Miranda has helped bring the sound of Broadway up to date in his scores for In the Heights and Bring It On. He is now at work on The Hamilton Mixtape, which sets the story of founding father Alexander Hamilton to hip-hop and R&B grooves. Click here to read our interview with Miranda.—Adam Feldman
Jessie Mueller
"Mine is a total Cinderella story of coming to New York," said Jessie Mueller in 2011, when the Chicago native (with no prior Broadway record) was tapped to play a 1940s jazz singer in On a Clear Day You Can See Forever. Her exuberant, swinging version of "Ev'ry Night at Seven" tore down the house, and her rich, supple voice and comedic flair have kept her onstage ever since: She vamped up a monsoon in The Mystery of Edwin Drood, and this week she steps into the female lead in Nice Work If You Can Get It. (She gets it!) Last summer, between Broadway shows, she won new fans in the Central Park revival of Sondheim's Into the Woods. Her role? Cinderella, of course.—Adam Feldman
Pasek & Paul
These days in musical theater, you're more apt to hear about one-off collaborations than honest-to-God songwriting teams, but Benj Pasek and Justin Paul are a notable exception. They penned the music and lyrics for two high-profile shows that hit the boards last year, Off Broadway's Dogfight and Broadway's A Christmas Story, The Musical. And perhaps most ubiquitously, they're behind a few of the songs in season two of NBC's backstage drama Smash. The college buddies started off with a bang; in 2007, Pasek and Paul became the youngest-ever team to win the Jonathan Larson Grant. Their clear, ringing style carries the musical-theater torch on behalf of Broadway's next generation of composers.—Jenna Scherer
Noah Robbins
Noah Robbins was fresh out of high school when he starred as Eugene Jerome in 2009's short-lived Broadway revival of Neil Simon's Brighton Beach Memoirs. He seemed so perfectly cast as Simon's wisecracking teenage surrogate that you had to wonder: Could he play anything else? The answer, he's proved, is yes—and how. Small, slender and gifted at gab, Robbins still portrays garrulous teenagers, including a stage-struck student in Secrets of the Trade, an obsessive bibliophile in The Twenty-Seventh Man and an enigmatic chatterbox in The Vandal. But his astounding range expands his type into striking new dimensions.—Adam Feldman
Alex Timbers
How does director-writer Alex Timbers not get cultural whiplash shifting from project to project? In December his out-of-town tryouts for Rocky the Musical wowed Germany. This summer he will helm a fresh musical adaptation of Love's Labour's Lost for Shakespeare in the Park. Starting this week, you can catch his discotastic production of the David Byrne–scored Imelda Marcos tuner, Here Lies Love, at the Public, or the Off Broadway return of the whimsical Peter and the Starcatcher at New World Stages. Oh, and there's a little side project: another Shakespeare-based musical, this one in the form of a film for Disney. If you've seen any of the clever director's work, you know about his giddy tendency to smash together high and low sources. There was Heddatron, the robot-augmented version of Hedda Gabler; a stage version of the video game Dance Dance Revolution; and most thrillingly, his emo-rock take on presidential history, Bloody Bloody Andrew Jackson. No matter the show, Timbers brings intelligence and irreverence to the table. He's high, he's low, but never in the middle.—David Cote
Stephen Tyrone Williams
Some actors have such crazy charisma, they make small roles into leads. I'd never seen Stephen Tyrone Williams before I caught him playing a couple of bit parts (a gay street hustler and a security guard) in Adam Rapp's Hallway Trilogy. "Who is this guy?" I scribbled into my notepad. Others were also noticing. Soon, Williams was showing his range in Thomas Bradshaw's taboo-filled Burning and Athol Fugard's My Children! My Africa! Now the intense performer is enjoying his Broadway debut, as Abner Louima in Nora Ephron's Lucky Guy. Tom Hanks better watch his back, or his scenes might get stolen.—David Cote