Heads up! We're working hard to be accurate – but these are unusual times, so please always check before heading out.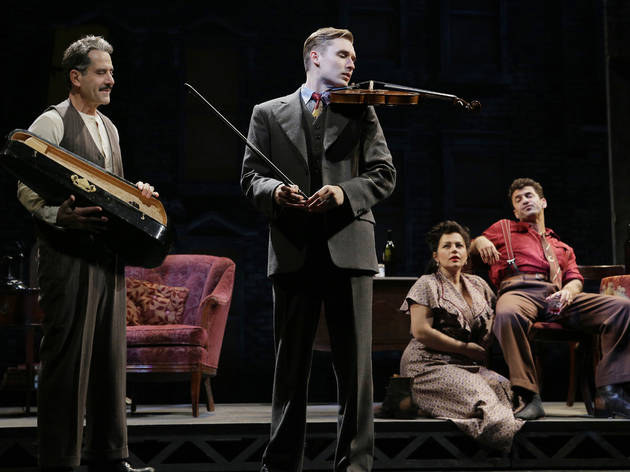 Golden Boy goes an extra round on Broadway
In a revival starring Tony Shalhoub, the Clifford Odets classic lives to fight another day.
Immigrants at Ellis Island, they say, thought that the streets of America were paved with gold. Lady Liberty beckoned with the promise of not only freedom, but cash. What chance did spiritual values from the old country stand against the lure of the dollar? Such is the challenge of the auspiciously named Joe Bonaparte, the young protagonist of Clifford Odets's 1937 drama Golden Boy. Born with an otherworldly gift for the violin, Joe worries that "artists and people like that are freaks today." When he discovers a quite different talent—for the violence of prizefighting—he leaps at the chance to score big. "I'm out for fame and fortune," he brags to his disappointed immigrant father, "not to be different or artistic!" But in his desperate pursuit of "the crown," Joe ends up uncovering the dark side of the American Dream.

This season, after a 60-year absence, Golden Boy returns to Broadway courtesy of Lincoln Center Theater and director Bartlett Sher. With his Tony-winning LCT revival of Odets's Awake and Sing! in 2006, Sher became contemporary theater's most prominent champion of this neglected dramatist. Odets's own battles with integrity in the face of success led to a fall from grace that haunts his reputation to this day. (His sorry capitulation to the infamous House Un-American Activities Committee in 1952 remains a deal breaker for many progressives and artists alike.)

Speaking between previews at the Belasco Theatre, the very house where Golden Boy opened 75 years ago, Sher sounds determined to get beyond biography and dive into what Odets actually wrote—which he believes shows the playwright's compelling awareness of "his own demons." (His Odets restoration campaign may be catching on: Roundabout Theatre Company will present the writer's The Big Knife this spring.)
Nowhere are these demons more apparent than in Golden Boy, a piece Sher praises for "its scale, ambition, poetry and depth of character." Unlike the intimate one-room family drama of Awake, the more epic Golden Boy—with its cast of 19 and multiple locales—takes an almost Shakespearean tour through a cross section of Depression-era New York, from the heights of classical music to the depths of organized crime. To Sher, it unfolds less like a typical play than as "five episodes of an HBO series in a straight sit-down."

Casting such a large show is always a challenge, but it's particularly daunting with a work written for the legendary company of Odets's Group Theatre. (Even the supporting roles in the original production were filled by the likes of John Garfield, Elia Kazan and Lee J. Cobb.) Along with the up-and-coming Seth Numrich (from the original American cast of War Horse) as Joe, Sher has assembled New York stage veterans Danny Burstein, Ned Eisenberg, Jonathan Hadary, and—as Eddie Fuseli, the "queer" gangster who takes Joe under his wing—Tony winner Anthony Crivello (Kiss of the Spider Woman).

Perhaps the greatest casting challenge lay with Mr. Bonaparte, Joe's father and conscience, sometimes reduced in performance to a schmaltzy ethnic stereotype. Fortunately, in the restrained yet intense Tony Shalhoub, the director found the "pure heart and intelligence" he wanted to bring out in a character of simplicity but great learning and dignity. "Tony," Sher says, "is one of those actors who can play all of those colors."

Shalhoub, likewise, is grateful to be working on what he calls "a really deep gold mine" of a script. The son of a Lebanese native, the actor relates to the aspirations of the Bonaparte family and the generational conflict between Old World and New. But he also sees the predicament of the moder actor in the play. Returning to Broadway for the second time since ending his long-running TV series Monk in 2009, Shalhoub admits to some soul-searching. "I had to ask myself, Are we doing what we're supposed to be doing? Am I doing what I love? This play really spoke to that."

Between a merciless economy and an entertainment industry dominated by mass media, Shalhoub believes Golden Boy's "tug-of-war between commerce and culture" could not be more relevant. "Odets was really identifying that problem in the American experience," he says. This pugilistic tragedy from an earlier time of economic turmoil, he insists, still has the power to "sneak up and punch you in the face."

Golden Boy is at the Belasco Theatre through Jan 20. Click here for tickets.