Grasses of a Thousand Colors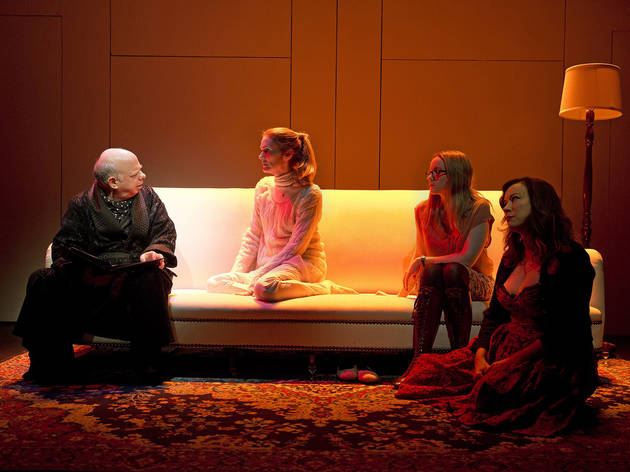 1/7
Photograph: Joan Marcus
Grasses of a Thousand Colors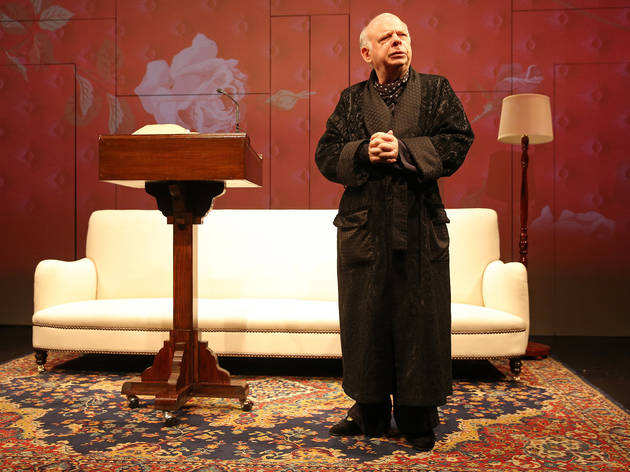 2/7
Photograph: Joan Marcus
Grasses of a Thousand Colors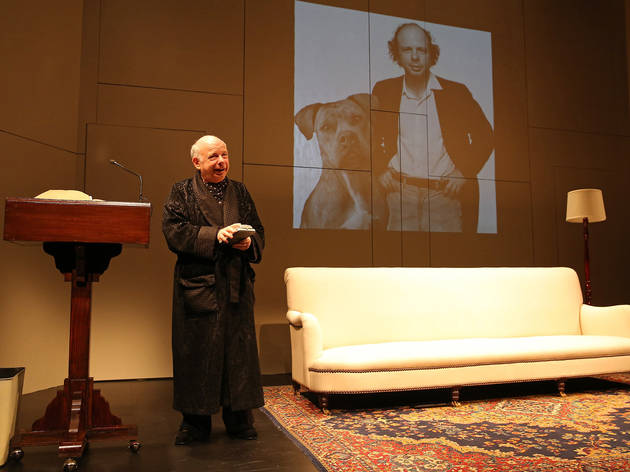 3/7
Photograph: Joan Marcus
Grasses of a Thousand Colors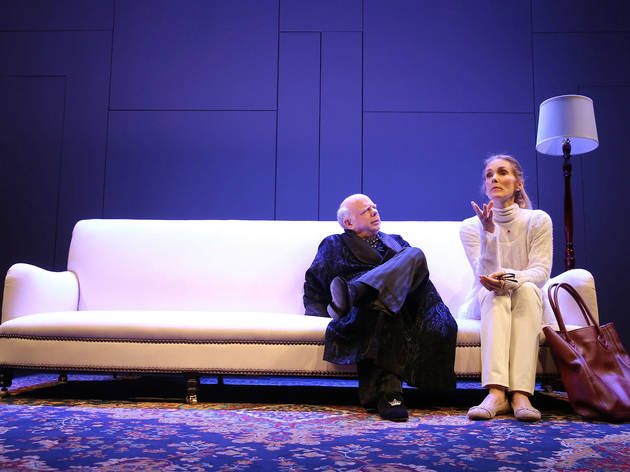 4/7
Photograph: Joan Marcus
Grasses of a Thousand Colors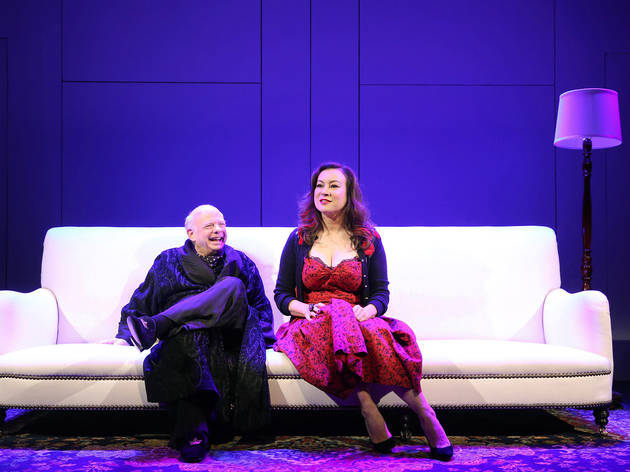 5/7
Photograph: Joan Marcus
Grasses of a Thousand Colors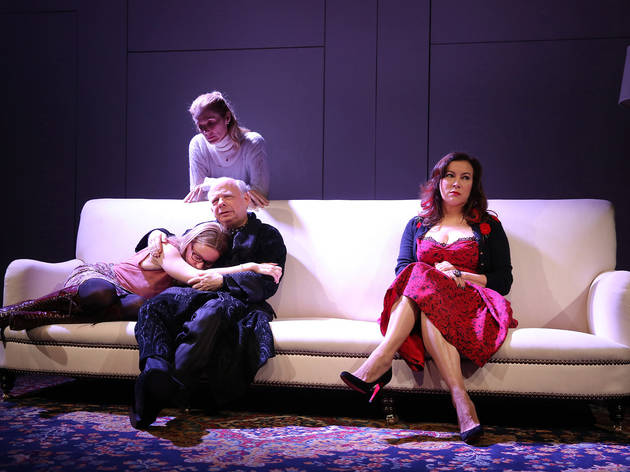 6/7
Photograph: Joan Marcus
Grasses of a Thousand Colors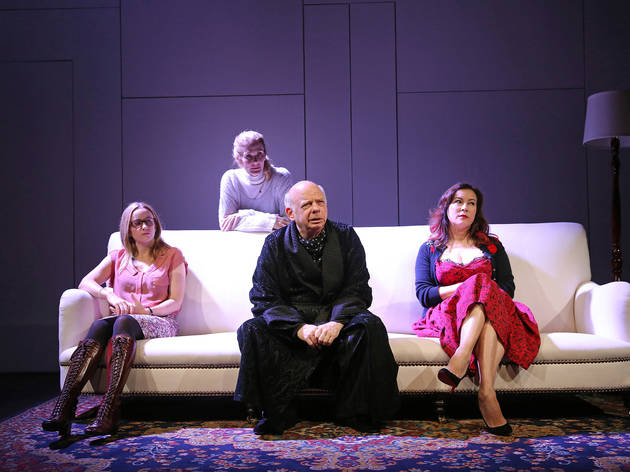 7/7
Photograph: Joan Marcus
Grasses of a Thousand Colors
Time Out says
Grasses of a Thousand Colors. Public Theater (see Off Broadway). By Wallace Shawn. Directed by André Gregory. With Shawn, Julie Hagerty, Emily Cass McDonnell, Jennifer Tilly. Running time: 3hrs 20mins. Two intermissions.
Grasses of a Thousand Colors: In brief
As a playwright, Wallace Shawn never shies away from the disturbing and the offensive. But his newest work, first seen in 2009 at London's Royal Court, might be his most bizarre. A scientist (Shawn) describes graphic sexual acts with shape-shifting animals. Julie Hagerty, Emily McDonnell and Jennifer Tilly play various women in his life. Longtime collaborator André Gregory directs.
Grasses of a Thousand Colors: Theater review by David Cote
In his weird, teasing and devastating new fantasy, Wallace Shawn gets a lot of pussy. I'm not trying to be vulgar: I mean cats…and also vagina. Actually, he gets a lot of cat vagina, if you want to be precise. The middle part of Shawn's three-act, epic Grasses of a Thousand Colors contains graphic descriptions of the main character vigorously rutting with a mysterious white cat. Careful documentary attention is lavished on each tumescence, shudder and spurt. A lascivious dog pops in at one point, and there's anal violation by a party clown. You can dismiss these erotic interludes as surreal sideshows, but then, in this astonishing new work—Shawn's first since 1996's The Designated Mourner—it's never clear what's real and what's a nightmare.
Shawn plays Ben, a doctor whose solution to the food crisis precipitated a global pandemic. In the opening section, a bathrobe-wearing Ben greets the audience and offers to read from his massive autobiography. But first, in a vaguely Alice in Wonderland touch, he drinks liquid from a small bottle that seems to energize him. Ben burbles on about his amazing medical career, but quickly gets sucked into matters of the past, which includes his estranged wife, Cerise (Julie Hagerty), and his lovers Robin (Jennifer Tilly) and the young Rose (Emily Cass McDonnell). It makes sense that women would dominate his memories—even though Ben's an unrepentant narcissist. Obsessed with his own penis ("my best friend, and in a certain way, it's my only friend") he lives for two things: gratifying sexual urges, and amassing wealth from his invention. In its loopy, tangential way, Grasses shows how the strands of Ben's life intertwine and corrupt each other.
Grasses unfolds in monologue form with brief stretches of dialogue, much like Mourner, also coproduced by the Public Theater and Theatre for a New Audience. Details of Ben's relationships with Cerise, Robin and Rose (all shades of red, it so happens) alternate with lurid yet dispassionate accounts of his liaison with the white cat. Shawn is not writing in a pornographic mode; the numerous descriptions of masturbation and bestiality are not meant to arouse us. But they're also not framed in a puritanical spirit of moral censure. The whole scenario is so daffy and grotesque, it's not clear what the point is. Such ambivalence and perversity can either produce boredom and disgust, or excitement and curiosity. I'm glad to be in the latter camp.
The conflation of Ben's sexual appetites and the ecological disaster his Grain Number One wreaks on the planet comes into sharp focus in these dreamlike sequences. When the white cat is tamed by Robin and brought home as a pet, she becomes abhorrent to Ben. The animal's fate presages the gastrointestinal disease that leads to mass deaths—including Ben's.
Director André Gregory stages this surreal and rambling piece in a sleek white space designed by Eugene Lee and dominated by a wide, low white sofa. Playful sound cues (meows and tinkling bells) and bright color washes give the piece a fantastical sheen. The performances are all modulated perfectly, somewhere between living-room conversation and the heightened, disturbing poetry of Shawn's writing. Hagerty is harrowed and piercing, Tilly is all plush feline contentment, and McDonnell is wound tight and nervous. They bounce perfectly off the smug, rodentlike Shawn, by turns menacing and goofy.
Grasses of a Thousand Colors is a bewildering, labyrinthine fairy tale, at times exhausting, and resistant to easy interpretation. Still, it's clear that Shawn is after something about the erosion of boundaries between human and animal, nature and society. The play is a feverish portrait of male egomania threatening to waste the planet. Shawn's world, though, remains prodigiously fertile and whole.—Theater review by David Cote
THE BOTTOM LINE Wallace Shawn plays cat and mouse with bestiality and gender in this wildly subversive new play.
Follow David Cote on Twitter: @davidcote
Ticket Offers from Time Out New York
Looking for tickets to a Broadway or Off Broadway show? Time Out Offers brings you terrific discounts on tickets to the latest New York theater. Want even more ideas? Check out Time Out New York's complete listings of Broadway, Off Broadway and Off-Off Broadway shows, and browse all available tickets.
Details
Best selling Time Out Offers