Broadway review by Adam Feldman
After a car crash in a blizzard, a man finds himself in a secluded mountain cabin, where his busted leg is treated by a strange woman played by Laurie Metcalf. Theatergoers may recognize this as the start of the 2015 drama Misery, one of the rare Broadway shows to venture into the realm of horror. But Misery now has some company in that genre: Levi Holloway's Grey House—which shares the very same set-up, but also includes many other familiar fright-flick tropes, such as bizarre rituals, tortured moans and eerily self-possessed children in old-fashioned nightclothes. As the spooky twists accumulate, the play comes to resemble a Halloween haunted house in which all the rooms have been smooshed into one.
Set on a dark and stormy night in 1977, Grey House begins with a long span of quiet as the grizzled Raleigh (Metcalf) snoozes in a den she shares with five charges: four girls of different ages and one young boy. But the girls' activities—singing, weaving a tapestry—end with the arrival of recovering alcoholic Henry (Paul Sparks) and his wife, Max (Tatiana Maslany). Questions creep up on you. Why are these kids so odd, especially the gloomy Marlow (Sophia Anne Caruso)? Who is that feral older lady? What are those noises? What the hell is in that fridge?
Grey House is built around themes of guilt, expiation and retribution, but not very solidly—and as a spectator, you're too busy puzzling out what is happening to think much about what it means. The rollout of information is deliberately murky, and even if you understand the play's supernatural mechanics by the end (critics were given a page-long explanation), you might find that they don't quite cohere. But this is a first-class production: Director Joe Mantello and his committed cast sustain a tone that is consistently unsettling, if not outright scary. And they are propped up by terrific design, courtesy of Natasha Katz's dramatic lighting, Scott Pask's cluttered yet expansive set—whose ceiling morphs into stalactites before warping into a sinister hole—and, particularly, Tom Gibbons's pulsing walls of sound. Amid such excellent atmospherics, you may not care when the play itself creaks.
Grey House. Lyceum Theatre (Broadway). By Levi Holloway. Directed by Joe Mantello. With Laurie Metcalf, Tatiana Maslany, Paul Sparks, Sophia Anne Caruso. Running time: 1hr 40mins. No intermission.
Follow Adam Feldman on Twitter: @FeldmanAdam
Follow Time Out Theater on Twitter: @TimeOutTheater
Keep up with the latest news and reviews on our Time Out Theater Facebook page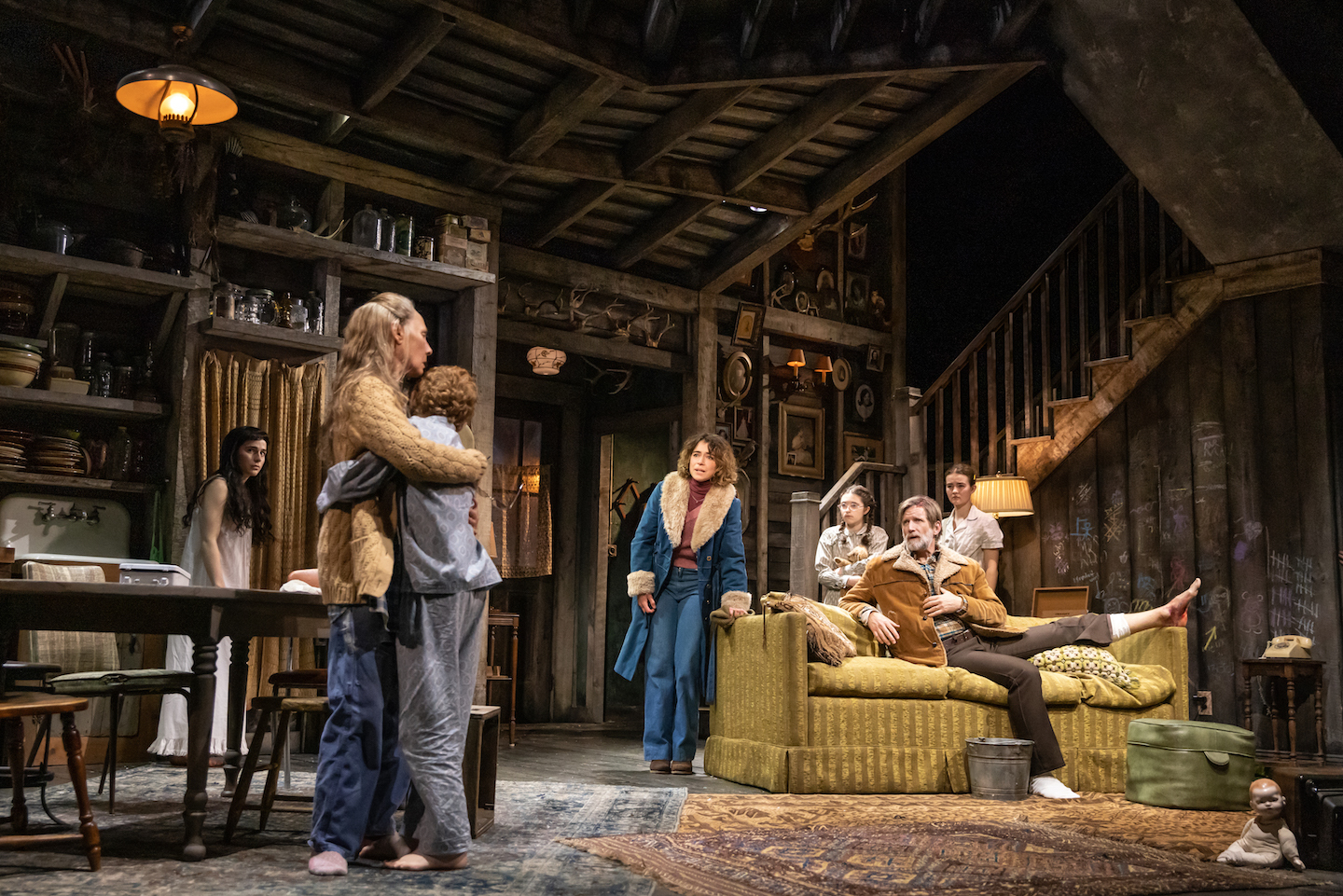 Grey House | Photograph: Courtesy MurphyMade