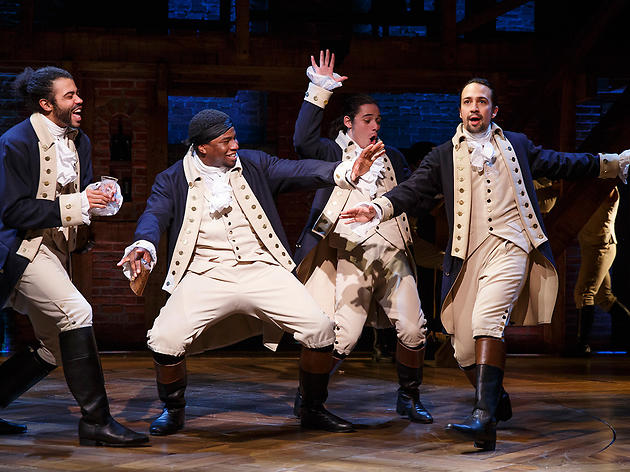 1/10
Photograph: Joan Marcus
Hamilton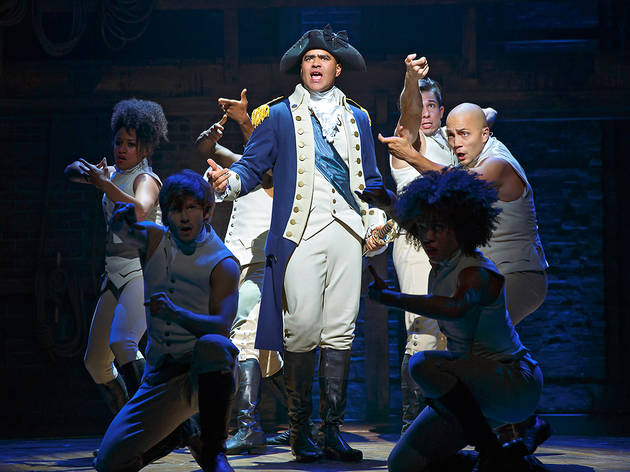 2/10
Photograph: Joan Marcus
Hamilton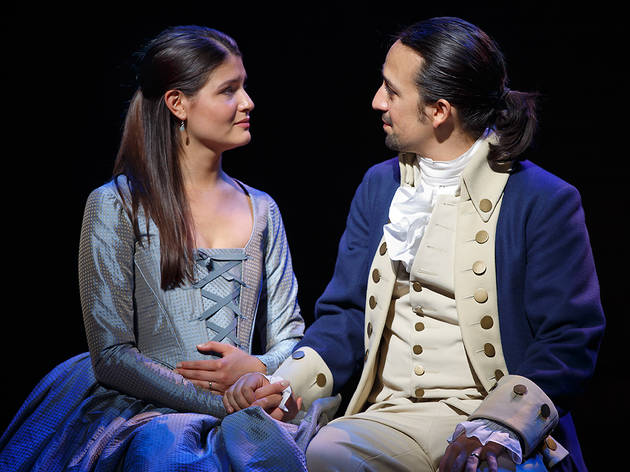 3/10
Photograph: Joan Marcus
Hamilton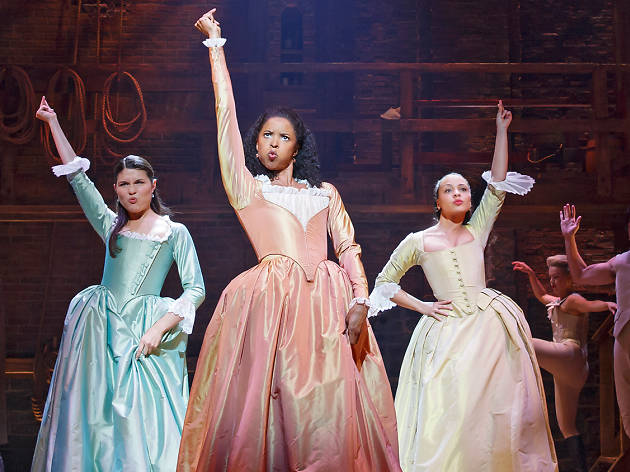 4/10
Photograph: Joan Marcus
Hamilton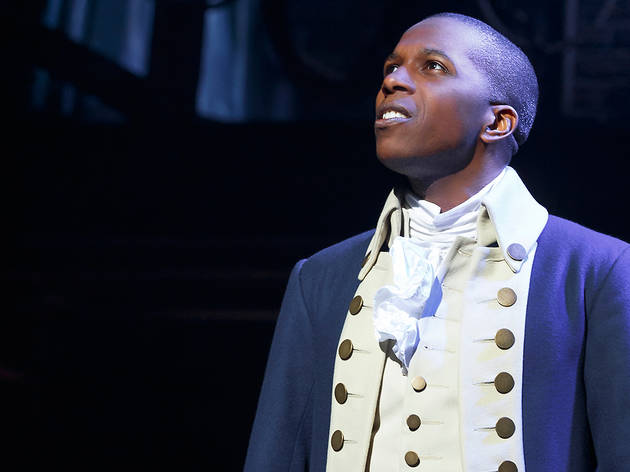 5/10
Photograph: Joan Marcus
Hamilton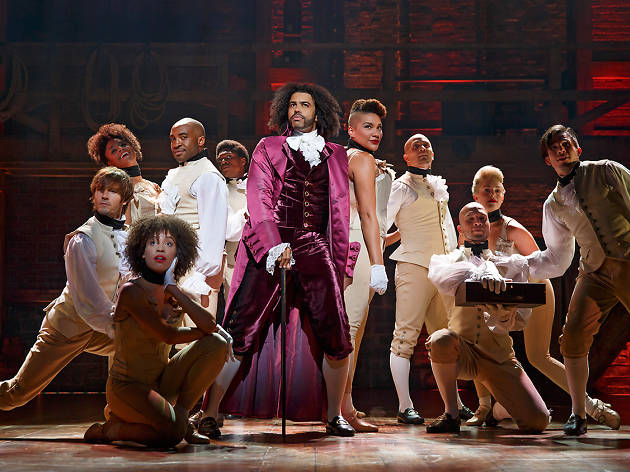 6/10
Photograph: Joan Marcus
Hamilton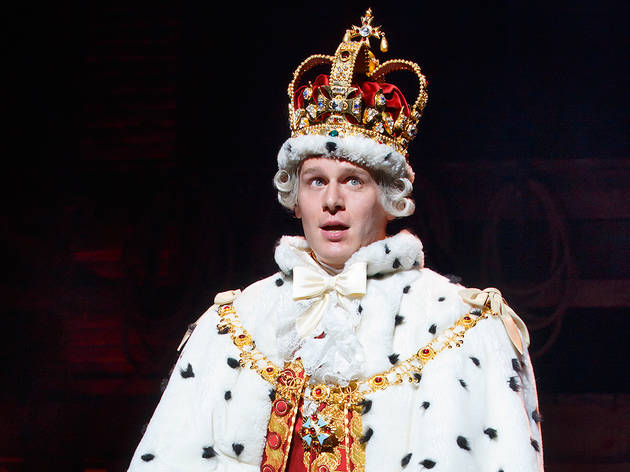 7/10
Photograph: Joan Marcus
Hamilton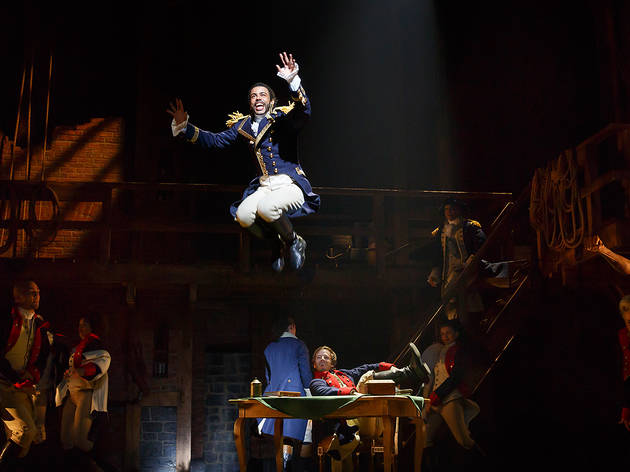 8/10
Photograph: Joan Marcus
Hamilton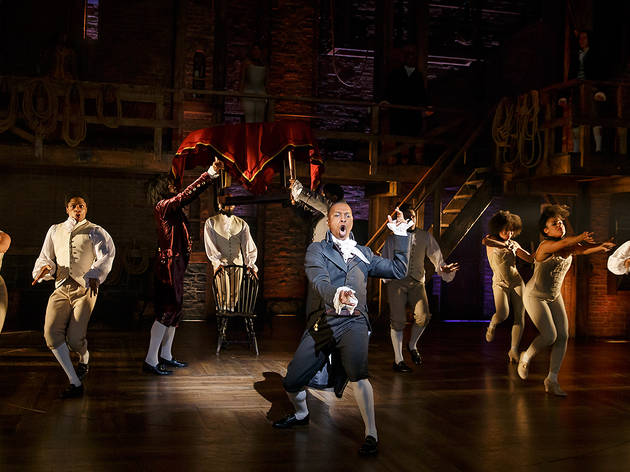 9/10
Photograph: Joan Marcus
Hamilton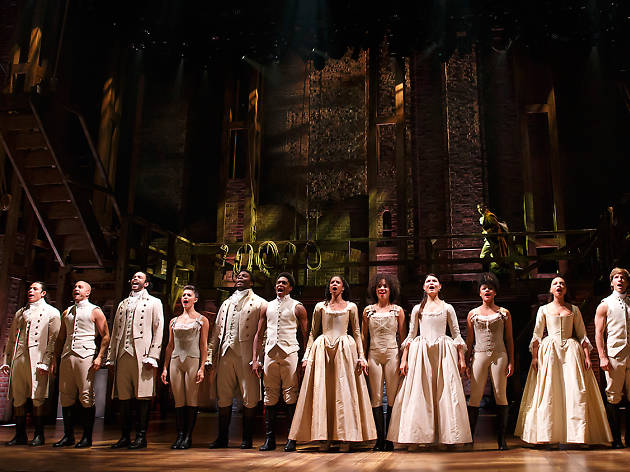 10/10
Photograph: Joan Marcus
Hamilton
Hamilton: Theater review by David Cote
What is left to say? After Founding Father Alexander Hamilton's prodigious quill scratched out 12 volumes of nation-building fiscal and military policy; after Lin-Manuel Miranda turned that titanic achievement (via Ron Chernow's 2004 biography) into the greatest American musical in decades; after every critic in town (including me) praised the Public Theater world premiere to high heaven; and after seeing this language-drunk, rhyme-crazy dynamo a second time, I can only marvel: We've used up all the damn words.
Wait, here are three stragglers, straight from the heart: I love Hamilton. I love it like I love New York, or Broadway when it gets it right. And this is so right. A sublime conjunction of radio-ready hip-hop (as well as R&B, Britpop and trad showstoppers), under-dramatized American history and Miranda's uniquely personal focus as a first-generation Puerto Rican and inexhaustible wordsmith, Hamilton hits multilevel culture buttons, hard. No wonder the show was anointed a sensation before even opening.
Assuming you don't know the basics, ­Hamilton is a (mostly) rapped-through biomusical about an orphan immigrant from the Caribbean who came to New York, served as secretary to General Washington, fought against the redcoats, authored most of the Federalist Papers defending the Constitution, founded the Treasury and the New York Post and even made time for an extramarital affair that he damage-controlled in a scandal-stanching pamphlet. All that industry and drama unfolds in the shadow of a forgone conclusion: Hamilton will die in an 1804 duel with Vice President Aaron Burr (Leslie Odom Jr.), a longtime rival and, in this Shakespearean reading, his tragic opposite. Whereas Hamilton is about seizing the moment and taking a stand ("I am not throwing away my shot" is his mantra), Burr is a passive, taciturn opportunist whom life passes by.
Miranda may be composer-lyricist and star, but the world he creates is vibrantly democratic. Hamilton is the center, but Burr is his equally weighted Judas and Javert—and more complexly drawn than either. (Odom brings the house down with the ultimate outsider's jazz romp, "The Room Where It Happens.") Phillipa Soo, playing the betrayed but finally forgiving wife, Eliza, has some of the show's most heartbreaking music and even (spoiler alert) emerges as protector and engine of her husband's legacy—subtly taking the spotlight as the shadow author of the work before us. As French ally Marquis de Lafayette in the first act and a foppish, trash-talking Thomas Jefferson in the second, Daveed Diggs blazes with raffish charisma. Jonathan Groff has inherited the role of King George from Brian d'Arcy James, and finds new levels of comic brilliance in his short but convulsively funny appearances, practically drooling with incipient looniness. And the lovely, pure-voiced Renée Elise Goldsberry's Angelica Schuyler will make you demand a spinoff musical all her own. Part of the genius of Miranda's writing is this polyphonic, block-party quality, where everyone gets their say.
Thomas Kail's sexy past-is-present staging—a carnival of perpetual motion choreographed to pop-and-lock perfection by Andy Blankenbuehler—has comfortably expanded on Broadway while retaining its intimacy and scenic economy on David Korins's attractive wooden set. There have been judicious cuts in the first act and the second (covering the Whiskey Rebellion) that few will miss. The work's human drama and novelistic density remain astonishing. Lyrical drama, never forget, is a wondrously compact yet expansive form that can spring across years and lifetimes in the twist of a couplet.
But will the thing run long enough for you to actually get tickets? Pundits have thrown around terms such as game-changer or breakthrough. While it's true that Miranda has unlocked the dramatic power of hip-hop in a music-theater context—knitting references to the Notorious B.I.G. with equal ease to Oscar Hammerstein II—it will be years before we see how much influence the show exerts, if it becomes an institution on the level of Wicked or The Lion King. Let's put it this way: In 2020, the likeness of Alexander Hamilton will come off the $10 bill, to be replaced by a female subject. For disgruntled admirers of this singular statesman, there may well be consolation: a living monument, playing eight times a week and minting green like the Treasury.

Richard Rodgers Theatre (Broadway). Book, music and lyrics by Lin-Manuel Miranda. Directed by Thomas Kail. With Miranda, Daveed Diggs, Renée Elise Goldsberry, Jonathan Groff, Christopher Jackson, Leslie Odom Jr., Phillipa Soo. Running time: 2hrs 45mins. One intermission.
Follow David Cote on Twitter: @davidcote

+++++++++++++++++++++++++++++++++++++++++++++++++++++

Here is David Cote's review of the Off Broadway premiere of Hamilton:

Hamilton: Theater review by David Cote

History ticks to a syncopated beat in Lin-Manuel Miranda's jubilant, overflowingly rich Hamilton. And just as syncopation achieves its energizing effect by disturbing the expected flow, so Miranda's biomusical on founding father Alexander Hamilton is a rhythm-and-rhyme intervention for American iconography and ideology. This populist throwdown to the way we tell our stories and spin our songs is about the Revolution, and it is a revolution: hip-hop grooves stuffed with political critique, heroes of color taking over the old house and throwing a party. You're invited, but you've got to learn new moves.
Miranda based this epic-yet-personal pageant on Ron Chernow's 2004 biography, which clued in the prodigious composer-lyricist to the fact that Hamilton was, as his opening lines have it, "a bastard, orphan, son of a whore and a / Scotsman, dropped in the middle of a forgotten / Spot in the Caribbean." Casting himself in the title role, Miranda claims Hamilton for the immigrant dissident.
And yet the ambitious and brilliant young Hamilton emigrates north and becomes a successful lawyer, General Washington's go-to aide and one of the Constitution's most eloquent interpreters, all the while starting a family and weathering a sex scandal. Spoiler alert for the historically ignorant: It all crashes in 1804, when Hamilton agrees to a duel with then–Vice President Aaron Burr (Leslie Odom Jr.), a man who has felt scorned and outshined by Hamilton all his professional life. "I am not throwing away my shot" is Hamilton's recurring vow, which means one thing when he's young and hungry and quite another when he's nearly 50 and facing the barrel of a gun.
The cast in Thomas Kail's bravura, dance-filled staging is all-star: Christopher Jackson's Washington is an affable demigod; Phillipa Soo's tremulous Eliza, the long-suffering wife to philandering Hamilton; Daveed Diggs a deliciously conceited and fatuous Jefferson. And Brian d'Arcy James brings down the house with each appearance as the sneering British overlord King George, his musical idiom being Britpop.
Those who saw Miranda's Tony-winning In the Heights already know his genius for grafting rap, salsa and other pop styles onto Broadway forms, but Hamilton kicks it up several notches. What Miranda does with rhyme is simply staggering. I'm talking not just about the clever rhymes that ring throughout the score, but the way a gangsta-style vocal delivery can make half-rhymes (also called lazy or slant) true. "My name is Alexander Hamilton," Miranda sings early on, "and there's a million things I haven't done." Hamilton and haven't done do not rhyme, but the cocky way Miranda spins it, they sort of do. Prosody purists may balk, but that ballsy finessing is part of the charm. Same goes for "Hey, yo, just like my country / I'm young scrappy and hungry," when Lafayette (Diggs again) sets "anarchy" against "panicky" or when, facing his end, Hamilton evocatively links "difference," "immigrants" and "fingerprints." Triple rhymes, internal rhymes, slang rhymes—the script is a school for freestyle rigor.
Not just for its lyrical virtuosity, but also structural elegance and fierce topicality, the piece is a signal achievement, expanding the subgenre of tuneful takes on national identity (1776, Assassins and Bloody Bloody Andrew Jackson). Even more than that, it offers a template for the fully integrated hip-hop musical (also mixing in R&B and indie pop) that repurposes the social and verbal strategies of rap and slam poetry for supposedly off-limits topics. In remixing the past to his own beat, Miranda shows us the future.—David Cote
Public Theater (see Off Broadway). Book, music and lyrics by Lin-Manuel Miranda. Directed by Thomas Kail. With ensemble cast. Running time: 2hrs 45mins. One intermission.
Venue name:
Richard Rodgers Theatre
Contact:
Address:
226 W 46th St
New York


Cross street:
between Broadway and Eighth Ave
Transport:
Subway: N, Q, R, 42nd St S, 1, 2, 3, 7 to 42nd St–Times Sq; N, Q, R to 49th St
Price:
$179–$199, premium $477–$849
Event phone:
800-745-3000
Event website:
http://hamiltonbroadway.com
Average User Rating
4.7 / 5
Rating Breakdown
5 star:

13

4 star:

0

3 star:

0

2 star:

0

1 star:

1
This was a lot better than I even imagined and it stood up to all the hype. What an incredible performance and new presentation of American history and a story that we learned growing up in school. Hip hop and rap choreographed to a presentable and understandable manner is taking Broadway to new levels and exposing it to many that would never have given it a chance. I'm not one that has many theatre friends, but many have come and see the show and had only positive reviews anywhere they've gone. Oh, and I won the lottery so only had to pay a Hamilton to see Hamilton! Well worth the price of admission and I would've been pretty happy leaving if I did pay full price for the show as well. Bravo Lin Manuel. I can't wait to see this again!
The cast is incredibly talented -- the dedication and emotion that goes into each scene is truly unmatched. It manages to live up to all the hype and then some. Can't wait to see it again (when prices drop).
Amazing! It is impossible to go and see Hamilton without being aware of all the hype and temper your expectations accordingly,but I tried. I was in awe of this production, the energy, the drama and the laughter. What a blend of America history and modern singing and dancing! And it works so well. The cast is incredible and now without Miranda difficult to just showcase anyone as they all are so good. From Hamilton, Javier Muñoz,to Jefferson,Seth Stewart, to the hilarious Kjng of England Rory O'Mally. The whole cast, really, no flaws. I loved it! What else do I need to say?
If you enjoy traditional theatre, this show is not for you. I wanted to leave after 10 minutes, but didn't because I love live theatre. What a disappointment. New concepts in theatre are welcomed. The Book of Mormon for instance was new, daring, and delightful. Hip Hop and rap, however, are not meant for the Broadway stage. If this is the direction Broadway is going, I'll have to find another passion. Truly, you can find the likes of this show on the sidewalks of Of Times Square for free. This is not theatre.
Because I thought I could not love a musical more than In The Heights but Hamilton Came along. YES this is The Show to watch NOW!! From start to finish I did not want this show to end and still obsess over the soundtrack. Lin Manuel Miranda is a genius!! Do not throw away Your Shot and miss out on this spectacular show, if you are going to spend money on a show this one is it!!
I completely agree...this is a must see. Hamilton is the best thing to happen to Broadway in a very long time. The cast album alone is a masterpiece. So if you can't get tickets right away, go buy the cast album immediately...tryst me, you will not regret it. This show is also great for the future of Broadway Musicals. I can't even begin to tell you how many youth have latched onto this musical and the songs. It is definitely a game changer for the better. Also, don't get scared off by hearing that it's mostly Rap, R&B, and Soul music. I'm not a huge fan of those genres but it worked so well in telling this story. Even Andre Lloyd Webber and Sondheim loved the music..
Quite possibly the greatest 'anything' I've ever seen.
Incredible storytelling, captivating choreography and performances, memorable soundtrack -- a think/feel piece, that will resonate long after you've experienced it.
Hamilton is a must-see, that you'll want to see again and again... and likely again, after that!
I put this on the level of Phantom. It's mindblowing. I know not everyone likes hip-hop, but here's the thing - neither do I. I haven't been able to stop thinking about this since I saw it in early March, two and a half months ago. I'm really not sure how to articulate my feelings. There are a few slow moments, but it's always livened by the arrival of King George (Jonathan Groff is incredible) and I hear Miranda is looking to trim 15 minutes before Hamilton hits Broadway. If you see it, you won't be able to stop talking about it. If you don't see it, you won't be able to stop hearing about it.