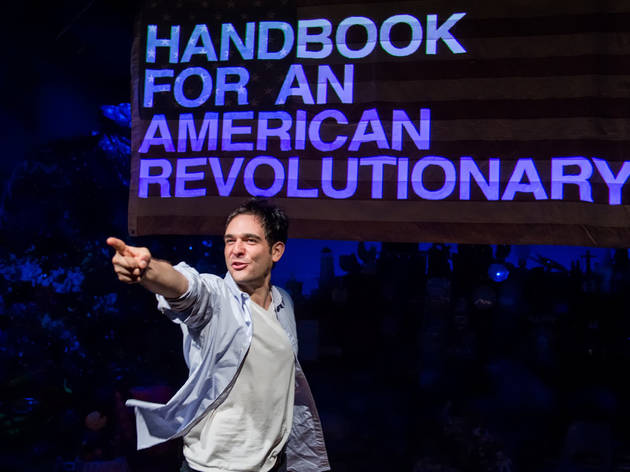 1/4
Photograph: Russ Rowland
Handbook for an American Revolutionary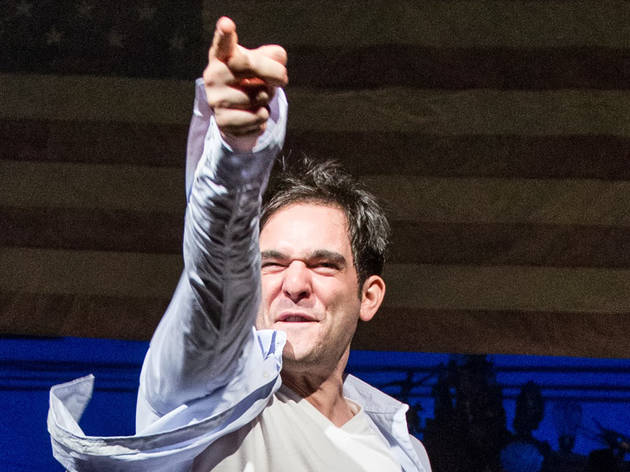 2/4
Photograph: Russ Rowland
Handbook for an American Revolutionary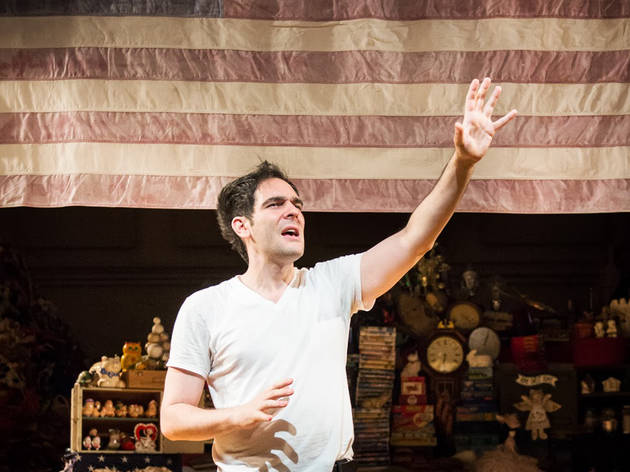 3/4
Photograph: Russ Rowland
Handbook for an American Revolutionary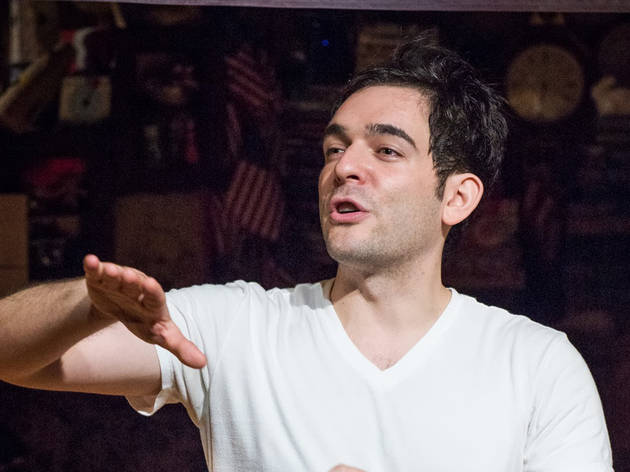 4/4
Photograph: Russ Rowland
Handbook for an American Revolutionary
Handbook for an American Revolutionary. Gym at Judson Church (see Off Broadway). Written and performed by Matthew-Lee Erlbach. Directed by Tony Speciale. Running time: 1hr 10mins. No intermission.
Handbook for an American Revolutionary: in brief
Matthew-Lee Erlbach performs a solo show based on a series of road trips, on which he met the inspirations for a dozen characters (including a Pakistani cabbie and a deaf Mennonite). Tony Speciale directs.
Handbook for an American Revolutionary:
theater review by Helen Shaw
Matthew-Lee Erlbach brackets his ferocious one-man, multi-character show Handbook for an American Revolutionary with a pair of sermons. The chameleonic actor begins his heartfelt American portrait gallery as a pumped-up guru shouting garbage-grade encouragement ("Define, Dream and Destinize!") and he closes in the persona of a black preacher delivering a true, and truly galvanizing, gospel.These two options are Erlbach's poles: ersatz morale-building or inspiration proper, with zero room for passivity between.
Taking a page from other solo shape-shifters (e.g., Sarah Jones), Erlbach uses just his changing accent and a few light cues to create richly diversified characters, who, in aggregate, paint a pointilist canvas of a troubled country. In the process, he manages to be both polemical and somehow unpredictable. If never exactly opaque about where its creator stands on mountaintop removal or predatory lending, this generous, peripatetic show allows for a briefly sympathetic white supremacist or a callous environmental lobbyist, and we're frequently startled into laughter or sudden self-examination. Sizzling with its creator's energetic humanism, Handbook avoids the static quality so many one-person shows succumb to; on the contrary, it insists that we respond. In the end, Erlbach has made us a simple guide with an easy key, and there is action on every page.—Theater review by Helen Shaw
Ticket Offers from Time Out New York
Looking for tickets to a Broadway or Off Broadway show? Time Out Offers brings you terrific discounts on tickets to the latest New York theater. Want even more ideas? Check out Time Out New York's complete listings of Broadway, Off Broadway and Off-Off Broadway shows, and browse all available tickets.