Broadway review by Adam Feldman
"When you're in harmony, you're in a trance," sing the members of a 1930s German vocal group in the opening number of Barry Manilow and Bruce Sussman's heartfelt and often stirring Harmony. "Others went marching, / Not us, we'd dance!" At first pass, this attitude is presented as an insouciant strategy for dealing with poverty during the Weimar Era; later, when the Nazis rise to power and escapism turns into an actual need to escape, it comes to seem more like an indictment.
That idea is already the basis of a classic musical: the trenchant Cabaret, which will return to Broadway this spring. But here, it is almost beside the point. Harmony is based on the real-life history of the Comedian Harmonists, a singing sextet—half Jewish, half Gentile—that rose to fame in the late 1920s. The shadow of Nazi atrocities falls backward over the plot, but only one person onstage knows what is coming: Rabbi (Chip Zien), an older version of one of the group's members—his nickname comes from having worked as a cantor—who narrates the story in retrospect, dressed in an argyle sweater vest. Although this Rabbi wrestles with questions of implicit complicity, Harmony serves mainly to honor the group's memory. It tries to find joy amid the mourning, like a funeral framed as a celebration of life.
Accordingly, the musical is strongest as a platform for its talented performers. Director-choreographer Warren Carlyle captures the spirit of the Comedian Harmonists through inventive comic sequences, especially in the numbers at the start of the second half: "We're Goin' Loco," a fantasy Ziegfeld Follies number with Josephine Baker; "Hungarian Rhapsody #20," a faux-Liszt song; and the satirical "Come to the Fatherland," in which the singers are dolled up as German marionettes. "Where You Go," a rueful late-show duet between the show's two main female characters à la Chess's "I Know Him So Well," is sung memorably by Sierra Boggess and Julie Benko. (The tune itself sounds a lot like Army of Lovers's 1991 dance hit "Crucified", but delivered like "Bring Him Home.")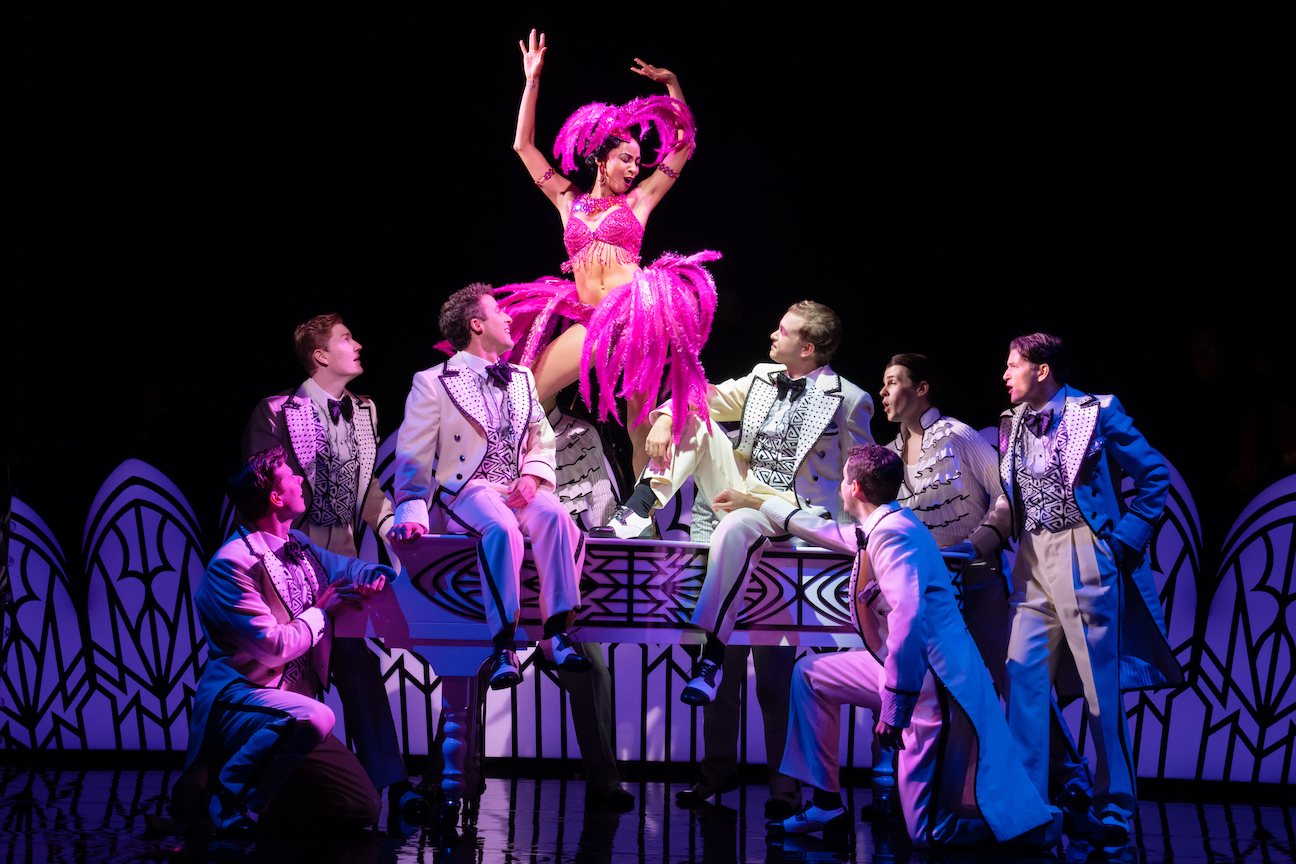 Harmony | Photograph: Courtesy Julieta Cervantes
The six actor-singers who play the Comedian Harmonists—Sean Bell, Danny Kornfeld, Zal Owen, Eric Peters, Blake Roman and Steven Tesley, five of whom are making their Broadway debuts—blend together beautifully without disappearing into anonymity; each of them gets a number in which to shine as a soloist, including a standout proposal song for Kornfeld as the younger Rabbi. This is admirable, but it is also one of the show's limitations. Manilow's music, an attractive blend of old and new sounds, is mostly well served by Sussman's lyrics, and the result is a series of entertaining moments. But the show's determination to give everyone equal time spreads the storytelling thin; major potential plot lines about divisions within the group, such as a romantic triangle and a temptation to collaborate with the Nazis, are raised and then abandoned. And when Harmony arrives, inevitably, at the Holocaust—when it moves from show-off to Shoah—the show's tone gets pitchy.
It's hard to imagine anyone but the über-menschy Zien pulling off his role's combination of cute shtick—he dons an assortment of hairpieces throughout the show to play small roles, including Albert Einstein and Richard Strauss—and tortured drama: He ends the first act screaming "Nooooooooooo!", and later descends into distraught denial ("Please, no more"); it is a testament to Zien's commitment that he is able to keep his climactic song of self-flagellation, titled "Threnody," from crossing into bathos. By then, the show has gone dramatically off-track in a story about a train ride in which Rabbi failed to take decisive action, calling to mind what Einstein says earlier: "The world will not be destroyed by those who do evil, but by those who watch them and do nothing."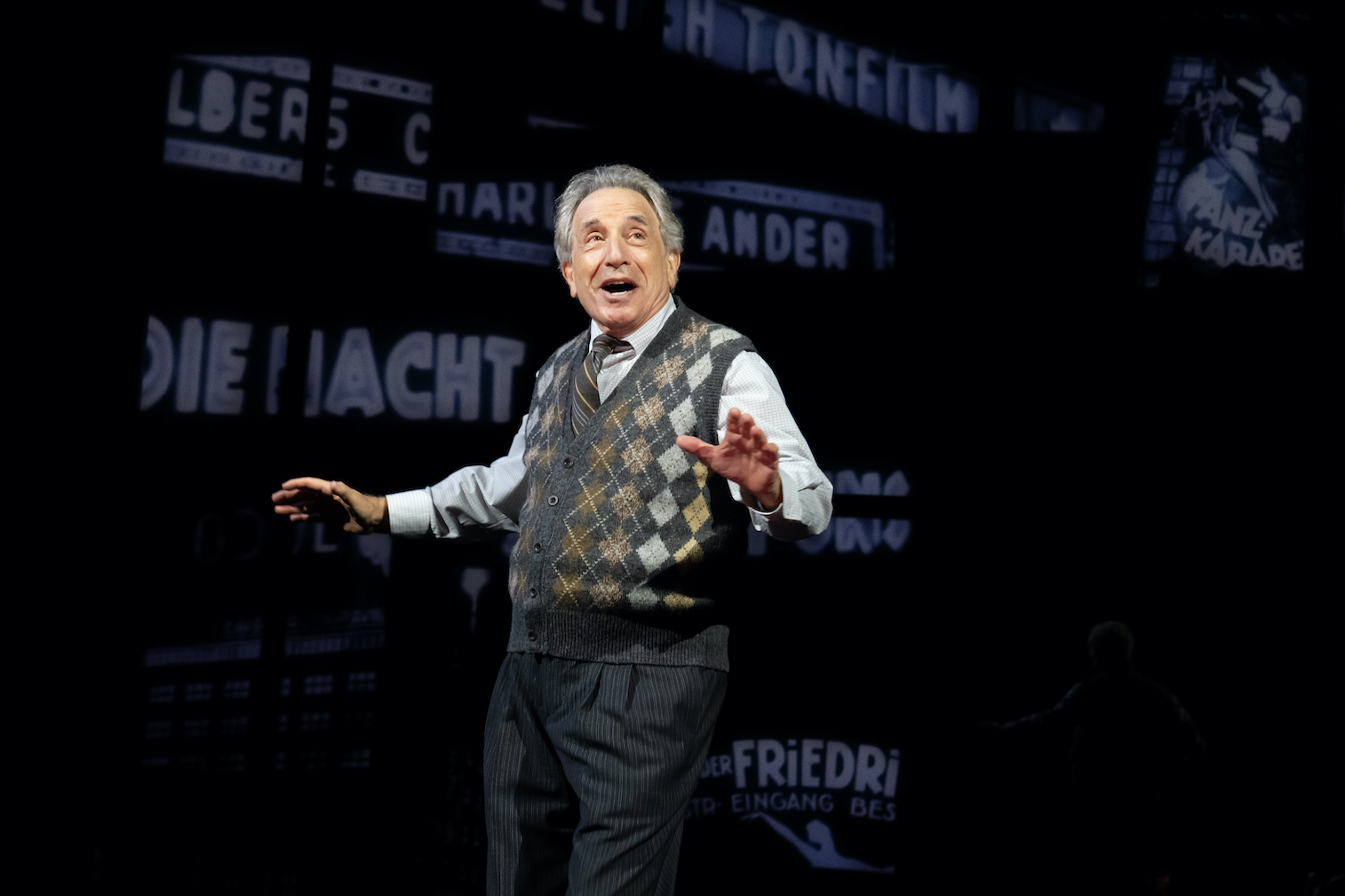 Harmony | Photograph: Courtesy Julieta Cervantes
The problem with the train story is that, like other plot points, it is underdeveloped: It seems to have been added for extra weight. And that reflects the fundamental problem that Harmony struggles to overcome. Manilow and Sussman have been working on the show for more than a quarter of a century; it is clearly a project they feel passionately about, and perhaps their respect for the actual Comedian Harmonists accounts for why they don't stray far from the group's real history. But the show is hamstrung by that fidelity; it can't make the most of the drama inherent to its subject the way a fictionalized version might. The license taken in Cabaret lets it implicate its characters in the horrors to come; the Comedian Harmonists are merely in the wrong place at the wrong time. And even then, their story, though sad, seems a strange one to choose in the context of the larger tragedy: While the group was forced to disband, all six of its members lived through the war.
"We all survived," Rabbi accurately reports. "Don't ask me how, or why." But some questions do linger beyond the show's hopeful final song. Why this story, exactly? Why these six, and not the six million? What special position does this group even hold, for that matter, amid the countless once-popular variety acts now lost to the fog of time? Why does this story survive? As enjoyable and affecting as Harmony is—and as timely, with antisemitism on the rise worldwide—it doesn't make the case that, among all that we must never forget, the Comedian Harmonists merit quite this degree of remembrance.
Harmony. Ethel Barrymore Theatre (Broadway). Music by Barry Manilow. Book and lyrics by Bruce Sussman. Directed by Warren Carlyle. With Chip Zien, Sean Bell, Danny Kornfeld, Zal Owen, Eric Peters, Blake Roman, Steven Tesley, Sierra Boggess, Julie Benko. Running time: 2hrs 30mins. One intermission.
Follow Adam Feldman on Twitter: @FeldmanAdam
Follow Time Out Theater on Twitter: @TimeOutTheater
Keep up with the latest news and reviews on our Time Out Theater Facebook page
Harmony | Photograph: Courtesy Julieta Cervantes