Theater review by Austin Tracy
Santino Fontana plays Harry Bogen, the central character in Classic Stage Company's revival of I Can Get It For You Wholesale, and you won't want to take your eyes off of him—because Fontana is giving a charismatic and nuanced performance, but also because Harry is not to be trusted. A well-intentioned dreamer at first, he slowly devolves into a snake-oil salesman who is willing to spend anything and sell out anyone to make it to the top. The golden patina of his rags-to-riches success in New York City's garment industry is peeled away to reveal a rotten core.
"What money makes, money takes away" is the key lyric in this 1962 musical, which has a score by Harold Rome and a book by Jerome Weidman—whose son, John, has revised it for director Trip Cullman's charming and haunting revival at Classic Stage Company. Since the younger Weidman is best known for his unsentimental collaborations with Stephen Sondheim, including Assassins, it should come as no surprise that the production doubles down on the darker side of the show, leading us on a journey through the world of business and the monsters who inhabit it.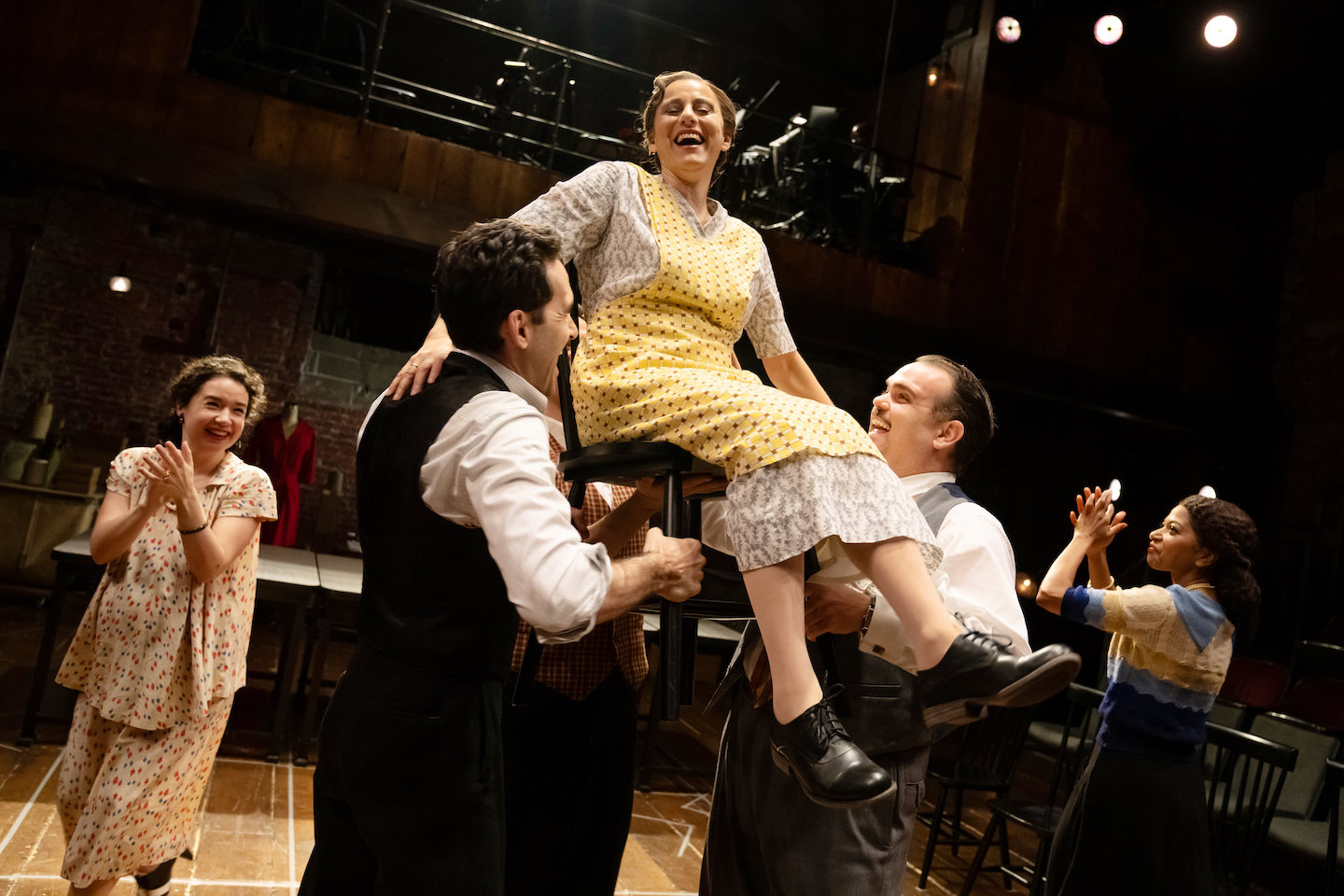 I Can Get It for You Wholesale | Photograph: Courtesy Julieta Cervantes
Although Fontana masterfully makes you love to hate him, Adam Chanler-Berat and Sarah Steele keep hope alive as Harry's partner and his optimistic wife, an adorably sweet pair. And the show makes room for first-rate turns by the actors playing the various women in Harry's life. His mother, consummately played by Judy Kuhn, breaks your heart as we learn what she's always known. His love interests—a former schoolmate (Rebecca Naomi Jones), and a Broadway starlet (Joy Woods)—share an electric duet, "Grab Them While You Can/Love Is Not Enough"; Jones also knocks out an empowered ballad, "On My Way to Love," and Woods effectively seduces Harry (and us) with "The Sound of Money." And the show's stand-out number is led by Julia Lester as Harry's secretary, Miss Marmelstein; she does not copy Barbra Streisand, who originated the role, but brings her own bravado and humor to the stage.
In a show about the clothing biz, Ann Hould-Ward's costumes smartly reflect the upward climbs of Harry and those around him; their colors and elegance intensify, adding beautifully to the story. With help from choreographer Ellenore Scott, the cast is adept at filling out Mark Wendland's simple but ever-bustling set, and by the final tableau—stunningly constructed by Cullman and lighting designer Adam Honoré—we are brought face to face with the musical's message, as as timely now as it ever was: That some bargains come at a terrible cost.
I Can Get It For You Wholesale. Classic Stage Company (Off Broadway). Music and Lyrics by Harold Rome. Book by Jerome Weidman, revised by John Weidman. Directed by Trip Cullman. With Santino Fontana, Judy Kuhn, Rebecca Naomi Jones, Joy Woods, Julia Lester, Adam Chanler-Berat, Sarah Steele. Running Time: 2hrs 30mins. One intermission.
Follow Austin Tracy on Instagram: @otteraustin
Follow Time Out Theater on X: @TimeOutTheater
Keep up with the latest news and reviews on our Time Out Theater Facebook pag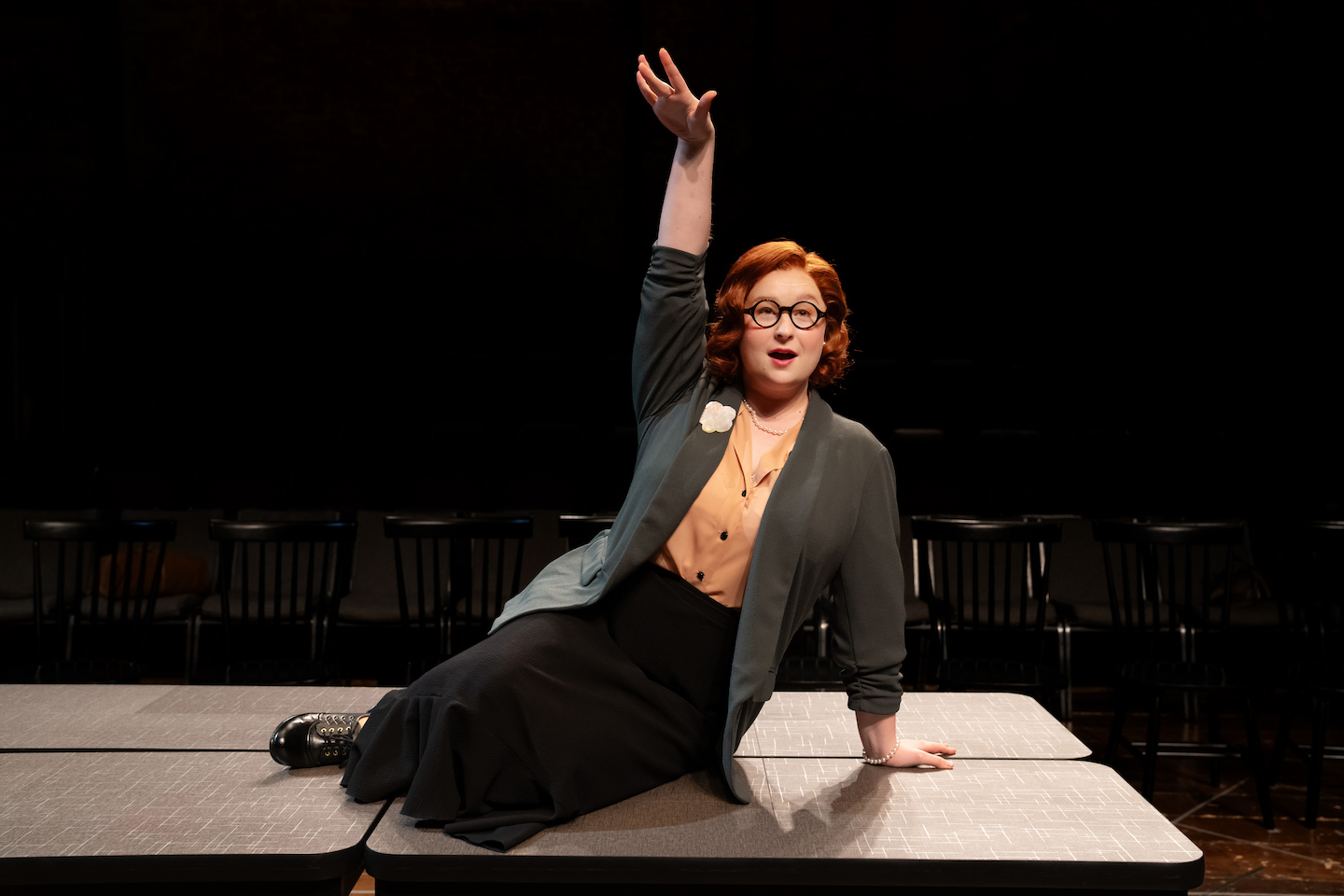 I Can Get It for You Wholesale | Photograph: Courtesy Julieta Cervantes