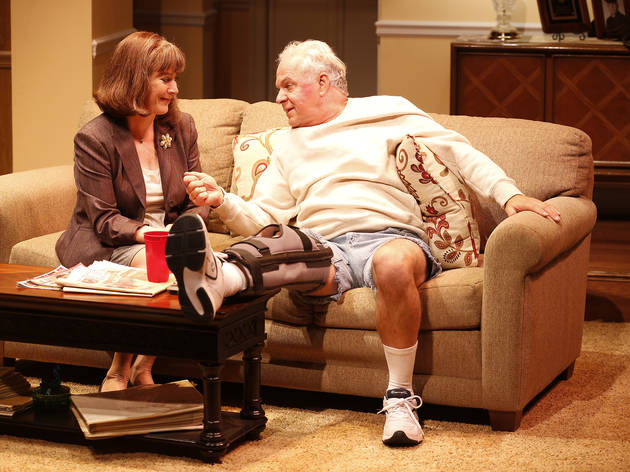 1/5
Photograph: Carol Rosegg
I Forgive You, Ronald Reagan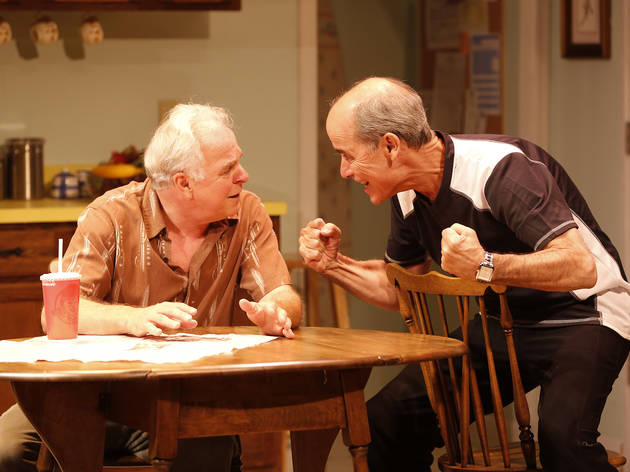 2/5
Photograph: Carol Rosegg
I Forgive You, Ronald Reagan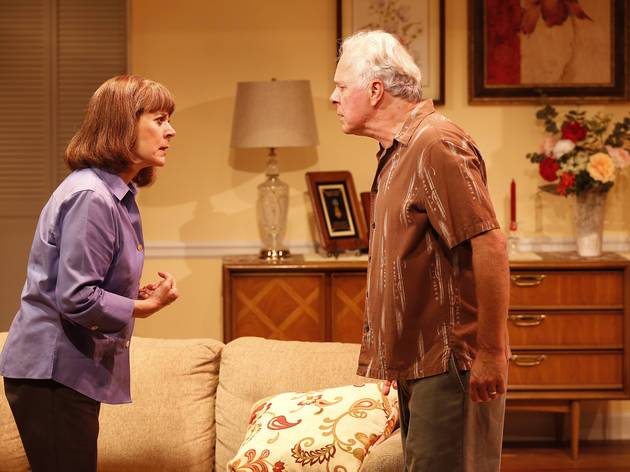 3/5
Photograph: Carol Rosegg
I Forgive You, Ronald Reagan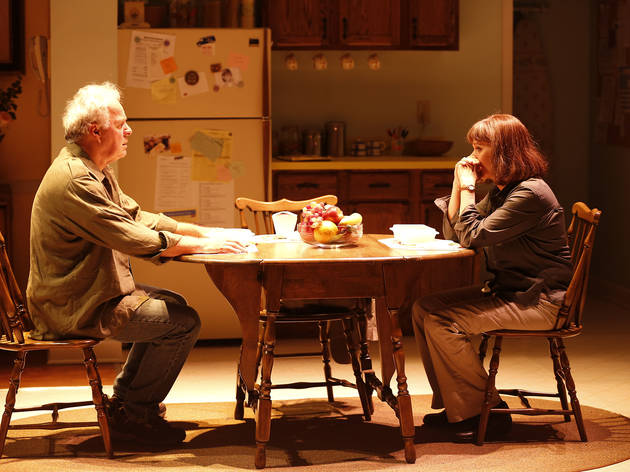 4/5
Photograph: Carol Rosegg
I Forgive You, Ronald Reagan
5/5
Photograph: Carol Rosegg
I Forgive You, Ronald Reagan
I Forgive You, Ronald Reagan. Beckett Theatre (see Off Broadway). By John S. Anastasi. Directed by Charles Abbott. With ensemble cast. Running time: 1hr 50mins. One intermission.
I Forgive You, Ronald Reagan: in brief
John S. Anastasi tracks the long-term effects on one family of the air-traffic-controller strike busted by Ronald Reagan in 1981. Charles Abbott directs.
I Forgive You, Ronald Reagan: theater review by Diane Snyder
The calendar says 2004, but it's still 1981 for the fired air-traffic controller in John S. Anastasi's I Forgive You, Ronald Reagan. Various parts political play, domestic drama and surrealistic nightmare, it's less about forgiving our 40th President for his game-changing decision to fire 11,345 striking controllers and more about forgiving oneself. But even with the talents of director Charles Abbott's cast, this competent drama succumbs to a hodgepodge of underdeveloped threads.
After an opening set during the strike, the action flashes forward 23 years, when Reagan's death reawakens the anger and impotence Ray Deluso (P.J. Benjamin) felt when he lost his job. For Ray, who now does home-repair work, air-traffic control was a calling. "It's not blood that flows through his veins, it's jet fuel," proclaims wife Jane (Home Improvement's Patricia Richardson, skillfully assured), who shoulders much of the financial burden as her tightly wound husband indulges adult daughter Tess (Danielle Faitelson) and carries a redwood-size chip on his shoulder over ex-colleague Buzz (Robert Emmet Lunney), who crossed the picket line and kept his job.
But comfortable naturalism dissolves when Ray heads to the attic, where he's swept into a hallucinogenic vortex of past glory and pain—and where he "plays" air-traffic controller amid souvenirs from his past, including a defaced photo of Reagan. Brave but insane, this section pushes the play severely off course and isn't as stirring as the actual news clips sandwiched between scenes (including one of New Jersey Governor Chris Christie bombastically praising the mass sacking). Coming at the expense of thorough character exploration, it's an offense not easily pardoned.—Theater review by Diane Snyder
Follow Diane Snyder on Twitter: @DianeLSnyder
Discounted tickets are available until through Aug 25 at Time Out Offers.
Ticket Offers from Time Out New York
Looking for tickets to a Broadway or Off Broadway show? Time Out Offers brings you terrific discounts on tickets to the latest New York theater. Want even more ideas? Check out Time Out New York's complete listings of Broadway, Off Broadway and Off-Off Broadway shows, and browse all available tickets.