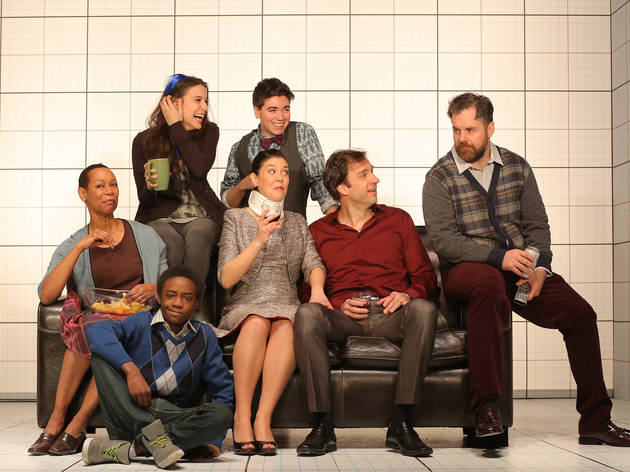 1/7
Photograph: Joan Marcus
Love and Information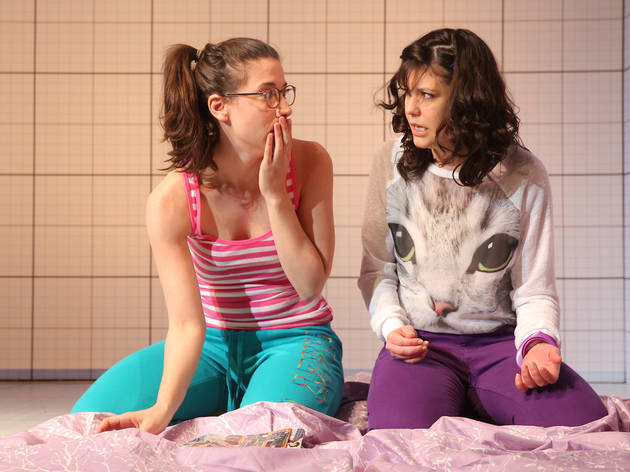 2/7
Photograph: Joan Marcus
Love and Information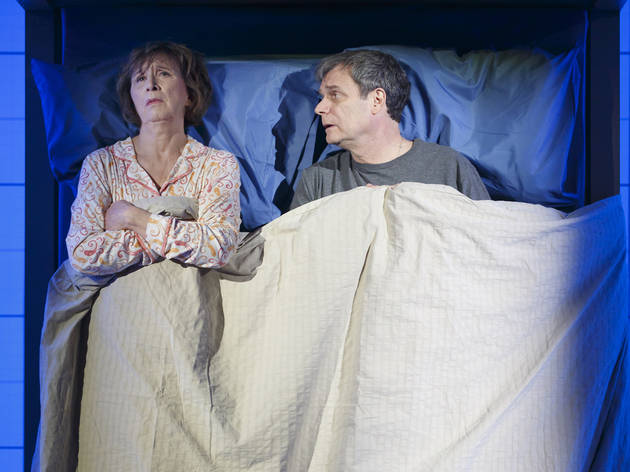 3/7
Photograph: Joan Marcus
Love and Information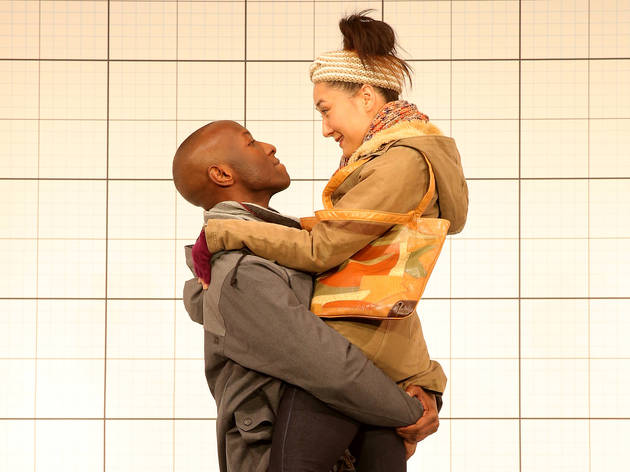 4/7
Photograph: Joan Marcus
Love and Information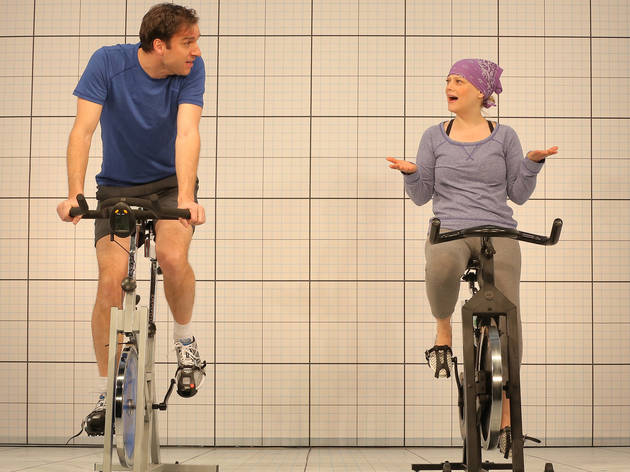 5/7
Photograph: Joan Marcus
Love and Information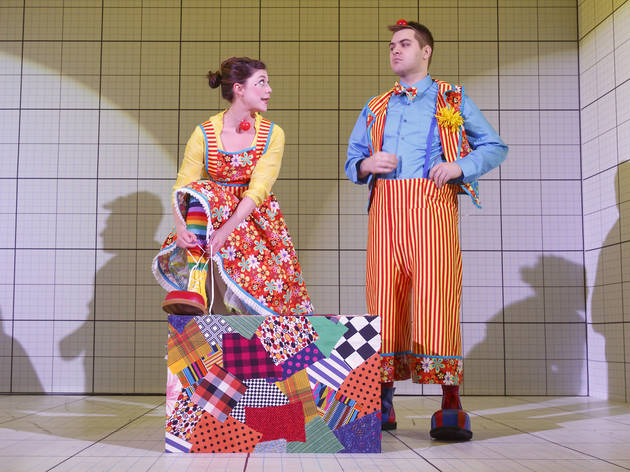 6/7
Photograph: Joan Marcus
Love and Information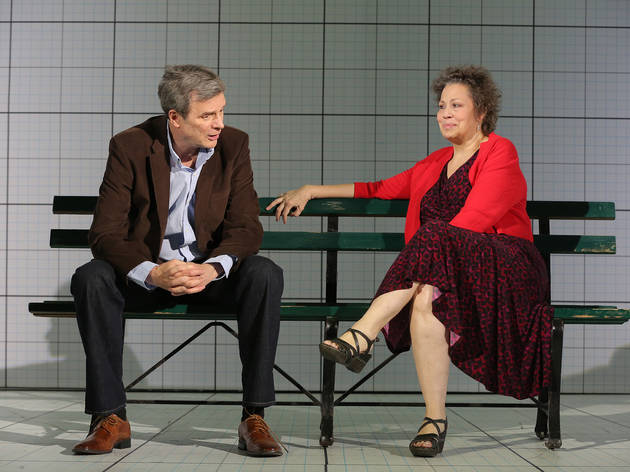 7/7
Photograph: Joan Marcus
Love and Information
Love and Information. Minetta Lane Theatre (see Off Broadway). By Caryl Churchill. Directed by James Macdonald. With ensemble cast. Running time: 2hrs. No intermission.
Love and Information: In brief
The great English playwright Caryl Churchill dissects our fractured, data-clogged culture with this dizzying mosaic of microdramas, originally presented at the Royal Court Theatre in 2012. Consisting of 57 scenes and 100 characters, the piece is directed by frequent Churchillian James Macdonald and features a 15-member New York ensemble.
Love and Information: Theater review by David Cote
If you feel a spasm of jealousy when someone tells you they quit Facebook; if all the great, unread books on your Kindle flood you with guilt; if you shelve The Matrix under Documentaries, then you may appreciate Caryl Churchill's latest coup, Love and Information. This head-spinning mosaic of 50-odd mini-scenes offers a cautionary but ultimately optimistic panorama of modern, mediated life. We may suffer from data overload and psychic fragmentation, Churchill seems to say, but without love and information, life is meaningless.
And the lucky ones have both. The vignettes that bookend the piece feature couples navigating the title subjects. In "Secret," a man (Phillip James Brannon) tries to pry something out of a woman who may be his girlfriend (Jennifer Ikeda). When she finally whispers something in his ear, he's overjoyed, but also scared. Is there a baby on the way? In the last scene, "Facts," a woman (Ikeda again) answers obscure trivia questions posed by a man (Nate Miller). Between quizzing her about villages in Central Asia and the color of caterpillars, he slips in a loaded query: "Do you love me?" Her initial, annoyed response: "Don't do that."
Between these shards, Churchill inventories the ups and downs of existence—birth, death, insanity, adultery, childhood, memory loss, infertility and even human-computer love affairs. None of the characters are named, but through the playwright's precise, clipped language (many bits are less than a minute) and James Macdonald's detail-rich staging, we intuit all we need. The playing space (designed by British veteran Miriam Buether) is a graph-paper–covered cube, and the minimal scenic elements (a park bench, a bed, a patch of grass, etc.) appear and disappear marvelously smoothly during blackouts. Peter Mumford's subtly specific lighting and the humorous-to-unnerving sounds designed by Christopher Shutt heighten the dual sense of diorama-like realism and science-lab unreality. From a logistical and technical standpoint, it's bravura theater.
The 15-member cast is stuffed with appealing, versatile performers, from veterans such as John Procaccino and Karen Kandel (harrowing in a piece about job termination) to newcomers Noah Galvin and Zoë Winters (amusingly appalled in a domestic shocker about parentage). Winters, last seen Off Broadway in 4000 Miles, is one to watch out for—zesty, zany and vibrant, she completely reinvents herself with each new character. Give that gal a romantic comedy or an old-fashioned farce.
For all of Love and Information's quick-change virtuosity and breadth, a certain sameness sets in after the 60-minute mark, and the premise starts to seem like a reductio ad absurdum. After all, what activity doesn't involve love or information? At the same time, Churchill—that magnificent manipulator of form and content, one of our most challenging dramatists—makes forging connections an intellectual delight. Her unbounded inventiveness is impressive: how she enters the minds of torturers, children and society ladies with equal assurance. In the end, you have to admit that there's no such thing as pure, neutral-value information. Over the seven sections of the piece, we see information as a weapon, information as a disease or information as a building block of the self. Much as we may long to escape the grid, it's what keeps us connected.—Theater review by David Cote
Follow David Cote on Twitter: @davidcote