Macbeth's Alex Kingston interview: 'There might be a bit of mud and blood'
Mrs. Doctor Who talks about morality, living in Los Angeles and playing opposite Kenneth Branagh in a bold new version of Macbeth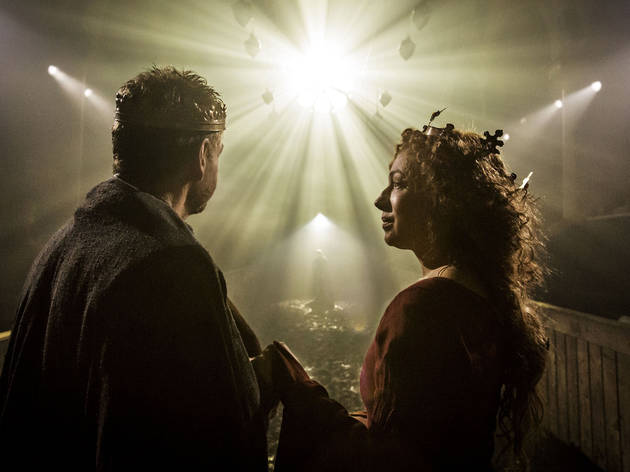 ER
and
Doctor Who
,
she's also an alum of the Royal Academy of Dramatic Art and the Royal Shakespeare Company.
Trimmed to about two hours,
Macbeth
premiered last year at the Manchester International Festival, but in May, directors Branagh and Rob Ashford had the company rehearsing at London's Alexandra Palace, as they worked in new cast members and prepared the production for the vast
Park Avenue Armory space
. At the end of the day, Kingston, 51,another New York theater newbie, looked fresh and fit in a sleeveless black top as she talked via Skype about playing half of a terrifying power couple in a new, spectacular
Macbeth
.
How did you land Lady Macbeth?
I'd thought about the role over the years, and had a very strong sense of who I felt she was and how they are as a couple. When I met with Ken, I thought, I'm going to put it out there. He's either going to agree with that take or he's not. If he doesn't, then this isn't the production for me. I was incredibly fortunate to discover Ken had very strong feelings that were absolutely along the same lines.
What were they?
I can't tell you. That's for the audience to discover.
Can you give me a teaser?
[
Laughs
] I think they're a couple who are hugely in love with one another, and essentially good people who go wrong. I don't think they are inherently evil, and if you start with that idea, there's much more to explore within the play. What if someone offered you the numbers to tomorrow's lottery, and all you had to do was—I don't know…something very bad? How tempted would you be, knowing that you will win $75 million?
How tempted would you be?
It's tough. That's where morality comes in. One does things and in hindsight realizes maybe one shouldn't have. But by the time the play comes to an end, it would be great for an audience to go "Wow," and just see them as real people as opposed to monsters.
Do you think her actions stem from feeling powerless as a woman?
The production is traditional—we haven't contemporized it—but I don't feel that this Lady Macbeth is power
less
at all. She's equal with her husband from the get-go. He talks about her being his partner in greatness. Things start to unravel precisely when he stops sharing with her. That's the key to their destruction, actually.
Had you known Kenneth Branagh before this? Did you paths cross during your RADA or RSC days?
He was ahead of me at drama school, but I auditioned for him when I was just starting out and he had already started the Renaissance Theatre Company. Didn't hire me. But I certainly felt like I knew him because we met occasionally over the years at functions. I felt
incredibly
comfortable working with him.
You and he seem to have a good rapport. You also did Antony and Cleopatra for BBC Radio this year. How did that happen?
Cleopatra is one of the roles that I would
love
to do! Last year, when we had a break in rehearsal, Ken was asking me what roles I would love to play and I immediately blurted out, "I want to play Cleopatra, and
you
could be my Antony. I didn't think anything more of it and then I was in L.A. and I got an e-mail saying that BBC Radio were wanting a production to honor Shakespeare's 450th birthday. Ken had been asked to put on
Antony and Cleopatra
and play Antony and would I be Cleopatra? And I thought, Wow, it'd be great to have a go. So we recorded it; I think it took four days in all. It was incredibly intense but so fulfilling, and at the end of it, I thought, yeah, I really would love to do this now as a stage production.
Do you have any more plans to work together?
Who knows? When we get to the last few days [of
Macbeth
], I may tug on his kilt and say, "Come on, then."
Speaking of Macbeth, did you realize how visceral this production was going to be when you signed on? Some audience members in Manchester got a bit dirty.
There is a disclaimer. People buying tickets have been advised not to wear smart clothing and to be prepared that there might be a bit of mud and blood coming their way—just an average day in New York! But I don't think it's all that gory, actually, compared to, say, the Peter O'Toole
Macbeth,
where when they came on, I think they were completely doused in blood. Ours is very environmental in a sense that we have all the elements onstage, and it's very filmic. It's so fast and it's at an incredible pace, it's just like watching a movie.
Have you experienced any of the Macbeth curses?
Oh, I have no wood to tap on! [
Looking around, taps on her head
]Touch wood. [There's some] quite dangerous swordplay, and people have got a knock, but on the whole it's been amazingly injury-free. There's no wood to tap, I'm getting nervous now. Let's hope it stays injury free.
Getting away from Shakespeare, is there any chance you'll be joining
Peter Capaldi
on the TARDIS on Doctor Who?
[
Laughs
] It would be nice, but one never knows what [showrunner] Steven Moffat has up his sleeve. It would be great to have River come back so that one has the sense that she really does know all these different incarnations of the same man. It would be quite fun.
I didn't realize that you'd been living in the U.S. since your ER days. What made you stay in Los Angeles? Are you a U.S. citizen?
I'm not a citizen, but I'm a resident. My daughter was born in the States and she went into the educational system here. Her father and I are no longer together, and it seemed a lot more important for her to have stability, which really is in L.A. I just felt that if anyone's going to be doing the schlepping it should be me and not my child. I made the commitment that while she's going through school that's where I would be based. It just seems in recent years I've had most of my work coming in England.
What are you most looking forward to doing when you get to New York?
I've already seen it once, but I'm dying to see it again: the
Ai Weiwei
exhibition at the Brooklyn Museum. It's incredible. I saw it in Toronto and I'm desperate to see it again. It's arresting and thought-provoking. And I think Central Park will be lovely this time of year. I'm just excited about working in New York. So many of our actors have never been to New York before. The energy will be exciting.
Macbeth is at the Park Avenue Armory through June 22. Click here for tickets and more information.