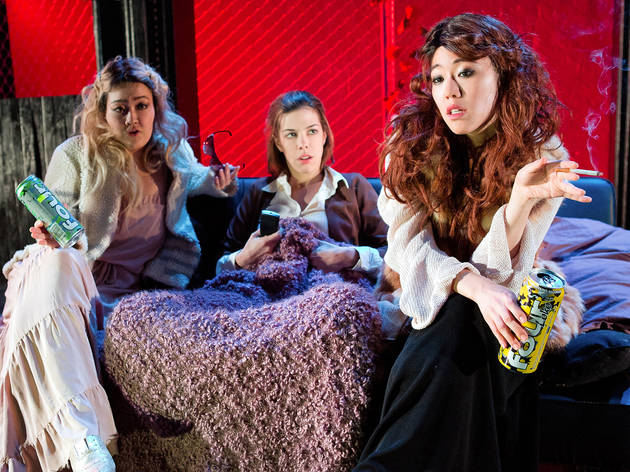 1/4
Photograph: Hunter Canning
Mary-Kate Olsen is in Love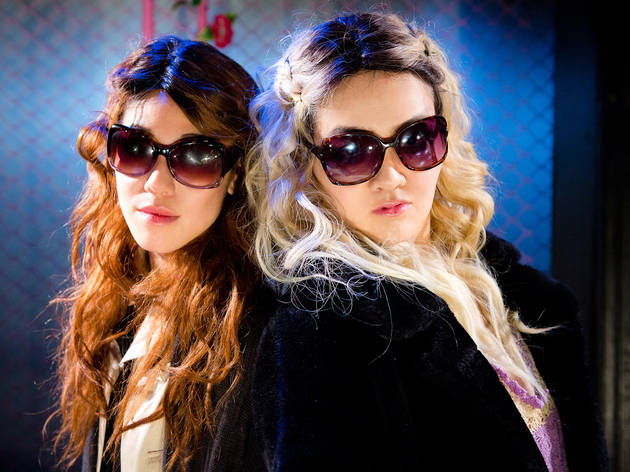 2/4
Photograph: Hunter Canning
Mary-Kate Olsen is in Love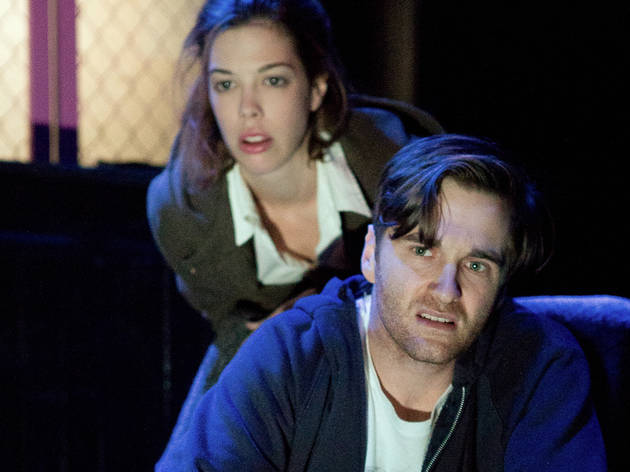 3/4
Photograph: Hunter Canning
Mary-Kate Olsen is in Love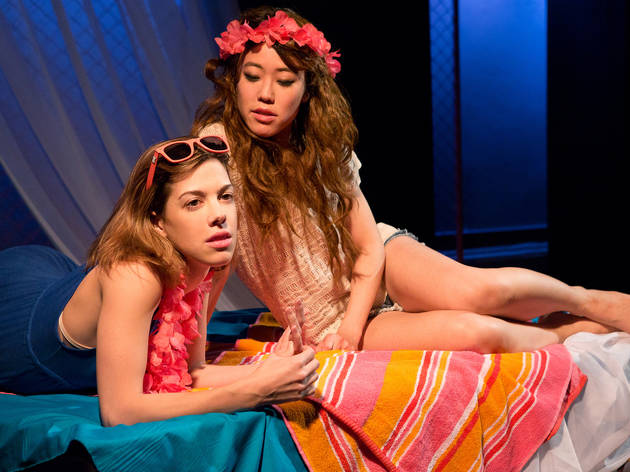 4/4
Photograph: Hunter Canning
Mary-Kate Olsen is in Love
Mary-Kate Olsen Is in Love. Flea Theater (see Off-Off Broadway). By Mallery Avidon. Directed by Kristan Seemel. With ensemble cast. Running time: 1hr 5mins. No intermission.
Mary-Kate Olsen Is in Love: in brief
The life of a bored young woman is transformed by a visit from Ashley and Mary-Kate Olsen in a new comedy by Mallery Avidon, performed by members of the Bats under Kristan Seemel's direction.
Mary-Kate Olsen Is in Love: theater review by Helen Shaw
In Mallery Avidon's angst-ridden dream-comedy Mary-Kate Olsen Is in Love, a woman's lot is a sorry thing. She can't find happiness as long as she looks outward for validation, but look inside, and she may simply be a hash of pop-culture references peppered with a sense of yearning. Such biting bits of cynicism riddle Mary-Kate, cogently delivered by a Greek chorus of hopeful girls in workout gear. And if the central story doesn't hold together nearly so well, it's a problem honestly come by; the play, like its protagonist, can't answer the question, "How do we know what to want?"
What we don't want, certainly, is a cipher in a central role, yet that's what we get. Grace (an elegant Katherine Folk-Sullivan) is married to unemployed Tyler (Alex Grubbs), whose dedication to video games has left her abandoned, a Call of Duty widow. Unable to attract Tyler's addled attention, Grace dreams nightly of the Olsen twins: blond, no-nonsense Ashley (Kana Hatakeyama) and brunet space cadet Mary-Kate (Christine Lee).
Forget what you know about the actual Olsen twins (their success at slipping free of childhood stardom and into entrepreneurship) and take them as they are presented here: avatars of consumer culture, of Starbucks, of fitting in. Lee and Hatakeyama are so silly and so charming in their drawling Valley voices, sort of hobo-chic Eumenides, we ignore the fact that they're actually giving conflicting advice. Leave Tyler? Rescue him? Go shopping? They'll recommend it all, at least until Mary-Kate confesses that she has broken the first rule of mental figments: She's fallen in love with her hauntee.
Meanwhile, down in the basement, Tyler's got his own troubles. A soldier from one of his games (Alex Mandell) has popped out of the screen to harass him, and it is darned hard to concentrate on your joystick when you're being yelled at by an incensed marine.
Avidon's text is best in this early explosion-of-craziness phase, and the Bats, the non-Equity company of gonzo young actors at the Flea, were made to perform it. As long as our characters try to negotiate between the real and the clearly hallucinatory, the humor algorithm works. But the minute the rather indistinct spouses vanish into their respective rabbit holes (Grace goes on vacation with her imaginary lover, Tyler enlists), the play gutters. Heartbreaks ensue, but there's no sense that anyone belongs with anyone else, nor that the survival or death of the relationships particularly matter.
Happily, though, we have other things to turn our attention to—the track-suited chorus of high-school and college-age girls. They run in to tell us about their dreams ("I want to make a documentary!"), never knowing that a fate like Grace's might await them. They seem so solidly in the real world, so ready to engage with it, that even a few seconds with them can break our hearts far more efficiently than entire scenes with the central pair. These women know how they're going to start; but Avidon, of all of them, needs to figure out an ending.—Theater review by Helen Shaw
Ticket Offers from Time Out New York
Looking for tickets to a Broadway or Off Broadway show? Time Out Offers brings you terrific discounts on tickets to the latest New York theater. Want even more ideas? Check out Time Out New York's complete listings of Broadway, Off Broadway and Off-Off Broadway shows, and browse all available tickets.
Rating Breakdown
5 star:

1

4 star:

0

3 star:

0

2 star:

0

1 star:

0
This play keeps coming back to me. It's one of those thrilling new works that finds in way into your psyche and firmly stays there. It was at once so funny and so touching and so truthful. For a play that's about Millenials - it's also written for them too - but don't think that makes this play inaccessible to us older folk. I truly loved my night in the small downstairs space at The Flea watching a bold new play pop with such incredible new talent. Truly a gem.