Guide to Motown the Musical on Broadway
Motown the Musical, Berry Gordy's Broadway jukebox hit, shows how he created some of America's greatest pop songs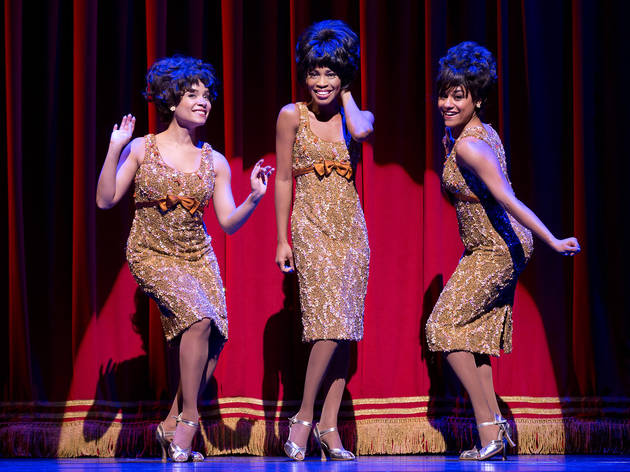 Motown the Musical is exactly what it sounds like: a Broadway musical based on a record label. Few catalogs in the history of American pop music are as warmly loved as that of Motown, which dominated the radio in the 1960s and 1970s with pop-soul hits by a roster that included the Supremes, the Temptations, Marvin Gaye, Smokey Robinson, the Four Tops, the Jackson 5 and many more. Now, label founder Berry Gordy has written and coproduced an exuberant jukebox musical that chronicles the rise and fall of Motown, featuring snippets from more than 50 hit songs from the label. The dialogue is hokey, the characters are thin, and Gordy's take on history is often self-serving; the show received mixed reviews and earned no love from the Tony Awards. But the undeniable appeal of the music made Motown the Musical once of the best Broadway shows for tourists. As in Jersey Boys, the numbers are mostly performed by actors playing the original recording artists, rather than characters expressing themselves in song; it's like a live version of one of those Time-Life oldies collections they market on TV. Delivered with panache by an exceptionally talented ensemble, however, it leaves the audience dancing into the street.
What is Motown the Musical?
Motown the Musical is a biographical musical with a book by Berry Gordy and music and lyrics by various songwriters from the Motown catalog. It began previews at the Lunt-Fontanne Theatre on March 11, 2013, and closed there on January 18, 2015. A modified version of the show is scheduled to return to Broadway on July 12, 2016, for a limited run at the Nederlander Theatre.
Where is Motown the Musical playing?
Motown the Musical plays at Broadway's Nederlander Theatre, located at 208 W 41st St between Seventh and Eighth Avenues in Manhattan.
When is Motown the Musical playing?
Motown the Musical plays eight times a week, on the following schedule: Tuesdays at 7pm; Wednesdays at 2pm and 8pm; Thursdays at 7pm; Fridays at 8pm; Saturdays at 2pm and 8pm; and Sundays at 3pm.
How do I get tickets to Motown the Musical on Broadway?
Tickets to Motown the Musical are sold online by Ticketmaster. They can also be purchased by phone (877-250-2929) or in person at the Nederlander Theatre box office. Tickets cost $97–$147; premium seats, in the center orchestra section, cost $252. If you don't want to pay full price, there may be ways to find cheap Broadway tickets to the show, especially on the day of the performance.
How long is Motown the Musical on Broadway?
The running time of Motown the Musical is 2 hours and 40 minutes, with one intermission.
Who is in Motown the Musical on Broadway?
The principal cast of Motown the Musical comprises Chester Gregory (Berry Gordy), Allison Semmes (Diana Ross), Jesse Nager (Smokey Robinson) and Jarran Muse (Marvin Gaye).
Original three-star Motown the Musical review
Motown the Musical left my eyes tired. For half of the show, they were glued to the stage; for the other half, they rolled up in disbelief to the farthest reaches of their sockets. Read the full review by Adam Feldman
Motown the Musical opening night cast and crew
• Brandon Victor Dixon as Berry Gordy
• Valisia LeKae as Diana Ross
• Charl Brown as Smokey Robinson
• Bryan Terrell Clark as Marvin Gaye
• Charles Randolph-Wright - Director
• Berry Gordy - Book
• Patricia Wilcox - Choreography
• Warren Adams - Choreography
• David Korins - Scenic Design
• ESosa - Costume Design
• Natasha Katz - Lighting Design
• Peter Hylenski - Sound Design
• Kevin McCollum, Doug Morris, Berry Gordy - Producers
Archive Motown the Musical coverage