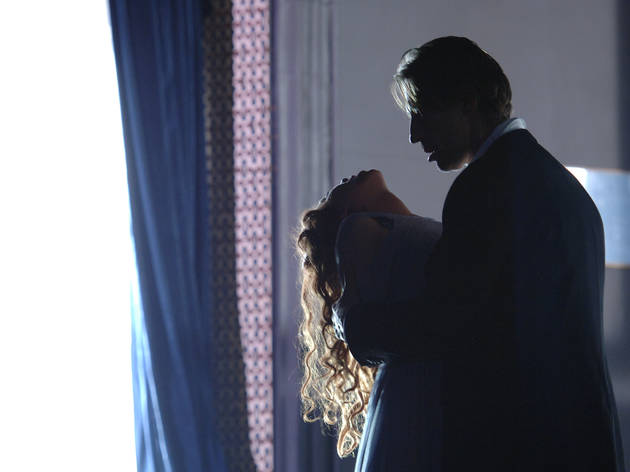 Nosferatu. BAM Harvey Theater (see Off Broadway). Written and directed by Grzegorz Jarzyna. With ensemble cast. In Polish with supertitles. Running time: 1hr 50mins. No intermission.
Nosferatu: In brief
Polish writer-director Grzegorz Jarzyna and his TR Warszawa company revisit BAM's Next Wave Festival, sinking their teeth into a vampire piece loosely inspired by Bram Stoker's Dracula. American avant-garde jazz icon John Zorn provides the music.
Nosferatu: Theater review by Helen Shaw
Looked at dispassionately, TR Warszawa's Nosferatu is a useful Rosetta stone for cultural differences. "Aha!" we might say. "What to me look like corny porn outtakes must look in Poland like haunting atmospherics! Goodness, but the world is a rich tapestry of human taste." Unfortunately, the tediousness of Nosferatu ensures that dispassion soon departs, to be replaced with irritated clock-watching and (for the immature among us) giggling. By the time we realize that our titular vampire's most chilling power is to disrupt cell-phone service (Dracula: just like being in a tunnel!), we've abandoned the pretense of politeness. The night I attended, some theatergoers were tiptoeing up the aisles; those of us who stayed meditated ruefully on where we had left our pitchforks.
Adapter-director Grzegorz Jarzyna frog-marches us through the Bram Stoker basics. Spooky shadows flicker on gauzy curtains; women grow lethargic after they go for a walk in the woods; an irritable Doctor Van Helsing (Jan Frycz) has suspicions about the Transylvanian fella (Wolfgang Michael) who has moved in next door. Despite having updated the tale to the present day, Jarzyna hangs on to horror's silliest, most dated tendencies. Ladies clamber frantically up and down the men, letting themselves fall droopily into swoons even before the dreaded neck-bite. The men at this doomed house party are defiantly sleazy, with one artist character snapping photographs of a comatose woman's crotch. It's possible that Jarzyna actually means this as critique: The mortal men prove nastier than their batty dinner guest? Sadly, you can't have your critique and fetishize it, too.
From the opening scene—a desultory afternoon in a creepy, many-windowed room (Magdalena Maciejewska's set is a highlight)—Lucy (Sandra Korzeniak) distinguishes herself by having (a) a lot of hair and (b) no pants. This will be her theme; she will warm to it even as her body chills. Other people mill about, wondering why Lucy has gone into a stupor and studiously ignoring their visitor, Dracula, when he announces, "I never drink…wine." In fact, the ageless count is the most believable character, looking as exhausted as the audience, delicately hawking up a gob of plasma (acid reflux?).
There's always been a wide stripe of sexual anxiety in gothic narratives, yet there's a reason that lately, this genre has skewed young. The image of a breathy lady succumbing in a dopey haze, climaxing as stage fog pours in through a window, is fundamentally adolescent. It can be fun adolescent, but Jarzyna & Co. are in deadly earnest. This makes it all the goofier when one rather short bloodsucker lunges intently at his buddy's neck. Nobody seems to notice. "Go to bed," intones Dr. Van Helsing. It's excellent advice.
Despite an evocative John Zorn score—which has its own sense of humor about horror-flick organ wheezes—the show fails most at establishing mood. We can sense Jarzyna's laborious efforts to hypnotize us with ponderous pacing, but he hasn't got the control of mise en scène necessary to turn mere slowness into dread. (The supertitles also puncture the atmosphere, as every murmured line looks embarrassing in black and white.) Of all the self-consciously eerie scenes, only Lucy's autopsy is truly suspenseful, perhaps because her nudity finally seems called for and not just another limp attempt at being subversively sexy. It's a deadly irony in a show about vampires: The biggest thrill comes not from the undead, but from the actually dead, momentarily acting up a storm on her slab.—Theater review by Helen Shaw
Rating Breakdown
5 star:

0

4 star:

0

3 star:

0

2 star:

0

1 star:

4