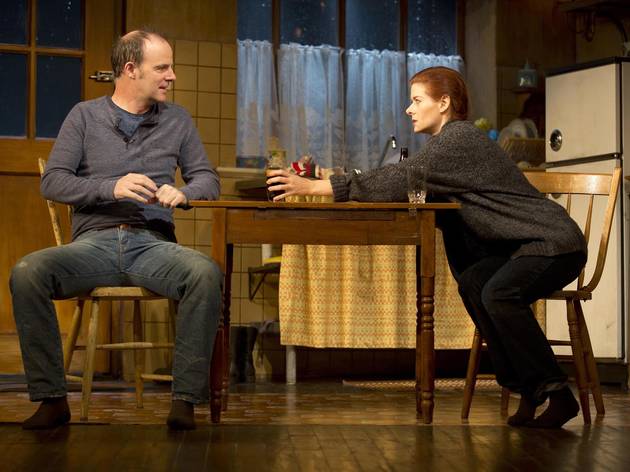 1/7
Photograph: Joan Marcus
Outside Mullingar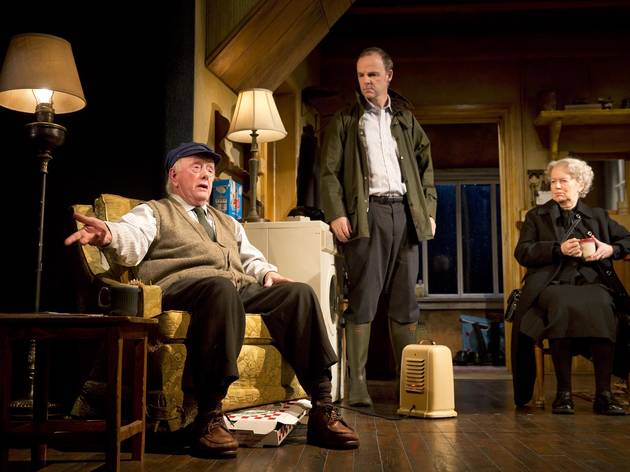 2/7
Photograph: Joan Marcus
Outside Mullingar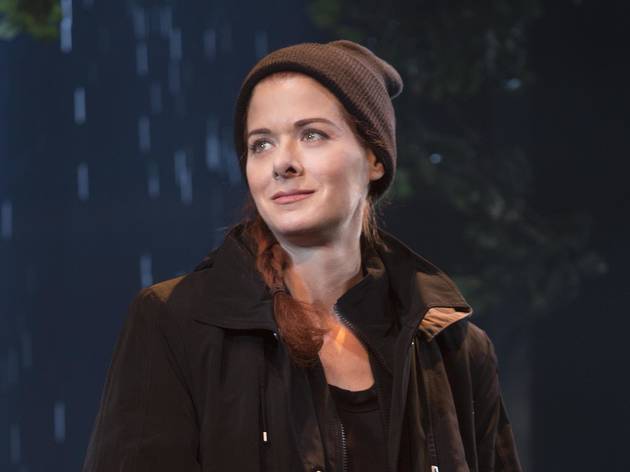 3/7
Photograph: Joan Marcus
Outside Mullingar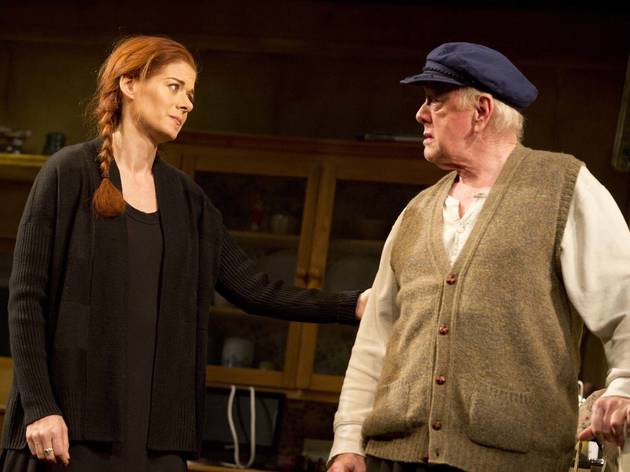 4/7
Photograph: Joan Marcus
Outside Mullingar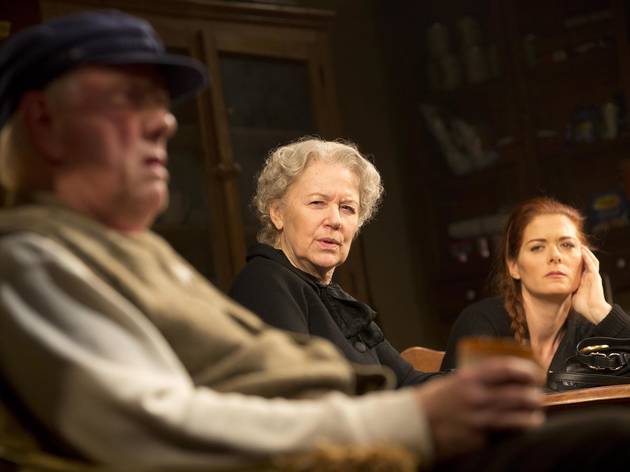 5/7
Photograph: Joan Marcus
Outside Mullingar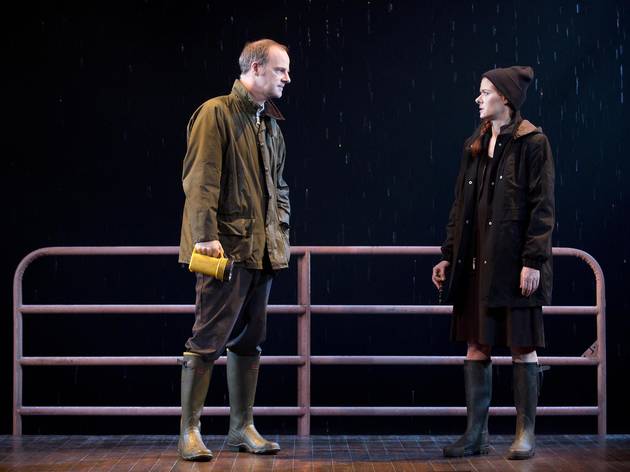 6/7
Photograph: Joan Marcus
Outside Mullingar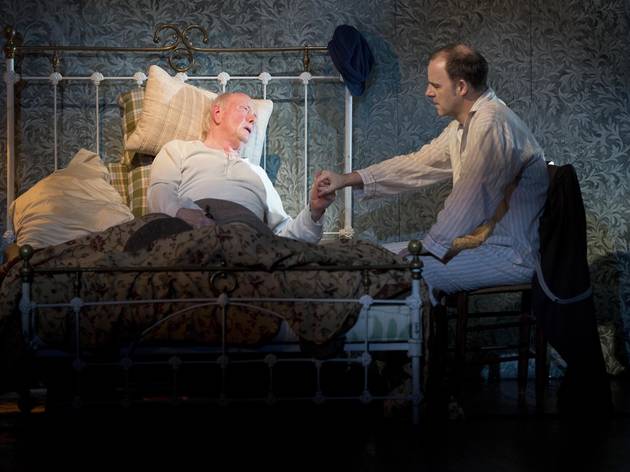 7/7
Photograph: Joan Marcus
Outside Mullingar
Outside Mullingar. Samuel J. Friedman Theatre (see Broadway). By John Patrick Shanley. Directed by Doug Hughes. With Brían F. O'Byrne, Debra Messing, Peter Maloney, Dearbhla Molloy. Running time: 1hr 35mins. No intermission.
Outside Mullingar: In brief
Brían F. O'Byrne and Debra Messing (Smash) headline this new dramedy by John Patrick Shanley (Doubt). They play lovelorn, fortyish singletons in rural Ireland, living next door to each other but separated by family feuds and romantic fears. Seasoned Shanley collaborator Doug Hughes directs.
Outside Mullingar: Theater review by David Cote
Like the lovelorn farmers in his latest play, Outside Mullingar, John Patrick Shanley is tilling very old ground: Irish folk drama. The genre has been done to death by talents great and small and betokens a host of stale tropes: alcoholism, priestly abuse, the Troubles and crushing poverty, to name a few. Happily, the playwright nimbly skips past cliché to craft a poetic, wistful romantic comedy. There's a single Guinness quaffed in the course of its 90-odd minutes, and that one under duress. Shanley knows his husbandry: Tended with care, good soil will always renew.
Somewhat as in his screenplay for Moonstruck, Shanley's play is a tale of quirky loners blundering (and blustering) into love. It begins after a funeral, and death lowers over the proceedings, threatening fecundity and second chances. Aoife Muldoon (Dearbhla Molloy) has just buried her husband and repairs to the house of her next-door neighbor, Tony Reilly (Peter Maloney), for tea and not much sympathy. Crusty schemer Tony wants to sell his land; he has no intention of letting it pass on to his dreamy son, Anthony (O'Byrne). But in order to make the place sellable, Tony must win back 40 meters of road that he sold to the recently departed Mr. Muldoon 30 years ago—a scrap, he maintains, the rival clan is holding onto out of sheer spite. Aiofe reveals that the disputed property legally belongs to Rosemary (Messing), her prickly, unmarried daughter. Will middle-aged, skittish Anthony and Rosemary make a love bond and heal a broken land, before it's too late?
Doug Hughes wraps this potentially twee and sketchy stuff in his typical breezy flair, giving the seven scenes a bright burnish of humor and yearning. Meanwhile, the actors eschew cuteness, grounding their primary-colored roles in states of palpable anger or grief. Messing brings her winning brand of screwball pluck to Rosemary, and O'Byrne bounces off her fiery neediness with charming bafflement. Although she has a history with the stage, Messing's high-comic turn (and persuasive, musical accent) makes you quietly curse her years on television, when she could have been honing her chops in front of New York audiences. As the wily and regret-ravaged father, Maloney gives one of his most finely shaded performances, and Molloy coolly holds her own against Messing's juicily hyperbolic outbursts.
Mullingar is Shanley's best play since Doubt, and like that hit from a decade ago, it's lean, dialectical and packed with wise saws and aphoristic gems. The Irish setting also gives him license to wax lyrical-pastoral—a pleasure if you've no allergy to rants and blarney. "You might as well try to stop the calendar from naming the days," Rosemary loftily informs stubborn Tony. "I've been older than all of you since I was born, and sure I ache for my own youth." If such stuff doesn't cause a wild rose to bloom in your heart, it's turned barren as stone.—Theater review by David Cote
THE BOTTOM LINE: John Patrick Shanley's whimsical rom-com turns out to have the luck of the Irish.
Follow David Cote on Twitter: @davidcote
Ticket Offers from Time Out New York
Looking for tickets to a Broadway or Off Broadway show? Time Out Offers brings you terrific discounts on tickets to the latest New York theater. Want even more ideas? Check out Time Out New York's complete listings of Broadway, Off Broadway and Off-Off Broadway shows, and browse all available tickets.