Broadway review by Adam Feldman
Mournful though it be, the revival of Parade is cause for celebration. Alfred Uhry and Jason Robert Brown's musical tragedy, about a grave miscarriage of justice more than a century ago, lasted only a few months in its original 1998 incarnation. But director Michael Arden's heart-piercing new production, introduced at City Center's Encores! series last year and now playing a limited run at Broadway's Jacobs Theatre, makes a masterful case for giving the show a new hearing—and what you hear at this Parade, as sung by a splendid cast led by Ben Platt and Micaela Diamond, will echo for a long time to come.
Parade revisits a dark and consequential episode in American history. In 1913 Atlanta, Jewish factory supervisor Leo Frank was tried for the murder of child worker Mary Phagan, and subsequently lynched by a posse that abducted him from prison. Outrage at Phagan's death, expanded into a more general hatred of Jews, helped lead to a resurgence of the Ku Klux Klan; conversely, doubts over Frank's conviction—historical consensus holds that he was innocent, and he was pardoned by the state of Georgia in 1986—spurred the creation of the Anti-Defamation League, a Jewish watchdog group. With antisemitism currently on the rise, the musical's concerns feel grimly apt. (The revival's first performance was protested by a clutch of neo-Nazis.)
Arden's staging keeps the real-life basis of the story in continual sight, as literal background: Stately projections by Sven Ortel, blown up on the bare wall behind Dane Laffrey's plain wooden set, annotate the action with captions and historical photographs. Yet Parade doesn't feel like a musical lecture. At its center is, of all things, a romance: the blossoming love, in hostile soil, between Leo and his neglected wife, Lucille. Platt is perfectly cast as Leo; as in his breakthrough star turn in Dear Evan Hansen, he imbues a socially incompetent character—the Brooklyn-raised Leo's Yankee manners do not ingratiate him to the locals—with awkward humor and vulnerability. (His gorgeous voice vibrates with intrinsic emotionality.) And Diamond, with supple vocal strength, proves an ideal match for him as Lucille grows into the role of Leo's steel-magnolia champion. By the time they reach their Act II duet "This Is Not Over Yet," one of several standouts in Brown's varied and stirring score, it is hard not to get swept up in their youthful hope, even as history breathes down their necks.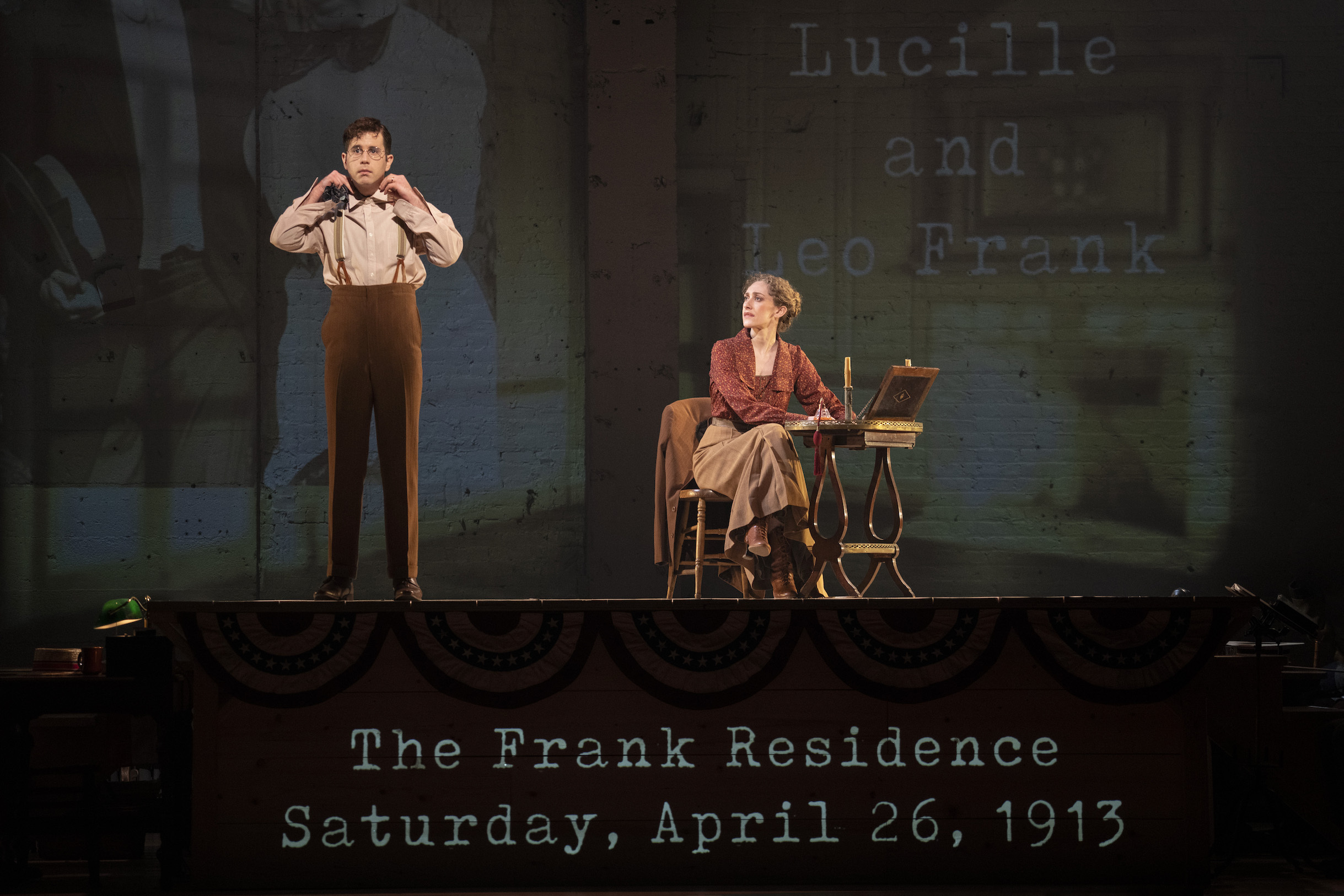 Parade | Photograph: Courtesy Joan Marcus
This kind of bittersweet humanity extends to the rest of the show. Uhry, a Jewish Southerner, has drawn on the tensions inherent to that identity in such plays as Driving Miss Daisy and The Last Night of Ballyhoo. In Parade, he and Brown resist easy judgment by carving out space for multiple perspectives. An opening sequence plants the show in the ruined pride and prejudice of the South in living memory of the Civil War, and nearly everyone is viewed with an understanding eye: the victim, Mary (Erin Rose Doyle), who holds a poignant white balloon; her mother (Kelli Barrett) and would-be suitor (Jake Pederson), whose grief ignites into rage; a boozy, sensationalistic newsman (Jay Armstrong Johnson); the genteel governor, Jack Slaton (Sean Allen Krill), and his wife (Stacie Bono), who put decency over self-interest. The villains—an ambitious prosecutor (Paul Alexander Nolan), an Old South judge (Howard McGillin), a hateful rabble-rouser (Manoel Felciano)—are also given voice, most powerfully in Alex Joseph Grayson's exceptional portrayal of factory employee Jim Conley, a career criminal who may have been Mary's actual killer. Even the servants chime in: The second act begins with the mordantly funny "A Rumblin' and a Rollin'," performed by two employees (Douglas Lyons and Courtnee Carter) at the governor's mansion, who note that the death of a Black girl—or the potential hanging of a Black man—would not have caused the same national consternation.
That's a lot to pack into a musical, and the 1998 Parade, for all its virtues, sagged a little under its weight. But Arden's version, building from the retooled script and score of Rob Ashford's 2007 production at the U.K.'s Donmar Warehouse, holds its balance remarkably well. (Susan Hilferty's costumes and Heather Gilbert's lighting provide valuable support.) Like John Doyle's 2015 take on The Color Purple, another rare revival that proved superior to the original, it pares away distractions to accentuate the show's strengths: Uhry's wide-scope social portraiture, Brown's bountiful score—performed by a lush-sounding orchestra under the music direction of Tom Murray—and the pain and beauty built into the story. This show is scheduled to run through the beginning of August. See it before the parade passes by.
Parade. Bernard B. Jacobs Theatre (Broadway). Book by Alfred Uhry. Music and lyrics by Jason Robert Brown. Directed by Michael Arden. With Ben Platt, Micaela Diamond, Alex Joseph Grayson, Sean Allan Krill, Paul Alexander Nolan, Howard McGillin, Jay Armstrong Johnson, Manoel Felciano, Kelli Barrett. Running time: 2hrs 30mins. One intermission.
Follow Adam Feldman on Twitter: @FeldmanAdam
Follow Time Out Theater on Twitter: @TimeOutTheater
Keep up with the latest news and reviews on our Time Out Theater Facebook page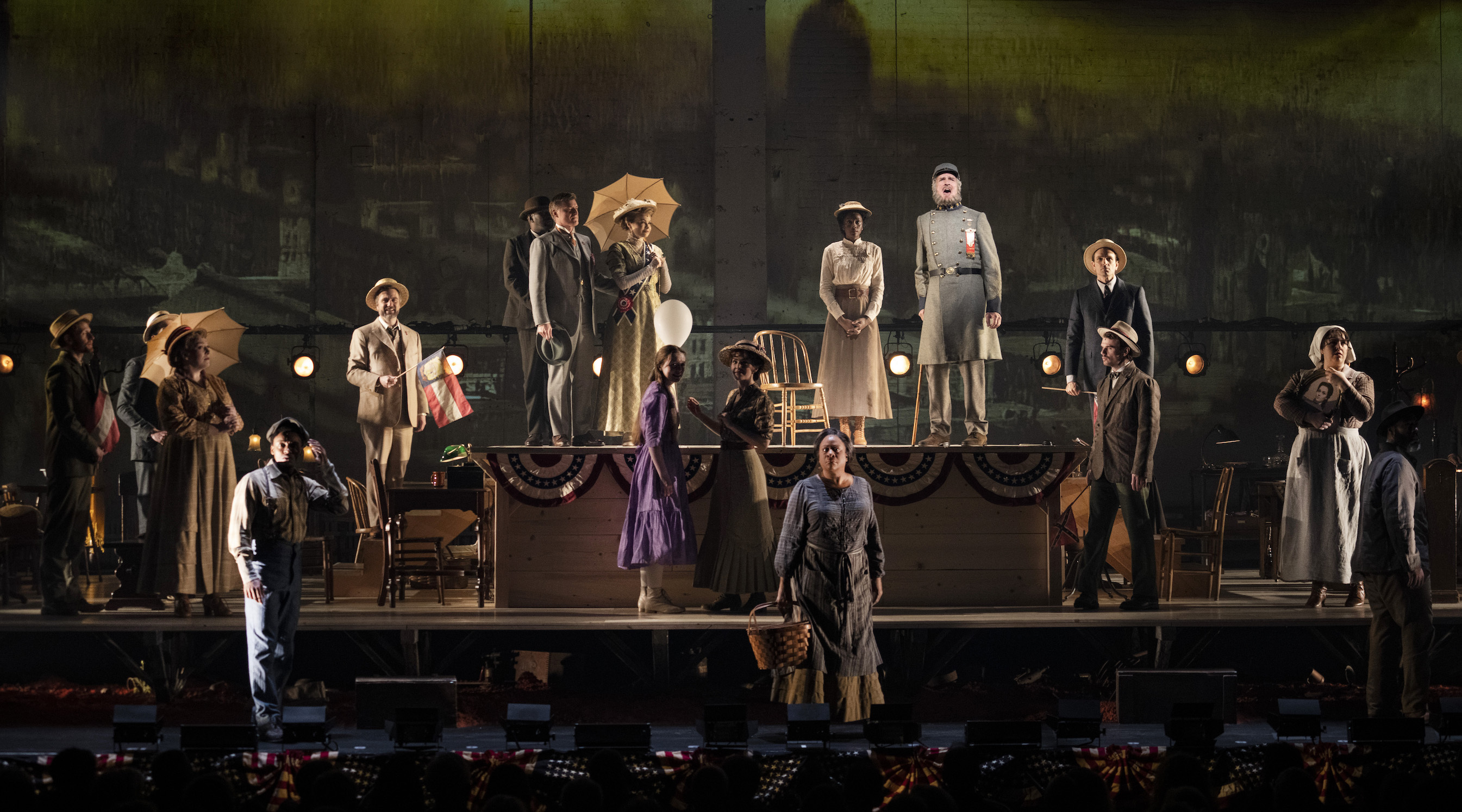 Parade | Photograph: Courtesy Joan Marcus