1/5
Photograph: Courtesy of O&M
Peter and the Starcatcher
2/5
Photograph: Courtesy of O&M
Peter and the Starcatcher
3/5
Photograph: Courtesy of O&M
Peter and the Starcatcher
4/5
Photograph: Courtesy of O&M
Peter and the Starcatcher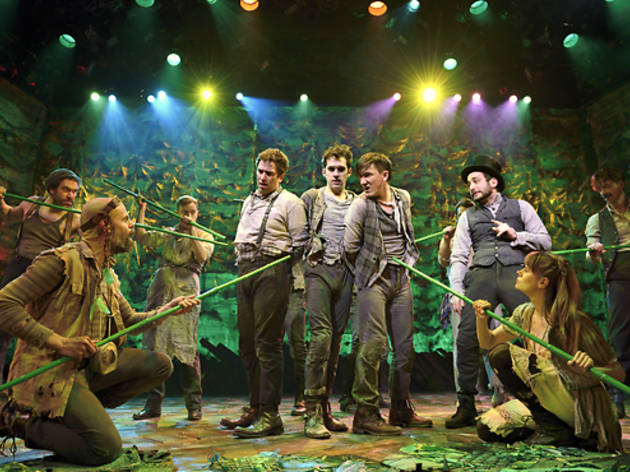 5/5
Photograph: Courtesy of O&M
Peter and the Starcatcher
The pop-culture icon who inspired this whimsical prequel—adapted from the 2004 young-adult novel—famously crowed that he would never grow up. Not so for Rick Elice's story-theater adaptation, in which a dozen zanies act out an epic, larky picaresque that crams in pirates, aristocrats, orphans, mermaids and a giant crocodile. Peter and the Starcatcher has indeed grown up: It's on Broadway with a steeper ticket price than during its intimate maiden voyage at New York Theatre Workshop last year. And while the production is bigger and shinier, beneath the dazzling, tricked-out proscenium beats the exhilarated heart of a kid who wants to fly.
And you can be sure: Peter soars—deliriously high and gloriously far. Despite a confusingly hectic prologue and some overindulgence in tween-oriented twee and campy excess for parents, the show is an astonishing inventory of stage trickery and verbal pyrotechnics. Joint directors Roger Rees and Alex Timbers (the latter lately of Bloody Bloody Andrew Jackson) use simple props to summon up a wonderland of images: Ropes are stretched and configured to make a ship's cramped below-deck or a passageway; green umbrellas conjure a tropical-island forest; and don't get me started on the household items dragooned for mermaidenly bosoms in the utterly barmy second-act opening number. The actors likewise turn themselves into protean objects of fun: careering from Elice's fulsome narration to scenes, metatheatrical commenting on said scenes, then back into the storm of prop jokes and punning. Among the best at this are Teddy Bergman as a native-islander chief, Arnie Burton as a clucking nurse and Christian Borle, who nearly steals the show as proto–Captain Hook pirate Black Stache. Swishing about and sputtering malapropisms between bursts of self-delighted villainy, Borle must be seen just for his extended reaction take upon losing a particular appendage.
In the more recessive, sensitive role of Boy, the lonely urchin who will be christened Peter and learn to fly, Adam Chanler-Berat sweetly undermines the blond, perky Peter Pan stereotype. And Celia Keenan-Bolger adds spunk and pluck as his defender, Molly. For a show that so deftly juggles scale, you have to admit: Peter has found its perfect size.—David Cote
Follow David Cote on Twitter: @davidcote
Rating Breakdown
5 star:

1

4 star:

0

3 star:

0

2 star:

2

1 star:

0
Some of the most inventive direction I've ever seen in a play, and yet the script made me feel absolutely nothing. I saw it as a pretty huge missed opportunity. I wouldn't recommend this at all if it weren't for the thrilling and creative way this perfectly adequate play was presented.
Great ensemble, Great individual performances, Great theatricality. A most enjoyable experience.
Borle is amazing, but the rest of this show is grating. The humor is cheap, the story never travels, and it just seems so pleased with itself that I wanted to slap it.