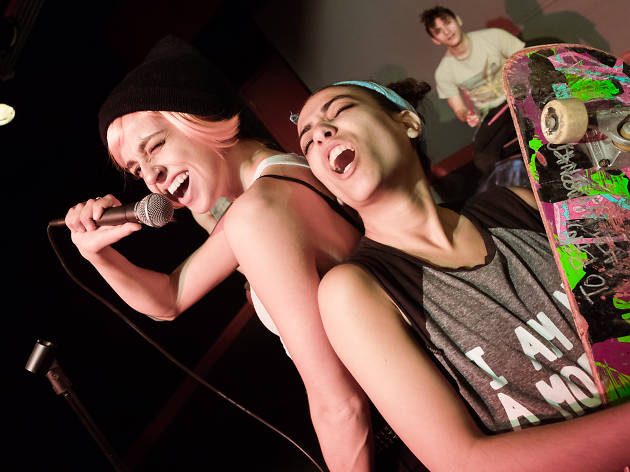 Time Out says
Written by Anderson Cook and Ben Lapidus, whom you might know from The Disembodied Hand That Fisted Everyone to Death, this ingeniously self-aware tale takes place in 2003 and follows Derek, a high schooler who is painfully uncool until he discovers a magical lamp containing the ghost of Avril Lavigne (whose death was covered up by her record company). Pull on those skinny jeans, smudge that eyeliner and indulge your most indulgent rock tendencies at this original musical inspired by Blink-182, Green Day and the other angsty icons of the era.
TIME OUT DISCOUNT TICKET OFFER:

POP PUNK HIGH
A New Musical Experience

Tickets 25% or more off!
Promotional description: Pop Punk High is where teens live and breathe pop punk, it's always 2003 and skateboards and eyeliner are the must-have accessories—and where Derek's life majorly sucks. His lame parents don't understand him, he's the biggest loser in school, and the girl of his dreams doesn't know he's alive. Things take a turn when Derek discovers a can of Axe Body Spray that contains the ghost-slash-genie of pop punk princess Avril Lavigne. Avril agrees to grant him three wishes—but only if he will find out who murdered and trapped her. In selecting his wishes, Derek soon finds out that what you think makes you pop punk often isn't pop punk at all.
Pop Punk High is not your usual high school musical. It's a new immersive musical experience that celebrates and parodies all things early 2000s and the ethos and aesthetic that defined a generation. Your night includes hearing an up-and-coming pop punk opener, watching an outrageous pop punk musical comedy, then reliving the greatest years of your life with live-band karaoke after the show with the Pop Punk High band, featuring your favorite pop punk jams of 2003 and beyond. Put on your most outrageous Pop Punk attire and celebrate the greatest genre in musical history!
CLICK HERE TO BUY YOUR TICKETS NOW
FOR 25% OR MORE OFF!
$25 Wednesdays at 8pm (9/26, 10/24)
$30 Thursdays at 8pm (9/20, 10/11, 11/1)
$30 Saturdays at 6pm (9/29, 10/13, 10/20)
*Ticketing system is paperless. All tickets are for will call only. Valid for performances through November 1, 2018. Discount valid on General Admission tickets only. All sales are final. No refunds or exchanges will be permitted. Events are subject to change in date, time or scheduled act at anytime. In the case of an event cancellation, refunds will be provided via the method of payment originally used.

Details