Puffs, or: Seven Increasingly Eventful Years at a Certain School of Magic and Magic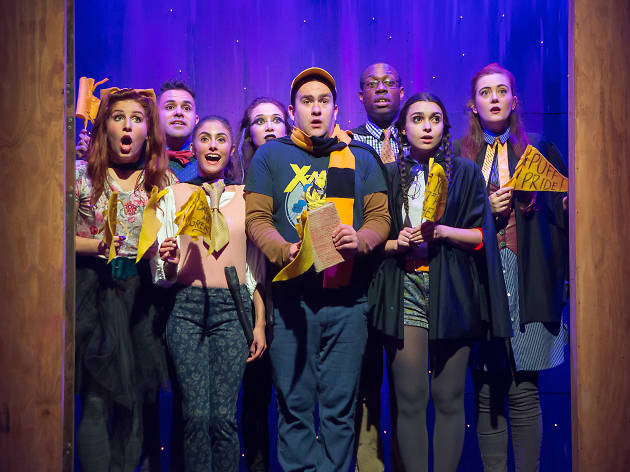 Time Out says
Theater review by Diane Snyder
For seven Harry Potter novels, the mediocrities of the Hogwarts house Hufflepuff lived in the shadow of their overachieving schoolmates. Matt Cox's Puffs, or: Seven Increasingly Eventful Years at a Certain School of Magic & Magic gives them their due. In this funny and affectionate homage to J.K. Rowling's world of wiz kids, Harry, Hermione and Ron take a back seat to average American wizard Wayne (Zac Moon), goth gal Megan (Julie Ann Earls) and math genius Oliver (Langston Belton), who is stuck at a school that doesn't even teach his subject. They may not be at the top of the class, and they're not wild about Harry, but they persevere through adversity and find power in friendship.
A press release asks that the word parody be avoided in describing Puffs, but much of the show's comedy is clearly aimed at Potterphiles. The 11 cast members play an assortment of characters, from a mumbling potions master to a squeaky house elf, and some of the jokes will be lost on those with no knowledge of the films or books. But even Potter virgins will enjoy the show's witty wordplay and well-executed physical comedy. At times, the pacing is so frenetic that jokes can't find a place to land, but there's heart as well as humor here. In the past two years, Cox and director Kristin McCarthy Parker have shepherded their silly, subversive show from the People's Improv Theater to Off Broadway's New World Stages. Like its main characters, Puffs illustrates the heights to which underdogs can soar.
New World Stages (Off Broadway). By Matt Cox. Directed by Kristin McCarthy Parker. With ensemble cast. Running time: 1hr 45mins. No intermission. (Matinee perfomances are suitable for audiences of all ages; evening performances are aimed at adults.)

Follow Diane Snyder on Twitter: @DianeLSnyder
Follow Time Out Theater on Twitter: @TimeOutTheater
Keep up with the latest news and reviews on our Time Out Theater Facebook page

Details
Average User Rating
4.7 / 5
Rating Breakdown
5 star:

5

4 star:

2

3 star:

0

2 star:

0

1 star:

0
I am a Potter fan. I took Rowling's Sorting Quiz and ended up in Hufflepuff. Thus began my badger pride.
I stumbled upon this show about a year ago and bought tickets straight away. I have now seen the production 4 times and plan to go again as soon as I can. The acting is stellar! And, OH, THE JOKES! I have never laughed harder in my life...ALL FOUR TIMES! It would be better if you knew the story of HP and the famous 7 'years at a certain school,' but even if you haven't followed that story, I imagine you'll still have a great time at this show and should still be able to follow along as there are all new characters with their perfectly carved storylines in this production. RUN! Get tickets before they're gone!
As a huge Harry Potter fan I was excited to see this play. It was funny & witty & thoroughly enjoyable. I laughed so much. The cast did a wonderful job. If you haven't seen yet you should!
As someone who wears his Hufflepuff pride on his sleeve, this show was already up my alley -- but it definitely EXCEEDED my already sky-high expectations. The production values are incredible and the hilariously tongue-in-cheek nature of the show had me rolling in the aisles. My cheeks hurt after the show because I was smiling so much. It's a must see.
If you love to laugh just as much as you adore Harry Potter, you must see this show! My sides were splitting the entire time. The show takes you through all seven years of Hogwarts from the Hufflepuff's perspective, and the cast and characters are hilarious and do not disappoint. This is small, no-frills show, but their clever use of props and music truly make it a slam dunk.
This show was so damn funny. I am a huge, lifelong Harry Potter fan, so I may be biased, but it was so fun to see this spin on the hero tale. I also loved how they didn't dumb it down for non-serious fans either—there's all sorts of Easter eggs only true Potter-heads would really catch on to. But that doesn't mean it's not fun for everyone. The characters are loveable and hilarious, the use of props is heavy and impressive, and the set pieces are so fun! The giant dementor was my favorite part. Ron in this story is just a mop with red fibers, and that killed me every time. I love the shows this group puts on, I'd see them all.