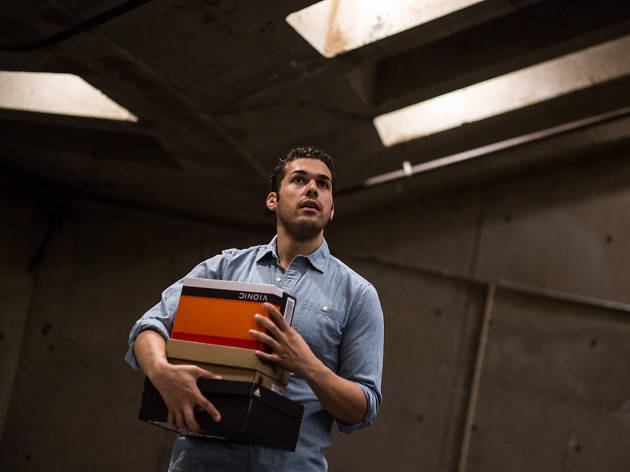 Theater review by Helen Shaw

Christina Masciotti's best tool is her ear. She hears the twists and malapropisms that give language its occasional wrong-foot poetry, and her work (such as the extraordinary Social Security) always features linguistic filigree. It's there again in Raw Bacon From Poland, as when a character prays to "God, hollow be thy name." But this time, the comic technique seems out of tune.
Masciotti likes traditional structures. Here, conventional slides into cliché. Traumatized and violent military vet Dennis (Joel Perez) keeps reliving his experience in Iraq; he squabbles with social worker Alice (Kate Benson), loses his shoe-store job and lands in counseling with Ken (Jay Smith). In standard therapy-plot fashion, a dream in the climactic session features an adorable Iraqi girl (Miah Velasquez) forgiving Dennis for her death, and this banality outweighs a host of carefully rendered procedural details.
Director Ben Williams creates a lush aural and visual world; also good are Benson's funny, rasping bark, and Paul Boocock's weird cameo as an asshole staring at a leather loafer. But the play turns Dennis into a mockable figure. He's the only one coining neologisms ("sexability sells"), which serve as laugh lines in this portrait of modern desperation. The characterization lists towards condescension, curdling the play's attempts at sentiment. It's all fun and language games until someone really loses.
Abrons Arts Center (Off-Off Broadway). By Christina Masciotti. Directed by Ben Williams. With Joel Perez. Running time: 1hr 30mins. No intermission. Through June 17.