The best Off-Off Broadway shows in NYC
Looking for the best Off-Off Broadway shows? Here are the most promising productions in NYC's smaller venues right now.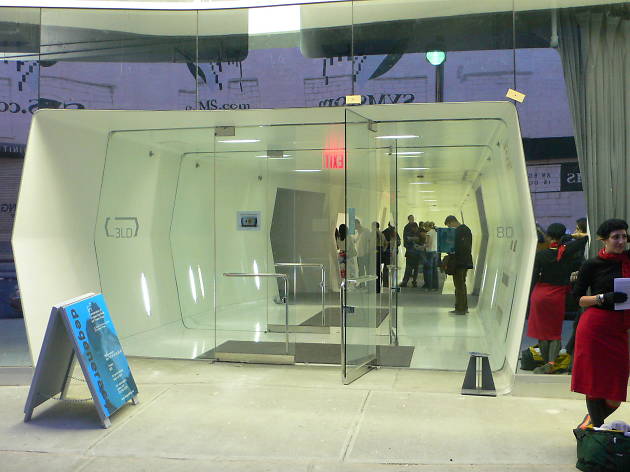 Broadway and Off Broadway productions may get most of the attention, but to get a true sense of the range and diversity of New York theater, you need to look Off-Off Broadway. Experimental work, especially, tends to thrive in smaller spaces, such as New York's best Off-Off Broadway venues; that's is where you'll find many of the city's most challenging and original pieces, and get early looks at major talents. There are approximately 200 Off-Off stages in New York, from downtown Manhattan to the far reaches of the boroughs, mostly with fewer than 99 seats. The runs there are usually short, and relatively affordable; while cheap Broadway tickets can be hard to find, most Off-Off shows are in the $15–$25 range. Here are some of the current shows that hold the most promise.
Off-Off Broadway shows in NYC
Dominique Salerno thinks outside the box while performing inside one. In her intensely creative collective of vignettes, The Box Show, she crams herself into a cupboard-like cube for 90 minutes, and like a magician pulling rainbow-colored strings from her mouth, she keeps surprising you with what she can produce in the space. One sequence is set inside the Trojan horse at the gates of Troy; Achilles has cold feet, and Odysseus and his motley crew—all portrayed by Salerno—must give him a pep talk. In another, Salerno puts jeans and shoes on her arms, then plays out a West Side Story–style dance-floor courtship between her arm-legs and her leg-legs. Other highlights find Salerno portraying a fetus and a self-deprecating Frida Kahlo. It's often hilarious, but what makes the show most memorable are its moments of darkness, expressed in fleeting, poignant side thoughts and comments. This interplay between light and dark helps The Box Show achieve what every vignette show wants: It is even greater than the sum of its parts.—Gabe Cohn
Book now
Read more
Writer-director Max Baker delves into the shadowy world of young conspiracy theorists in a new play, presented by Stable Cable Lab Co.
Book now
Read more
Axis Theatre Company's Randy Sharp directs a revival of Sidney Kingsley's 1935 portrait of troubled youths on the hardscrabble streets of New York City during the Great Depression. (The 1937 film version, starring Humphrey Bogart as a gangster, marked the first film appearance of a group of young actors who continued to work together as the Dead End Kids.)
Book now
Read more
On the 50th anniversary of the playwright's violent death, Phoenix Theatre Ensemble revives Joe Orton's shocking 1964 dark comedy, in which a sexy young hoodlum throws a slatternly landlady and her leering brother into a tizzy of desire. Phoenix leader Craig Smith directs.
Book now
Read more
Russian crime novelist (and Putin critic) Boris Akunin focuses on the political machinations of a growing police state in his lean adaptation of Shakespeare's tragedy, where a ghost and a prince meet and everyone ends in mincemeat. Irina Gachechiladze directs a translation by Ileana Alexandra Orlich.
Book now
Read more
The irrepressible Iacono, who played the title role in MTV's hung-teen series The Hard Times of RJ Berger, invites audiences on a wacky musical sci-fi adventure that finds him on an odyssey to save his collective of artist pals (including Josephine Baker, Frida Kahlo and Quentin Crisp) from a galactic scourge known as the Evil Orange Grand Douche. Aaron Mark directs.
Book now
Read more
After more than a decade performing Too Much Light Makes the Baby Go Blind, an ever-changing collection of 30 two-minutes plays, the New York Neo-Futurists had to change course when piece's author pulled the rights abruptly in 2016. Now the troupe performs an entirely different ever-changing collection of two-minute plays called The Infinite Wretch.
Book now
Read more
Musical storyteller Chris Wells, the mayor of the Secret City—a salon and performance series, founded 10 years ago, that celebrates the sacred in art—shares sections of his upcoming memoir as well as original songs (with music by Jeremy Bass). Eliza Laytner directs the premiere, which features exuberant costumes and a five-piece band.
Book now
Read more
Show more