Heads up! We're working hard to be accurate – but these are unusual times, so please always check before heading out.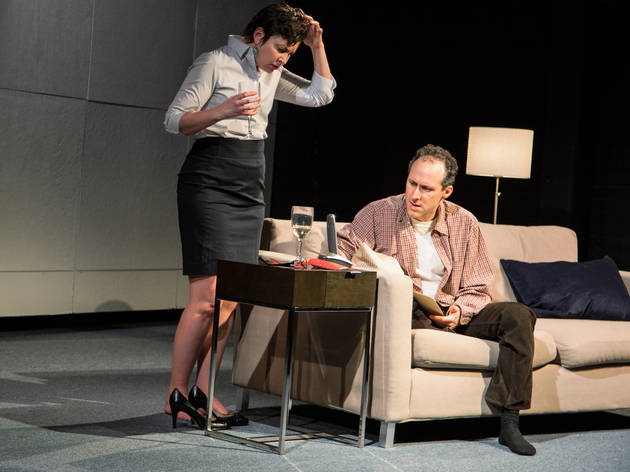 Review: Clubbed Thumb's Luther, part of Summerworks 2012
Playwright Ethan Lipton and director Ken Rus Schmoll score a small-scale (and criminally short-lived) triumph with this tale of an affluent couple that adopts an explosive war veteran.
HERE. By Ethan Lipton. Dir. Ken Rus Schmoll. With ensemble cast. 1hr 20mins. No intermission.
It would be best for everybody if we all pretend this never happened. Please try to ignore the happy crowds outside HERE and tell yourself that Ethan Lipton's bone-funny comedy Luther hasn't just been exquisitely mounted by Clubbed Thumb; Ken Rus Schmoll hasn't just directed another of his Platonically perfect productions; and Gibson Frazier hasn't just developed another of his loveable, photorealistic everyman portraits. It will be easier this way.

It's a sad downtown paradox that a successful short production can actually harm that same show's chances of being mounted, postfestival, elsewhere in town. New-work spaces such as Playwrights Horizons or the Vineyard favor premieres; they sulk when they're not first to the trough. Thus Clubbed Thumb's Summerworks shows can sometimes break your heart: You'll see something superb (say Anne Washburn's The Small), it will appear and disappear in a heartbeat, and you'll spend the rest of your life drunkenly collaring local artistic directors demanding to know why (why?!?) they didn't pick it up to let it run forever. This can be hard on critical dignity.

The secret is, of course, already out on Ethan Lipton—his musical about layoffs, No Place to Go, played a similar flirtatious, comic game with the desperation of modern life. In Luther, Lipton imagines a sort of looking-glass New York, a place where people ride horses down at the gentrifying docks, and couple Walter and Marjorie (Frazier and Kelly Mares) can adopt war-scarred veteran Luther (Bobby Moreno) rather than a puppy. One night, they decide to take their volcanic little buddy to a company party, and his encounters with a waiter (Pete Simpson) and an awkward guest (John Ellison Conlee) vault rapidly from funny to explosive.

If you've seen Lipton perform with his jazz combo, you know how loosely he holds a microphone; he has the same light touch as a dialoguist, the same syncopation, the same gentle, noodling flair. Schmoll rolls around in Lipton's delicately shaded scenes like they're clover; his coolheadedness is just the thing to guide us through a satire about matters too sad for tragedy. His designer, Arnulfo Maldonado, has done wonders with a gray carpet and a rolling white door-box, but the set isn't just a quiet aesthetic triumph. Companies interested in coproduction should note: The whole thing seems very, very portable.