Heads up! We're working hard to be accurate – but these are unusual times, so please always check before heading out.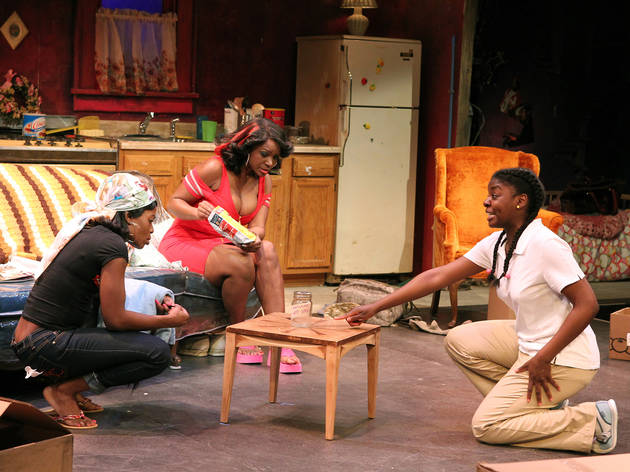 Review: Hurt Village
Katori Hall's searing new drama depicts life in the hellish projects of South Memphis.
It's been more than 25 years since George C. Wolfe ripped the stuffing from the worn clichés of African-American drama in "The Last Mama-on-the-Couch Play," the satiric centerpiece of his 1986 collection The Colored Museum. Katori Hall was five years old at the time, and part of the excitement of watching her ferocious and expansive new drama, Hurt Village, derives from the youthful bravery with which she embraces those banned dramatic bugbears with arms outstretched and eyes wide open.
Hurt Village is about a poor black family in the slums of South Memphis, aspiring to move up to the lower middle classes, in which the beleaguered matriarch—in her fifties, already great-grandmother to a teenager—is literally named Big Mama. Other characters have names like Buggy and Cornbread; without an ounce of spoof, they say things like "Good don't live here in the projects." Somehow it works. The signal achievement of the play, and of Patricia McGregor's exceptional premiere production at the Signature, is to stare irony down and make grit seem true again.
McGregor's superb ensemble cast brings maximum force to Hurt Village's passionate, rhythmically eloquent explorations of tragedy and hope. Thickly padded and emotionally bare, Tonya Pinkins goes beyond the merely grave as Big Mama. Joaquina Kalukango shines as a precocious, freestyle-rapping teenager; Corey Hawkins and Marsha Stephanie Blake bring compelling intelligence to their roles as her burnt-out parents, driven to the pipe or the gun by years of "boredom and chaos." The strength of their work, and that of their five castmates, lifts Hall's heightened degradation into clearer view. A museum piece? Not by a long shot: This is theater that throbs with life, and quickens the pulse and mind.
See more Theater reviews and follow Adam Feldman on Twitter.
Pershing Square Signature Center. By Katori Hall. Dir. Patricia McGregor. With ensemble cast. 2hrs 40mins. One intermission. See complete event information.