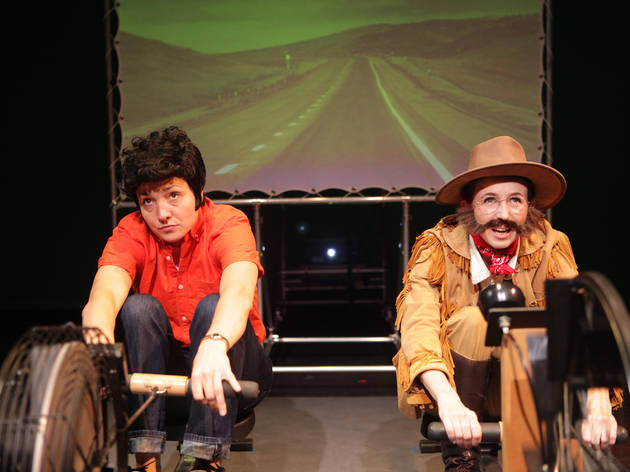 1/9
Photograph: Sue Kessler
Roosevelvis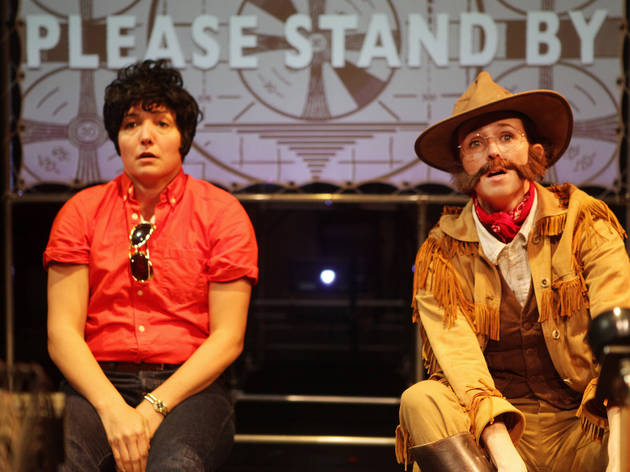 2/9
Photograph: Sue Kessler
Roosevelvis
3/9
Photograph: Sue Kessler
Roosevelvis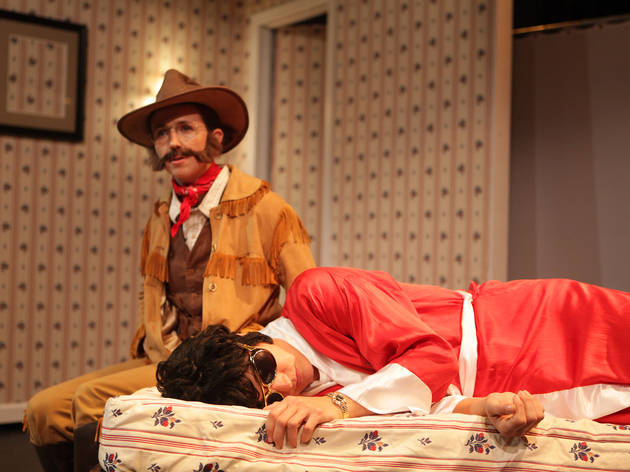 4/9
Photograph: Sue Kessler
Roosevelvis
5/9
Photograph: Sue Kessler
Roosevelvis
6/9
Photograph: Sue Kessler
Roosevelvis
7/9
Photograph: Sue Kessler
Roosevelvis
8/9
Photograph: Sue Kessler
Roosevelvis
9/9
Photograph: Sue Kessler
Roosevelvis
RoosevElvis.Bushwick Starr (see Off-Off Broadway). Devised by the TEAM. Directed by Rachel Chavkin. With Libby King, Kristen Sieh. Running time: 1hr 40mins. No intermission.
RoosevElvis: In brief
In the latest TEAM effort, a shy Midwestern meatpacker and secret Elvis Presley impersonator takes a trip to Graceland after her romance with a Teddy Roosevelt fan fizzles. Rachel Chavkin (Natasha, Pierre & The Great Comet of 1812) directs a piece developed collaboratively with actors Libby King and Kristen Sieh.
RoosevElvis: Theater review by Helen Shaw
There are moments in the TEAM's latest work—the trippy, affecting RoosevElvis—that seem more buoyant than theatrical material has any right to be. From a simple premise, the actor-creators keep batting the text upward—bouncing it from the merely nutty to the utterly delirious, while largely keeping clear of self-indulgence.
The first scene, a competitive recitation of biographical facts between Elvis Presley (King) and Teddy Roosevelt (Sieh), vaults instantly into the sublime. Sitting beside each other in their labeled director's chairs, they rattle through impressionist biographies. "I didn't write any of the songs that I sung," growls Elvis, in a gloomy basso gloom. "Well, I wrote 45 books!" chirps Roosevelt, in a brassy Brahmin voice that's nine parts Katharine Hepburn, one part Bull Moose. We adjust to the High Wackiness immediately, accepting the cross-dressed, time-hopping conceit out of sheer giddiness. Of course these sideburned wonders are comparing notes on guns, meat and America! Elvis had a Roosevelt quote above his desk, so it's almost too obvious, don't you think…?
Once we've had our reason overthrown and our logic drummed into submission, the play lets us in on the reality behind the dream state. The green-screen curtain is whisked aside to reveal a photorealistic kitchen set: Lonely meat-plant worker Ann (King again) has just come home. She's not unbalanced, but she does have a robust relationship with imaginary Elvis—chatting with him when she's on her own, playing him in karaoke when she's not. An Internet meet-up with taxidermist Brenda (Sieh) has turned, miraculously, into a weekend of passion, but when we follow the pair on a camping trip in the Badlands and a road trip to Mount Rushmore, a chilly reality sets in between them. Confronted with her own timidity, Ann embarks on yet another drive, this one to Graceland—with her go Teddy and Elvis, ready for adventure.
There is, unfortunately, a certain sagginess in the final half hour; director Rachel Chavkin doesn't know quite how to pace the second road-movie section. Despite the charm of seeing our two heroes cross the country, side by side on rowing machines (reclining on their mounts like the fellas in Easy Rider), we've lost the engine of Ann's attempt to connect with Brenda, and King's air of puzzled desperation starts to wear a little thin.
Andrew Schneider's exquisite, cinematic projections—miniature films shown between or behind scenes—follow the characters up the Black Hills and down Midwestern motel corridors, and the loveliness of his work is a sometimes necessary distraction from the show's late longueurs. When the piece is at speed, though, RoosevElvis's velocity sweeps us into gorgeous, buoyant nonsense without our noticing. When did Roosevelt start the dream-ballet with bison? And is he suddenly dressed as Ann-Margret? The audience laughs—not with recognition or self-satisfaction, but with the purest kind of astonished delight.
After a period in the wilderness, the TEAM seems to be getting a refreshing sense of humor about itself. A self-deprecating note in the press packet asks us never again to refer to the phrase their titular acronym once stood for—which I'm happy to do. It was indeed a silly old thing. That previous name, says the note, was an artifact of "starting a devising ensemble in our twenties," and my fervent hope is that some other TEAMish things are likewise falling away. The group has undeniable talents at its disposal, and it has a laudable appetite for experiences outside the five boroughs. Some of their other works, however, have turned into self-important pronouncements on America—an eagerness to speak for the Midwest or the South with the kind of confidence that can only come from…not living there. Here too there is a Whitmanesque line about "containing multitudes," but this glorious show is strong precisely because it focuses, at long last, on individuals. It fully, totally revels in King's gravelly, bourbon-soaked tones; it exploits to the last degree Sieh's titanic comic gifts. And because no one's trying to talk about America writ large, they wind up going very small. Some astonishing scenes, several the best I've seen this year, are the result.—Theater review by Helen Shaw
Rating Breakdown
5 star:

0

4 star:

1

3 star:

0

2 star:

0

1 star:

0
The actresses pull off a wonderful, wacky feat-creating characters we know and ones we don't with equal aplomb. What a wild and mesmerizing show. Long live the King.