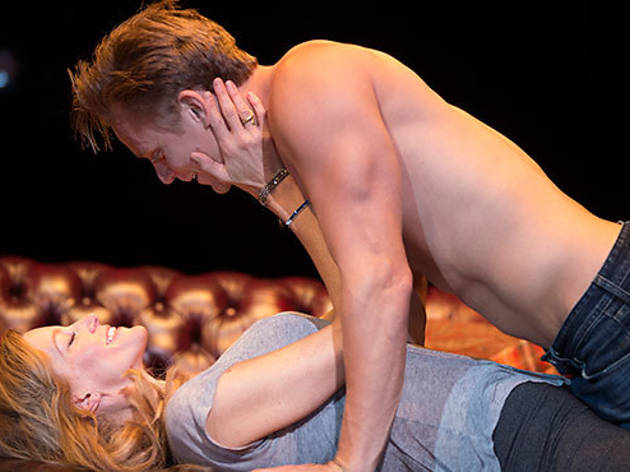 1/7
Photograph: Joan Marcus
Sex with Strangers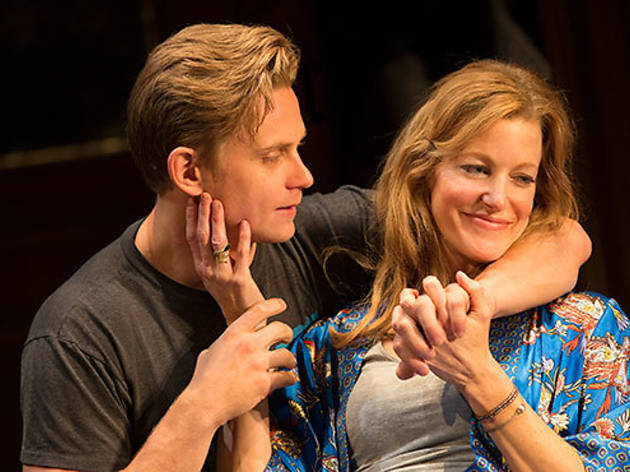 2/7
Photograph: Joan Marcus
Sex with Strangers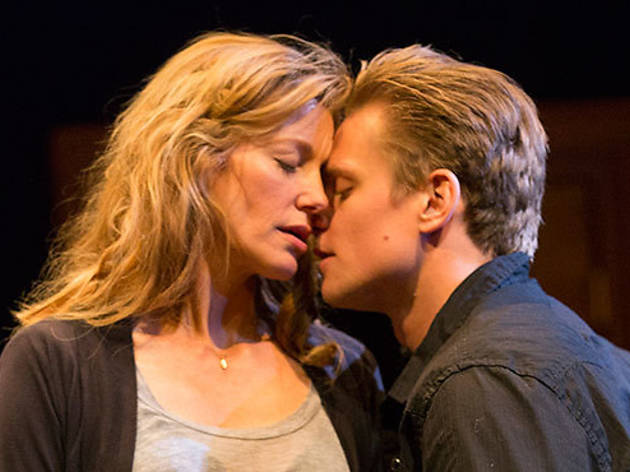 3/7
Photograph: Joan Marcus
Sex with Strangers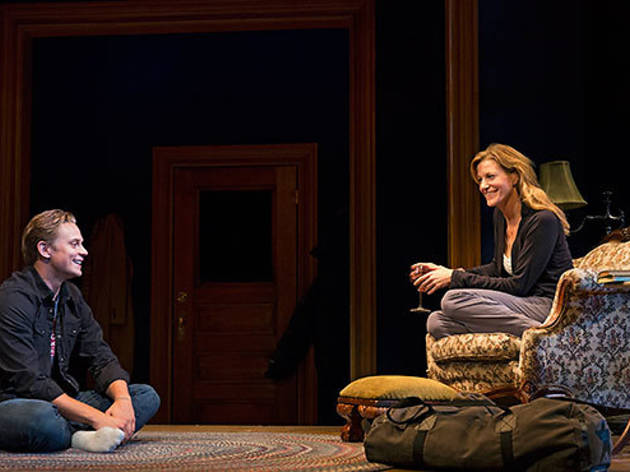 4/7
Photograph: Joan Marcus
Sex with Strangers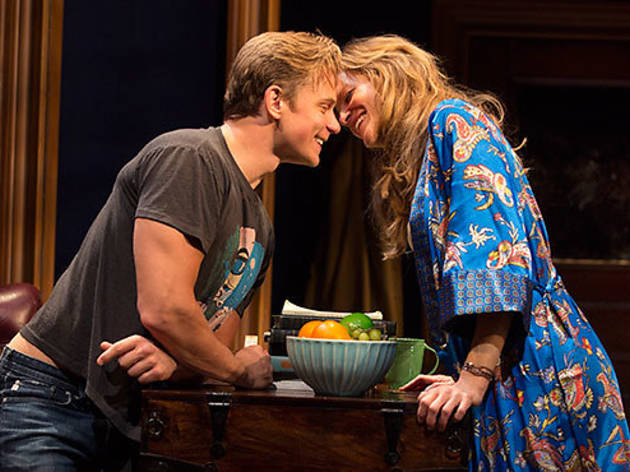 5/7
Photograph: Joan Marcus
Sex with Strangers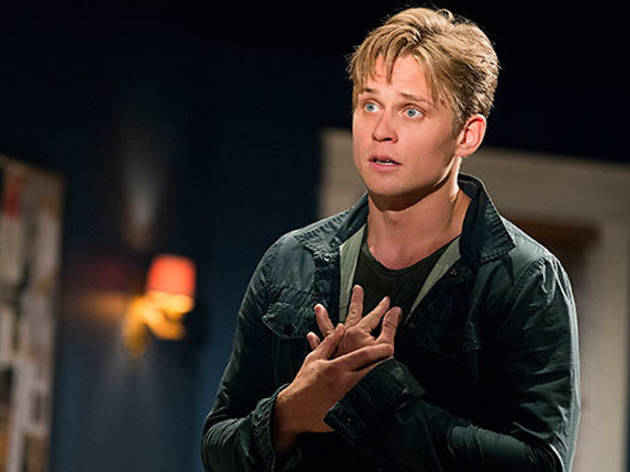 6/7
Photograph: Joan Marcus
Sex with Strangers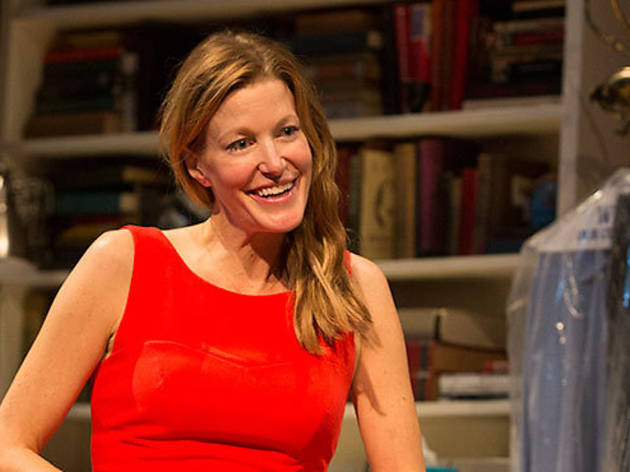 7/7
Photograph: Joan Marcus
Sex with Strangers
Sex with Strangers. Second Stage Theatre (Off Broadway). By Laura Eason. Directed by David Schwimmer. With Anna Gunn, Billy Magnussen. Running time: 2hrs 20mins. One intermission.
Sex with Strangers: In brief
Anna Gunn (Skyler in AMC's Breaking Bad) and Billy Magnussen (Spike in Broadway's Vanya and Sonia and Masha and Spike) costar in Laura Eason's two-hander, in which a steamy memoirist tracks down his novelist idol. David Schwimmer, whom you may remember from a sitcom called Friends, directs.Second Stage Theatre (see Off Broadway). By Laura Eason. Dir. David Schwimmer. With Anna Gunn, Billy Magnussen. 2hrs 20mins. One intermission.
Sex with Strangers: Theater review by Adam Feldman
In the crackling first act of Laura Eason's romantic thriller Sex with Strangers, Olivia (Gunn) finds herself snowed in, at a secluded Michigan bed-and-breakfast, with a cocky younger man named Ethan (Magnussen). She's a talented writer who has fled into a world of private resignation; he's a jerkwad-sex-blog star, tuckered and maxed out on his public persona and eager to rebrand himself as a serious literary figure. Bereft of Internet access, they spar and flirt. Opposites attract—she gives him class, he gives her sex—and he seals the deal by citing a passage from her underappreciated first novel. "Are you quoting me?" Olivia asks, dumbfounded and flattered. "I am fucking quoting you," he confirms, and soon the "quoting" part drops away.
The actors strike sexy sparks: Gunn is warily intelligent and believably vulnerable, while Magnussen pops with dynamic energy (and raises shirtlessness to an art form). Under David Schwimmer's canny direction, they earn big laughs with Eason's swift, clever dialogue. But seeds of contrivance are planted along the way, which burst into fruit after intermission. The once-vibrant characters shrink to illustrations as the play spells out its points about authenticity, ambition and reputation. (As my friend observed, the second half is like a talkback about the first.) Eason ends on a note of ambiguity; in that spirit, you may get the most out of Sex with Strangers by leaving midway through and calling it a satisfying one-act stand.—Theater review by Adam Feldman
THE BOTTOM LINE Strangers slides from truth to fiction, but Gunn and Magnussen keep you glued.
Follow Adam Feldman on Twitter: @FeldmanAdam
Rating Breakdown
5 star:

0

4 star:

2

3 star:

0

2 star:

0

1 star:

0
Interesting premise about intimacy between strangers and how lack of trust can sabatouge relationships.
Good acting, direction, writing, sets costumes and lighting. Turned out to be quite entertaining, without much hype involved. I recommend it.
Really enjoyable; underrated by TONY. The play avoids the obvious - there are plot directions I was afraid the play would go in that it didn't - and gives people credit for being multi-dimensional. Some of the lines and line readings are very familiar, because these are lines people say to each other and these are the tones of voice in which they say them. There are some easy laughs, but they're easy in part because, indeed, they reveal our dependencies. It's also very well-acted. The sex is good.