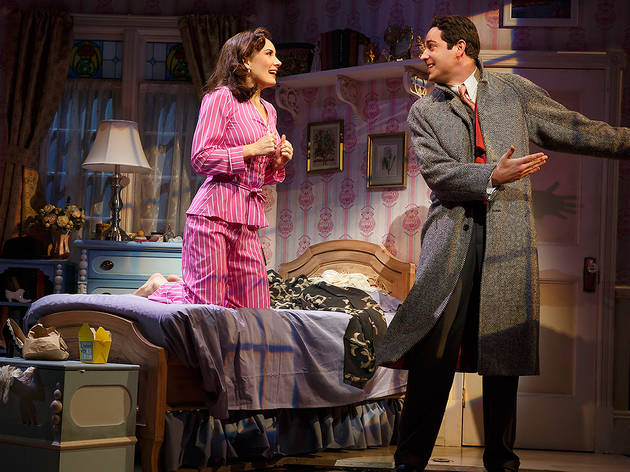 1/7
Photograph: Joan Marcus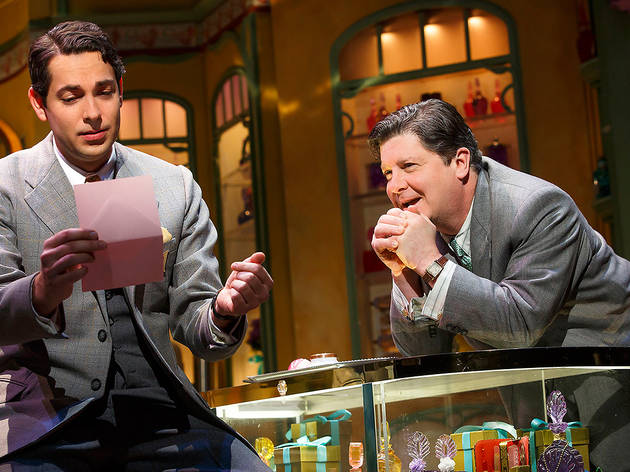 2/7
Photograph: Joan Marcus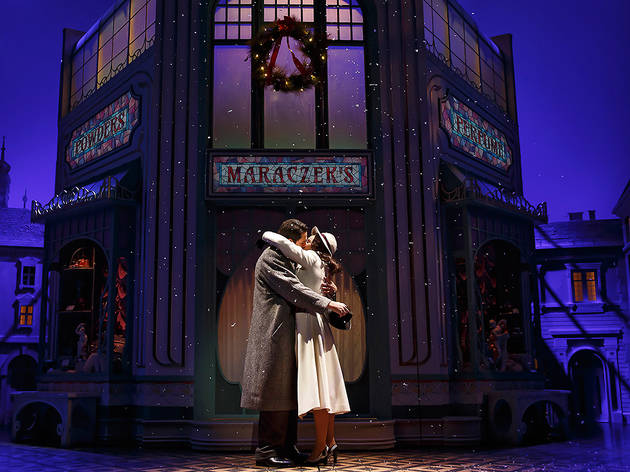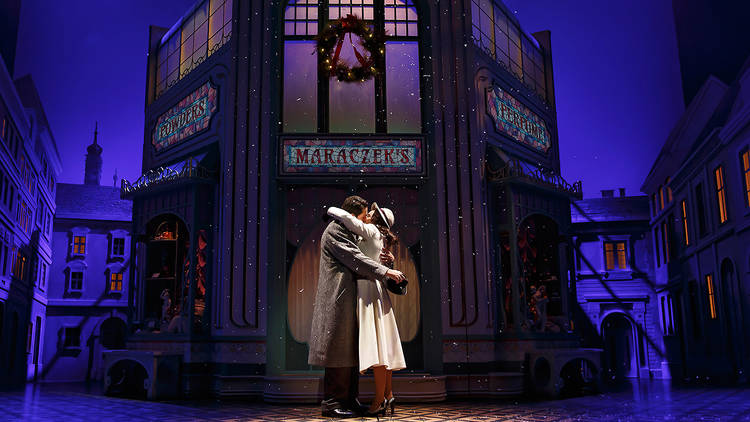 3/7
Photograph: Joan Marcus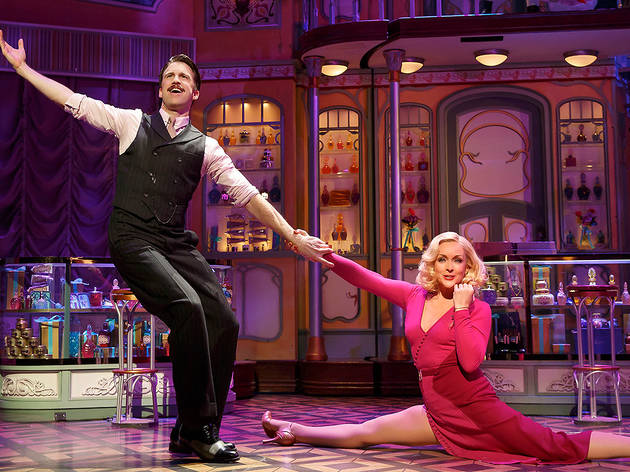 4/7
Photograph: Joan Marcus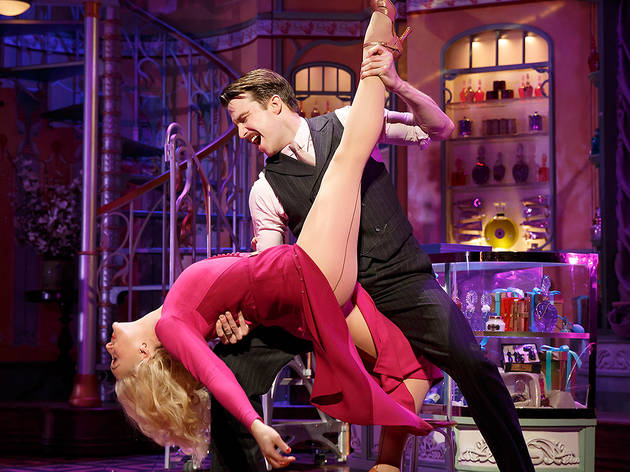 5/7
Photograph: Joan Marcus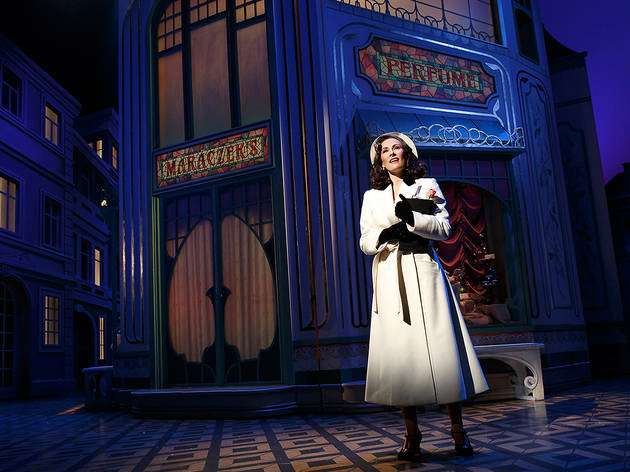 6/7
Photograph: Joan Marcus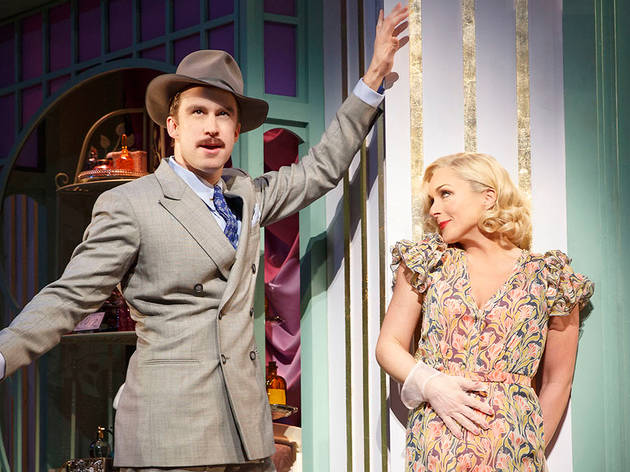 7/7
Photograph: Joan Marcus
She Loves Me: Theater review by David Cote

Desire is chemical, or so the scientists say. When that special someone draws near, their scent can cause a fuss in the hypothalamus, prompting a rush of dopamine, adrenaline and oxytocin. Perfume is also a matter of molecules, combining the right proportions of water, alcohol and oil to activate similar neural triggers. And we all know that romantic comedies depend on chemistry—between leads. Laura Benanti and Zachary Levi have that in spades. As quarrelsome clerks in a Budapest perfume store in the heaven-sent She Loves Me, these two cuties irritate each other so much, they're obviously destined for cuddles and kisses.

How could I be unfamiliar with a show this excellent? By missing, I suppose, the previous Roundabout Theatre Company revival in 1993, also helmed by the stylish Scott Ellis. Grounded by a witty book by Joe Masteroff (Cabaret) and swoonworthy tunes by the team of Jerry Bock and Sheldon Harnick (Fiddler on the Roof), She Loves Me is a perfectly crafted charmer from 1963. It arrived long after the musical-comedy template had been set but also at a time when songwriters could still unironically evoke the spirit of Franz Lehár or a Strauss waltz. (The source play by Miklós Laszló also furnished plots for The Little Shop Around the Corner and You've Got Mail.)

Benanti and Levi play Amalia Balash and Georg Nowack, sales staff at Maraczek's Parfumerie in Hungary circa 1930. Both unhappy singletons write anonymous love letters to a lonely-hearts service (the Match.com of their time). It turns out, unbeknownst to them but conforming to the laws of musical comedy, they've been sending notes to each other. In a classic "second couple" subplot, the luscious Jane Krakowski plays a shopgirl having an ill-advised workplace affair with Gavin Creel's dapper cad.

The Roundabout gets so much right in a splendid, joy-stuffed production: casting, design and even the reduced orchestra (guided with tremendous grace by Paul Gemignani). David Rockwell's sets (Mitteleuropa does Art Deco) glow with his typical urbane suavity; the costumes by Jeff Mahshie are bright and snug on the appealing actors; and Donald Holder's lights bathe scenes in seductive shadows or a candy-colored glow.

Benanti, besides looking as lovely as ever and earning her laughs, shows off an old-fashioned soprano with affecting vibrato. Levi slips into Georg's skin with ease, exuding sweet modesty and just a pinch of hauteur. When he cartwheels across the stage during the exultant title song, you're there with him, getting a contact high from his romantic bliss.—David Cote

Studio 54 (Broadway). Book by Joe Masteroff. Music by Jerry Bock. Lyrics by Sheldon Harnick. Directed by Scott Ellis. With Laura Benanti, Zachary Levi. Running time: 2hrs 30mins. One intermission.

Follow David Cote on Twitter: @davidcote
Average User Rating
4.3 / 5
Rating Breakdown
5 star:

5

4 star:

1

3 star:

0

2 star:

0

1 star:

1
It looks like the hip-hop hit that begins with "H" may finally have some serious competition for hottest ticket in town. The Roundabout Theater's revival of "She Loves Me" is another smash for a company that's been making a name for itself with sparkling new productions of past B'way hits ("On The Twentieth Century" last season). This delightful show, one of Bock and Harnick's overlooked treasures from the 1960s (when great musicals were as thick on the ground as fire hydrants) is, in my opinion, a better, tighter, more satisfying evening of musical theater than their legendary "Fiddler on the Roof" (another current revival packing them in). The production quality is of the highest calibre, with beautiful and imaginative sets, costumes and lighting. The acoustics in the old Studio 54 space (originally the Gallo Opera House!) are excellent, and the entire cast has the vocal chops to knock you into the lobby without amplification, and a wise decision to place the orchestra in the proscenium boxes alongside the stage brings the performers closer to the audience. I didn't know the score at all (or even the book, never having seen either movie based on the original play) and was thrilled at the romantic lushness of Bock's music and cleverness of the lyrics (Harnick is as smart as Sondheim with his wordplay and rhyming).
Laura Benanti, Jane Krakowski and Zachary Levi were all nominated at this morning's Tony Awards announcement, and deservedly so. "She Loves Me" is a near-perfect production of a classic mid-twentieth century musical comedy, and it is a great gift to theatergoers to be able to enjoy it again.
EXCELLENT SHOW! Without the razzle and dazzle of a big blockbuster musical, She Loves Me was like drinking that perfect cup of tea on rainy day. Intimate, yet comforting and beautiful.
The show has a simple premise, but the cast does a fantastic job of using their comedic chops to make the small moments meaningful and to make the audience laugh in delight.
Zac Levi and Laura Benanti are absolutely fantastic leads with great chemistry, nailing their solos perfectly. I felt like I was watching an Old Hollywood film at its best.
The musical left me feeling so happy and light, I left the theatre floating on a cloud.
Oy.
First off, I'm not that guy whose wife takes him to his first musical and says "wtf is this!?".
I've seen lots of musicals of all types. I like guys and dolls a lot. I've enjoyed more than my share of Sondheim. I thought cabaret at studio 54 was amazing. I understand not every musical is trying to be Hamilton.
But I went to this and almost said "wtf is this?!" out loud at points.
I just really don't understand what they were trying to do or why this would be entertaining.
Partially in their defense we were in the far right orchestra and the acoustics there are really rough. The musicians are right on top of you and tend to drown out the singers quite a bit.
But man. This just did nothing for me.
The plot was paper thin and could have easily been wrapped up in 45 minutes.
The remaining time was filled with these "why are you singing" self indulgent monologues-as-songs that did nothing to advance the characters and weren't particularly catchy.
The lyrics were very much what you'd come up with while doing chores around the house.
And they'd.. just...keep...happening...
The scene would be over, everything would be wrapped up and suddenly they'd be singing again about the exact thing they'd just wrapped up.
If someone wrote a parody of what people who don't like musical theater think musical theater is, it would have looked a lot like this.
It probably didn't help that I didn't find the lead actress particularly charming and thought here singing was way over the top.
Everyone else was very talented, but just given nothing to work with.
But, you know what, everyone else in the theater except me and my wife seemed blown away...
So your mileage may vary.
Bring your heart and you will not be disappointed.
It's no wonder that "She Loves Me" at Studio 54 brightens your evening. Jerry Brock, and Sheldon Harnick responsible for Fiddler among others, and book writer Joe Masteroff, Cabaret, put together the gem of a musical in 1963. The Roundabout revival does them justice, due to not only the original material, but a truly outstanding cast, great sets, wonderful direction, and a suburb pit ( thought in this case, not in the pit) orchestra.
Laura Benanti sparkles as Amalia Balash, the lovelorn miss who cons her way into a job at Maraczek,s Parfumerie. Her voice is amazing, as showcased by the song "Vanilla Ice Cream", and her comedic talents excellent. She and Zachary Levy, as "Dear Friend", Georg Nowack, have the chemistry needed to make the budding romance believable. Levy, better know for his TV and movie work, proves that his singing and dancing are up to Broadway standards. His rendition of the title song, the classic "She Loves Me", has only one flaw, it should have been a longer version. The words, music, bounce and rhythm are contagious
.
Jane Krakowski, Ilona Ritter, as usual, is totally brilliant. Her comedic talents, singing, dancing, (one number in particular near the end of the first act), and her use of what I would call "body business, are amazing. She has a big number in the second act, "A Trip to the Library" which showcases her many talents. She is extremely well know for her TV work, "Thirty Rock", and "The Unbreakable Kimmy Schmidt", however she is a Tony award winning performer and a chance to she her live should not be missed, as she defines the word "live".
Gavin Creel, fresh from "Book of Mormon", National Tour, London, Broadway, plays Steven Kodaly with smarmy relish. He put one in mind of another stage Hungarian, Zoltan Karparthy. The lyric say it all, "oiling charm from every pore". Creel has a history of excellent work on Broadway and the West End and takes every advantage of his role as a lying, cheating, two-timing no-goodnick.
Byron Jennings as Mr. Maraczek, Michael McGrath as Ladislav Sipos, Nicholas Barasch as Arpad Laszlo and Peter Bartlett as the Headwaiter, and Michael Fatica as the Busboy all have a place to shine. Jenning is perfect as Maraczek, the benevolent despot of the Parfumerie. McGrath as a fellow clerk and friend of Nowack, has a number innthe first act "Perspective" much in the same tone as "How to Succeed in Business" "The Company Way". Barasch's shines in a number where he implores Maraczek to promote him to clerk with, "Try Me". Bartlett and Fatica, headwaiter and busboy at the Café Imperial have their star turn with Bartlett singing "A Romantic Atmosphere" and Fatica dancing up a storm. The Ensemble also add much to well choreographed routine.
As I mentioned the set designer, David Rockwell did great work I was fortunate to see, "On the Twentieth Century, Sylvia and Kinky Boots all done by Rockwell.
As with any musical, the director's vision permeates the work, and Mr. Ellis continues his brilliant career with this version of "She loves Me": Tightly paced, the combination of great material, a suburb cast, wonderful sets, and an excellent group of musicians under the direction of Paul Gemignani, all bound together by Mr. Ellis provide an extremely enjoyable evening of musical theater, one that the audience thoroughly enjoyed.
If all you want is to be entertained, amused, and to leave the theater singing,
"She loves me, and to my amazement…",its "She Loves Me' at Studio 54.